Find out how often to feed baby at night and what night feeding schedule should like when using Babywise.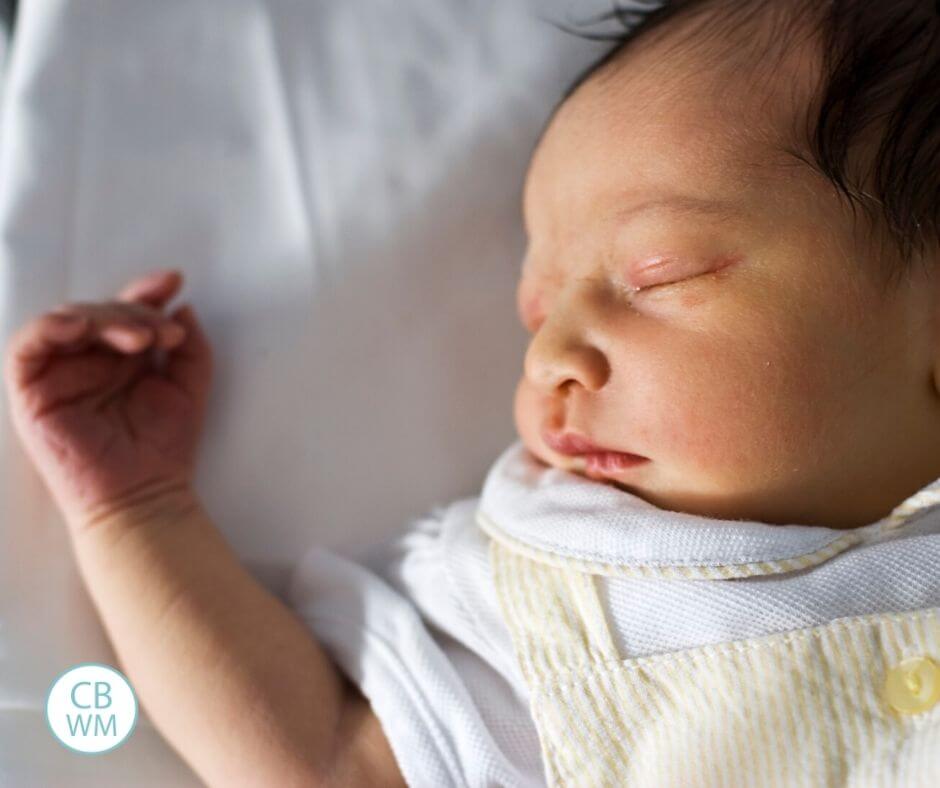 It is hard to wake a sleeping newborn, and at no time is it harder than in the middle of the night.
Many people warn you to never wake a sleeping baby. Anyone following On Becoming Babywise knows that we wake a sleeping baby to stay on schedule during the day. We do this so we get enough feedings in the day each day.
But at night…
We all want that sleep. We don't want to wake to an alarm so we can go wake a sleeping baby in the middle of the night.
However, in the first part of your newborn's life, it is as important to wake a sleeping baby at night as it is during the day.
Nighttime Sleep Schedule for Newborns
You will not have to wake your baby at night forever.
For the first 5-6 weeks of babies life, you might find yourself waking your baby.
You want to wake infants every 5 hours at night for the first 5 weeks of life.
On Becoming Babywise
states:
"do not let him sleep more than five hours if you are breastfeeding".

(page 112)
Now, I am a rule follower by nature, so I have always followed this rule. The purposes of the rule are to
Ensure baby gets enough feedings in a 24 hour period
Ensure mom builds an adequate milk supply
But it was not always (or ever) easy. To set my alarm and wake my baby in the middle of the night was no fun.
Get Enough Feedings Per 24 Hours
The first reason listed for waking baby every five hours to make sure your baby gets enough feedings per 24 hours.
Newborn babies starts out life needing 8-10 feedings in a day. So if you feed at the following times for your baby feeding schedule:
7 AM
10 AM
1 PM
4 PM
7 PM
10 PM
That is only 6 feedings. That means you need at least two feedings in the night to get your minimum of 8 feedings in the 24 hour period.
You can easily cut that down to one nighttime feeding by either doing cluster feeding or feeding every 2.5 hours in the day so you get an extra feeding in there.
>>>Read: How To Use Cluster Feeding to Get Baby Sleeping All Night
Calculate the number of feedings your baby is getting each day so you know how many night feeds are needed. I would recommend you work to get 7 feedings in the day so no more than one is required at night.
Build Adequate Milk Supply
You can definitely be successful with breastfeeding while doing Babywise.
I breastfed all four of my babies for at least one year each. It can absolutely be done.
Babywise has some ground rules to help you make sure your breast milk supply is never compromised. One of those rules is to feed every 5 hours at night in the first 5 weeks.
If you want to be successful with nursing for a year (or even less), I encourage you to follow the guidelines in place.
If you are formula feeding, this second reason is obviously not a concern for you. Formula-fed babies do not need to build up milk supply.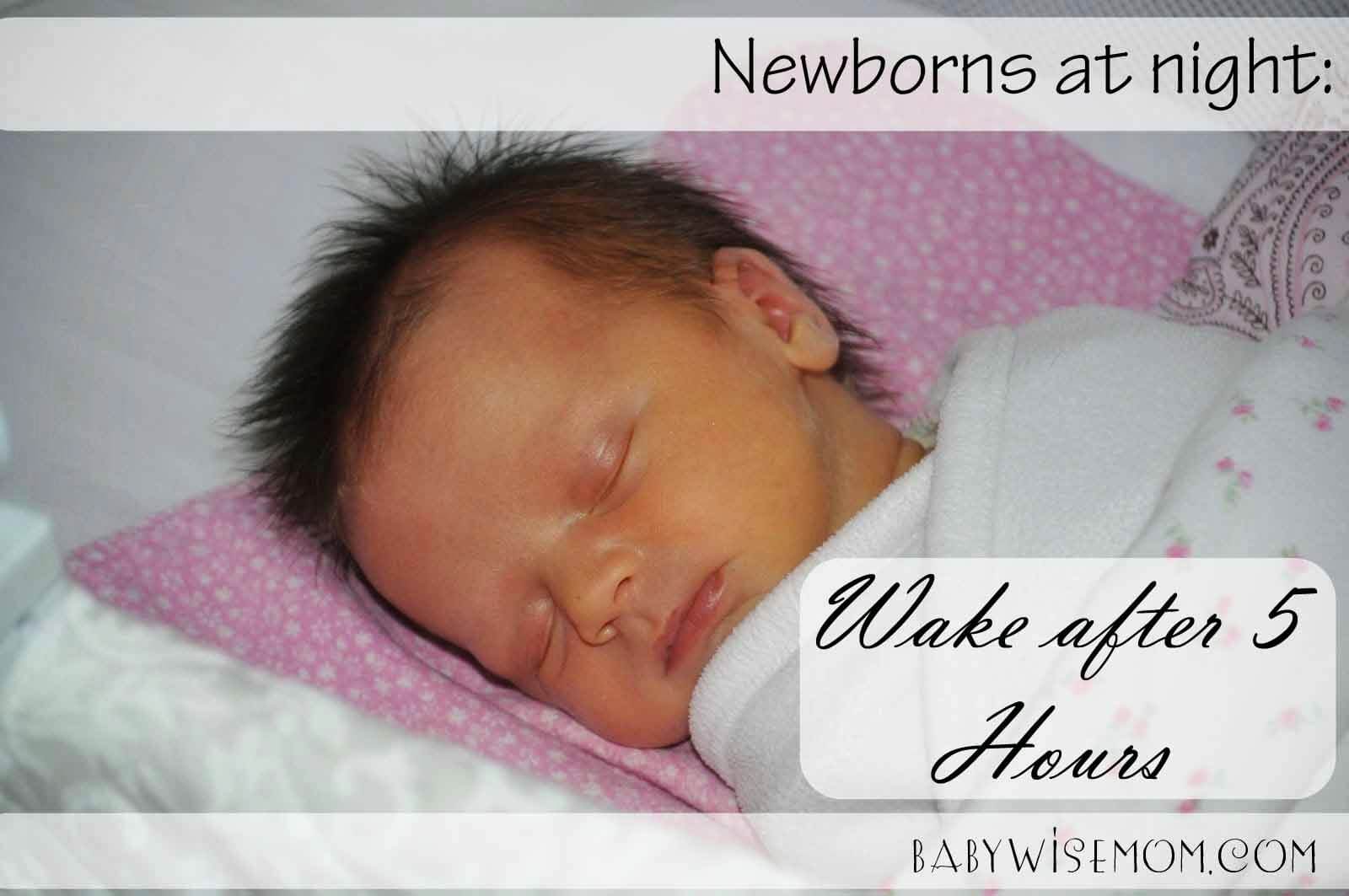 Not Everyone Follows the Rule
Not everyone follows this rule. Many ignore the rule and let baby set the wake up times at night and have great success with no issues breastfeeding.
Always remember you are the parent and you can decide ultimately what is best for your baby, you, and your family.
If you decide to ignore the rule, I would encourage you to carefully be aware of dirty and wet diapers, growth patterns in your baby, and also be aware of your milk supply if breastfeeding.
My Own Babywise Babies
Here is a summary of what I did at night with my Babywise babies.
Brayden: We didn't start Babywise until 9 weeks old, so no need to follow the rule. I will say, however, that as you might expect, feedings were sporadic at night until we did Babywise, and nursings sometimes went more than 5 hours in the day AND night. We breastfed until a year with no supply issues. He started sleeping through the night (STTN) at 6 months old.
Kaitlyn: I followed the rule. We breastfed until a year with no supply issues. She STTN consistently around 3-4 months old.
McKenna: I followed the rule, and had to wake her at 5 hours every night. We breastfed to a year with no supply issues. She STTN consistently around 2-3 months, but once she reached 5 weeks and I stopped waking her, she woke like clockwork at that 5 hours for a while–which was frustrating. I had to wonder if sleeping would have been better without waking her–but there is no knowing how milk supply would have gone.
Brinley: I followed the rule and had to wake her at night. She didn't get "stuck" like McKenna did once we hit 6 weeks old. She slept through the night at 8 weeks old. We breastfed to one year old with no supply issues.
Dreamfeed Helps Night Sleep
In addition to waking every 5 hours until 5 weeks old, a Dreamfeed can really help with your night sleep. This is a feeding you do around 10-11 PM. This helps you not need as many night feedings between the Dreamfeed and your first feeding of the day.
>>>Read: The Basics of a Dreamfeed
Have a Consistent Morning Wake Up Time and Bedtime
Another important schedule rule for you to follow for great night sleep is to have a consistent morning wake up time and a consistent bedtime each day.
There will be variations–especially with bedtime. In those early months, you are getting to know baby and baby is getting to know life. Plus growth spurts happen and other disruptions–things will not look perfect every day.
Just do your best.
You can largely control that first feeding of the day.
>>>Read: How to Have a Consistent Schedule: Start Your Day At the Same Time
Always Follow Hunger Cues
Even though you have a feeding schedule and an eat wake sleep routine, if you see a sign of hunger, address it. Read Hunger Cues: How To Know if Baby Is Hungry for help in this area.
Conclusion
Do your best to get those night feedings in every 5 hours for the first 5 weeks. If you get your 7 feedings in between your first feed of the day and the Dreamfeed, you can just od one night feed.
Related Posts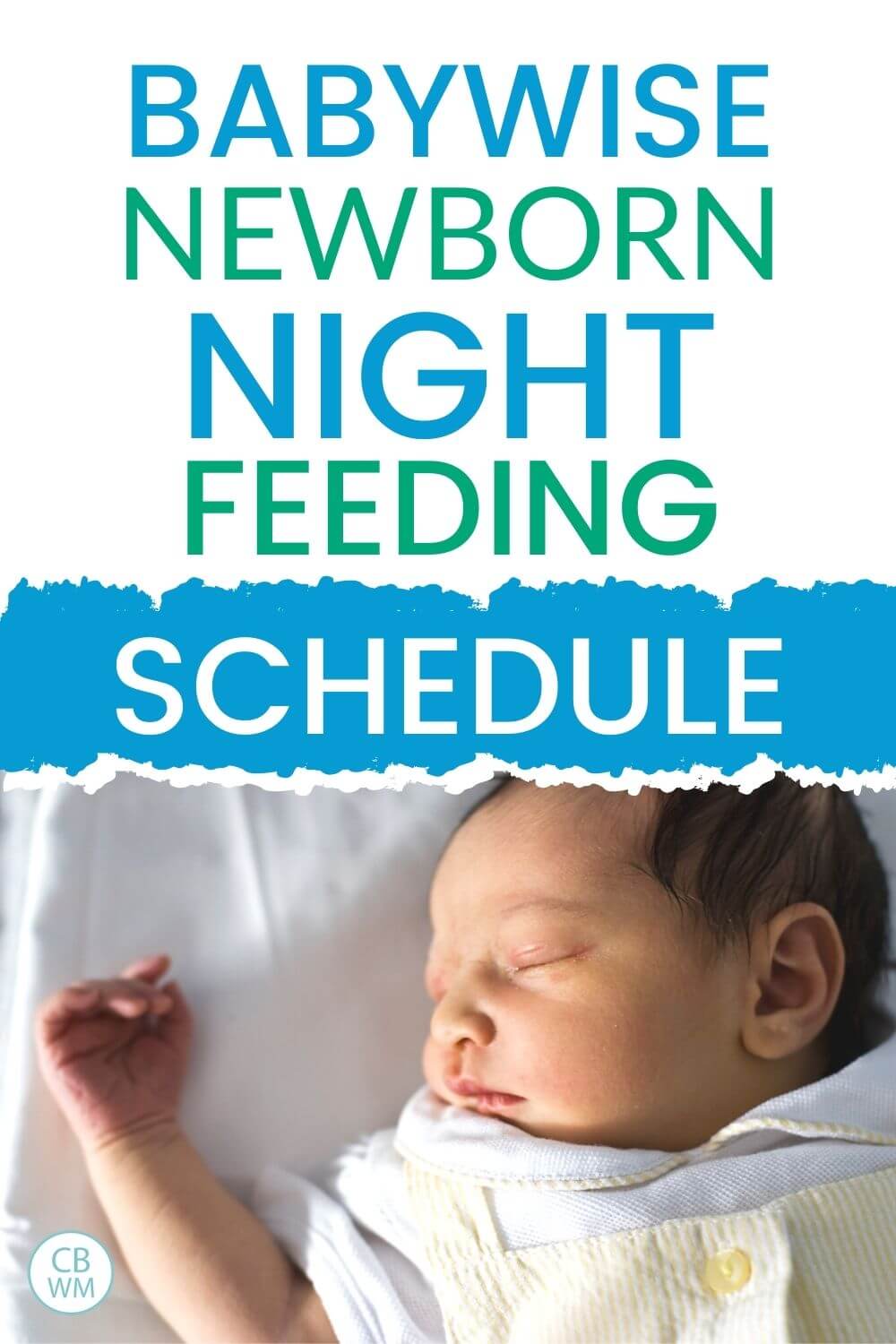 This post originally appeared on this blog February 2011