How to Have a Consistent Schedule: Start Your Day At the Same Time. If you want baby's schedule to be the same each day, start each day at the same time.
You are on a 3 hour schedule, but it never seems to be the same three hours each day. You really want some consistency but you can't figure out how to get there. Or maybe your child can't quite make it through the night and consistently eats in the 5 AM hour. What do you do? How do you start the day? What time? This post contains affiliate links.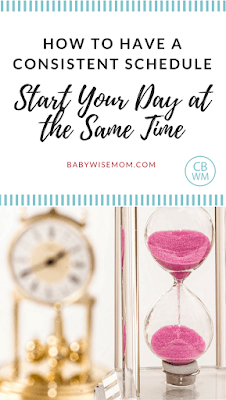 Refer to On Becoming Babywise and you will see that you need to start each day at the same time within 30 minutes. What time do you want to start? Let's say it is 7:00 AM–a common time for many Babywise moms. You need to start each day at 7, or within 30 minutes of 7. That doesn't mean 6:30-7:30–that means 6:45-7:15 or 7:00-7:30, etc. Even if you are feeding your baby at 6 AM–start out right! Try feeding your baby as little as possible at 6 if you want to feed then. A consistent wake time will help you move toward no eating at all in the night.
Babywise gives a 30 minute window, but when I am working on establishing consistency, I try to be as close to the minute the same each morning as I can be. Once baby is established, a 30 minute window can be worked with without a problem (unless your baby is one who needs things super consistent). Take 1-2 weeks to be super consistent to establish what is "normal" and your baby will be able to get established.
Related Posts/Blog Labels:
Reader Questions:
We are sorry that this post was not useful for you!
Let us improve this post!
Tell us how we can improve this post?