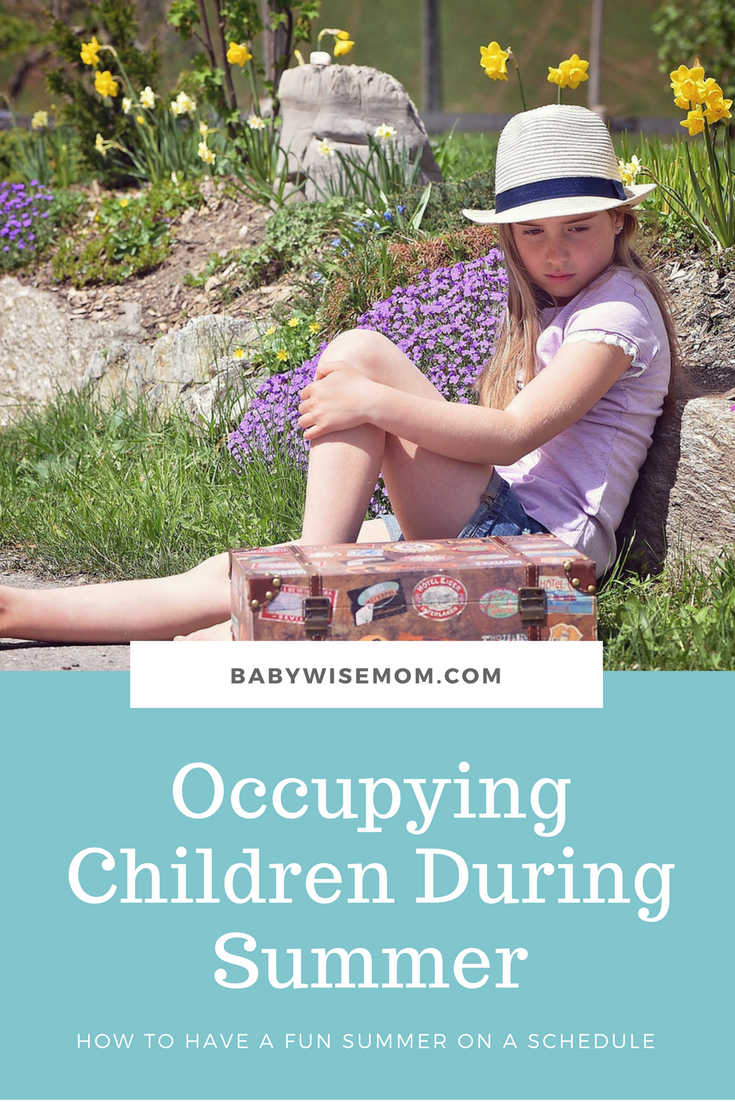 Summer is coming! Summer break is great. You no longer have paper after paper coming home with your child each day. There is no more homework to check. There is no driving kids to and from school. There is no packing lunches in the mornings. There is no clock racing morning after morning.
But of course, that means there is less built in structure, and children thrive on structure and routine. Children can easily get bored, and bored can lead to getting into things they shouldn't. So what can you do during summer to keep children occupied?
START WITH GOALS
Think of some goals you have for the summer. What sorts of things would you like to accomplish with your children? I think summer is a great time to relax a bit. It is a great time for free play and imaginations. It is also a good opportunity to work closely with your children. Summer can be a good opportunity to teach some new skills to your children. Think about what you want your child to be able to do independently next school year. Are there cleaning tasks you want to teach your child to do? Cooking? Packing lunches? Here are some categories you might have goals in:
Cleaning
Cooking
Money management
Athletics
Reading
Writing
Other education goals
Music
Activities
Religious
MAKE A SCHEDULE AND A PLAN
Once you have your goals in place, you can make a plan. I create a schedule using the method I talk about in this post: Planning Your Schedule for Multiple Children. I do a normal, daily schedule. I then make a list of other local activities and places we can attend in the week (story time, museums, parks, library, etc.) and a list of bigger things I would like to do during the summer (water parks, camping, parades, fairs, rodeos, hikes, amusement parks, sporting events, lakes, vacations, etc.).
This post I listed will walk you through making this schedule. Having a schedule will really help you keep your children occupied during the summer. For a child who goes to school, having it written out and displayed will really be appreciated. Children are used to the structure and routine of school and will easily fall into a schedule at home.
START WITH A BREAK
I once read about a mom who takes the first week of the summer as break week. There is no plan, no schedule, and not even getting ready–they wear their pajamas all week. I tried it and my kids enjoyed it, though after a couple of days they were asking for normal days again. You might consider starting summer off with a break–whether it be a day or week long.
ACTIVITIES WE DO
Here are the things we do during the summer. Hopefully these will give you ideas for keeping your children occupied. Some families like more structure than we do and some like considerably less. Do what works for your family.
Chores
I include chores in our day each day. If we are all going to get along during the summer, the children need to help out around the house. I like to look through my goals for my children to see what they need to learn to do over the summer. See Our Family Plan: https://www.babywisemom.com/2010/04/our-family-plan.html for ideas on what we have our kids do at what age.
Meals
We have our meal prep, eating, and clean up. I like to include the children in making meals so they can learn kitchen skills. I have found it is easiest to do real teaching if we do this one-on-one. Sometimes I have all of the kids help bake something, but there is no real learning taking place. So on a routine basis, I like it to be me and one child.
Sibling Playtime
I use sibling playtime as a free play. See Sibling Playtime and Free Playtime for more ideas. If you have a napping child still, see Older Children While Baby Naps to keep the peace during naps.
Music Time
For my children who take piano lessons, we keep up some practicing during the summer. Some people continue lessons during the summer, but I like to keep regular commitments at a minimum during the summer months.
Learning Time
I do learning activities to keep my children engaged in the learning process. Don't overlook the value in simple things for learning, as well. You can see a series of posts I wrote on simple summer learning here. My children love doing different learning activities. We still keep up a weekly theme, letter of the week, number, etc.
Education Goals
While it is fun to take a break from school, I do want to avoid summer setback (see Avoiding Summer Setback). We keep reading up. Each afternoon, in the heat of the day, we come inside and do SSR (Sustained Silent Reading (SSR)). We are regular attendees of the library–we go each week during the summer. We participate in our library's summer reading program.
This summer, I plan to do a reading incentive program for the kids in our neighborhood. I will make a tracking bookmark for each child and have each child read a minimum of 20 minutes a day. Then at the end of the summer, those who did it will come to our house for an outdoor movie. 20 minutes a day is not difficult to come by and I have no doubt the kids will do it easily. The great thing about reading is once you start, you keep going. So the child who sits to read for 20 minutes will find an hour has gone by.
Religious Focus
In conjunction with our calendar time with learning time, we have a scripture we focus on memorizing. I plan to give my children a verse a week and challenge them to memorize each one. I will probably have a fun activity for the end of the summer to do. You could also have scripture reading goals.
Walks and Bike Rides
We go for a walk or bike ride each day. We go first thing in the morning after we are ready so we can avoid the heat. It is good to get the exercise and get out of the house each day.
Independent Playtime
We do independent playtime throughout the summer. I think this helps everyone get along well. Everyone has their alone time each day and the kids don't get so sick of each other that they bicker.
Local Activities
As I listed above, we have some local activities we like to attend. There are activities at the library and story time. We like to try to visit different parks as we can to keep things interesting. We have a membership to a place close to our home with lots of activities. If you have something close to your home, like a pool, waterpark, amusement park, learning center, museum, zoo…I HIGHLY recommend getting a membership. A great thing about a membership is you can go for an hour or two and not feel bad about it. So if I have a baby that naps, we can go between naps and I don't worry that we wasted money. We can pick up and go on a random day that is obvious we need something else to do. We have even stopped on the way to the dentist and stayed for only 30 minutes–but we had an extra 30 minutes and needed something to do. We can go for a couple of hours in the evening after my husband gets off of work. We figured with the place we go, we only have to go 3 times a year as a family to make it worth the money we spent.
Don't ignore the "local" opportunities of your own home, also. A kiddie pool, sandbox, scavenger hunt, backyard camping night, and more can all add some excitement to your week.
Big Activities
There are other activities that can't be regular in your schedule, but you might want to do during the summer months. For us, the zoo is one of those activities since it is a long drive. Maybe you want to go see a baseball game. Maybe you want to be sure to take in the fair. Think about these things and get them on your radar.
Vacations
Family vacations are a great summer activity. Our family loves to go camping together.
What do you do to keep your children occupied in the summer?