Get travel tips for going to Sea World, Orlando. Read about the rides, the shows, the exhibits, and where to stay. Video included!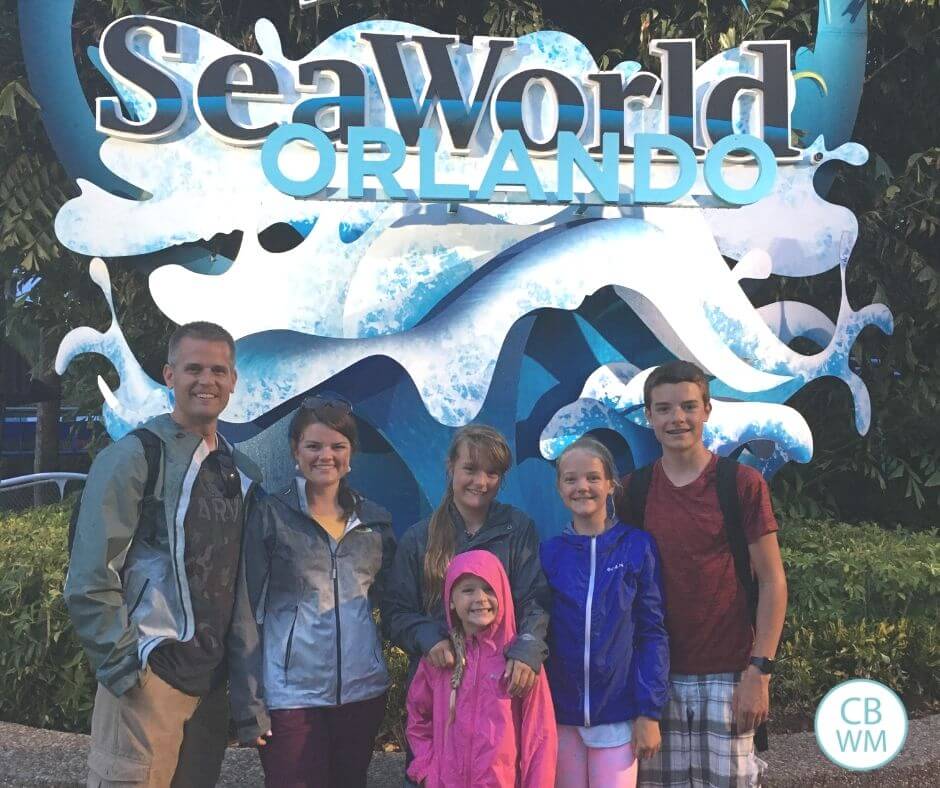 When we went to California as a family a few years ago, Sea World was our collective favorite thing we did. Other people had a personal favorite on the trip (and some had Sea World as their ultimate), but if our family chose one place that was our favorite, it was Sea World. Read all about our Sea World California Tips here.
Because of that, we had high hopes and expectations for this trip.
When we booked our tickets with Discovery Cove, we were able to add on about two weeks at Sea World for very little per person–something around $20-50 per person. I can't remember exactly, but it kind of made it a no-brainer.
Sea World Orlando was fun, but we did not enjoy it as much as California. I am not sure what it was; there are some things that are different, but really the Orlando park has more to offer than the California park. And that might be it. California had some rides, but the focus of the park was the shows and the animals.
Sea World Orlando had many more rides, and you really couldn't fit all of the animal shows and exhibits and all of the rides in one day. It is almost like you have to decide which element of the park you want to focus on and go with that. You need to choose one priority. You can definitely do some rides and some of the animals, but you can't do ALL of the rides and ALL of the animals.
Something that made rides harder for us to fit in is that Brinley, at 7 years old, is not quite tall enough to ride all of the rides. That means someone needs to stay with her, so for everyone to ride a ride, we need two times on the ride. They do child-swap, so that helps, but it adds time.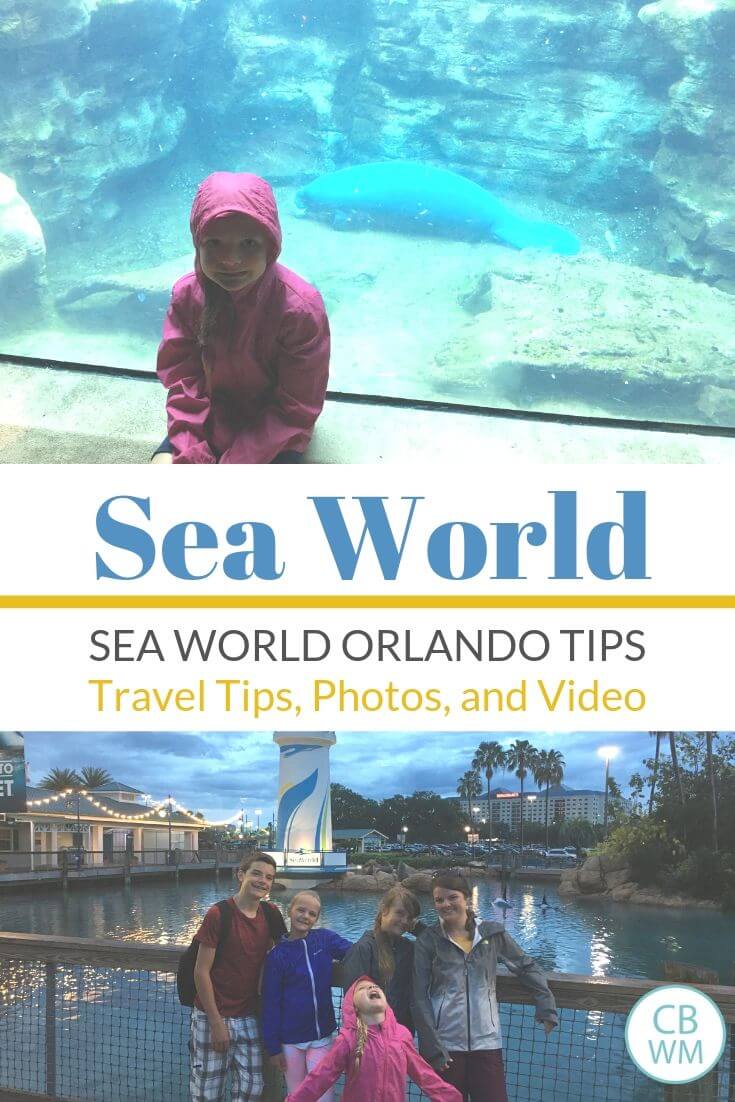 Arrive Early
This is just a good tip for every single place you ever want to go. There are always the fewest people first thing, so crowds will be smaller first thing.
But with SeaWorld, you have a security line and a ticket line. If you are there early, you can get through the security line AND the ticket line before the park even opens. Then you walk a certain distance into the park before they let you just go wherever. If you go in and head over to the flamingoes, you can visit the flamingoes before it even opens. You can also do some photo ops before the park even opens.
SeaWorld Rides
If you decide to do some rides, Manta and Kraken are reportedly the longest lines, so it can be smart to hit those two right at opening. Mako is another popular ride that gets busy.
Infinity Falls looked so fun but was not open while we were there, sadly. Journey to Atlantis is a ride that is at Sea World in San Diego as well as Orlando. Brinley was tall enough for this one. On one of the days we were there, we were able to just walk on this ride several times in a row.
Antarctica: Empire of the Penguin is a fun ride that takes you into cool weather, so it is a nice one for hot afternoons (but everyone else thinks so, too). You can also skip the ride line and just walk into the animal portion of the "ride." Wild Arctic Ride is similar.
There are rides in Sesame Street Land and a Sea Carousel right next to it. You can strategically hit these rides during the shows they have in Sesame Street Land and get little to no lines since most kids will be wrapped up in the show Sesame Street Party Parade.
There are a couple of rides that cost extra money. One of those is the Sky Tower, which I honestly found kind of lame since this ride is "free" in California.
Something to be aware of is a lot of these rides will be shut down if there is lightning in the area. There are times of year this is very common, especially in the afternoon.
SeaWorld Photos and Video
SeaWorld Shows
For us, the main attraction of Sea World is the shows. We love rides and are a big thrill ride family, but the shows are very unique to Sea World.
On busier days, you will need to get to your show at least 30 minutes early to get a decent seat. That adds to the time each show takes.
Times of shows can vary depending on the time of year, but when we went, we did the shows in this order and it worked well:
11 AM–Dolphin Days (our favorite!)
12:30 PM–One Ocean
2:15 PM–Pets Ahoy
3:30 PM–Sea Lion High (also our favorite! Super funny)
5:30 PM–Touch the Sky because we couldn't get enough of the dolphins
Animal Exhibits
There are a lot of fun animals to look at and experts are often on hand to tell you everything you want to know about them. There are penguins (nice when it is hot outside), dolphins (if you go first thing in the morning, you can often catch them playing around while they wait for food), dolphin babies, manatees, manta rays, whales, sea lions, sharks, stingrays (that you can touch), turtles, walruses, beluga whales, and flamingoes.
Tickets
You can get multi-day tickets for pretty inexpensive with Sea World. You can combine it with their water park Aquatica and/or their park Discovery Cove (a highlight of our trip). Look into grouping tickets if you plan to go at all.
---
Read: Why Discovery Cove Should Be On Your Bucket List
---
Hotels
There are TONS of hotels within walking distance of Sea World. We stayed at the Hampton Inn and Suites and walked to SeaWorld. It was a nice hotel and I would recommend it. It also had a breakfast, which is always exciting for my kids and seemingly rare in the Orlando area.
Related Posts