What time is bedtime on the Babywise schedule. When to consider it bedtime and when to consider it nap time. Bedtime for babies and toddlers.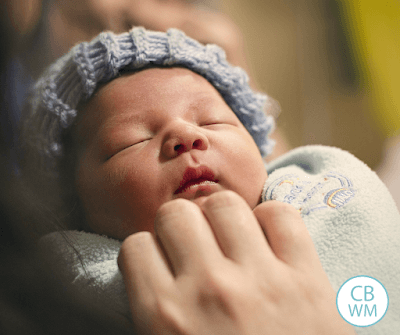 I get a lot of questions about what time should be considered bedtime. Generally speaking, your bedtime will be after you 7ish PM feeding. There are exceptions for some families. Here are some things to consider when setting your exact bedtime.
Bedtime for Babies
Dreamfeed. Bedtime happens before the Dreamfeed. So if you feed at 7 PM, then Dreamfeed at 10 PM, your bedtime would be after your 7 PM feeding. You would just then wake up your baby, feed him, and put him right back down at the 10 PM feeding.
Morning Waketime. What is your morning

waketime

and how long does your baby need to sleep at night? If your baby wakes at 7 AM and is a 12 hour a night sleeper, you need to have bedtime at 7 PM. If your baby wakes at 7 AM but is a 10 hour sleeper, then bedtime is adjusted accordingly.
Last Daytime Feeding. The time of your last feeding. For the baby, bedtime will come shortly after that last feeding.
Waketime Length. Amount of waketime length needed between feeding and bedtime. This will likely depend on the napping situation, or how many naps your child is taking a day. How many naps does your child have? If your child is down to two naps and has a liquid feeding at 7 PM, he likely doesn't need any additional

waketime after that feeding

. But if he has an evening nap, he might need a short

waketime

to be tired enough to go to bed.
Consistency. In setting your bedtime, make sure it is consistent from day to day almost every day of the week. Pick a time that you are willing to be home to enforce.
Family Dynamics. Consider your family's situation. I know moms whose husbands don't get home until the early evening. Some of those moms have a later bedtime for baby, and consequently a shorter

waketime length

. For

Brayden's

first year of life, my husband was finishing his last year of college and also working to support our family. He didn't get home until 8:30 a few nights a week.

Brayden's

bedtime was 9:30 so he could have time with his dad. Once my husband graduated and worked normal business hours,

Brayden's

bedtime moved up. Remember, your schedule serves you. Kaitlyn's bedtime was basically always between 7-7:45 for her baby and toddler life because we don't have that extenuating need we did with

Brayden

.
Bedtime For Toddlers
Here are some things to consider when setting bedtime for your toddler. You can tweak these same principles outlined above for your toddler.
Night Sleep Length. Be sure he is getting 10-12 hours of sleep at night.
Early Enough. Make sure you start your bedtime early enough that he can go to sleep at a good time. Never forget Sleep Begets Sleep and keeping your child up later typically backfires.
Keep Notes. Adequate sleep is vital for a cooperative, happy toddler. Take note of your child's actual bedtime and make sure it is aligning with your optimal bedtime. A lot of times what we think is happening is very different from what is actually happening.
Consistency. Consistency still matters with toddlers. You can have nights that are different, but try to keep it so 5 of 7 days are a consistent bedtime.
Staying Awake. Sometimes two year olds stay awake long past bedtime. If it happens every once in a while, don't let it stress you out. If it is every day, evaluate the schedule and see if it needs to change.
Bedtime for Preschoolers
Considerations for preschoolers are very similar to babies and toddlers. Here are some additional thoughts.
Naps. If your preschooler does not take a nap that day, bedtime might need to be moved 30-60 minutes earlier than days she does nap.
No Naps. If your preschooler is no longer naptime, bedtime will likely need to be earlier than it was when she was napping. If bedtime becomes a constant struggle, evaluate the length of naps and/or if naps still need to happen.

Bedtime for Children and Older
By the time your child is in the child age range and older, naps rarely happen if ever. Bedtime needs to still be early. Children still need 9-12 hours of sleep throughout their growing up years. The length can vary based on sleep needs, but make sure your child is going to bed at the right time to ensure sleep can happen easily and quickly.
Related Sleep Posts:
Reader Bedtime Questions: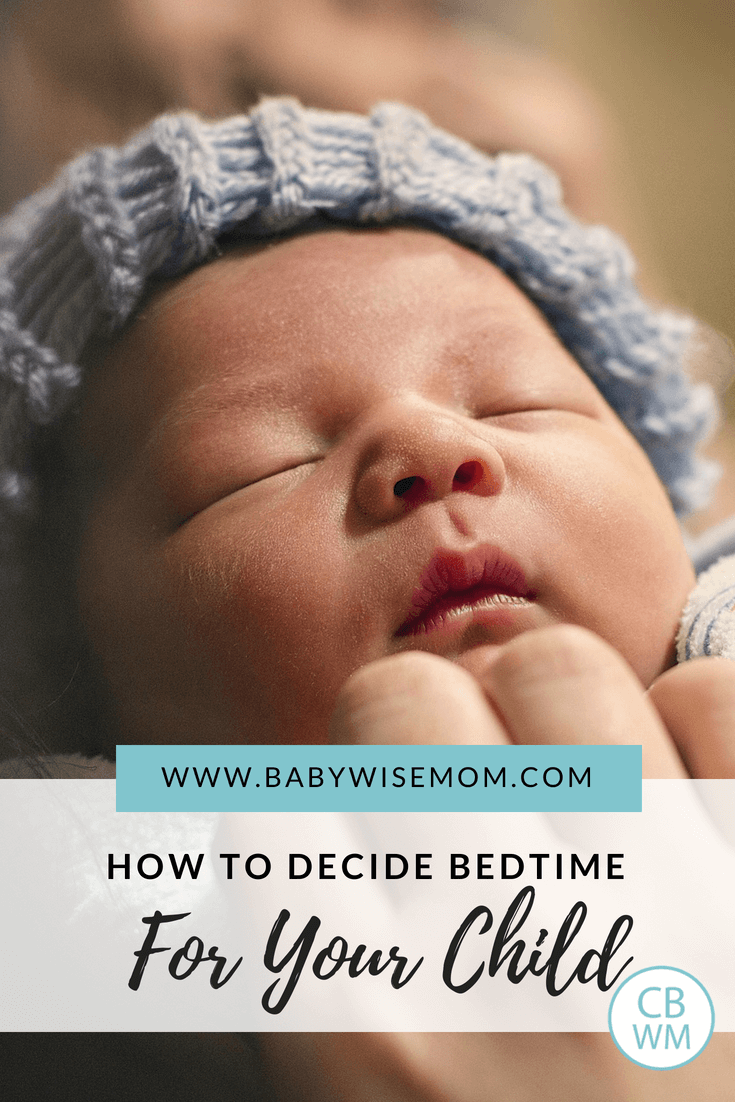 We are sorry that this post was not useful for you!
Let us improve this post!
Tell us how we can improve this post?