Find the perfect activities to do on your trip to the Riviera Maya Mexico area. This is the Cancun, Playa del Carmen, Akumal area.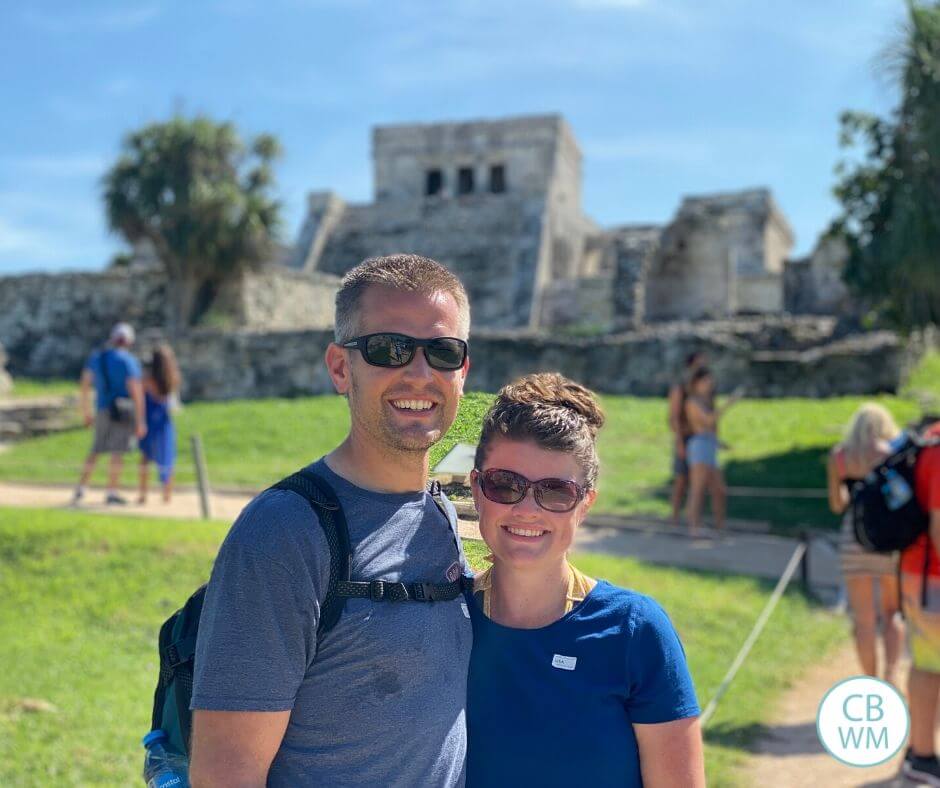 Nate and I have traveled to the Cancun, Mexico area a few times in the last couple of years. We have gone twice with his co-workers and once with our kids. It was a great getaway for couples, but is also a great getaway for families. Here are some tips for traveling to the area.
What Time of Year to Visit Cancun
We traveled in early November twice, which was a great time of year to go. We also went mid-December and loved it then. The months of May-September can be pretty hot and humid. November-March are typically in the low 80s (F).
Peak time for travel is December-April, so if you don't like crowds, avoid those months. It is easy to see why those months are popular since the weather is amazing in Mexico.
Hurricane season is June-November, so between hurricanes and heat, I would avoid June-October if you can.
Akumal, Mexico
We actually stayed in Akumal, Mexico. This is about an hour drive south of Cancun. It is a coastal resort town and is on the Riviera Maya.
This area has great snorkeling and a lot of sea turtles. The beaches are white sand with warm water.
It was also relatively quiet and slow, which was nice for relaxing.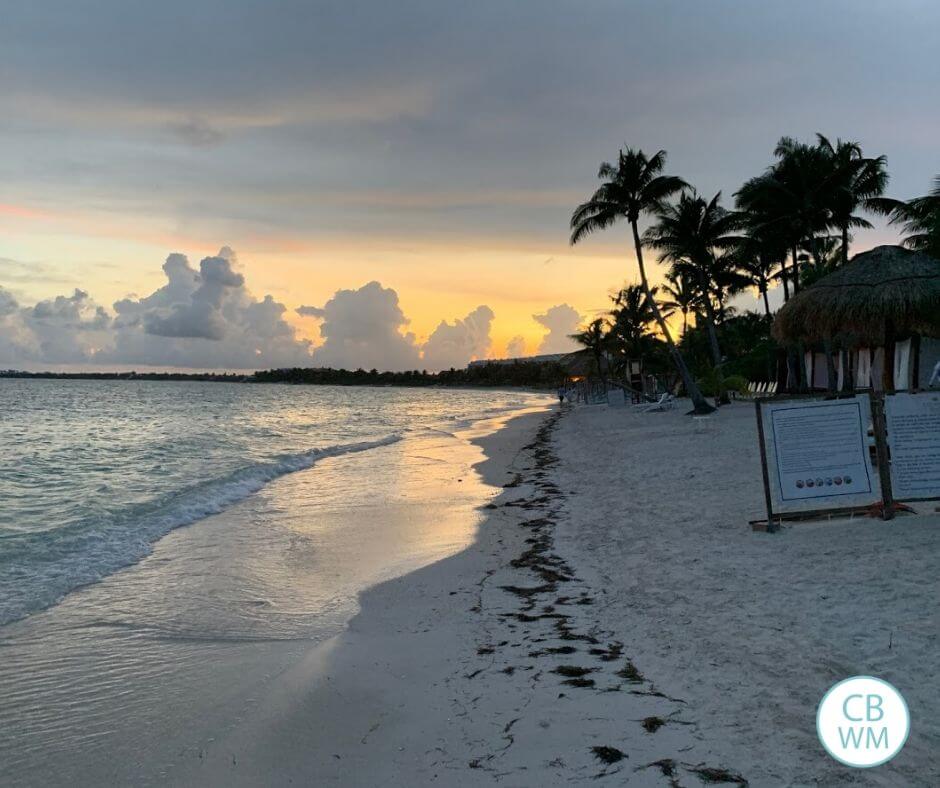 Where to Stay
We stayed at the Secrets Akumal Riviera Maya resort with Nate's coworkers. It was an amazing location and resort. It does not allow children, so if you are going with your kids, you will want to look for other locations to stay. The entire Riviera has tons of hotels and resorts, so you can easily find a spot.
Secrets Akumal is located in a perfect location where you can snorkel in calm waters because of a reef blocking the waves. There are lots of sea turtles who hang out in the bay right there.
The food was delicious and they had a lot of activities. You could really just stay there if you wanted to and have a lovely time.
But we didn't our first time. We ventured out quite a bit. Our second time, we stayed at the resort the whole time.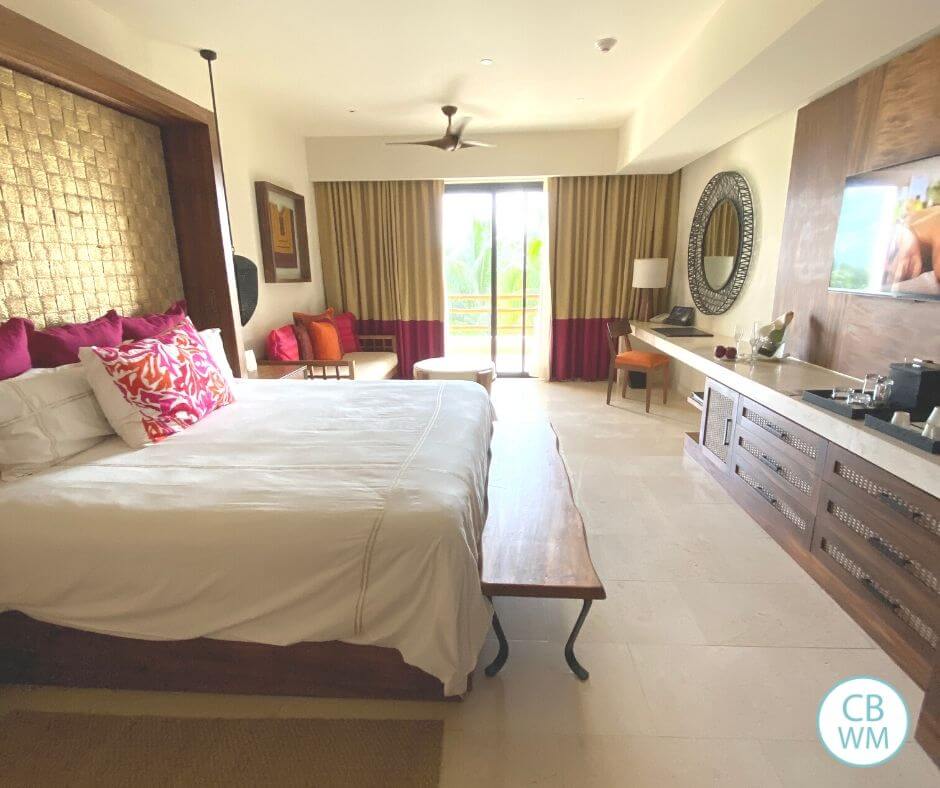 When we went with our children, we stayed in the Sunscape Akumal Beach resort. This is a sister company to Secrets. It isn't as nice as Secrets, but also not as expensive.
We had to get two rooms since there were six of us. Even so, it is quite affordable because it is all-inclusive. When you travel with teenagers, you save a lot of money going all-inclusive. The resort has unlimited dining and drinks, and teenagers need that!
They have a lot of pools on this property (11!). They have a very little-kid friendly pool area where they also have a Rex Dino land, ping-pong, billiards, and some video games.
They also have middle-age kid-friendly pools and pools that are more for adults. We stayed in beach-front rooms, so we had access to the pool ON the beach. I loved that because Brinley preferred the pool and the other kids preferred the ocean. This way I could be present with all of the kids at the same time.
They also have beach chairs and umbrellas free to use as well as kayaks, paddle boarding, and snorkeling gear free to use.
There is no shortage of hotels and resorts in the area, so you can find lots of great places.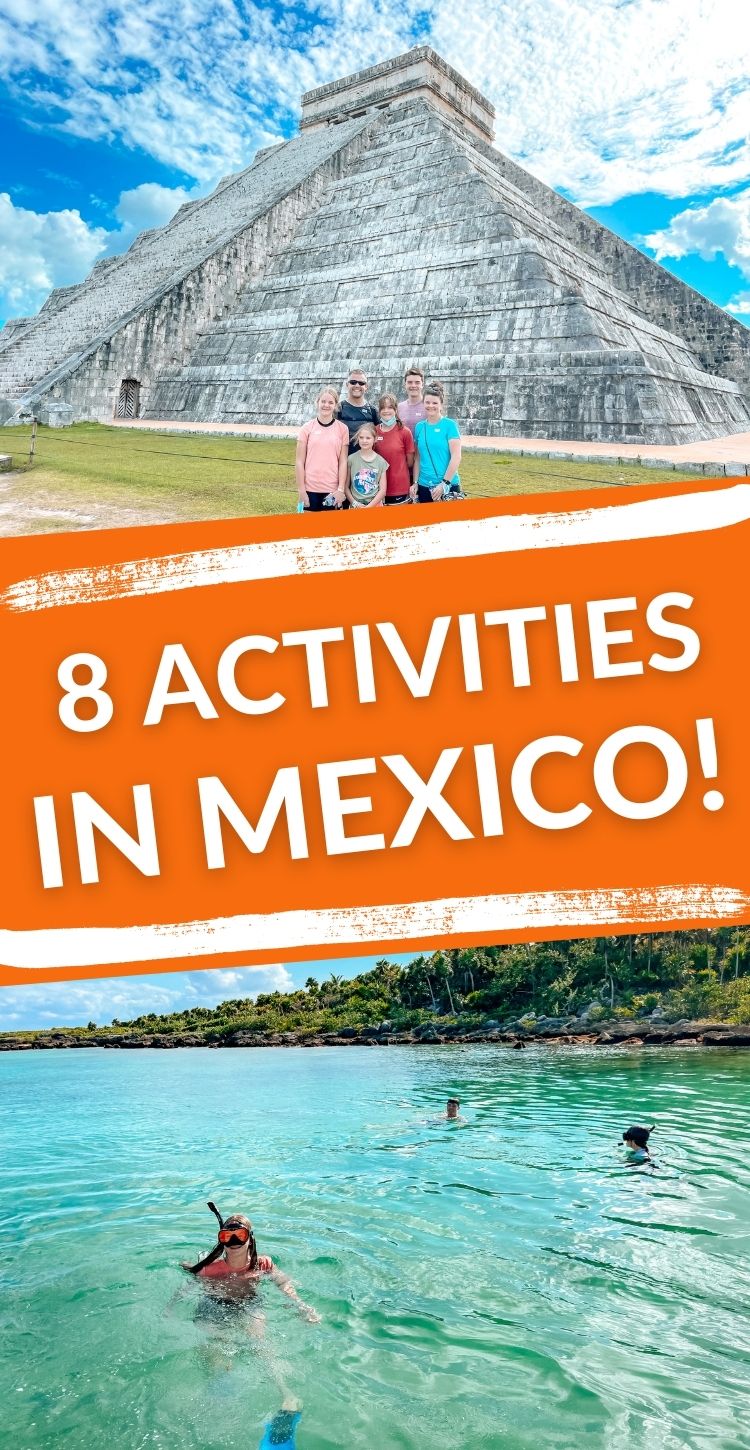 Activities to do in Mexico
There are a lot of fun activities to do in the Riviera area of Mexico.
Snorkeling
You will want to find a place to snorkel in the area. There is a lot of great snorkeling with beautiful, tropical fish and many other sea life. We even had a barracuda catch a fish within a few feet from us.
There are typically locals in boats that you can hire to do various excursions, including snorkeling. If you aren't staying in an area with great snorkeling, you can hire a boat to take you.
The location of Secrets is in the perfect spot for snorkeling and the bay is full of sea turtles. We did some snorkeling at Sunscape, which is one bay south of Secrets, but we also hired a boat to take us to the bay with turtles.
Beaches
Be sure to have a beach day in your plans. Or a few. The beaches there are so beautiful with white sand and warm, turquoise water. You can play or relax all day. Or some of both.
This was our first family vacation other than camping that involved a lot of relaxing and our kids loved it! They loved sitting on the beach and reading or taking a nap. They would get up and play in the water a bit then go back to relaxing.
We wouldn't be able to do every day on the beach, but we liked the mix.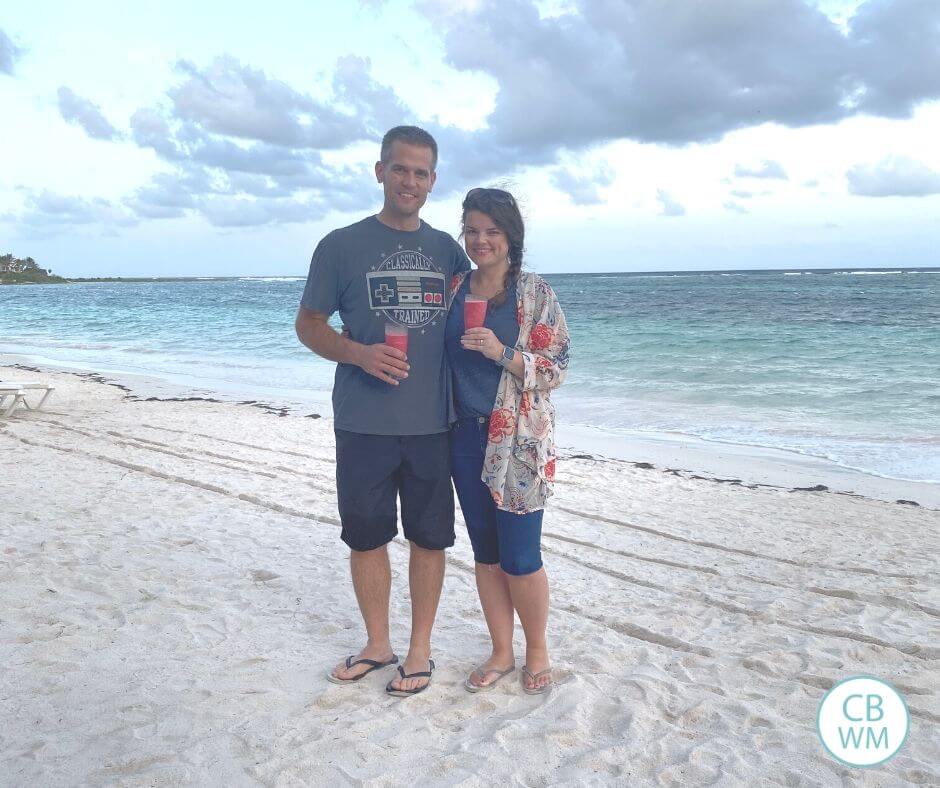 Ruins
There are so many different ruins you can visit in Mexico and they find more all the time with modern technology.
While we were there, we visited Tulum Ruins (two different times) and Chichen Itza.
Tulum is about an hour south of Cancun. These ruins are right on the coast, so you can get some nice sea breezes while you are there. It was a beautiful site. I always love historical sites when I travel. Tulum can be hot, though.
They have guides (optional, but worth it) who take you through and tell you about the ancient city. Once you are done with the tour, you are free to roam as you wish. You can even walk down to the beach (or hike. That is a better word) and hang out there. It can get hot, so a nice dip in the ocean might be nice after touring Tulum.
Tulum had a lot of mosquitoes while we were there, so plan accordingly for that.
The hours are typically 8-5 all week. You will only need a couple of hours in the ancient city. There is a really great gift shop there, so be sure to save time for stocking up on souvenirs.
Other popular ruins in the area are:
Chichen Izta (this will typically be an all day event)
Coba
Ek Balam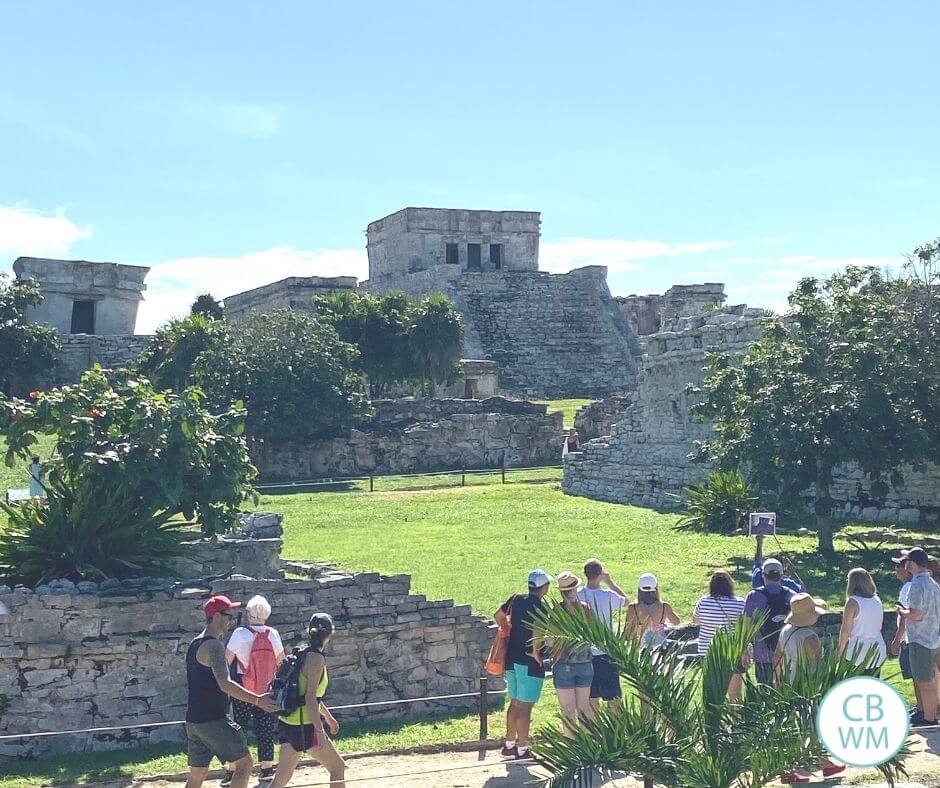 Our Chichen Itza experience was mixed. We booked a tour through their official website. We spent 12 hours on the tour but only 2 hours in Chitzen Itza. I wouldn't recommend booking that way.
There are a lot of private tour companies. We used USA Transfers for getting to and from our resort from the airport and they do Chichen Itza tours, also.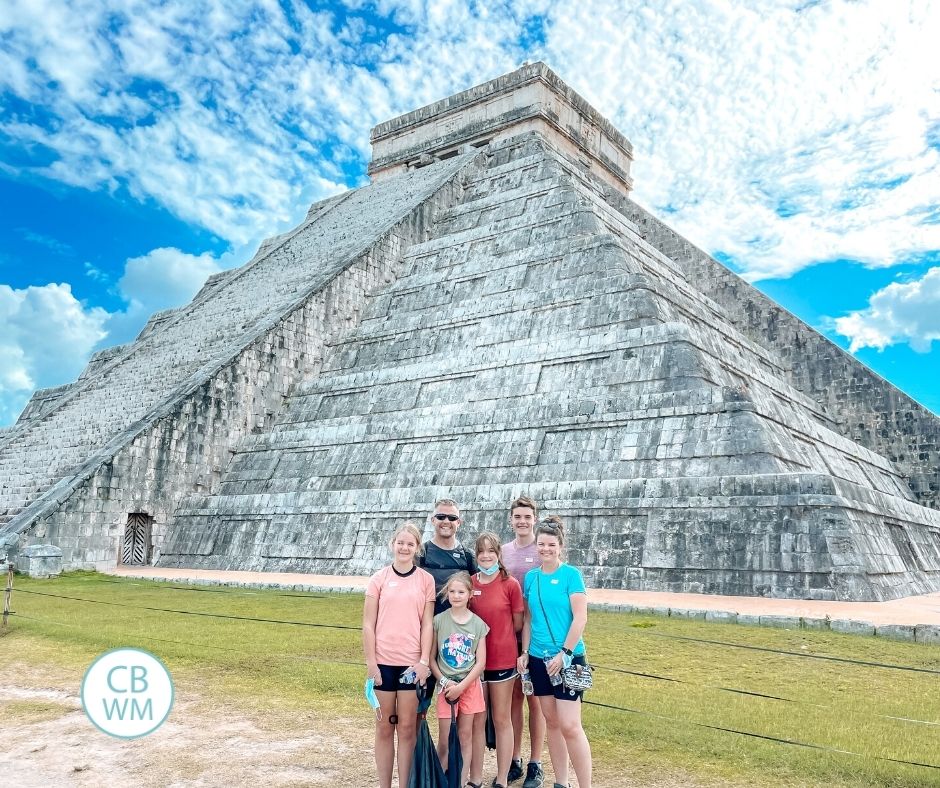 Cenotes
After we did Tulum, we traveled to cenotes. We went to Casa Tortuga Cenotes. This location is very close to Tulum. After walking around and getting hot, the cenotes will definitely cool you down.
A cenote is a sinkhole in the limestone that is exposed when the roof of an underground cavern collapses.
There are thousands of cenotes across the Yucatan Penninsula. You can have semi-open cenotes, underground cenotes, open cenotes, and cavernous cenotes.
Cenotes Casa Tortuga has caverns and open cenotes. In the caverns you see stalactites and stalagmites–it is beautiful! The water is fresh and very cold.
They are open from 9-5 each day and offer a life jacket, mask, and a guide. You will go into four different cenotes. They also had a photographer follow us and take photos (we paid extra for the photos).
There are a lot of mosquitoes here, too.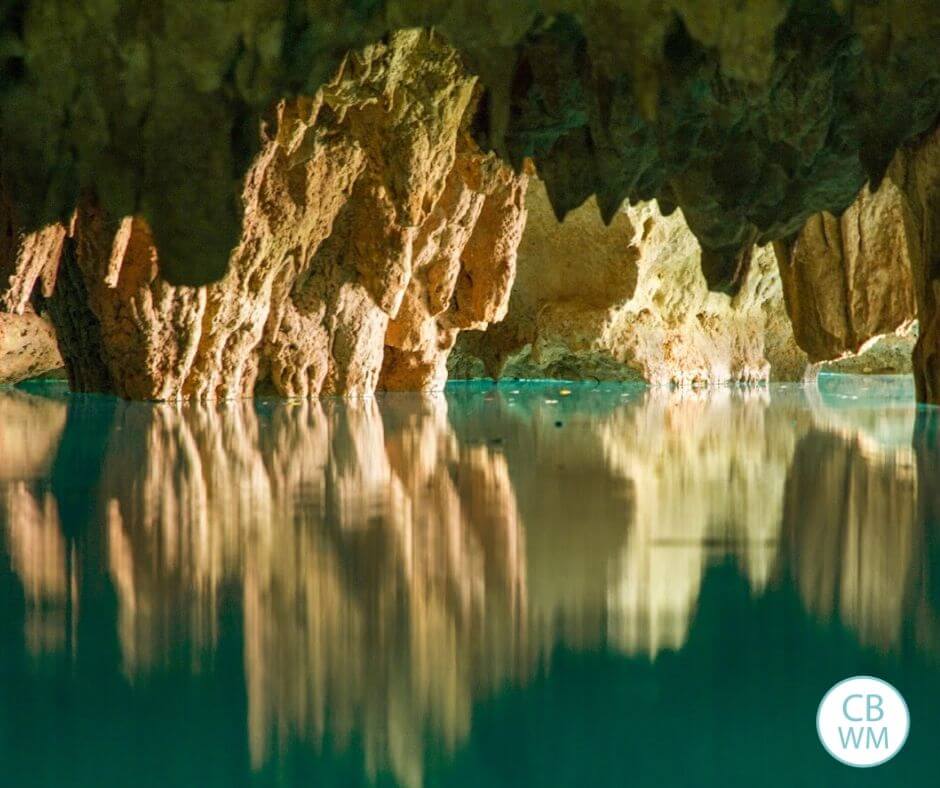 We also did cenotes with our Chichen Itza tour, so you can definitely combine it with that tour, also.
Parasailing
We went parasailing one day. It was a lot of fun! I would recommend it. I expected it to be quite windy, but it was so calm and peaceful when we got up there. The views were beautiful–you could see the many different colors of the water. It was so quiet and calm.
Along many of the beaches, you can find people offering parasailing rides (for a fee). That wasn't around where we were staying in Akumal due to the reef. There are locations you can travel to where they do parasailing, though.
We went parasailing at Maroma Adventures in Playa del Carmen. It was a great place. They offer a lot more activities than simply parasailing, so check them out for some fun ideas.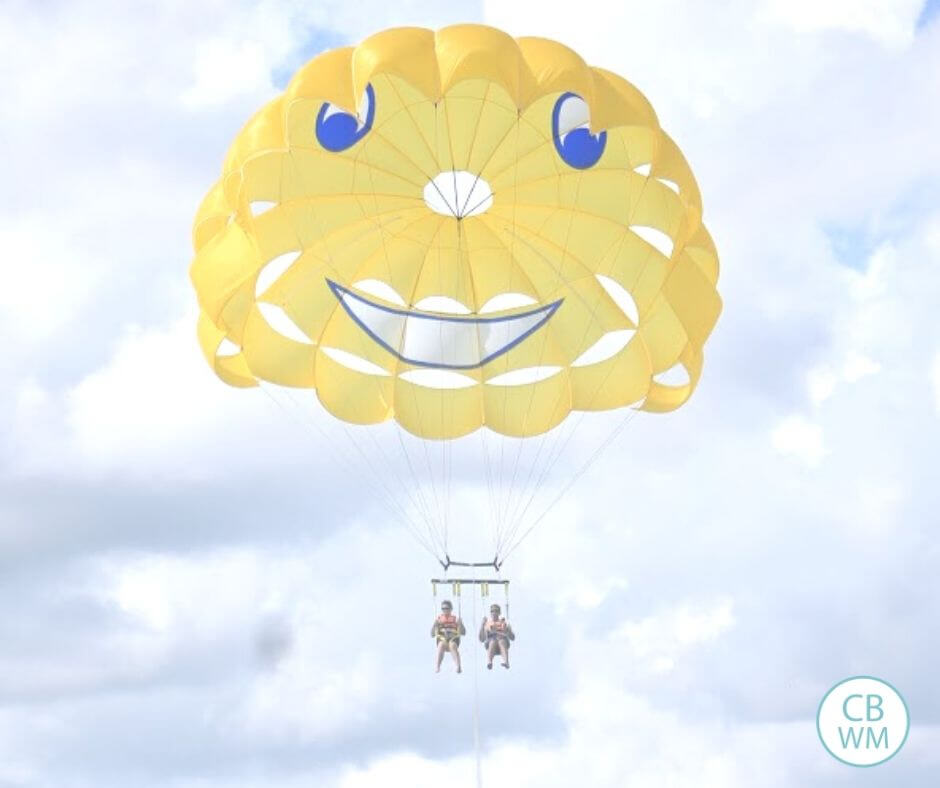 XPlor
We spent our final full day of our first trip in Mexico at XPlor. XPlor is an adventure park. It was similar to a theme park feel. Things were man-made, though still in the jungle. You get all you can eat lunch and they have nice bathrooms. The water was clean. They have lockers for you to put your stuff in.
They have zip-lines, which were super fun. Hit those very first to avoid long lines. They have some ATVs where you ride through the jungle. That was also fun.
They had underground rafts. That was just okay. I mean, do it all. But enjoy the rafts for the beauty of the underground caves.
There is an underground river, which takes you go through the freshwater river with breathtaking stalactites. There is a fast version and long version–take the long version. It is worth it.
They also have a hammock splash zip-line. We thought it would be kind of lame after the big zip-lines, but it was a lot of fun!
They are about to add a giant waterslide that looks fun, too.
While we were there, there were virtually no lines and we were able to do it all by about 1 PM. That would vary greatly depending on crowds.
You can buy a photo pass and get photos of you all over the park, which we chose to add on to our day.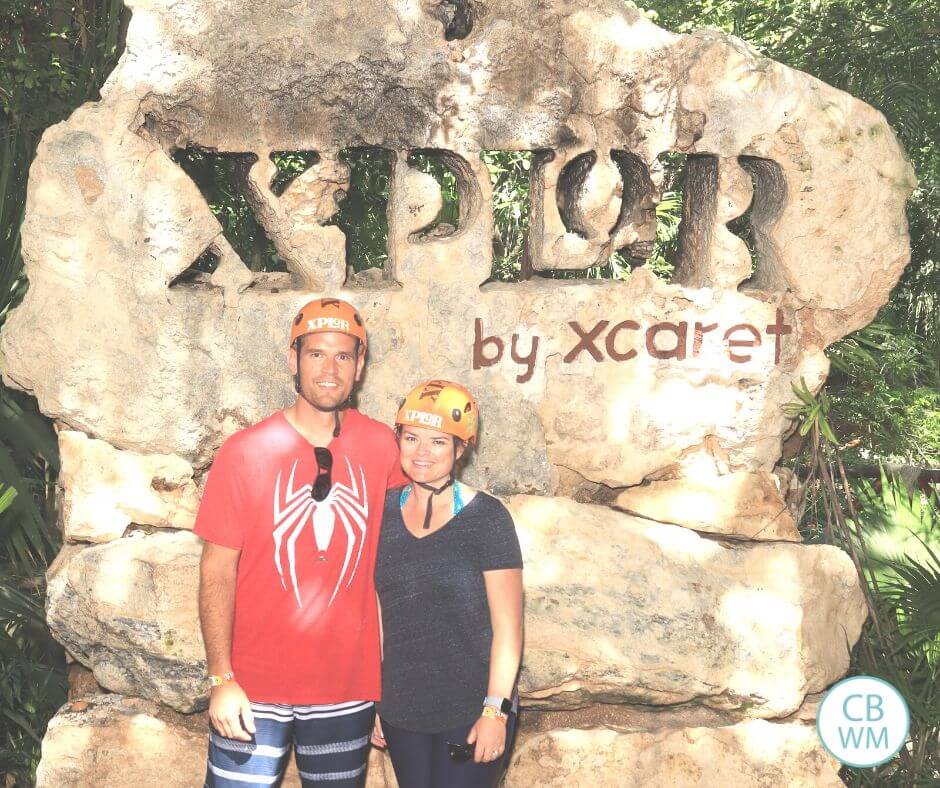 Hire A Local Boat
I mentioned above that when we went with our kids, we hired a local boat that was on the beach one day. They took us snorkeling with the sea turtles and then to a beautiful, quiet lagoon.
The lagoon was an amazing experience because salt water and fresh water mix in it. The water is cooler on the top and warmer toward the bottom, which is a very unique experience. There are also many beautiful fish in the area.
This same boat also offered fishing excursions to go out and do deep see fishing.
I loved just being on a boat out in the ocean.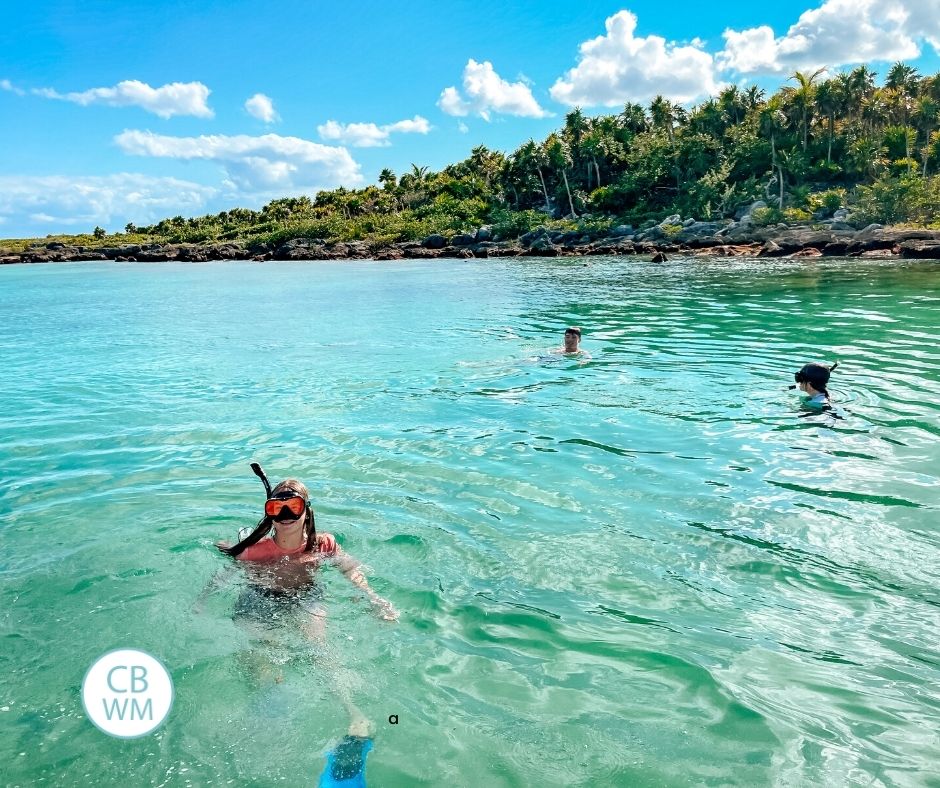 Dolphins
There are also many places in the area that have Dolphin experiences. We strongly considered this, but we have done it pretty recently in Discovery Cove, so we went with snorkeling with sea turtles instead.
Tipping and Negotiating
Be prepared to tip your guides, hotel staff, and drivers. This is very common practice in this area.
The resorts advertise that "tipping is included" in your price. Nate always likes to dig in and ask questions, so he asked our boat driver about this. We were told that the staff at the resort, including waiters, do not get anything extra for doing stuff for you. They get a set rate per day to work.
It isn't a lot, but for the area, it is a good living.
We would often tip our waiters the same amount of money (or more) that they made for the entire day–which at the time was $8 a day. It isn't a lot, but you can double someone's income that day in one tip.
We always bring cash with us to tip. We tip every waiter, we tip people who get us drinks on the beach, we tip the people who clean our room…a little bit to us can make a big difference to them.
It is also common to negotiate prices in many instances. If you are being asked to pay for photos of your adventure, you can usually get the price much lower. We didn't try negotiating at XPlor since they were more of a tourist attraction, but we did for photos and souvenirs at most other locations.
See highlights from our family trip to Mexico in this reel on Instagram
Transportation
For all of our transportation, we used USA Transfers. They took us from the airport to our resort. They took us from our resort to Tulum and then to the cenotes and then to our resort again. They took us to parasailing and back. They took us to XPlor and back. Then they took us back to the airport when it was time to go.
They have great staff, are on time, and quoted us the best prices. We really like them.
Nate also asked the drivers how they like working for the company and they all have good things to say. They treat their employees well, so we like to support them.
Safety
We felt very safe the entire time we were there. I think they really work to keep tourists safe–so much of their economy depends on tourism.
Conclusion
The Cancun/Playa del Carmen/Akumal Riviera area of Mexico is a fun and relaxing place for a vacation. The beaches are beautiful, there are amazing historical sites, and there is plenty of adventure to find. It is a great trip for couples and families alike.
See photos from our last trip to Mexico with just adults here
Related Posts
This post first appeared on this blog April 2020