Solids: How to Start? How to start feeding your baby solid foods. Tips for success in feeding your baby solid foods.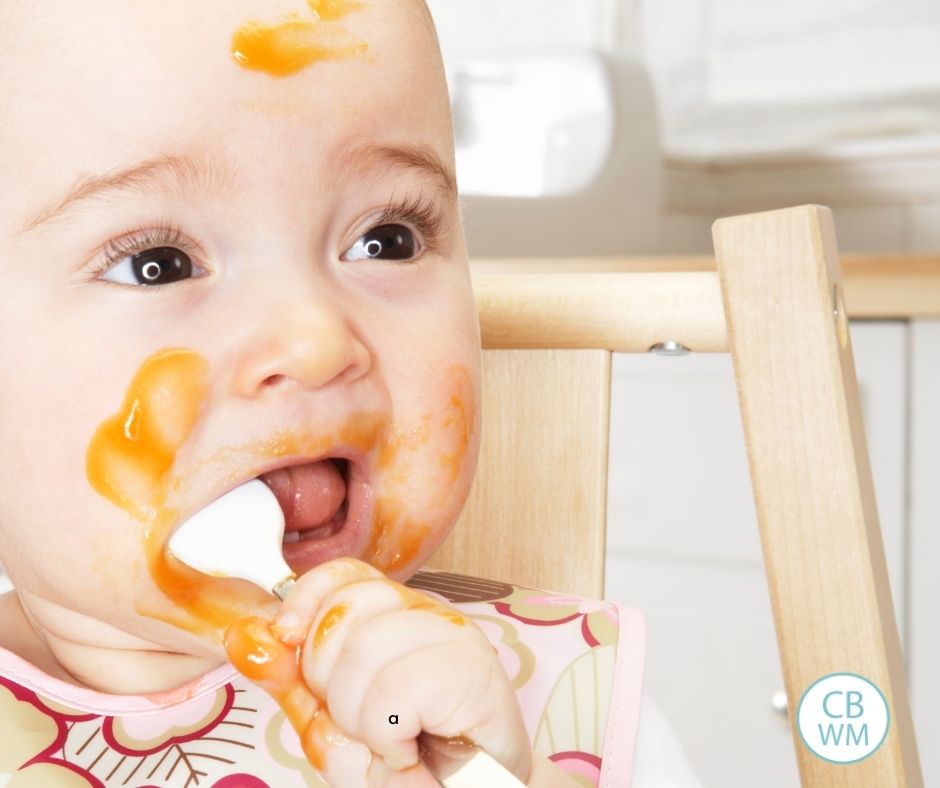 Eating should be easy. The idea of feeding a baby, before you have ever fed a baby, seems simple enough. Baby is hungry. You offer baby the food of the moment, baby eats, and baby is full.
Then you try to feed a real baby. The real baby might not be a great nurser or might be picky about the bottle. By the time you get any of that figured out, it is time to start feeding solid foods, and it isn't as easy as it seems like it should be. There are so many possibilities. This post contains affiliate links.
I follow Baby Wise
Book 2 pretty closely in starting solids (found on page 45). I basically do it by the book. But the book says they are only guidelines, not rules, so you don't risk ruining any Baby Wise
Book 2 schedule by doing it your own way. Just be sure to feed solids at the same meal you feed liquid (so you don't start snacking) and you will be fine.
How to get started feeding solid foods
Here is how I started:
When I start, I breast feed from one side, then feed the solids, then breast feed the other side. Inconvenient? Absolutely! It really helps get the baby going on solids, though. After the baby gets the hang of it, I go back to full nursing before the solids. If you

bottle feed

, do half of the bottle, solids, then the other half.
While I am feeding the one side, I pump milk from the other. I did it in the morning and pumped all I wanted for the day–that way I only had to pump once. I then used that to mix with cereal.
Start with solids at just one meal a day. Pick the best time of day for you (when you have the most time, fewer children, fewer chores, etc.)
I think it makes sense to introduce foods as early in the day as possible because you then have all day to look for possible allergy signs rather than them

occurring

at night; however, with Kaitlyn I started at her 7 PM feeding because it worked best for me–my husband was home at that time and therefore could watch

Brayden

.
I start with rice. Some people don't like rice or cereal at all. If you are one of those, start with something different. I like rice because it is more of a practice food. It can be mixed with breast milk (or formula), and it is easy on the digestive system. It also doesn't stain, and I am a bit

OCD

about such things. 🙂
At first I just did 1/2 T per meal of rice. Then each day I would increase it by 1/2 T. So day 2 was 1 T, day 3 was 1.5 T, etc. Then I stopped where I could see she didn't want any more rice than that at a meal. I mix the BM and rice at 1 to 1. Once ounce of BM and 1 T of rice. You have to watch the baby and see what he prefers. Kaitlyn liked hers runnier.

Brayden

did not care about the consistency, he just wanted it in his mouth!
I do this for one week (one meal a day for one week).
WEEK TWO
Week two, you do cereal at breakfast, lunch, and dinner. You gradually increase cereal amount to 5-8 T, though I remember sometimes

Brayden

ate more than 12 T during one meal!
WEEK FOUR
Two weeks later, you start veggies.

BW

suggests you start with the noon

meal and

to start with yellow veggies (squash, carrots).
When starting a new food, you should start with only 2 T–just in case there is an adverse reaction. Wait a couple of days between each new food. So carrots, a couple of days later you introduce squash, then sweet potatoes a couple of days after that…
Introduce the yellow veggies in the order you want to. Most babies LOVE sweet potatoes. You can either start with those for that reason to give baby a good experience, or end with those for that reason so baby doesn't refuse other ones. Depends on the baby.
WEEK SIX
Two weeks after starting yellow veggies, start with the green.
Wait two days between each new green veggie.
WEEK EIGHT
Fruits! Funny to say, but true, both of my kids HATED fruit at first.

Brayden

quickly became okay with it, but at 8.5 months Kaitlyn still only tolerates it. There are some fruits she kind of likes, but it all depends on how hungry she is. I think fruit on a whole is tart as a baby food because it, of course, has no added sugar.
Wait a couple of days between each new fruit.
You can add fruit to cereal if you want. I didn't with

Brayden

because he LOVED cereal and seemed to like the flavor of it alone best. I do with Kaitlyn because she eats more fruit that way.
Starting Solids Differently
If you don't want to do rice or don't want to start with veggies or want to mix it up, here are some common sense guidelines:
I would stay in a food group. For example, if you want to start fruits first, introduce the fruits you want to (waiting two days between each new fruit) and then wait two weeks before you start veggies.
I would then do just one color of veggie at a time, waiting two weeks before the next color.
If you want to mix it up (fruits, veggies, fruits, etc.), I would wait more days between each new food. So if you had done

bananas

, I would then wait at least 5 days before you tried something like sweet potatoes.
The benefits of sticking to a food group are for the digestive system and also allergy watch. Think it through and decide what is best for you and your baby.
More Solids Posts:
Reader Solid Foods Questions: