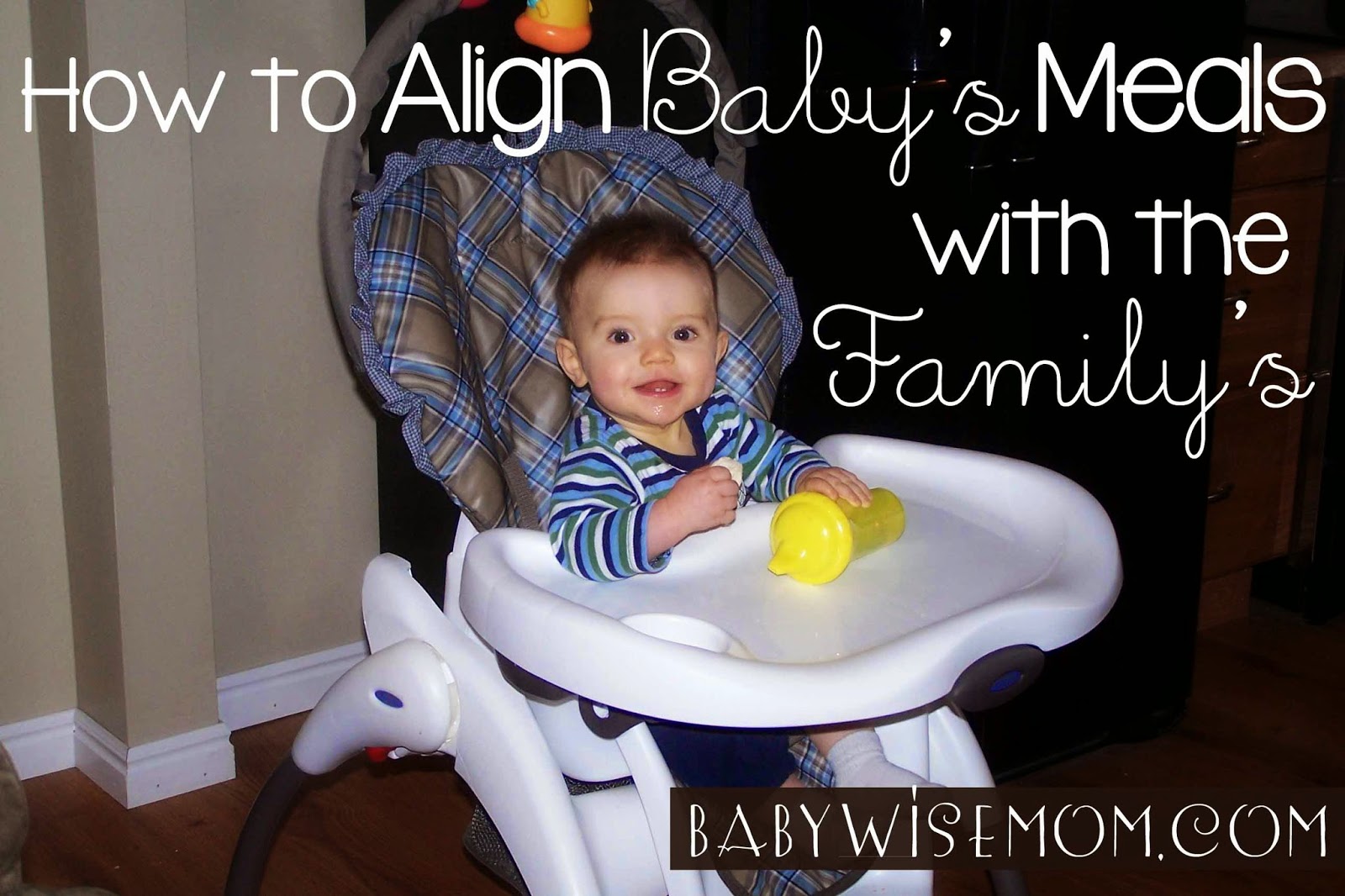 As I have been doing "Hash it out Monday" on Facebook (come join us–we talk out our problems), I have gotten at least one question about aligning meals with the family each week. I have an old post on the topic and in it I talk about it being a natural progression. It really is. It isn't something you will need to really plan out or stress over. However, I know we all like information, so here is some information to help guide you and help you get mentally prepared.
Start with Finger Foods at Family Meals
I would consider the first step in aligning meals with the family to be starting by having the baby sit with you at family meals and eat finger foods while the family eats. You will likely feed the baby her meal first, then do a family meal. Let's take lunch for example. If your baby is eating at 7-11-3-7, then you would feed baby her liquid and solids at 11. Let's say your family eats lunch at noon. At noon, you would put your baby in the high chair (or whatever you use) and give her finger foods that are safe for her while your family eats lunch.
Start with Breakfast
Breakfast will likely be your easiest meal to align with the family. This is a matter of having baby eat her first meal of the day with the family. If she wakes up earlier than the family eats, you can simply get her dressed and ready for the day prior to eating to extend the time before she eats. You also might need to move breakfast earlier to meet the baby's needs of eating.
Shift Family Meals if Needed
This leads me to my next topic. Shift the times of day your family eats if needed. We eat dinner pretty early compared to most people I know. We do this so that whatever baby/toddler we have at the time can eat soon after nap time is over. As your child gets older, you can shift the family meal time back to what you want it to be.
Add Lunch Time
The next meal that is easy to add is lunch. You might need to shift lunch time, but most babies are up during lunch whether they have two naps or one. The trick would be if your child can wait all the way until your lunch time to eat lunch.
Snack Time Might Be Required
Another option other than shifting family meal times is to offer snacks to the toddler. If your spouse isn't home until later and you need dinner later in the evening, for example, you can do a snack right after nap and then dinner when it works best for your family. Always be mindful of snacks with children. Keep them healthy and small. You don't want to create a snacking habit. You don't want your child eating enough at the snack that she isn't hungry for dinner and then wakes early in the morning. You have to come to a place where she gets enough to be satisfied but not so much she won't eat her next meal.
Do Not Rush It
Quite frankly, sometimes it is easier to not have a baby's meal at the same time the rest of the family is eating. I found this true when nursing my babies. I couldn't very well be fixing a meal at the same time I was breastfeeding a baby. I did the feed baby the meal, then give baby finger foods while we eat thing for as long as I was breastfeeding.
The day will come when your child is eating with you at meals rather than at different times. There is no reason you need to force it or make life more stressful by trying to get meals aligned. I do think family meals are important, but you can have your child eat finger foods rather than stressing a meal earlier than you or your baby are ready for. It is great to have your baby present at the meal. You can gain benefits of family meal time just by having your child at the table–she doesn't have to be eating her official meal.
Age Guidelines
There really isn't a right or wrong age for this. Do what seems right for your child and your family. People do this anywhere from 9 months to 24 months. That is quite a range. For me, I didn't even consider aligning meals until the child was done breastfeeding. So that put us at 12 months old before thinking about it. I did have finger foods at meals earlier than that. It is a great thing to do if your child is awake for the meal. I would say so long as your child is awake during the meal time, have your child sitting with the family.
By the time your child is at one nap, she is likely ready for having meals with the family. At that point, she is eating breakfast with the family, up for lunch with family, and can eat dinner with the family if you shift dinner time or offer a snack post-nap.
Related Posts/Blog Labels:
We are sorry that this post was not useful for you!
Let us improve this post!
Tell us how we can improve this post?