Christmas is a great time to reach out to neighbors and let them know you care and appreciate them. Here are some affordable neighbor gift ideas.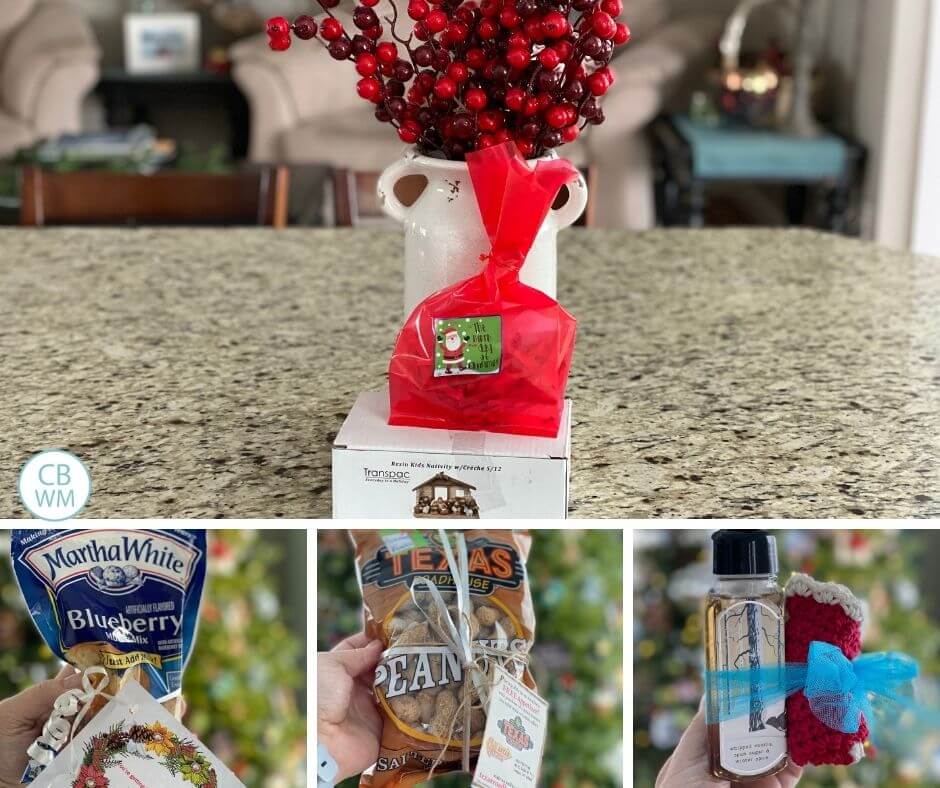 Passing out neighbor gifts is a lot of fun, but it can also quickly add up. There are a lot of expenses around the holidays anyway, and when you add in even just a a few dollars per neighbor you want to give a gift to, it adds up quickly.
You can find yourself trying to figure out which neighbors you really like and which made the naughty list this year. HAHA! Kidding…mostly….
Are you wondering what is a good gift for your neighbor? Here are a bunch of affordable neighbor gifts for you to pass out this Christmas as neighbor Christmas gifts.
Food
First up, food! Everyone loves food. You can make food at home or purchase food to pass out.
One thing to keep in mind with food is that food can quickly go bad, and if you are getting a lot of food gifts from neighbors, you might end up throwing a lot out.
So it can be good to find a food that won't expire soon. A favorite we got was some peanuts from Texas Roadhouse.
We also of course enjoy the Truffles, chocolates, Almond Rocas, sodas…it is all delicious and can be saved and opened over time rather than needing to eat it all at once.
I have a friend who makes incredible homemade salsa; that is a gift we look forward to!
Side note, a fun saying I have seen with Sprite is "May your days be Merry and Sprite." A fun one for rootbeer is "We wish you a Merry Christmas and a happy Rootbeer." There are lots of gifts you can do with soda.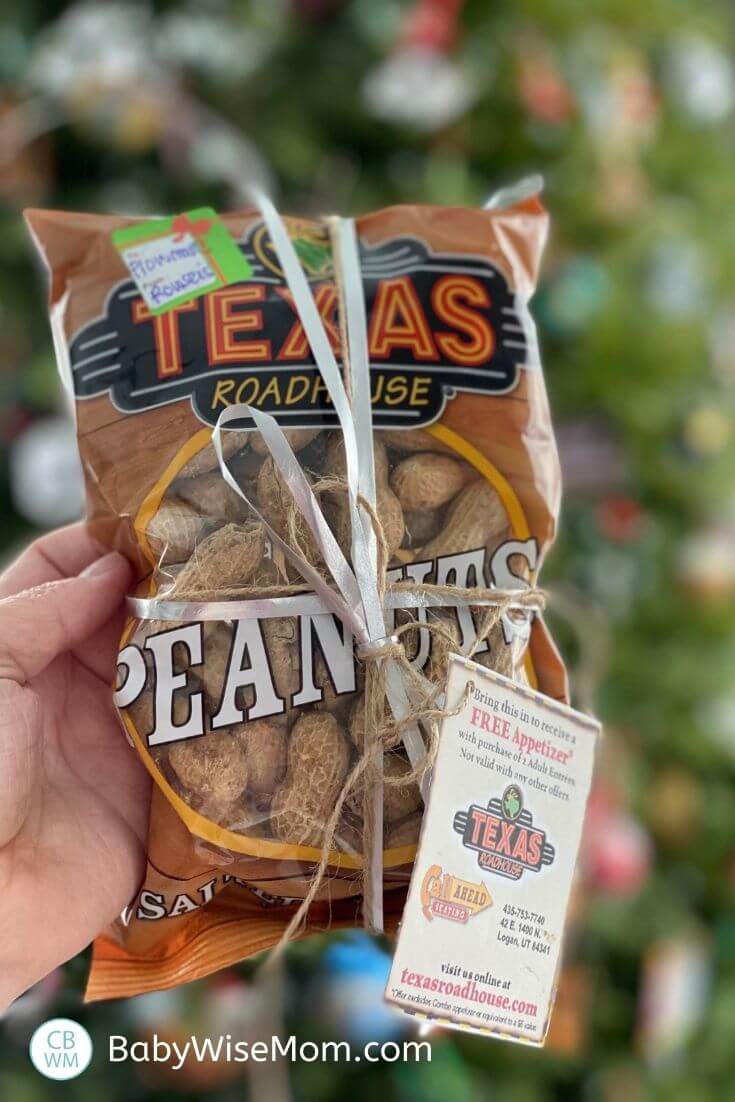 Homemade Jam
With that in mind, this is what we do each year for Christmas. We make homemade jam. The jam can be put in the refrigerator or freezer and saved for later.
One of my favorite things about doing this is that we make the jam in July. That means in December when things are crazy busy, we aren't trying to create or prepare a neighbor gift. We literally pull it out of the freezer and hop in the car. I even prepare the tags in July.
For us, this is affordable since we grow the fruit ourselves. We do need to purchase the jars, sugar, pectin, and lemon juice, but having the fruit grown at home really makes it very affordable.
With that said, there are great sales on fruit through the summer if you keep your eye out.
We have gotten various homemade gifts that are similar to this from syrups to salsas. We have had jars of homegrown honey and homemade vanilla extract. Think of something you like to eat and make and share it!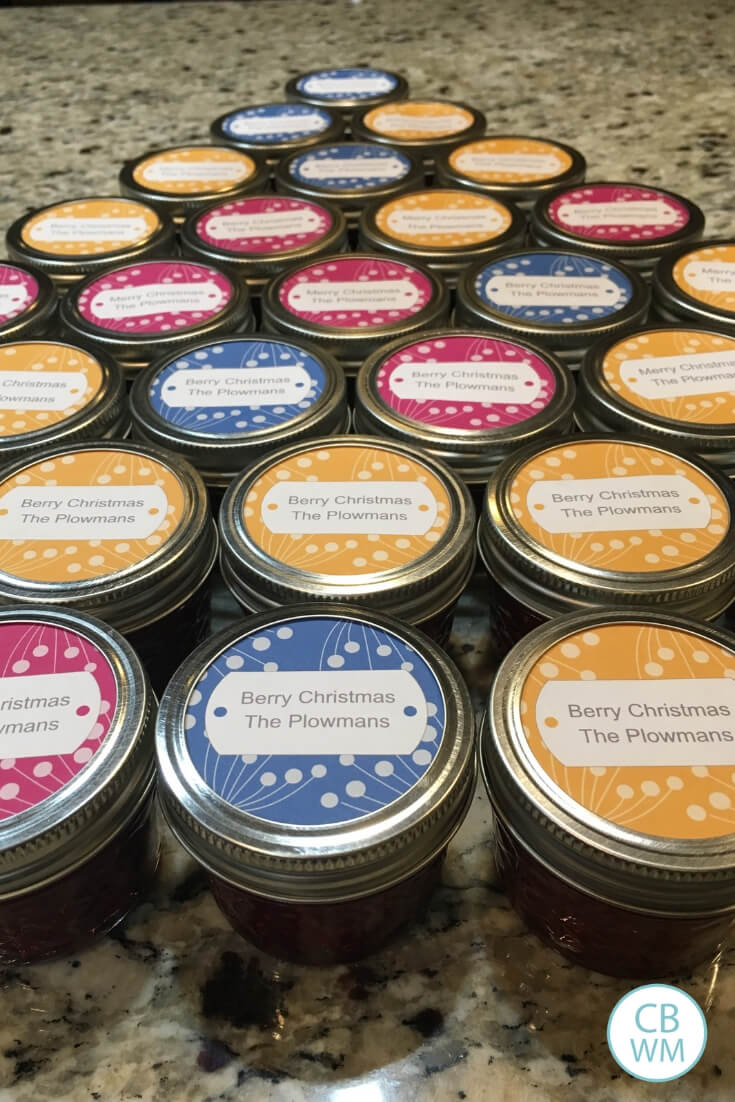 Hot Chocolate
Hot chocolate items are a great gift for neighbors. Mugs, homemade mixes, purchased mixes…they all make great gifts. We have also had spoons dipped in chocolate to use to stir our hot chocolate before. This is a perfect time to give out some hot cocoa.
Plate of Goodies and Sweet Treats
I have a friend who always makes a plate of a variety of treats, cookies, and goodies to pass out. It is all delicious, and you know she put so much time into baking it all that you appreciate it even more!
You can also do just one treat and share the recipe with your neighbor.
Food Mixes
Another great way to give out food without giving something that will go bad is a food mix. Brownies mix, muffins, cakes…
These mixes will often go on good sales around the holidays, so you can get them for an affordable price. Stick a tag and a bow on it and you are set! Your gift receiver can make the treat at a later time.
Some people buy mixes and others put the ingredients in a mason jar and share that with you.
A fun saying with muffin mix that we have gotten is "You're gettin' muffins for Christmas."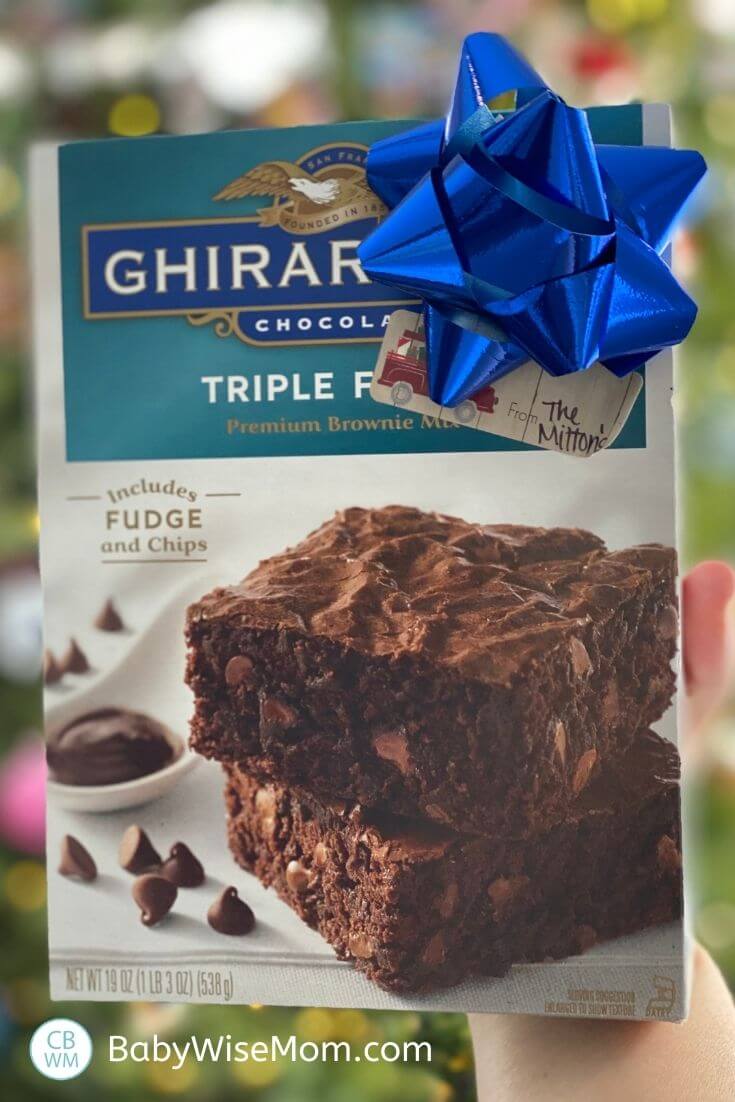 Fruits
We have had a variety of fruits over the years. Oranges and Mandarin oranges are fun Christmas gifts. Pomegranate is another fun one. A pineapple with a saying about "Mele Kalikimaka" is another fun one. The fruit is a nice break from all of the sweets.
Personalized Gifts
If you know your neighbor has a special affinity for a certain item, it is fun to get something that fits that love or interest.
For example, if your neighbor loves plants, cute potted succulents might be just the thing.
One store I find has a lot of personalized interest gift opportunity is Hobby Lobby.
Soaps
Soaps are a very popular neighbor gift, and something that won't expire. There are a great non-food neighbor gift.
One year we did "Joy" dish soap and did a tag that read "Joy to the world" with it.
You can also get hand soaps on sale that can make a nice gift. I love the soaps from Bath and Body Works, and they go on sale frequently this time of year. A popular saying with hand soaps is "We wash you a Merry Christmas".
You can add a wash cloth to go with your soap.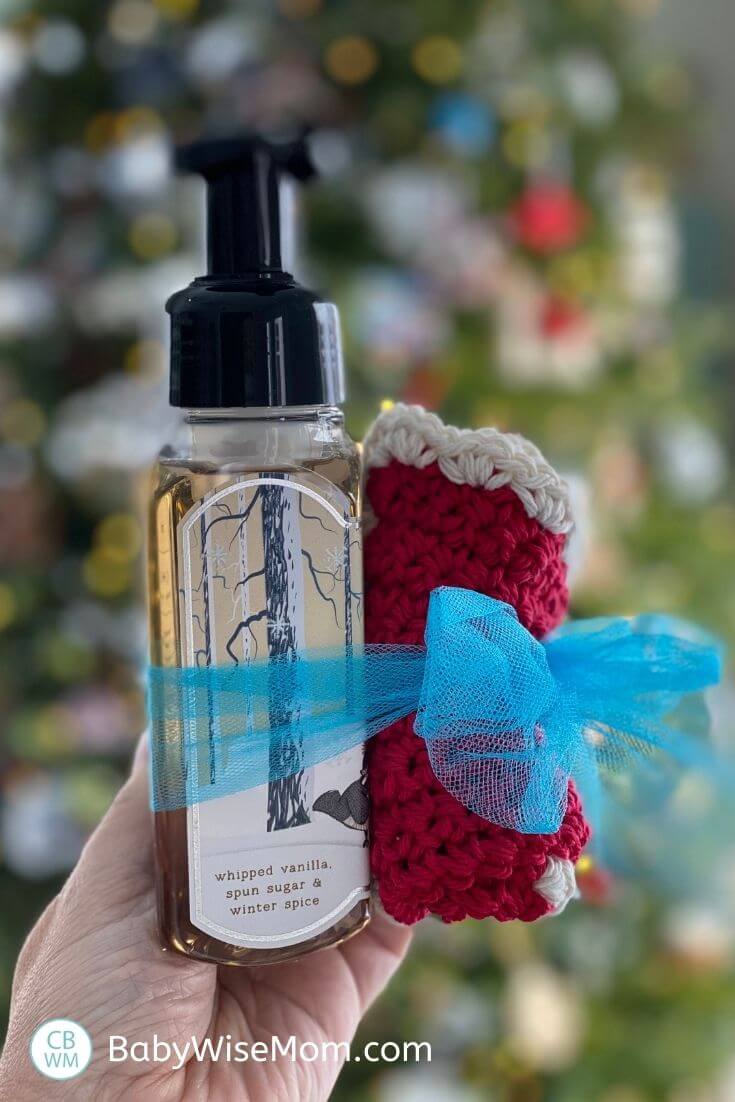 Hot Pads/Wash Clothes/Towels
Another common gift that is very practical is hot pads, wash clothes, and hand towels. Some are Christmas-themed and others are neutral. These are all things we all need and have to purchase anyway, so it makes for a nice, practical gift.
One common gift is to do an oven mitt or hot pad in conjunction with a mixing spoon and/or a baking mix.
Whisk and Chocolate
I always love to see cute little gifts that have fun sayings with them. I appreciate the creativity that comes with it.
A favorite gift we have received that fits this category is a whisk and chocolate Hershey's Kisses stuffed in the whisk.
The saying that went with it read "We whisk you a Merry Kiss-Mas".
Ornaments
We frequently get ornaments as gifts. This is one I love because we have a tree that is quite eclectic. I mark who we got it from and then as we decorate the tree each year, I have fond memories with that friend come to mind.
A great thing about ornaments so far as budgets go is that you can purchase ornaments right after Christmas in clearance sales and save them for the next year.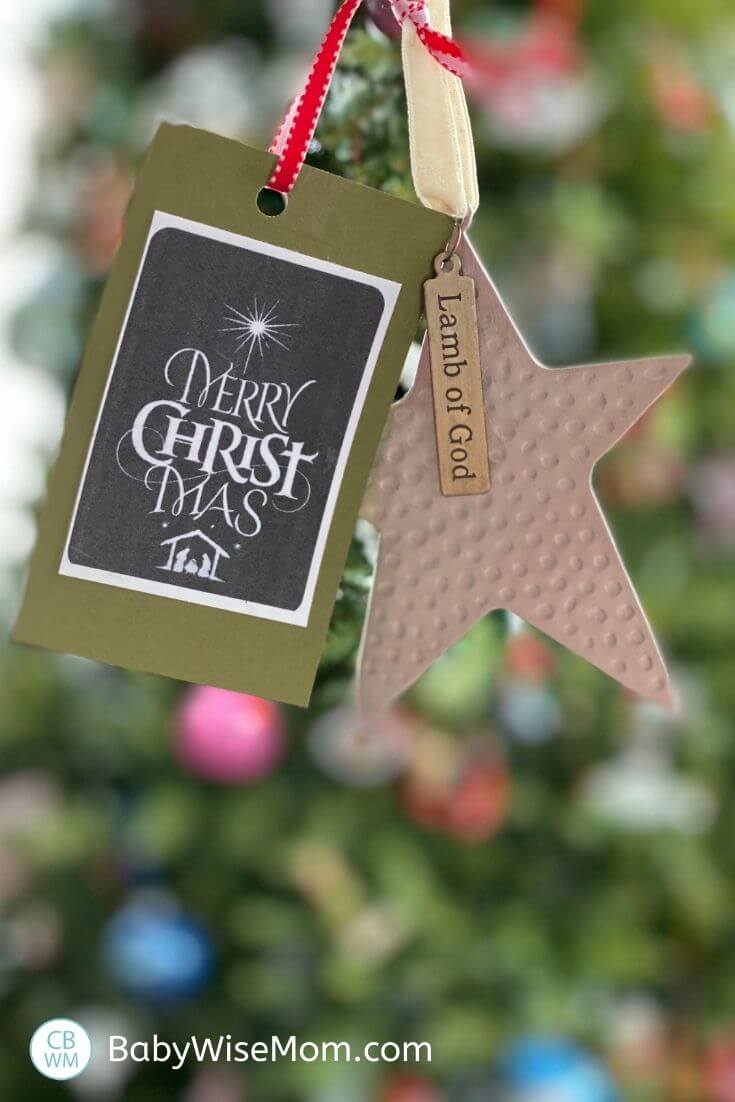 Wrapping Paper
One of my favorite neighbor gifts ever has been wrapping paper. If I didn't do jam, I think I would do this.
One of my neighbors does wrapping paper each year. This is such a useful and practical gift. If you hand it out a week or two before Christmas, you can really help that person out!
Also, if you have the space, you can purchase wrapping paper at after-Christmas clearance sales to give out the next year to save even more money.
A good place to watch for wrapping paper deals is Joanns.
Red Box Rentals
We have friends who do the same thing each year, but we have others to mix it up every year. One of those friends once did Red Box Rentals as a gift. This was very creative.
We were given a tag with a code to be able to rent a movie for free. I thought that was a fun and simple gift. I appreciate that it didn't add calories to my life, didn't take up space in my house, and provided free family time.
You can add some popcorn to make it a family movie night.
Kits/Puzzles/Games
Speaking of fun family time, a fun gift for others is fun kits or puzzles they can do as a family. You might do a gingerbread kit, a puzzle, or a simple game.
One friend gives our kids each a chocolate countdown to Christmas advent calendar each year. Our kids always look forward to this. A big bonus for them is they are done with neighbor gifts about a month before Christmas!
Items You have Discounts On
One of our neighbors works at a local cheese factory and always gives us a variety of cheese. This is something we always look forward to. If you have any discounts on things because of your work or connections, think of how you can turn them into gifts!
Candy Canes
Candy canes and peppermint are a popular flavor at Christmas. A fun holiday gift is hot cocoa mix with peppermint sticks to stir it with.
Cookie Dough
You can purchase some cookie dough or make some to share. A fun saying with this is "We could all use some extra dough this time of year."
You Get What You Give with Neighbor Gifts
One year, a friend who lived out of town saw the pile of neighbor gifts we had and commented that their area was not as friendly; they didn't get any gifts from neighbors.
This friend also happened to not pass out one gift to one neighbor.
You really get what you give. Yes, someone has to make the first move, but it might as well be you.
You also need to not give with the expectation that you will get something in return. That isn't the point. We have neighbors who just don't do gifts for a variety of reasons, and that is okay! We still give them a gift each year.
Conclusion
This list of inexpensive gifts can help you find the perfect Christmas neighbor gifts this holiday season.
Related Posts