The Best Toys for 18 Month Olds. A big list of toys worth getting for your 18 month old toddler to play with. These are great for a gift list!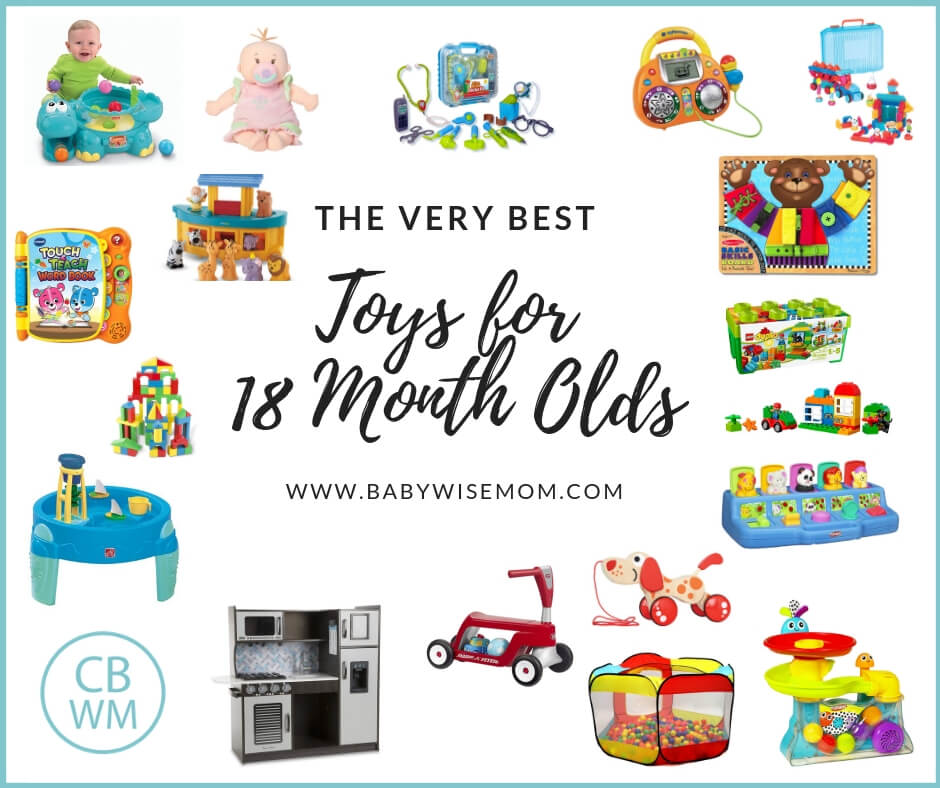 While an 18 month old might find some enjoyment in baby toys still, you will find that you need to make sure you have toys meant for toddlers to help keep your little one engaged and learning.
It can be very hard to decide what toys to get your child. There are endless fun toys out there! But a budget won't allow "endless" and your home would quickly fill up with toys if you got everything that looked fun.
You want toys that are educational, entertaining, and interactive. Toddlers who are not mentally and physically stimulated will not sleep well for naps, so the toys provide so much more than just benefits during playtime.
When choosing toys for 18 month old, you want to make sure they are safe for your child's age. Some great categories for an 18 month old include toys that encourage physical activity, pretend play, and artist play. Books that are age-appropriate are also great. See my book recommendations in this post: 15 Must-Own Picture Books
This is a list of great toys for 18 month olds that my children loved and I highly recommend. This post contains affiliate links. This does not increase your cost at all.
The Best Toys for 18 Month Olds
This is super fun for the child who loves the ball popper but doesn't quite have the hand-eye coordination for the busy ball popper (linked next). If you are just getting one (which is really all you need), I would go for the busy ball popper.
This is one of those toys for 18 month olds that I say is a must-buy and one that will be played with even beyond the toddler years. This toy is very entertaining and will be loved for many years. You will not regret this purchase.
You might already have something like this from the baby months, but if not, this si very fun and teaches fine motor skills and cause sand effect.
This is another must-buy toy. This will last not only your child years, but it will be a toy your children as a group end up having a lot of fun playing with together even when they are in different ages and stages.
The ball pit is a great way to get your kiddos to have physical activity. This is great for rainy days or cold days.
Whenever we have had friends over, the ball pit is a huge hit. Sometimes when kids play with this, balls get out and get all over the room. This can feel overwhelming! Simply have a rule that they need to help clean up.
You can even make a game out of it. We have assigned one color of ball to each child, we have worked together to see if we can beat a timer to clean everything up, we have counted the balls as we picked them up…there are a lot of ways you can make the clean-up more bearable.
As you have children play with toys more and more, you will realize the mess made with these balls is really nothing compared to what they are capable of with several toys to play with.
If you get a ball pit, be sure to take note that you also need to get balls (I got these balls for our ball pit).
We have always been a LEGO family. When Brinley was a toddler, a reader told me about these Bristle Blocks. We have loved these! These are building blocks, but can be put together easily, so it is not frustrating for little toddlers with less-than-perfected fine motor skills.
Like I said, we have always been a LEGO family. LEGO is a classic educational toy. Duplos are a great place to start for LEGOs. Some 18 month olds can handle this for sure while others will need to be closer to 2-2.5 before being able to play with Duplos without frustration. DUPLO are great for little ones because they have chunky pieces instead of tiny pieces. This was Brayden's favorite toy for a long time!
If you have a child who loves to sing, this toy will be a big hit. There are 15 kid-friendly songs for your 18 month old to sing along to. You can even change your voice.
This is such a fun book for your little one to play with independently. I like this book for traveling in the car and for independent playtime. Then the toddler can "read" the book without having someone present to read to them. It has a lot of sound effects!
If you have read very many of my toy recommendation posts, you know I am a BIG fan of Melissa & Doug products. They are great quality products. This is a great board for practicing fine motor skills and working on dexterity.
Great Toys for Toddlers
One of our best purchases ever was this water table. It is a great toy for 18 month olds and all toddlers. It is popular among preschoolers and even children, too. This provides hours of endless fun outside for children.
Wooden blocks are a classic toy for teaching colors, shapes, building, and math concepts. Toys that stack are always great for building motor skills. This set is from Melissa & Doug and solid wood pieces. I love the bright colors!
While you are pondering blocks, consider square blocks with the letters and numbers on them. While these and the wooden blocks listed above both have their value, you may want just on or the other. You can't go wrong with either one.
Play-Doh is such a fun toy. When Brayden was an 18 month old, I thought Play-Doh was so messy. Now I love when my kid want to play with it because the mess is so small and contained. It is funny how your perspective changes over the years.
This set pictured is a fun one, but would definitely need help from you with the young toddlers. If you want your child to be more independent, try basic Play-Doh sets or add on some simple tools that are easier for toddlers to use.
My kids have always loved dress up clothes. This is another thing I would put on a must-own list. There are a lot of different options of dress up clothes out there–they don't have to be what I have pictured. Get things your child has interest in. It leads to hours of play that is primarily imaginative, which means little to no mess is made.
A bonus of dress up clothes is that kids practice getting dressed independently and things like doing up a button alone–all while you are not rushing to get out of the house!
Don't just think clothes when you think dress up. Think hats and accessories, too! We love this hat set from Melissa & Doug.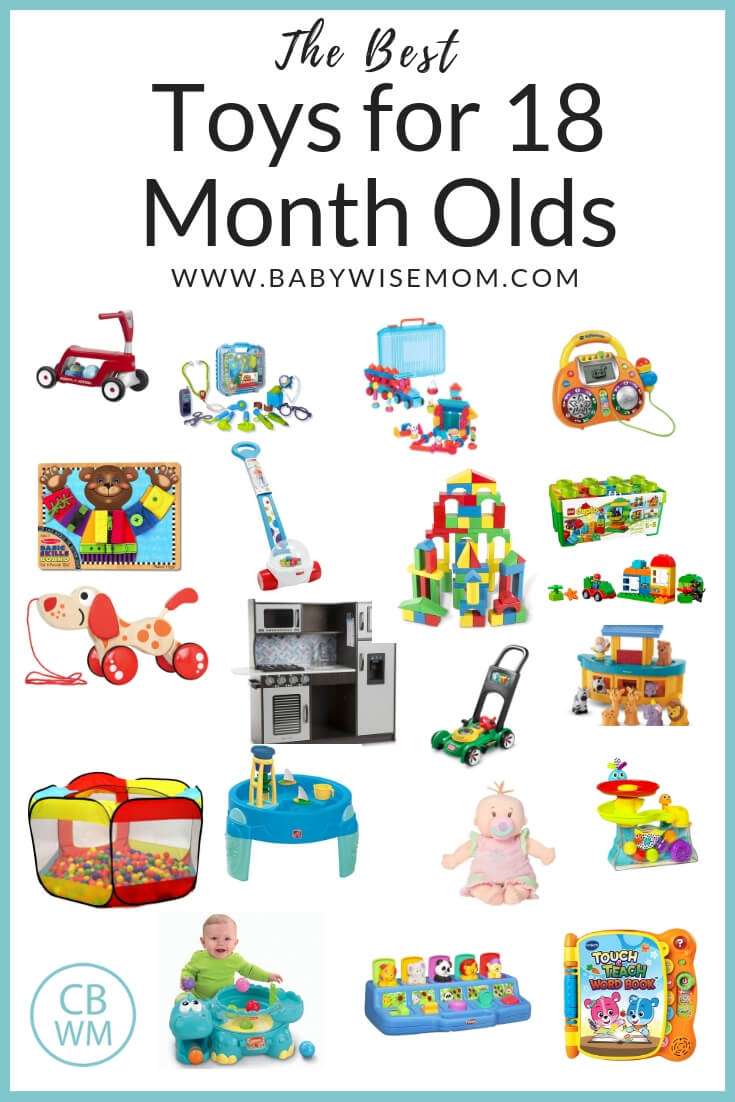 Along the thinking of pretend play, a doctor kit is a lot of fun for kids. They can play doctor with siblings, stuffed animals, and even parents. This is one of my favorite things to play with a child when I am pregnant. I am "sick" and the child gives me a checkup. That means I don't have to do much other than just sit there.
Sticking with our current theme of pretend play, a play kitchen is a must-own in my book, also. It is really amazing that a lot of these must-own items can be purchased for toddlers and played with for years to come. If you are getting a kitchen, then add some pretend dishes to your list of toys to get.
My favorite doll for toddlers is the Manhattan Toy Baby Stella Doll. It is soft and plush. There are tons of accessories, so if your little one ends up loving dolls, there are plenty of gift ideas for years to come.
And with the dolls, doll gear is super fun to go with it.
Little Tikes is another excellent brand for durability and quality of toys. A lawn mower is a fun toy for anyone who likes to mimic mom or dad mowing the lawn.
Another idea for a push toy is a shopping cart. We had the Little Tikes Shopping cart. It made it through all four kids in perfect shape.
Another push toy that is a classic is the corn popper.
Fisher-Price Little People are excellent toys that grow for years with your child.
Little People toys are not the only options for cute toddler-friendly playsets. This childhood classic is super popular today.
Pull toys are excellent for young toddlers, and this one is a classic. This type of toy helps build motor skills and is great for motor development.
I really can't get enough of Melissa and Doug. These are soft vehicles taht develop sensory skills, find motor skills, and communication skills.
Puzzles are great at teaching kids to problem solve. Problem-solving is a huge life skill! The Jumbo Knob Puzzles are great because they are simple for young children and they have a giant knob so little hands can grip it. You might also consider an alphabet puzzle.
>>>Read: 8 Different Styles of Puzzles You Should Get for Kids
Ride on toys are very fun for the toddlers. This type of toy works gross motor skills and builds up balance as your child moves toward riding bigger items.
This is another great toy to get in some physical activity. Physical activity is important to have to make sure your toddler is tired enough for naps.
Another great type of ride-on toy is the Little Tikes Cozy Coupe. You can also get a balance bike at this age. You can also get a trike. Radio Flyer has a lot of great options in this category.
A wagon is as much a gift for you as it is for your child. A lot of people prefer a wagon over a stroller as their little ones move into the toddler years. This wagon is great because it is push OR pull, has storage, and can fold up!
You have probably always had some bath toys for your kiddo to date. Now that she is a toddler, it is time to upgrade to some toys for older kids in the tub. The Boon Building Bath Pipes set is a fun idea for the tub to make bath time more fun.
Conclusion
These toys for toddlers will help you find the perfect gift for your little one, whether for Christmas, a birthday, or just a need to update the toy box.
These will be great to add to toys your little tot has and loves–like the shape sorter. This is a great list to consult when you need gifts for 18-month-olds and makes a great gift guide for toddler toys.
Follow my Amazon Recommendations Page for updates and the latest on what we love, from toys to board books to games, and much more! Click here to visit the visual list and get my top picks!
Related Toys Posts:
You will also find good info in my various toy reviews: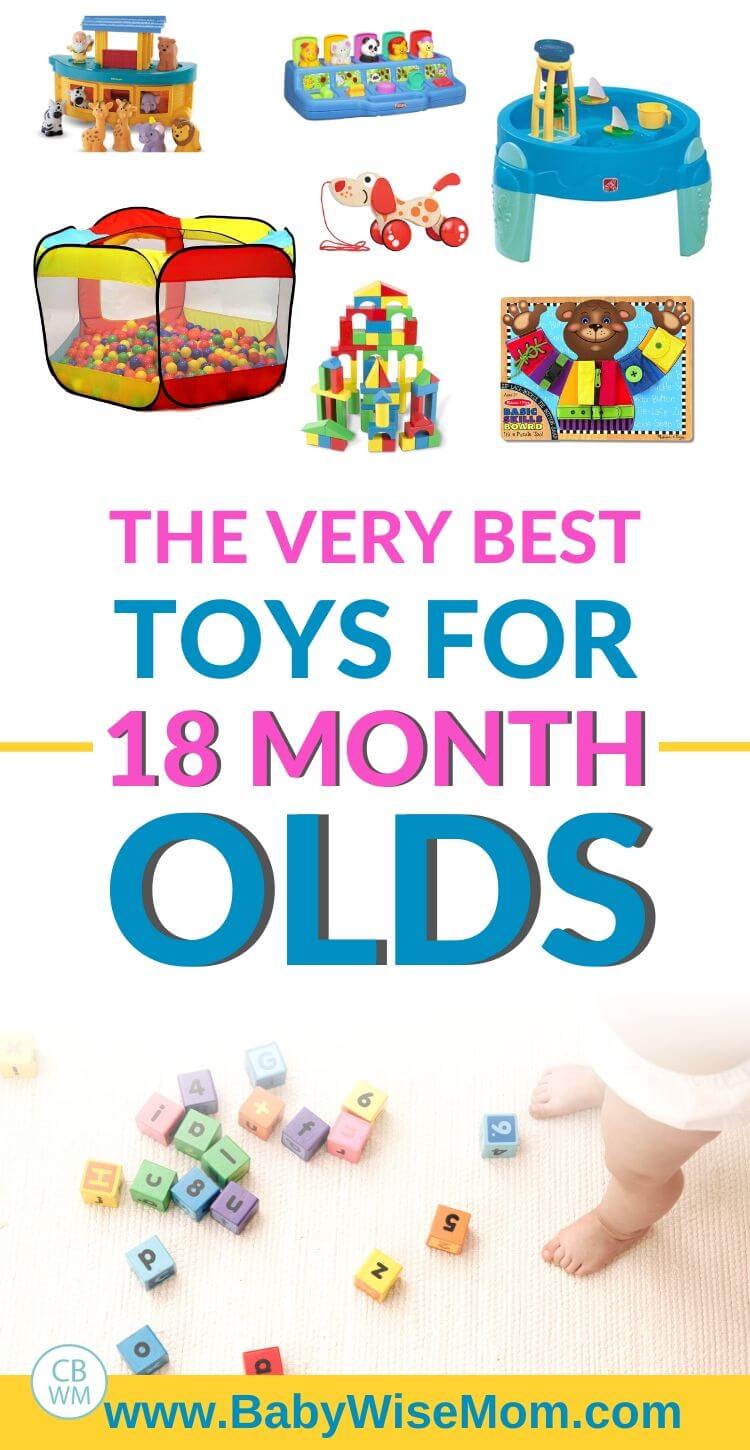 This post originally appeared on this blog September 2018