What Age Do Babywise Babies Get Easier? When you can expect baby to sleep better and get more predictable when you follow the Babywise routine.
Oh when! This is a question running through the mind of every mother doing Babywise (and if you are a father doing Babywise, then you too 🙂 ). Here is my experience of when life with babies got better.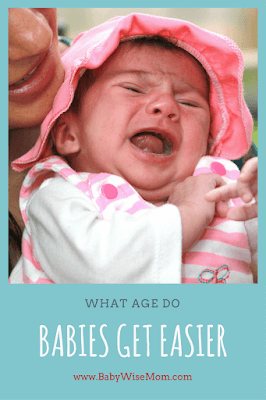 If You Start Babywise At Birth:
If you start On Becoming Babywise at birth, you can expect life with the baby to get a lot better at about 8 weeks, then dramatically better at 3 months, and then life is sweet at 6 months. When I say start at birth, I mean start at birth. I mean that you allow your baby to fall asleep independently right away.
I mean that you work on a consistent wake time every morning no matter how tired you are from waking in the night. I mean that you are working toward the 3 hour schedule (keeping in mind the many growth spurts in this time period). I mean that you are consistent. That you try to stay home for 90% of naps. I know you are stir crazy. I know you are dying to get out of the house; grocery shopping is a thrill!
But if you take those first 8 weeks and really focus on getting your child into a steady rhythm and get your baby to the point of being able to fall asleep independently, then by week 8 you will have reached stabilization. Your baby will be stable in patterns and if he gets disrupted he will bounce back rather quickly. Well worth it, at least in my eyes.
If You Start Babywise Late:
This category applies to you if you started the whole program late AND if you started just a portion of the program of On Becoming Babywise late. You fed your baby on a 2.5-3 hour schedule from birth? Great! Did you work on sleep training? No? Then you started late. That's fine! You did what you felt was best at the time. You just have to accept that late start means late results.
You can't get the full benefits of the program until you follow the full guidelines of the program. Do what you want to, but expect realistic results. Now, once you start Babywise and you are consistent and follow all of the stipulations put forth in the previous paragraph about starting, expect 8 weeks of work before you get the major payoff. Most babies will stop crying altogether for naps by then (I know one child who from birth never cried more than 5 minutes, but cried until he was a year–he just needed it to settle down). You will likely see results from sleep training faster, but plan on 8 weeks and you will hopefully be pleasantly surprised.
I purposefully planned Kailtyn's due date so that it would be at a time of year I knew we could stay home for the most part. Brayden was born 6 weeks later in the year, and it was too crazy. We couldn't stay home long enough to get him stabilized. Kaitlyn was done by the time crazy summer activities started. We started On Becoming Babywise with Brayden at 9 weeks, and he took 2 months even amidst the craziness of it all. I think he would have been faster if we had taken the time to be consistent get him there. Once I committed to getting him in a routine, it only took 2-4 weeks. BUT he was a little behind Kaitlyn in the major milestones (STTN, perfect and predictable routine, etc.). He got there. She got there faster.
Your child will get there, too. It can be hard to have a time of year of super-consistency. Holidays, birthdays, vacations, reunions…they happen. Keep working on it, and do your best to get your child into a predictable, steady routine. Once you do, you can disrupt it with little or no problems. It is worth the initial effort. For more help on starting late, see my Starting Babywise Late Guide.
Get the whole Babywise book series here
Conclusion
I found it just took babies about two months of consistency and training to get to a point of predictability and therefore easiness. Give it time and consistency and your baby can get there, too!
Related Posts:
Reader Questions:
We are sorry that this post was not useful for you!
Let us improve this post!
Tell us how we can improve this post?