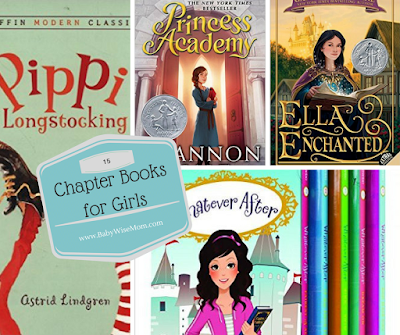 The world is full of great books. So full it can be overwhelming knowing where to start when choosing a chpater book for your child to read. This list of books are great books that have a girl protagonist and content that girls are traditionally interested in. Some of these books can and are beloved by boys as well as girls (hello Matilda), but many are primarily read by girls. This post contains affiliate links.
Matilda by Roald Dahl
Little House on the Prairie by Laura Ingalls Wilder
Pippi Longstocking by Astrid Lindgren
Nancy Clancy by Jane O'Connor
Whatever After by Sarah Mlynowski
Unicorn's Secret by Kathleen Duey
Ella Enchanted by Gail Carson Levine
Kylie Jean Drama Queen by Marci Peschke

The Rescue Princesses by Paula Harrison
Never Girls by Various Authors
Princess Academy by Shannon Hale
Julie of the Wolves by Jean Craighead George
A Little Princess by Frances H Burnett

Rainbow Fairies by Daisy Meadows
Island of the Blue Dolphins by Scott O'Dell

We are sorry that this post was not useful for you!
Let us improve this post!
Tell us how we can improve this post?