All about a 17.25 year old teenage boy. Teen life for a boy and a typical daily schedule and life who was raised on Babywise.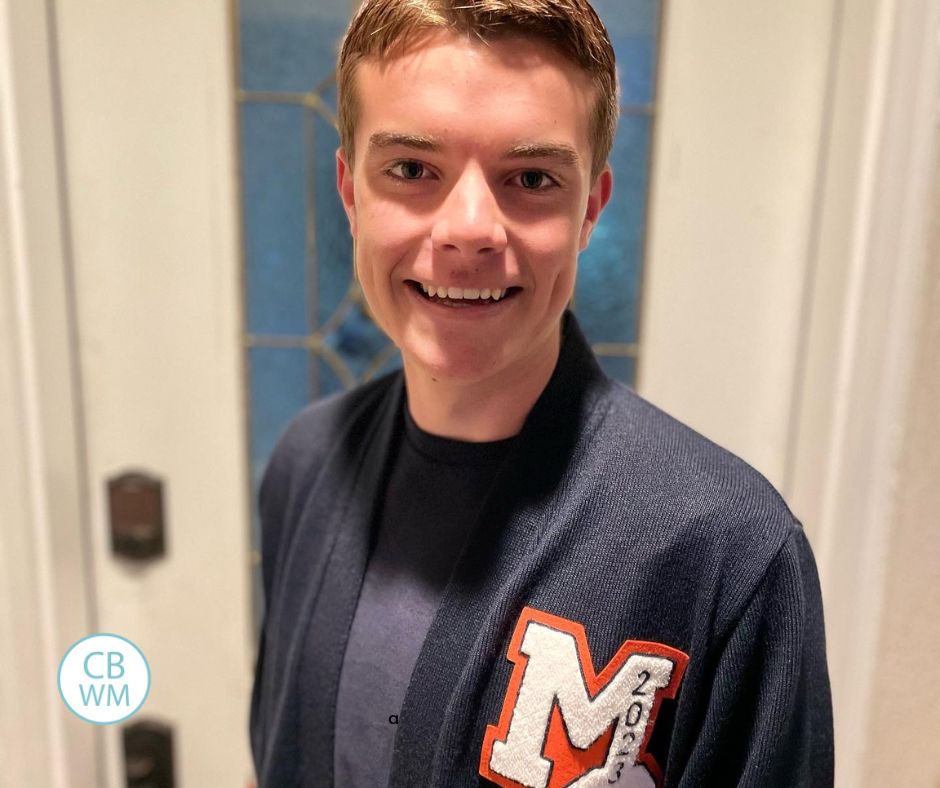 This is a summary for Brayden from 17-17.25 years old.
EAT AND SLEEP
There is nothing to report on either of these.
SUMMER
Summer was great and went by way too fast! Brayden was really busy with a variety of activities.
As a family, we went to Disneyland together. That was a fun family trip. Brayden loves Star Wars so he loved that section of Disneyland.
You can read all about it here: Disneyland and California Adventure Family Vacation
Brayden had a student government conference, he reffed soccer tournaments, he went backpacking with the young men in our ward for a week, he had a big youth conference for our church (FSY) for a week, he did more camping, and he had fun with friends while working odd jobs here and there.
REFFING
He makes enough money from reffing that he does not need to get a full time summer job.
Brayden was invited to ref at the Far West Regional Tournament. This is by invitation only and only a handful of refs are taken from each state. He really enjoyed the experience. He was able to be mentored by FIFA refs and MLS refs.
PIANO
Piano is great! He is enjoying it a lot and moving forward. He continued piano through the summer and will continue through the school year. He currently wants to continue during college, also.
SCHOOL STARTING
Well…it happened…he started his senior year.
I am not typically an emotional mother on the first day of school. I have shed a tear or two on big ones. I get a bit emotional on the first day of Kindergarten. It hit me hard when Brinley went.
Never have I ever cried like I cried on the first day of school this year. As I looked at his first Kindergarten pic and his first day of Senior year…it hit me. I ugly cried so hard my phone literally did not recognize my face.
It probably doesn't need to be said, but prepare yourself for the emotions.
I am guessing this year will be full of those.
Brayden is taking a lot of college classes this year; he is not going easy on his senior year.
SWIM
A big change this year is that Brayden will not be swimming.
He thought and prayed long and hard about this. It is a hard decision because he would be a senior and be the oldest. He knows him not swimming is a blow to the team.
But with the addition of student government to his schedule, he needed to cut something.
That has also been a little hard because he had old dreams that would have been realized. He had always dreamt of being a team captain. He was asked but turned it down. But his dreams have evolved and shifted and I have to do that, too! That has been an interesting hurdle to face as a mother that I never anticipated.
He has never hoped to swim in college, so he said he is just stopping swimming a year earlier than he would have. No big deal.
SCHEDULE
Most of this time period was during the summer, so I will share his summer routine.
He is really diligent about scheduling out his days and weeks. He makes goals to focus on each week and plans out his week each Sunday.
7 AM–Wake up
He would then work out and do chores. He got a gym membership at Planet Fitness. He would also work on other jobs if he had them.
Noon–Eat Lunch
More goal work and leisure time
5 PM–Dinner time. Then family time or friend time
RELATED POSTS