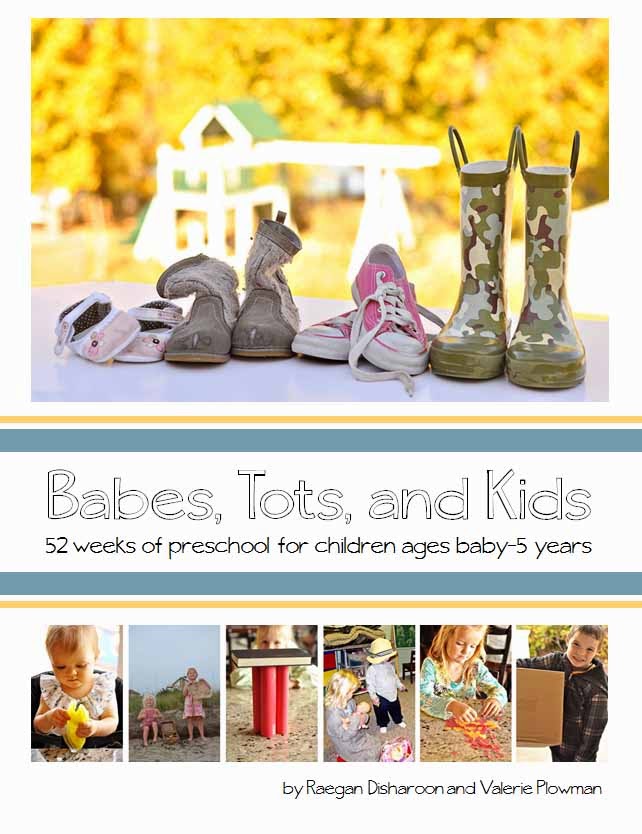 I am very excited about this giveaway today. This is for a book that I have been working on with my friend Raegan for years (Raegan is the one who wrote the Chronic 45 Minute Naps post on this blog). Seriously years. I had no appreciation for how long it takes to create a book until we dove into this book.
Babes, Tots, and Kids is a book that is 52 weeks of preschool all planned out for you. You can visit our website at www.babestotsandkids.com. We wrote this book with multiple ages in mind. We talk about how to adjust activities to work for multiple ages. This way, you can do the same activity with your 12 month old as your 5 year old.
There are already several "learning activity" books out there, and they are excellent. What sets this book apart from those? This book does the organization for moms already. This book ensures the basic skills are fully covered over the course of a year—and even from week to week. This book provides not only the ideas to do, but lumps them into fun themed weeks and provides the activities to do each day of the week.
It is a great book. And you can jump in any week of the year. You can get it now and start in Januray (or next week) or you can get it now and start next September. Whatever works for you. You can read more about the book here. If you would like to order a book, go to www.babestotsandkids.com. We are launching today and in celebration, are giving away a copy!
a Rafflecopter giveaway



ENTRY RULES
You must enter the giveaway to have an entry.
You must fulfill the rules of each entry for each entry to count. If I see the entry is not valid (did not meet entry requirements), I will disqualify your entry. Trust me, I check each winning entry to make sure it was valid.
Entries will be accepted until 12:00 midnight December 12, 2014.
The winner will be randomly selected through Rafflecopter.
The winner will be announced sometime after the winner is chosen. I will email the winner.
Once the winner is announced, you will have one week to contact me or another winner will be chosen. Be sure to check back and/or check your email. The only thing worse than not winning is to win but not realize it in time.
I will not use your email address for any purpose other than contacting you if you are the winner (and FYI, I don't have access to the email addresses except for the winner).