Schedule and routine for a 21-22 week old newborn baby. Get info on this baby's daily schedule and routine for each day and know how to structure your day.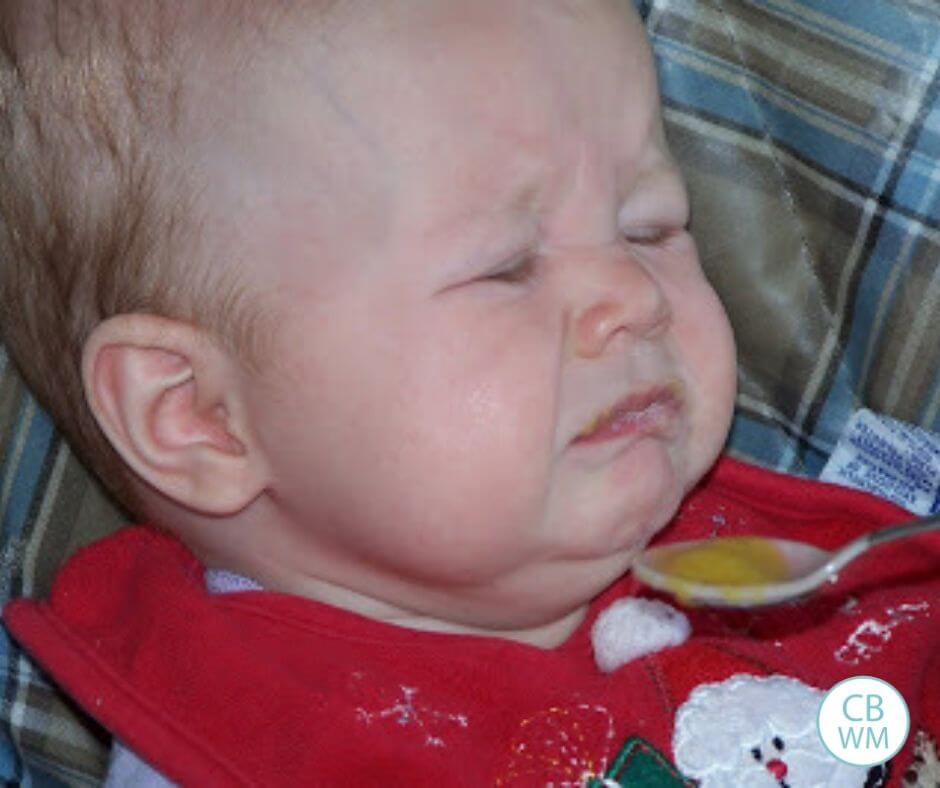 NURSING
This was a great week. McKenna turned five months old this week! I can't believe it! She is so fun.
Things are still uneventful. McKenna just nursed this week without talking or biting.
WAKETIME LENGTH
Waketime length kind of extended. I didn't really officially move it, but the morning waketime went from 55-60 minutes. I said it in the past, but she no longer is super-sensitive to waketime length. A five minute sway doesn't affect her nap at all.
I noticed this week that now that she is older, she can be awake in her crib for part of waketime without me needing to count it toward total waketime. As a newborn, you need to count every minute awake. But as they get older, time in the crib is more restful than out, so waketime isn't the same minute for minute out of the crib and in the crib. The most I have ever had her wait in her bed is 5-10 minutes, but she didn't need to go down 5-10 minutes earlier. That likely has something to due with the fact that a five minute sway doesn't negatively affect her nap.
---
Read: Optimal Waketime Lengths
---
DROPPING NAPS
At the beginning of the week, I thought she might be done with the fourth nap for good. Mid-week, she had a few days where she really needed the fourth nap. By the end of the week, she didn't need it again.
---
Read: Dropping Naps: A Quick Reference
---
NIGHTTIME SLEEP
McKenna had been sleeping until seven consistently. For a couple of mornings, she started waking early again. Not very early; only 10-20 minutes. I decided I thought she was waking early because she needed to go to a larger diaper at night. So for nights, she now sleeps in a size three and during the day she wears a size two. She is once again sleeping through. She usually makes it until 7:30. I sometimes need to wake her at 8:00. I have decided our 30 minute sway will be 7:15-7:45 for now, with 7:30 being our typical morning waketime. If she will consistently go to 7:30, I might sway 7:30-8:00 (8 would be nice for the weekend 🙂 ). This week I let her sleep later a few days because it was our last week before Brayden started preschool. I thought we would make it a relaxed week.
One nice thing is that my body is used to her sleeping until at least 7 consistently, so I sleep until 6:30 or 7:00 consistently, too 🙂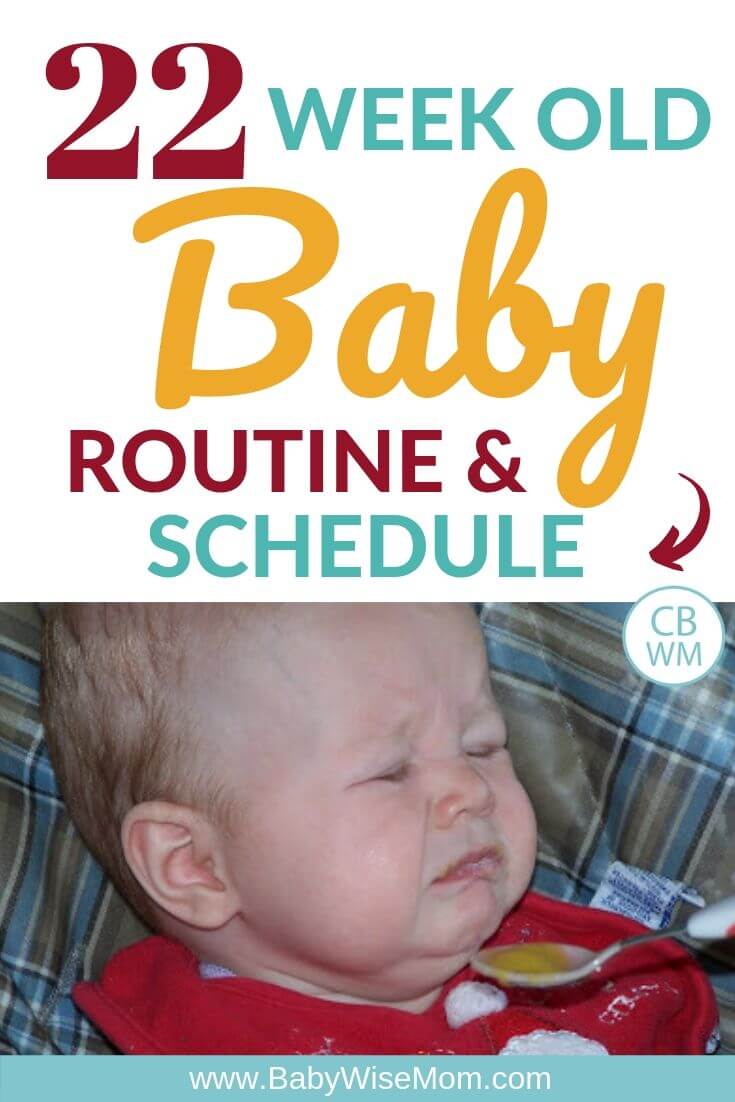 SOLIDS
We made a lot of progression with solids this week. I started having her eat solids three times a day. By the end of the week, I started having her eat solids at her first feeding so I could train her metabolism toward eating breakfast.
I still nurse McKenna a full feeding before giving her solids. Since she eats solids well, I don't see us ever changing that.
I gave McKenna bananas this week. In Super Baby Food, Yaron says she doesn't understand why parents feed their babies store bought bananas since they are so easy to make. I fed Brayden and Kaitlyn store bought bananas, but I want to make most if not all of McKenna's food. So I made her bananas.
I have to say, I agree with Yaron! What was I ever thinking? Brayden and Kaitlyn both hated bananas worse than any other food until they started eating real bananas. McKenna LOVES bananas. Her first bite, she didn't make a strange face. She couldn't eat fast enough. She wanted a lot more, but I didn't want to give her too much in case she had a negative reaction.
As I was feeding her the bananas, I was struck by how different home-made bananas look from store bought. Really different. It made me wonder what they did to store bought bananas! Most store bought baby food looks and smells like the food it is representing…but not bananas. If making baby food is not your style, you should consider making bananas. When you consider how cheap bananas are, it is worth it! Right now, where I live, bananas are .20 cents a pound!
Okay, on to peaches. I also made peaches for McKenna at the last day of this week. For a five month old, peaches need to be cooked before being mashed up. So I cook a pound at once and froze a whole bunch. McKenna is not as thrilled with peaches (not surprising to me; both Brayden and Kaitlyn didn't like them). She will eat them happily mixed with her rice. I figured that way, they wouldn't be such a potent flavor while she got used to it.
Right now, I am introducing foods to her that I can either easily make (bananas) or we grow ourselves (peaches). I plan to make applesauce soon (homegrown), but I won't be giving it to her yet. I also plan to make carrots soon (also homegrown), but you aren't supposed to feed homemade carrots to babies until they are seven months old, so I will be waiting a while to make them so they can keep in the freezer.
McKenna didn't try to put her hands in her mouth at all during feedings this week.
I fed her solids at breakfast. She then went 3.5-4 hours until the next feeding, so we did lunch then. We then did just a nursing. We then did dinner at the next feeding and just a nursing before bed.
SWADDLING
My feeling is now that McKenna will soon be ready to drop the swaddle all together. I want her to drop it before I drop the dreamfeed.
THUMB SUCKING
McKenna finally decided she likes to suck on her thumb this week. She has previously gone back and forth among many different finger combinations. This week she stuck to the thumb and seems quite pleased with it.
---
Read: Why You Should Encourage Thumb/Finger Sucking
---
ROLLING
I am happy to say that she hasn't rolled onto her tummy during sleep. At least that I know about.
MOVING
We have some big news. We will soon be moving. At the beginning of July, we put our house up for sale. It was a crazy time as we got things ready to sell and had to keep the house spotless 🙂 Happily, it sold a little over a week later. Since then, we have been packing. We bought a house a few days ago. We will be redoing the carpet, flooring, and paint, as well as build and remove some walls all ourselves (if this sounds like a lot to you, it is nothing to us 🙂 ). It will be a crazy couple of weeks. We are only moving a few blocks away.
I am glad McKenna is solidly sleeping through the night. I am debating if I should try to drop the dreamfeed before we move or after we move. I am also aware that once we move, I will have to re-figure out how to dress McKenna for sleeping, but I think I know her well enough now to have a good idea where to go.
If any of you have great moving tips, I would love to hear them!
TEETHING
I have suspected teething pains in McKenna for at least a month. She is most defnitely teething. I am really hoping this is a false run and she won't get teeth in yet. But it is looking close. She doesn't complain at all. She isn't fussy and she is sleeping well, but you can see the tooth.
OUR SCHEDULE
I will now start at 7:30 as an average
7:30 AM–wake, nurse, solids (1 T rice. I will add 1 T peaches this next week)
8:30 AM–nap
11:00 OR 11:30 AM–nurse, solids (at least 4 T bananas)
12:00 OR 12:30 PM–nap
2:00 OR 2:30 PM–nurse
3:15-3:45 (75-90 minutes later) PM–nap
4:30 OR 5:00 PM–nurse and solids (2-4 T sweet potatoes)
7:00 PM–nurse and straight to bed
Sometimes she eats after only two hours in the evening since she is extending her day out right now. This is a temporary situation and it is fine with me for now. I know it won't last too long. I find that preferable to having a fourth nap and eating at a 3 hour interval, and thus having a later bedtime. I want bedtime consistent.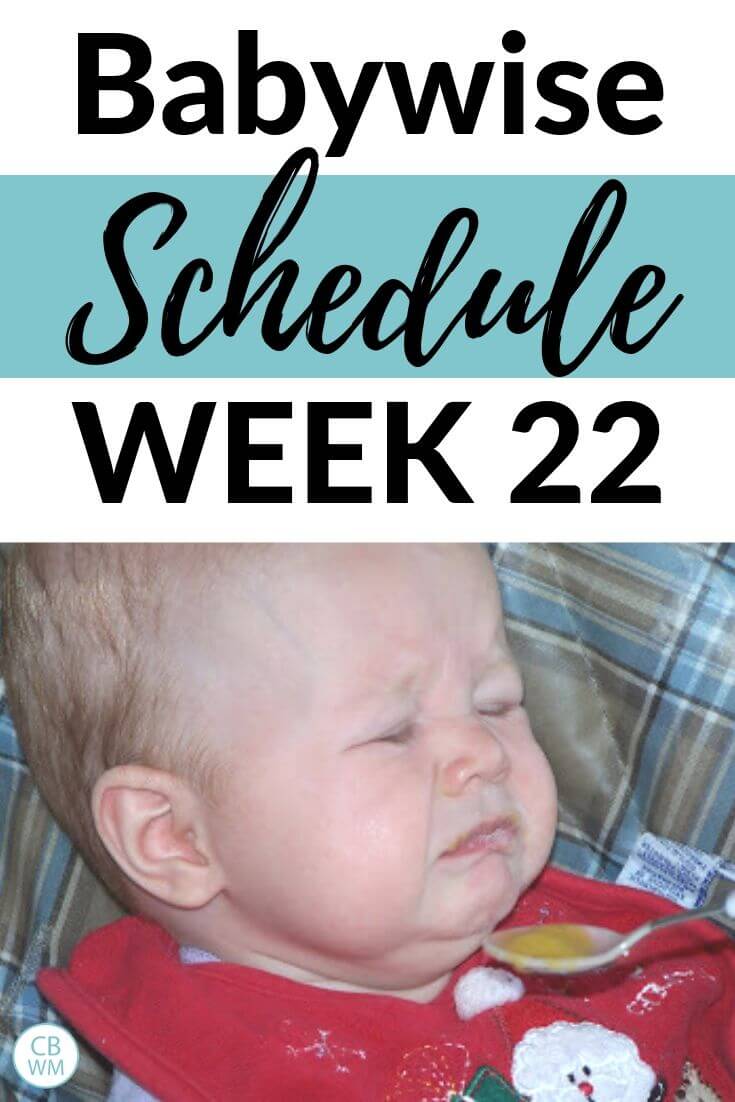 HELPFUL BOOKS/WEBSITES
RELATED POSTS