Baby schedule for baby's 22nd week. Baby schedule and routine for the twenty-second week of life. 21 week old baby routine and daily life. Learn how many feedings to have at 5 months old, and introducing sweet potatoes.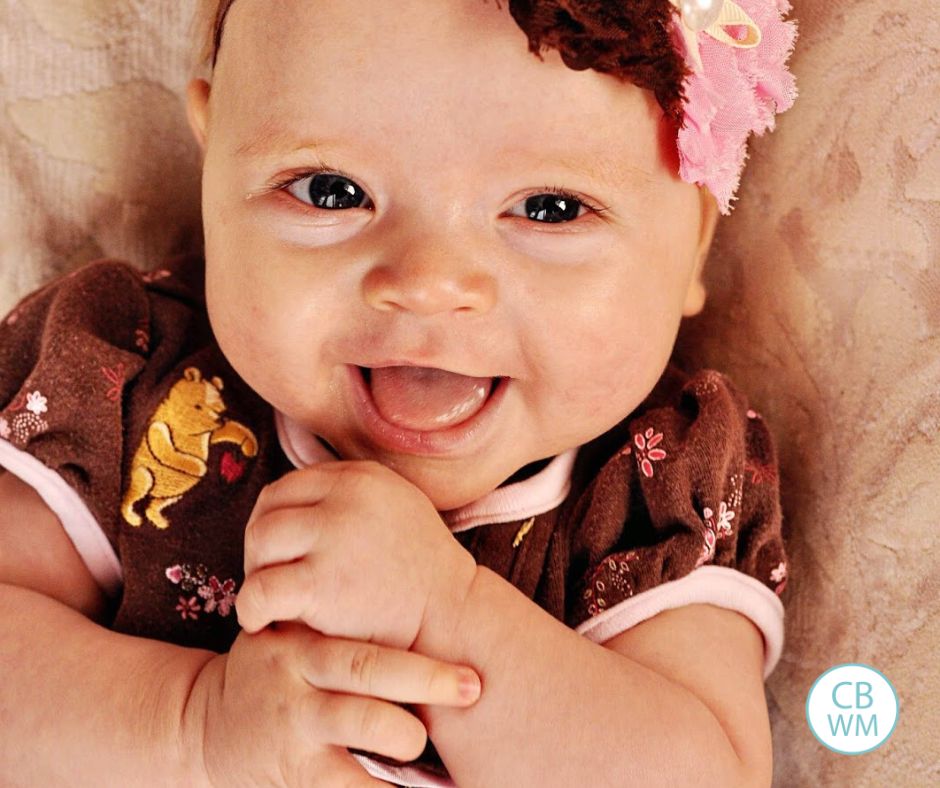 This is a summary for Brinley's 22nd week. She was 21 weeks old. Brinley turned 5 months old this week.
NURSING
Nursing continued as normal. I am nursing her five times a day. If I follow the same pattern I did with my other kids, I will move to nursing her four times a day at some point.
I like the schedule we have going on right now and don't mind the five. I also like five because I like having that extra feeding to help ensure milk supply stays sufficient. Some moms need to stick with five for milk supply–I haven't ever been that way, but I feel more secure with five.
SOLIDS
This week, we added sweet potatoes to Brinley's menu. She is just "eh" with them.
She is interesting with her solids. The first time she tries them, she eats them without making much of an expression at all. She will even go a couple of days eating them just fine. Then she gets to a point where she decides if she really likes them or not.
Sweet potatoes are just okay. Some days she likes them more than others. I made them from scratch and I microwaved them…which honestly I have decided is a bit gross. I think they taste much, MUCH better baked, so the next batch I do, I will be baking them for her.
I sometimes mix her sweet potatoes with bananas (a good combination–they complement each other) and she then likes the sweet potatoes much more.
>>>Read: How To Introduce Solid Foods to Your Baby
5 MONTH OLD NAPS
Naps were perfect this week. She is almost too big for her bassinet. I estimate she has a month or two left before she is too big to fit in it comfortably. So I started the process of weaning from the bassinet. I had her take her last nap of the day in the crib.
WEEK OF PERFECTION
Brinley was really the portrait of perfection this week. She slept for all naps perfectly, ate perfectly, slept through the night perfectly, and was perfectly happy and content all day every day.
I have learned, as I mentioned in the past, that these weeks of perfection are typically the "calm before the storm." They seem to precede a wonder week.
>>>Read: The Wonder Weeks and Sleep
SCHEDULE
Our schedule typically looks like this:
7:30–feed with solids–half of a banana and 2 T of oatmeal mixed in
8:45–nap
11:30–feed with solids–4 T of pears and 2 T of oatmeal mixed in
1:00–nap
3:30–feed
5:00–nap
5:30–feed with solids–half a banana mixed with 2 T oatmeal and sweet potatoes (1-2 T)
7:30–feed, then bedtime
HELPFUL BOOKS
RELATED POSTS