Sleep Tips from the Baby Whisperer. Get to know the different sleep types and the stages of sleep. This will help you help your baby sleep well.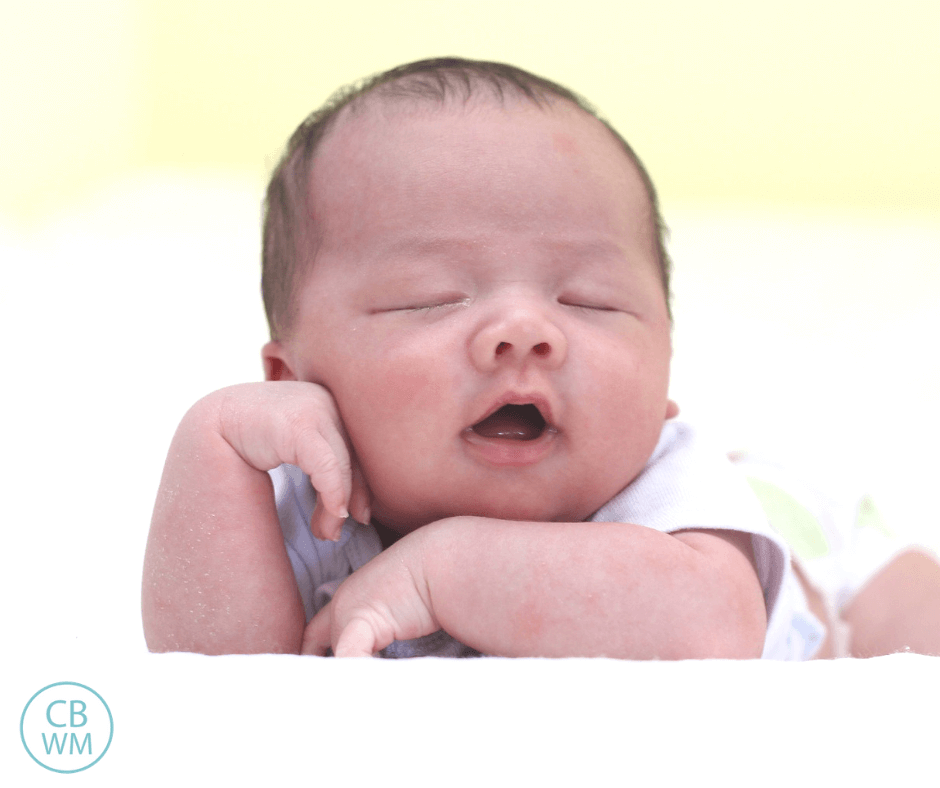 A little bit of knowledge can go a long way to help you get your baby sleeping well. Here are some tips from the Baby Whisperer to get great sleep.
Sleep Tips from the Baby Whisperer
Here are more sleeping tips from Tracy Hogg in the book, Secrets of the Baby Whisperer:
SLEEP TYPES (page 174)
Angel baby: falls asleep easily and independently (very true of Kaitlyn)
Textbook baby: falls asleep easily and independently
Touch baby: you cannot miss this baby's window or it is too hard for him to wind down (very true of

Brayden

)
Spirited baby:

fidgets

a lot. You may need to block out visual stimulation. Sometimes gets a

wild

, wide-eyed look when she is tired
Grumpy baby: might fuss some, but usually happy for a nap
THREE STAGES OF SLEEP (page 175)
Babies pass through these stages every time they fall asleep. The entire process takes about 20 minutes.
Stage 1–The Window: this is when your baby shows his nap cues. See Nap Cues.

Hogg

recommends having baby down by the third yawn (though best to act on the first).
Stage 2–The Zone: your baby has a fixed, focused gaze. This lasts 3-4 minutes. His eyes are open but he isn't really seeing.
Stage 3–Letting Go: He closes his eyes, his head drops forward or to the side. He seems to be falling asleep then is back awake…he repeats this process 3-5 times then goes to sleep.
Related Posts with Sleep Tips:
Reader Sleep Questions:
sarah and james said…
I love this blog, I've learned so much already but…I am on the verge of tears the last few days…I need some help with naps. My daughter is 5 months. She takes about a 1 hr nap in the morning after her first feeding and then her naps only last 30 min about 2 other times during the day. She is sleeping great at night (about 10-11hrs).So the last few days I've realized part of the problem is me. I need to get her down earlier and be commited to stay home to work this out. She sleeps easily in the car, swing etc. So my big questions are how to extend her naps and how does her waketime fit into trying to get her to sleep/or back to sleep. It takes her 10-20 min to fall asleep. Then right at 30 min she wakes up. I've tried today to let her CIO for up to an hour in her crib when she wakes up after the 30 min. But she will not fall back asleep. So then do I count her wake time from when she wakes up after the 30 min nap? Then usually I feed her and it seems like it would be time to nap again…Because she is only napping 30 min she is still on a 3 hr feeding schedule. But with all this, I feel like everything is off. I've read everything posted on how to get her to sleep longer..but nothing is working. I have a dark room, sound machine, i follow a routine with her before every nap. I guess I wonder should I just plow through this week putting her down every 1.5 hrs of wake time and letting her cry in her crib up to an hour after a fake nap???? I feel like it is hard to listen to her cry so much, but I am willing to try it if she will learn to sleep longer. HELP!
September 19, 2008 11:42 PM
Plowmanators said…
Sarah, I have several posts for you to refer to:
Waketime When Baby Wakes Early, Waketime When They Wake Early, 45 Minute Intruder, Naps: Troubleshooting , Waking After Only 20 Minutes, Waking Early From Naps/Won't Fall Asleep For Naps, Easy Nap Fix
You might need shorter waketime than 1.5 hours to get an ideal nap length. See Optimal Waketime Lengths and Waketime: Length, Extending, and Calculating
You do need to give it some time with consistency before seeing improvements in napping. Good luck and hang in there!
September 22, 2008 1:43 PM