Baby schedule for baby's 25th week. Baby schedule and routine for the twenty-fifth week of life. 24 week old baby routine and daily life. Learn about moving baby to the crib, wonder week 26, and wake time activities for a baby.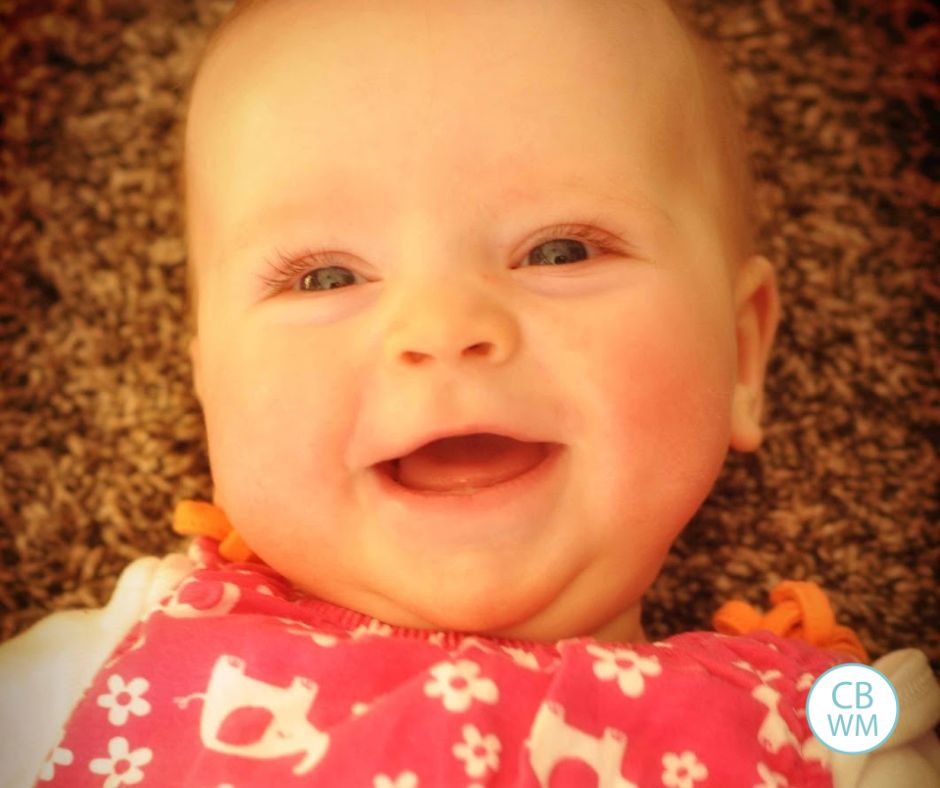 This is a summary for Brinley's 24th week; she was 25 weeks old.
NURSING
Nursing continued on as usual.
SOLIDS
This week, we added applesauce to her menu. She loved it.
>>>Read: Tips for Introducing Solids to Your Baby "Randomly"
WONDER WEEK 26
Wonder week 26 continued to sporadically be an issue this week. She would fuss/talk angrily/cry at nap transitions sometimes. It would last anywhere from 30 seconds to 10 minutes.
>>>Read: The Wonder Weeks and Sleep
BASSINET WEANING
I added her morning nap in her crib early in the week so she was taking all three naps in the crib. After a few days, I decided if she could handle the crib all day, she could handle it at night, too. So we moved her to the crib for night also. She did great! It was so nice to get that transition done and over with. I knew it was okay; she would be able to move to the crib when she was ready. Despite that, it was always something I felt like was hanging over our heads. It was nice to move that out of my brain.
Once she was good in the crib, I removed her SnuggleU from sleeping, so she is officially done with the SnuggleU.
>>>Read: How To Easily Get Baby to Sleep in the Crib
SWADDLE WEANING
We had another big step this week. We started the second nap with one arm out of the swaddle. That makes two naps she is having with one arm out. The first day, she took a two hour nap rather than a 2.5 hour nap. I considered that a success.
It obviously was not perfection since the nap was shorter than usual, but it was very good for the first day. Since her third nap is so short, she doesn't have to transition with an arm out. She made it through the transition with an arm out, which was exciting for me.
>>>Read: Everything You Need to Know About Dropping the Swaddle
BABY WAKETIME ACTIVITIES
Here is what we typically do in a day:
Morning Waketime:
She eats her solids. She then plays in her exersacuer, which is in my kitchen, while I get her food ready for the day. Since I make her food, I have to get out the cubes and put them in bowls and then into the refrigerator so they can defrost before her lunch and dinner.
She then takes a bath every other day. She LOVES baths, and I wouldn't mind doing them daily, but right now it is easier for me to do every other. I am also not positive if she has eczema or not. I haven't seen any on her other than her face a couple of times, but I am doing everything with her that I did with McKenna to successfully keep eczema away. Since her skin looks great with every other day, I am sticking with that.
>>>Read: How to Heal Your Child's Eczema
Then she gets dressed and plays at her gym if there is time. This is an independent playtime situation. This is also a time we drive kids to school when it is our turn for carpool.
>>>Read: Independent Playtime Lengths by Age
Noon Waketime:
She eats her solids. She plays in her saucer while the family eats lunch. She will also play with various family members.
Afternoon Waketime:
She plays in her jumperoo. She and I then do work on a physical skill and just talk to each other. We will also read books.
>>>Read: Best Board Books to Own
Evening Waketime:
She eats her solids. Then this one can vary a lot. Right now, her favorite toy is the exersaucer, so she might play there again. She will play at her gym while we get kids ready for bed. She will be held by various people in the family.
She might show off her progress on physical skills. We might read more books. My husband likes to put on Brinley shows where he holds her behind a chair and hides himself and then talks for her or "peek-a-boos" her out from various places behind the chair. The older three find this hilarious and I can totally see why youngest children grow up thinking they are the most humorous and amazing person alive :).
BABY SCHEDULE
Our schedule typically looks like this:

7:30–feed with solids–2-4 T prunes and 2 T of oatmeal mixed in
8:45–nap
11:30–feed with solids–4 T of pears and 2 T of oatmeal mixed in and 2 T of green beans with 1 T oatmeal mixed in
1:00–nap
3:30–feed
5:00–nap
6:00–feed with solids–half a banana mixed with 2 T oatmeal OR 3-4 T applesauce mixed with 2 T oatmeal and sweet potatoes (1-2 T) OR butternut squash (1-2 T)
7:30–feed, then bedtime. In bed by 8:00-8:10
HELPFUL BOOKS
RELATED POSTS