Independent Playtime Lengths: The amount of time you can expect your child to play alone each day during independent playtime.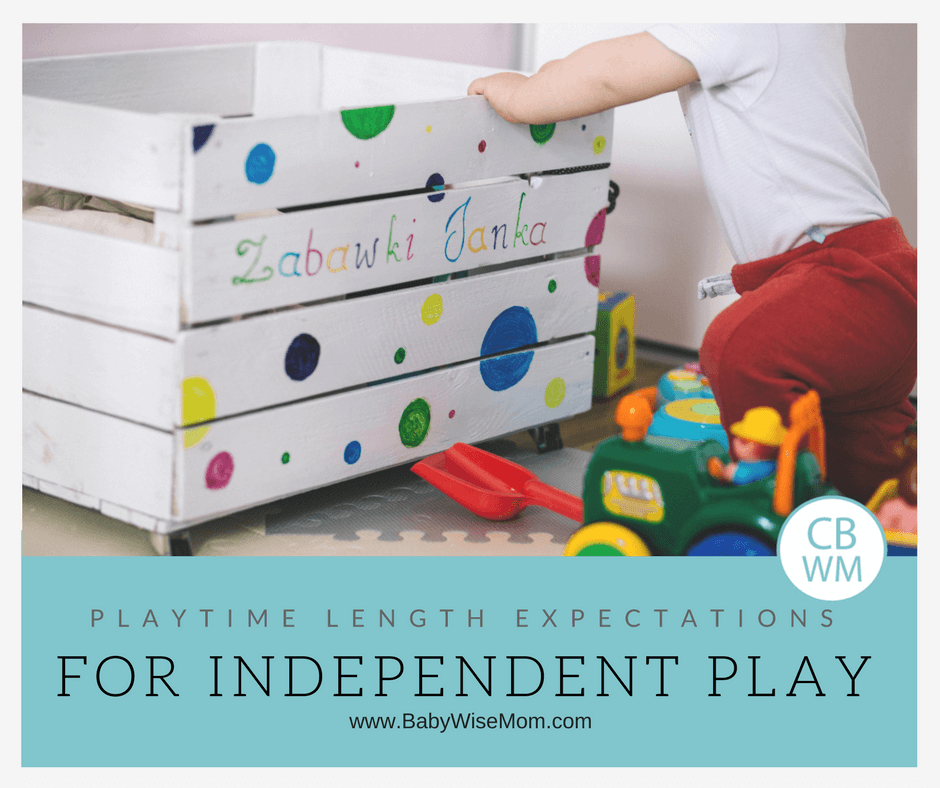 Independent playtime is when your child plays alone, independently, for a period of time in the day. There are many, many benefits to independent play, not only for your child, but for you also.
Appropriate Independent Playtime Lengths
People often wonder how long their child can be expected to play alone based on the age of the child. The best length is going to depend on your overall schedule, age, and the length of waketime. Here is a summary from On Becoming Babywise II (affiliate link):
5-10 minutes once or twice a day for the young newborn (my own personal addition)
10-20 minutes twice a day for first few months
15-30 minutes twice a day for the independent sitter
30-45 minutes at least once a day for the crawler
Up to 60 minutes for the 15-20 month old in playpen or room
60-90 minutes for 18 months and older in the room
It also says these are guidelines. Some days may be longer, some shorter. For example, say it is Saturday and you have a family thing to get to. You can have a shorter than usually independent play so you can get to your family thing on time.
You also don't want to overuse it (read abuse it) and turn it into an all day thing. You also want it to be long enough for your child.
As a note, I did independent play with Brayden only once a day because he didn't love it. With Kaitlyn, we do it twice because she has always loved it. My other two daughters loved it, also.
Brayden now loves it, and has since it became roomtime instead of playpen time. At nearly 3, he plays for 1-1.5 (usually 1.5) hours once a day. At 11 months, Kaitlyn does it twice a day. Her morning playtime is 20-30 minutes, depending on the amount of time before her nap. Her afternoon playtime is 40-45 minutes. She never complains about it, but I get her because I figure that is long enough for her at her age.
Related Posts on Independent Playtime:
We are sorry that this post was not useful for you!
Let us improve this post!
Tell us how we can improve this post?