Best Toys for 4-6 Month old babies. The best toys to get for babies in the 4-6 month old age range and help with developmental skills.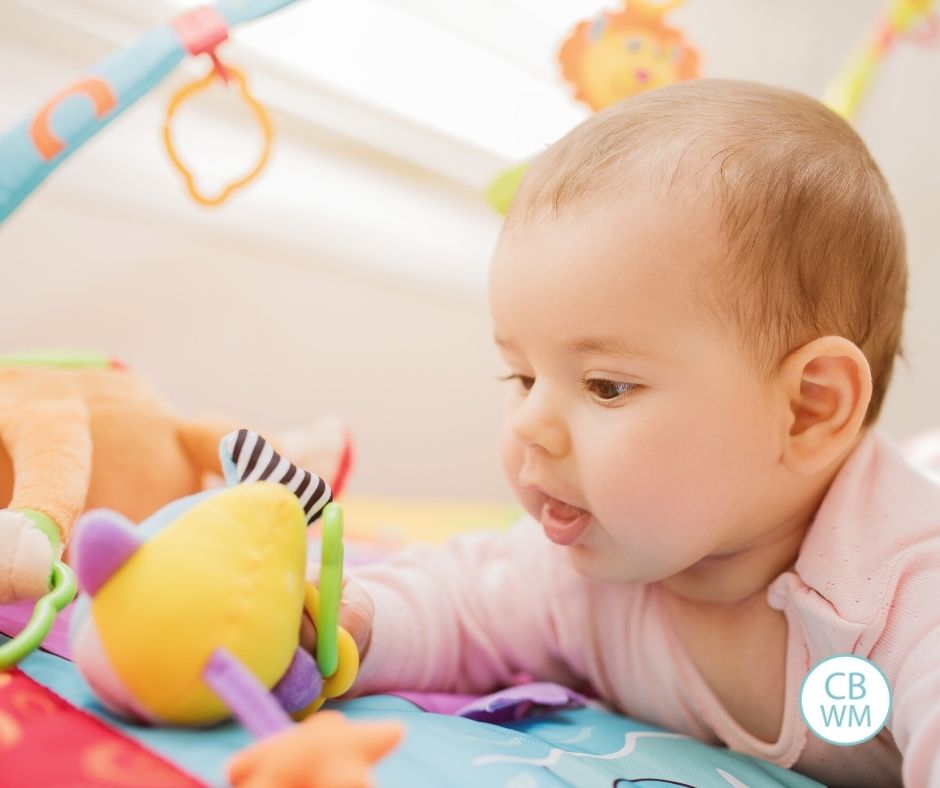 All of the toys that were good for baby in the first three months are great possibilities for good toys for this age range as well (see Best Toys for Baby: Ages 0-3 Months ).
Keep in mind, however, that there will be some of those toys that baby loved as a two month old but will really dislike as, say, a five month old.
For example, one of Brayden's favorite toys as a two month old was his gym. By four months, however, he was pretty bored with it. For Kaitlyn, the toy that really lost her interest was the bouncy seat.
Be aware of your child's growing mind and need to leave those "baby" toys behind. Now, let's add to the list from 0-3 months.
You want toys that work developmental milestones and provide enough stimulation for baby. You want boys baby can play with independently.
Rattles
Wrist rattles might be something your infant enjoys before this age, but by the time baby is grabbing at things and noticing her hands, the wrist rattle can be a fun toy. It can keep her interest and she won't drop it on her face. Wrist Rattles
This is more appropriate when your baby is 4-months-old than 6-months-old. A 6-month-old will more likely want to hold it independently than have it strapped on. Remember babies like high contrast colors. I like these rattles because they have a variety of colors and include a black and white one.
Another fun rattle is the Skip Hop Egg Shaker Trio Baby Toy. This is great because baby can easily pass this from hand to hand because of the grip. They are in bright colors and fun for baby!
These maracas rattles are great for gross motor and sensory development. They are a very popular baby rattle.
Skwish Rattle
Skwish Rattle: This classic grasping toy is a great one for a baby just learning to grasp toys. It is a wooden toy that is easy to grip. It acts as a teether as well as a rattle. This is great for developing hand-eye coordination. Some of the beads move a bit, also. It also doubles as a teether toy.
I have listed some things from this company before. I am so happy with The Manhatten Toy Company; I think that it is wise to look through what they have to offer any time you are buying a toy. Many of their toys are award winners. They are great quality and well thought out.
Jumper
Brayden started in the jumper between 3-4 months old. This was one of his favorite toys for many, many months. If your little one is a mover and a jumper, he will likely love it.
Kaitlyn started more between 4-5 months old. We have a Fisher Price Jumperoo, but there are many different kinds out there.
The stationary jumper (like the Fisher Price one) requires a lot of space and pretty much remains set up the whole time baby is interested in it. There are also things like the Johnny Jump up that attach to the header above a door and can be taken up and down and stored with more ease.
Something like this is great for working gross motor skills and allowing your baby to really move. Jumpers
Exersaucer
Some babies really like the Exersaucer and some hate them. Brayden would have absolutely hated this. He was a mover. Kaitlyn really liked it for a couple of weeks then lost interest. We borrowed one from my sister-in-law when Kaitlyn was 6 months old. I think she would have enjoyed it more at a younger age. We were able to borrow one for McKenna and Brinley also. Exersaucers
I would imagine most people will not have space for an exersaucer AND a jumperoo. I would think about what your baby might like best. Some exersaucers also provide some jumping with it, so that can be a good option for you. This is also nice if you will have other babies use this after the current baby. It can appeal to more than one baby.
Baby Walker
Not all people love these. Brayden loved the walker. Kaitlyn really enjoyed it also, but she used it more like an exersaucer than a walker. I would put toys on the tray for her to play with, so the toys rotated. Brayden started walking in the walker at 4.5 months. Brinley also enjoyed the walker.
Toys for Tummy Time
Infants in this age range still need tummy time opportunities during playtime. If you got your baby an activity gym as a newborn, that can still be a great place for some tummy time. If not, a blanket is a great option, also, or any play mat. The Fisher-Price Deluxe Kick & Play Piano Gym is a very popular play gym.
You can put toys just out of reach to encourage your baby to crawl or scoot. You can put a baby mirror in front of baby to look at. Mom can get down and interact with baby. Get more ideas in the post below.
>>>Read: How To Do Tummy Time Even if Baby Hates It
Toys Baby Can Hold
By four months most babies can or are starting to hold objects in their hands. This is a good time to have some sort of rattle or similar toy for baby to play with. Get this teething ring from Amazon here.
As in all things associated with baby, there are so many options out there. Walk down any baby aisle in any store and you will see various options for rattle-type toys for baby. One thing I would be sure to have is a light, soft rattle. When baby is first learning to hold things, she drops them on herself. A light and soft rattle will not hurt coming down. The wrist rattles linked above are a great option Rattles
Another great option is a teething ring. It is light and easy to grip with little hands. It will allow baby to work on fine motor skills.
Toys that Hook On
By five months, most babies can or are starting to reach for objects. Baby likes to reach for those toys.
I like to hook toys onto something so baby can reach and grab without losing the toy because baby just isn't that good at holding on yet. These links are great for helping hook things together. You can use them to hook rattles or keys or whatever baby likes to another object so the toy can't make it far.
The links by themselves were also favorites for all of my kids. They also work great for securing toys to the stroller so baby can't throw them out while on a walk!
Car Seat Toys
Toys designed for the car seat are fun. These work well with the links mentioned above, but also are great for helping your baby be more content and have something to do in the car seat. Carseat Toys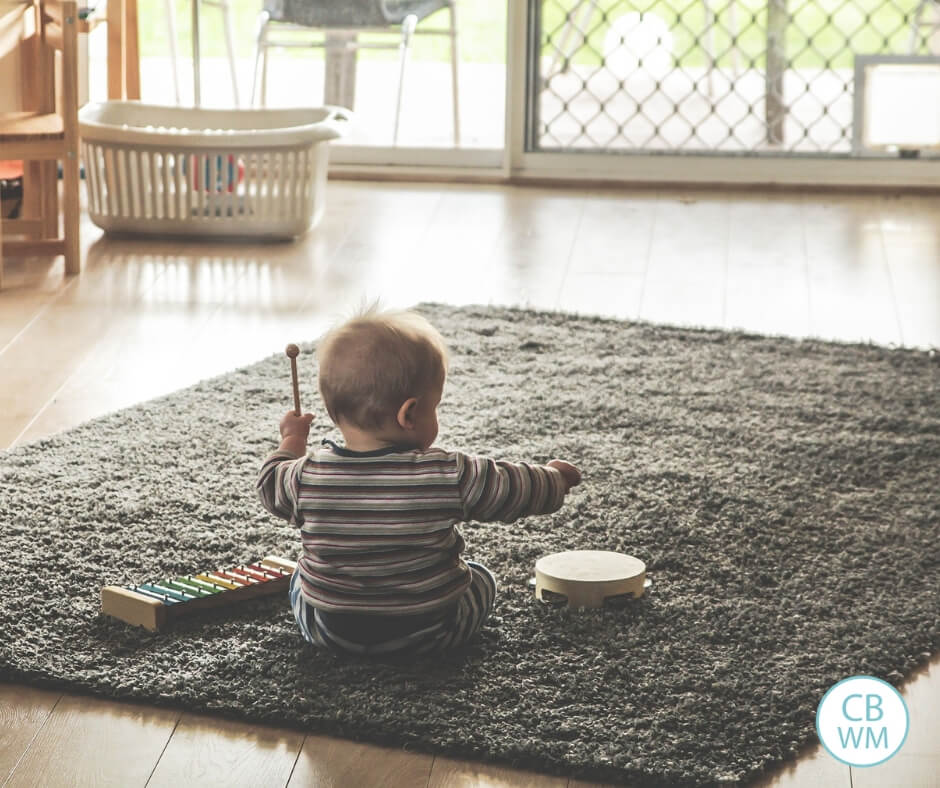 Bucket of Toys
Close to six months, most babies can sit on their own. If not, they can sit while leaning against something.
Around this age, my children became fascinated with emptying out buckets of toys. I stored the toys they like to play with in a small tote that I could easily transport around the house. So their little rattles, teething toys, blocks, etc. all went in this little tote.
At this age, I sit them down and give them their tote. They love to empty it. They cannot put things back in yet, but that skill is coming.
Blocks
Close to six months might be a good age to introduce blocks if baby is interested. There are of course many types of blocks out there. Wood, plastic, cloth, large, small, etc. These blocks are soft and great for a baby in this age range and older.
A 6 month old baby might enjoy a shape sorter. There are many types out there. I like this one because it doubles as a "bucket" baby can empty.
Melissa & Doug is always a favorite toy brand for me. They have this great baby block for babies this age. It has a grip for baby to hold on to and also has a lot of textures. It plays a tune for each animal as well as makes the animal sounds.
Peek-a-boo
This isn't a toy, but a game to play with baby starting close to six months if he is interested. You can use your hands over your face, over baby's face, or a blanket over a toy that you reveal over and over.
Peek-a-boo is a great game to help teach baby object permanence. You can also cover a toy with a small blanket or cloth, then uncover it with baby. This can really aid in relieving separation anxiety. A felt flap book can be a good option for working these skills, too!
Soft Dolls and Animals
Be sure they are baby-safe (there are no parts that can come off into baby's mouth). These can build dexterity. The plush toys from Lambs & Ivy are a good option.
High Chair Toys
Your baby might enjoy sitting in the high chair with some high chair toys for periods of time. This is a great way to get started with table time as an activity each day.
This is a great activity for your baby to do while you make dinner or help a sibling with homework.
Teething Toys
Your child may or may not be in need of these at this age. Even if your child isn't teething, though, she will most likely love to put things in her mouth.
Teething pains can come long before the teeth, so even if you don't see teeth, your baby might need to provide some pressure to the gums with some teething toys. At this age, Kaitlyn loved a simple plastic teething ring. See this post for more on teething toys: Teething Tips and Tricks.
Sophie la Girafe: One of our favorite teethers is Sophie. This is easy to hold and easy to squeak. The material is soft, 100% natural, and BPA free. I would without hesitation say this is the best teether I have ever come in contact with, and would also go so far as to say this is a must-have. McKenna still loved to chew on this as an 18 month old.
Another popular teeter is the Manhattan Toy Winkle Rattle and Sensory Teether Toy. I love toys that provide multiple purposes.
Baby Books
In addition to the books mentioned in the 0-3 month age post (see Best Toys for Baby: Ages 0-3 Months ), there are new features to be mindful of for this age group.
One is touch and feel books. This is a good time to start to introduce textures. Since baby is started to grab at things during this age group, it is a good time to introduce the touch and feel book. Some babies will like them more than others; some are more tactile than others. These are a great way to work baby's senses.
Brayden was never particularly thrilled with touch and feel, while they were always a favorite of Kaitlyn's.
I like the DK Touch and Feel Books
as well as Baby Einstein Touch and Feel books
. Kaitlyn also loved this one: Tails
.
Another feature to be mindful of is your child's interest. As your baby gets closer to six months he is also likely showing some preferred interest in certain types of things. Look for books about topics he is interested in. If you aren't sure about a particular interest, wait for a bit. He will let you know soon enough. The library is a great place to test out books.
>>>Read: 27 Books Worth Owning From Board to Chapter Books
Sit Up Toy
My second baby had reflux, and having something for her to help be upright was invaluable to us. This type of toys
can help baby develop muscles and coordination to sit up. Baby needs to be able to hold her head up unassisted. This one from Fisher-Price is very popular.
Bumbo: At some point in this age range, your child might enjoy a bumbo. You want to be mindful with all of these items you put baby in that you don't overuse it and cause baby to not get the practice needed moving on her own. This is true of swings, jumpers, walkers, exersaucers, etc. But the bumbo can be a fun place for baby to sit before baby is capable of sitting on her own. Not everyone feels a Bumbo is safe, so do some looking into it before you go this route. Bumbo Seat
Conclusion
This post has given the best baby toys for a 4-month-old baby to a 6-month-old baby. A lot changes in these months. Developmental toys can really help your baby to learn and grow and meet those milestones on time!
Related Posts

Reader Advice/Thanks
Ruth said…
My daughter is about 5 1/2 months old, and she still loves her gym and bouncer. Unlike when she was younger, she now bats at and holds the toys that are hanging down. She also will sit in her highchair while I'm cooking or doing laundry in the kitchen. She hasn't figured out how to jump in her Johnny Jump Up, but I often place it in the doorway of the bathroom when I'm blowdrying my hair, etc and she enjoys being in a vertical position for a few minutes while I'm busy. When she is upset, the best things to calm her down are to either have her on my lap while I play the piano, take her to the bathroom so she can look in the mirror, or sit down with a Take Along Songs book and play the accompanying CD. These large board books have beautiful large illustrations so she can listen to as many as 20 songs in a row (and many songs have multiple verses). Even at 4 months old she had a long attention span for these songs (10 per CD/book) and would study the pages of the book intently. As you can tell, she likes music. 🙂
Babywise Mom said…
Ruth, thanks for those ideas. It is great to get tips while you are in that age group rather than looking back on it and trying to remember what it was like.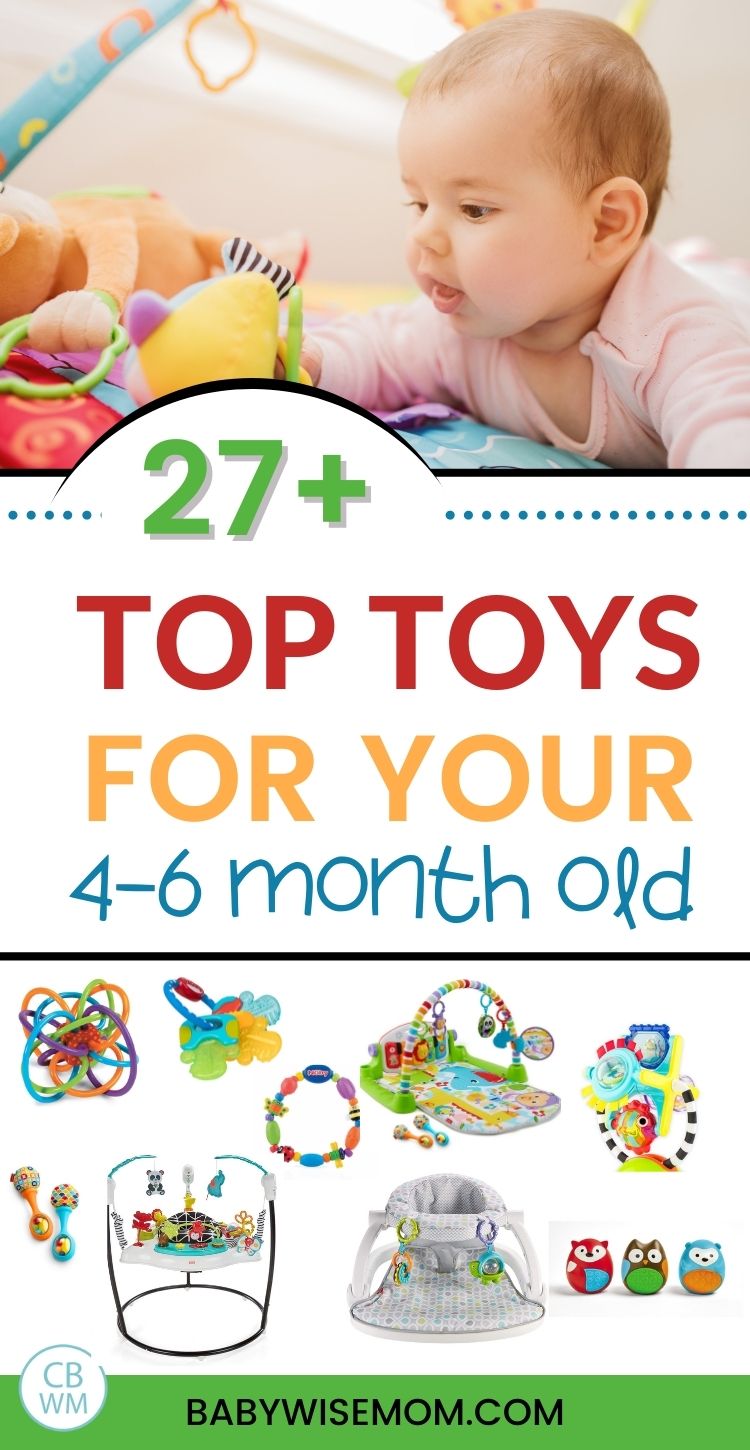 This post originally appeared on this blog in December 2008
Find the best toys for your child's age or for a specific occasion or location.