Tips for going on a cruise with kids. Know what to consider when you decide where to go and which cruise line to go with. Get a list of things to pack for your cruise. know what to expect the first day and disembarkment day. Get tips for booking excursions and dining.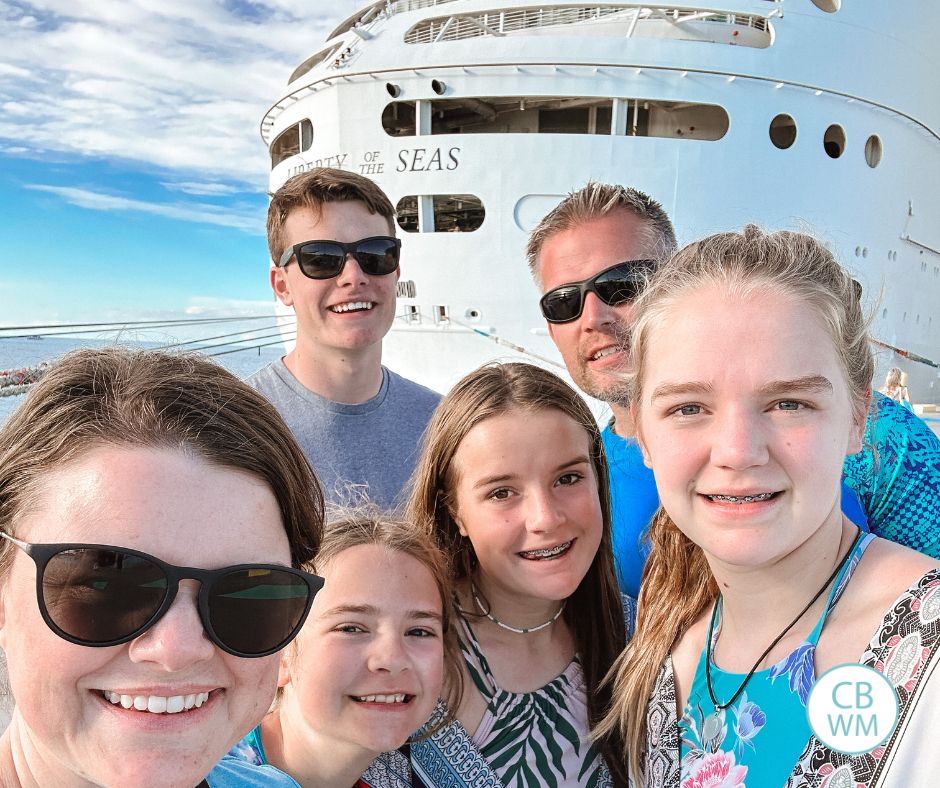 This winter, we went on our first cruise ever and took our four kids along. It was the first cruise my husband or I had ever been on, so we didn't know exactly what to expect.
We had a great time! For some in our family, a cruise is a top 3 vacation ever. For others, it was fun but not that high up.
I find a cruise to be a great option when doing a vacation with a group. It is really nice for doing a vacation with a group of people with varying interests.
There are a lot of things to do on a cruise. You can make the trip one that is very relaxed or you can be go-go-go–or somewhere in between. This is great when you have kids of various ages and with various interests.
Let's discuss all of the tips!
Where to Go On Your Cruise
If you start looking into going on a cruise, you will soon realize there are a lot of location options. Here are some things to consider.
What time of year can you go? If you have a limited window, that will really affect where you can go. If January is your only month, you won't be considering an Alaskan cruise. The timing of your availability will affect where to go.
What experience do you want? Do you want to have port stops that are full of historical excursions? Do you just want to relax in warm weather? Do you want to see beautiful nature?
Where can you leave from? You might live close enough to drive to a port and want to do that to save money. If you have to fly, you might choose the port you can fly to the port you can get to the cheapest.
Is there a cruise line you want to stick to? Some people do not care who they go with. Some will only do a Disney cruise. Some have a certain line they won't do. Not all cruise lines go to the same spots, so your desired line will filter out where you go.
Which Cruise Line Should You Use
You can find kid-friendly cruises on any cruise line. Budget and proximity will be a big consideration. You want to look at activities available on the ship. You might care about the childcare available.
You want kid-friendly activities and entertainment. You want your children to feel comfortable and safe.
Disney seems to be the top option for kids 4-11 years old. We only have one child in that age-range, and Disney comes at a much higher price tag, so we did not opt to go with them.
In the end, we went with Royal Caribbean.
I found this article to be helpful in knowing what to expect from each line for kids.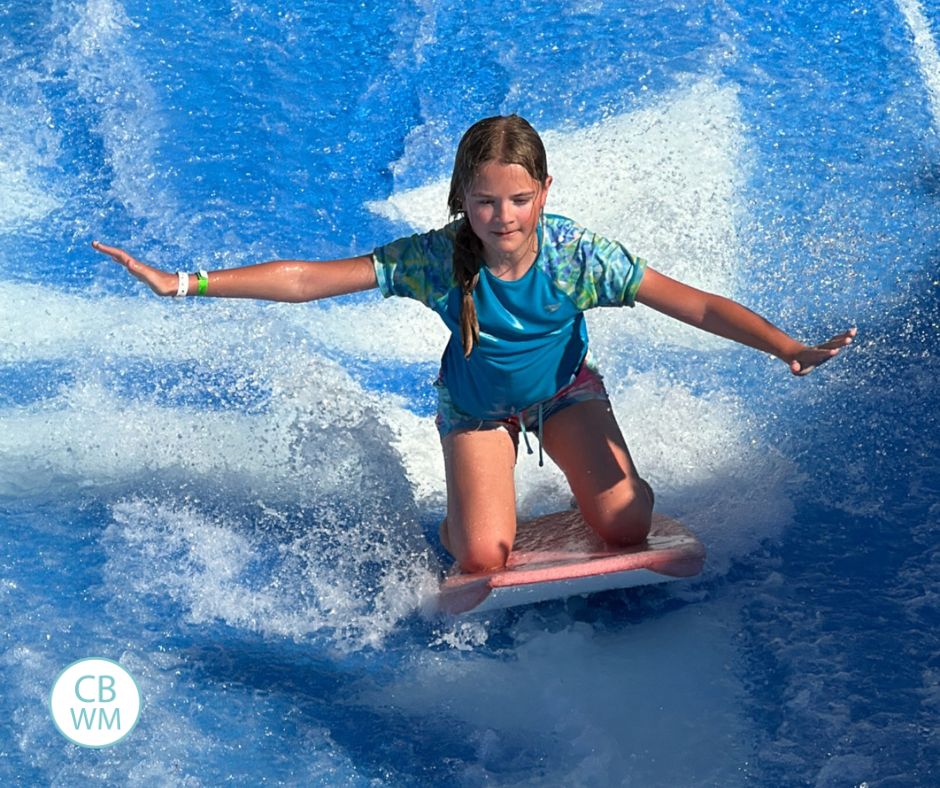 What to Pack for Your Cruise
Your clothing will depend on where you go. Do you need swimsuits, swimsuit coverups, fancy dinner clothes, themed dinner clothes, shoes for activities on the ship, specific clothes for your excursions…
Here are some cruise-specific things to think about packing:
Sound machine in case it is noisy
Shampoo and conditioner. Our ship just had one soap for body wash, shampoo, and conditioner. If that works for you, no need to pack more. If not, bring your own shampoo and conditioner.
Poo-Pourri. This is to keep the cabin nice for everyone staying in it.
Motion Sickness Patches. We didn't need to use these, but we had them in case. Our ship was large and we had very calm seas, but a small ship and/or rough seas can leave people feeling sick. We also had non-drowsy Dramamine.
Sunscreen if you will be in the sun
After Sun for applying to skin after being out in the sun
Money Belt. This is not necessarily flattering, but if you need to carry money and/or passports around, you will want one of these.
Luggage locks. These are just a good thing to own if you are traveling. Your luggage will not always be with you on a cruise. When you get there, they take it from you and deliver it by your room. Having a lock makes sure everything stays safe.
Outlet adaptor. We didn't have many outlets to use even with two rooms, so you might want something that expands the number of things you can plug in.
Binoculars can be fun for looking at things as you sail across the ocean.
Lanyard for your room keycard. You need your card everywhere, and if you are in swimwear, you might not have pockets.
Refillable bottle. We like to have water close at hand.
Jacket or sweatshirt. Even if you are going somewhere warm, evenings can be cold. You will want some sort of jacket if you are on the deck at all.
Don't forget headphones, a book, medications, and money.
Things we did not need include bedding, blow dryer, and even towels for excursions.
What to Expect the First Day
You will choose a time to arrive to board the ship. You will hand off your luggage and then go check in.
It can take many hours for your luggage to get to your room. If you want to be able to use the pools right away, you will want to either wear your suit there or pack some pool gear in a backpack that you can take in with you.
You will have to complete some safety training so you know what to do in case of an emergency, but that is relatively simple and fast.
When the ship leaves port, it is fun to be able to see it happening. Find a location where you can watch the land disappear into t the distance if that is of interest to you.
Choosing Excursions
Even a short cruise will stop at 1-2 ports. Think about what you might want to do there.
You can book excursions ahead of time or at the time you land. There is always more time to book, although some can fill up.
One thing to note is if the weather is bad, the ship will not be able to stop at that port. If you book your excursion through the cruise line, you should get a refund (check on that). If not, you might not get a refund (check on that).
Another thing to note is that book excursions once you are on the ship is a lot more expensive than book it beforehand. Also, if you book your cruise before Black Friday and you are sailing after Black Friday, watch for Black Friday excursion deals!
You also can just stay on the ship! You do not have to leave it if you do not want to.
When we were in Mexico last year, we learned we really enjoy time relaxing on the beach. For our day in Nassau, Bahamas, we decided to have a beach day. We did have to pay to get to the beach and back from the beach. We also had to pay to rent beach chairs and umbrellas. So it wasn't free, but it was nice.
We went to Cable Beach. It is further from where you dock, so it costs more to get there and back. Because of that, it was less crowded. We have also heard it is a nicer beach, but we only went to the one so I can't speak to that definitively.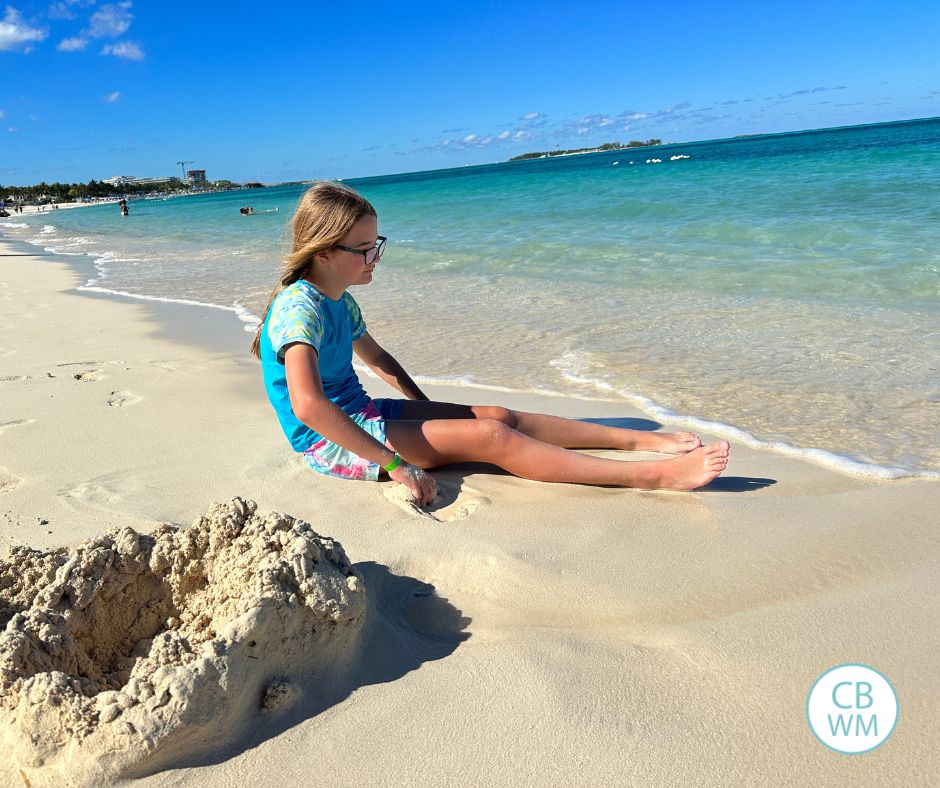 Dining
You will have different dining options for your cruise. As we were signing up for one, it seemed one option was one that you chose the time and did that each day and another was flexible.
We went with the flexible option. We didn't want to be committed to a time and didn't know what time we might want since we have never done a cruise.
In the end, even with a "flexible" option, we had to make a reservation for a time each night.
The "flexible" time block was later than the scheduled time block. For our cruise, a lot of the early shows for entertainment were during our flexible dinner time slot, so show options for us were limited to the late shows. By then, we were exhausted after a really long day and didn't have a lot of interest in the shows.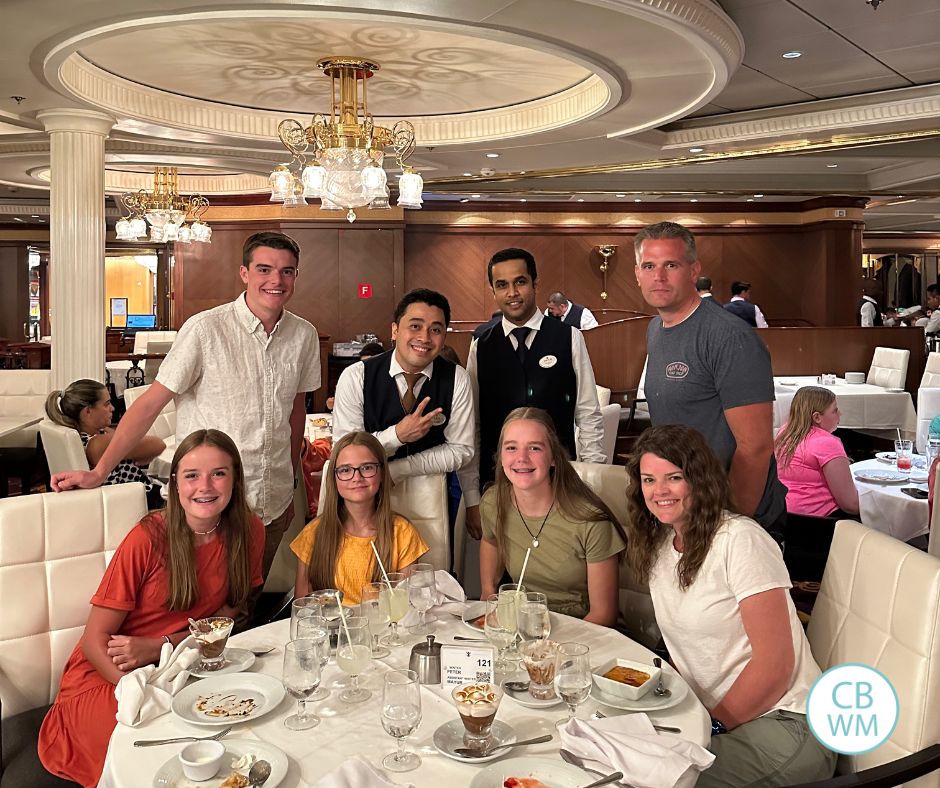 What We Loved About a Cruise
Here are some things we loved about a cruise:
The food! We sailed with Royal Caribbean and the food was delicious.
Activities. There were a lot of fun things to do. They can get really crowded, but they were fun.
The variety. You could really have a very varied experience.
Customer service. All of the people were so happy to be there, friendly, and happy to help you.
What We Didn't Love About a Cruise
Here are some things we did not love about a cruise:
There are a lot of people. You can find areas of the ship that are not as crowded, but there are areas that really feel like sardines.
Communication wasn't always amazing. That was true leading up to the cruise and while there. There was an app that was supposed to have info, but it didn't update. It is just an area that can be improved. We had to go to customer service at least once a day to find out something that should have just been on the app.
Balcony Room
We booked a balcony room for our cruise. There are a lot of options from a room without a window at all to large suites.
The balcony room was worth it. So worth it.
We loved having a balcony. It was amazing in the morning and amazing in the late evening. You can enjoy the ocean privately.
It was also great for the introverts. No one wants to go on a cruise and hide in a room. The swarm of people was a lot even for the extroverts in the family. Having the ability to enjoy sailing on the ocean without being crowded by people, in your pajamas, was worth it.
We needed two rooms since we have 6 people. We were able to get connecting rooms, so we could open the door between the rooms inside, which made it feel a little bigger. We were also able to open the divider between our balconies, which made it really big!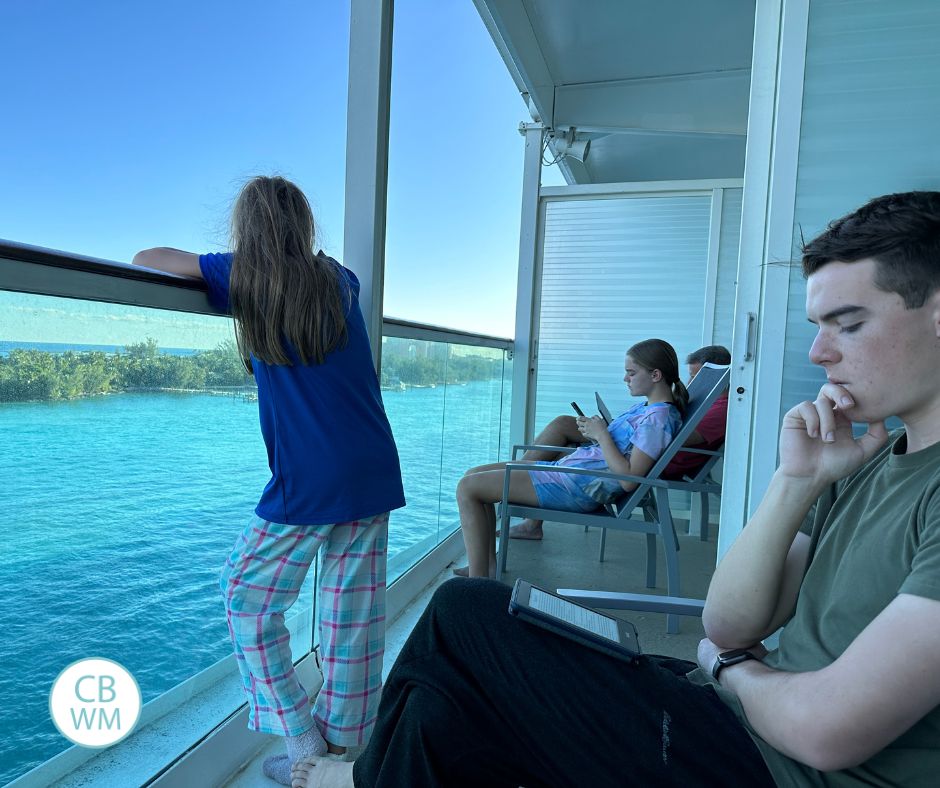 What To Expect at Disembarkment
The night before, you will be asked to hand over your luggage. They gather it up and have it for you once you leave the ship.
You can ask to keep it with you. We opted for that option. When we got there, they took many more hours to deliver Brinley's suitcase than the rest of the family. Nate and Kaitlyn had an early morning flight and we didn't want to risk having to wait around for luggage.
It would be nice to be able to leave without having to haul luggage through the ship. It makes it easier to use the stairs. If you plan to do that, make sure you have carry on space for what you need the morning you leave.
Something to watch for is disembarkment syndrome. I actually got that. I randomly was diagnosed because I had an ENT visit already scheduled for a couple of days after we got back.
You just feel dizzy and maybe nauseous. Your brain and inner ear are not agreeing with each other on the state of your world. They need to get back in sync.
If you google it, it sounds scary, but it does go away for the vast majority of people within a few weeks of getting home.
Our Royal Caribbean Experience
For our cruise, we sailed out of Fort Lauderdale aboard Liberty of the Seas. We stopped at CocoCay and Nassau, Bahamas.
We were really happy with it all. We would absolutely sail with Royal Caribbean again. Everything was really clean. Our rooms were cleaned twice every day.
The food was very good. There was a fun, varied menu. People could be adventurous or stick to reliable favorites.
Our favorite activities aboard this ship were:
FlowRider–tip–you have to sign waivers to participate. You can do it hours before it is available. That saves you time during the actual Flowrider being open.
Ice Skating–tip–you have to sign up for a time. There will be a range of time it is open. Go sign up right away.
Rock Climbing
Relaxing
>>>See a reel of our trip here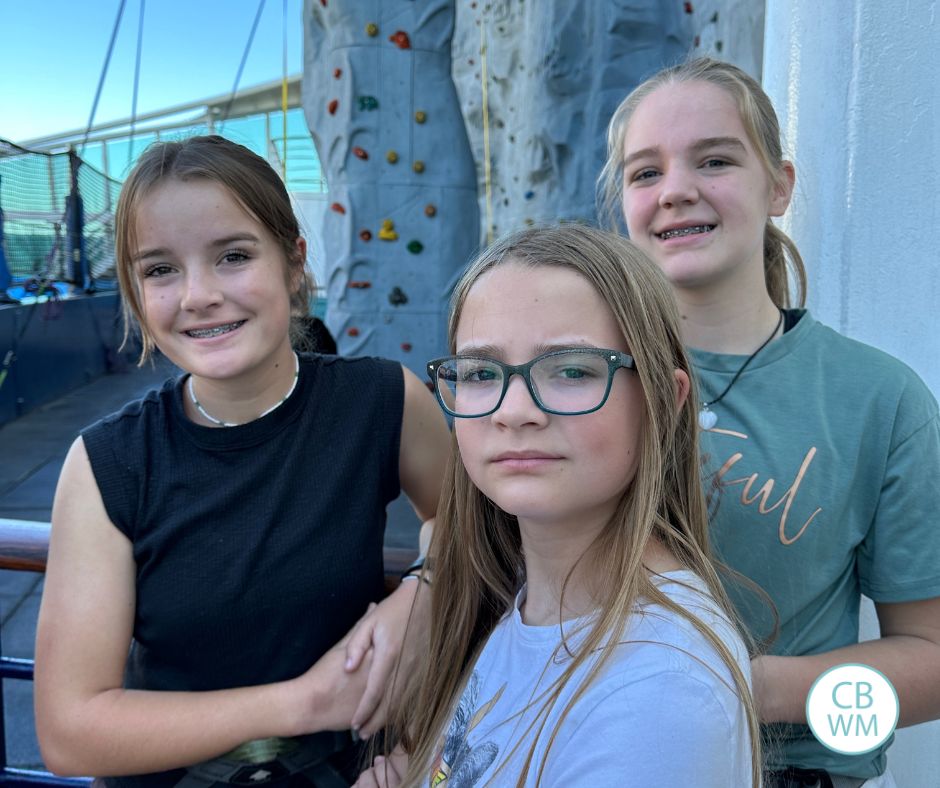 Perfect Day at CocoCay
This little island is absolutely beautiful. The location is beautiful. Royal Caribbean is able to dock at the island, so you just get off the ship and walk to the island. I know Carnival takes people by little boats from the ship to their island, so I feel like this is a nice feature.
There are a lot of things to do at CocoCay. They don't really make this clear, but there are a lot of free things you can do at CocoCay.
They have the Thrill Waterpark there. That is what we did. It was fun, but I do think it was overpriced.
A few years ago, we went to Volcano Bay as a family in Orlando, Florida. That water park is a lot bigger and the slides are more exciting. A one-day ticket to that is significantly cheaper than to Thrill Waterpark.
If you haven't been to a bigger waterpark, this one would be a lot of fun and a good first step. If you have been to something like Volcano Bay, you might be disappointed.
They do have a couple of kid aqua parks that are free. Those are Splashaway Bay and Captian Jill's Galleon. If you have kids who are in the age who like parks, these will be fun for them.
They also have a fresh water pool that is free to use on this island. They have sports that are free like basketball, volleyball, and cornhole.
They also have seating along beaches that is all free, so you can just chill on a beach if that is what you would like to do.
There is free food on the island whether you pay to do something or do everything for free.
Paid activities on the island are:
Thrill Waterpark
Zip line
Helium balloon experience
Jet ski rentals
Kayak rentals
Snorkel rentals
Scuba diving
Beach rentals (floating mats)
Cabana rentals
If we were to return to this island, we would not do the waterpark again, but it was a fun experience. We don't regret doing it.
If you go to this island, don't feel like you have to pay extra to have a good day here.
Conclusion
What would you add to this? What else should people pack? What should people know?
Related Posts