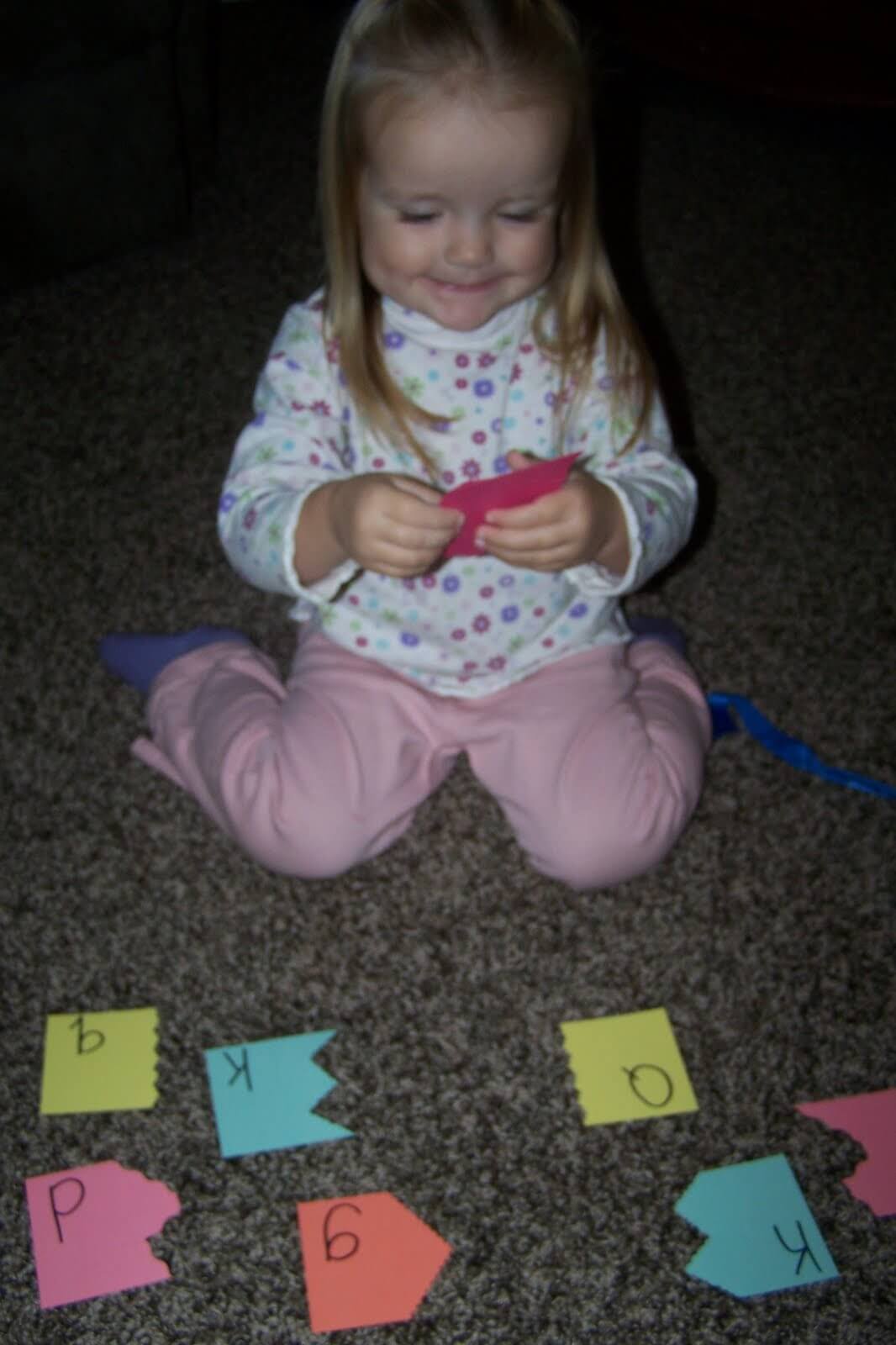 The obvious main point of On Becoming Preschoolwise is to prepare your child for academic life. When you read that book, you come to realize the far reaching benefits of things you have taught your child since birth. Things like being able to self-entertain, sit still when told, and follow instructions are of such benefit to the school environment.
At some point, you want to have structured, more school-type learning sessions with your child each day. This is discusses in Preschoolwise, and is really geared more toward 3 and up. Preschool age :).
There are things you can do to prepare for that, and fun learning activities you can do with your younger than three year old. You can easily come up with fun activities that also double as great learning opportunities. Children come with a clean slate, so they are actively learning from each experience, for better or worse. Many activities are actually common things you do with your kids, but if you go into them with the idea of it being a learning opportunity, you will find those teaching moments. You know those classic mom moments when they teach you a profound lessen when you least expect it? Those moments usually have the greatest and most long-lasting impact.
Each day, we have a scheduled learning time. Right now, it is not a structured, school-type lesson, but more of a fun lesson. Brayden turns 3 next month. I anticipate starting structured lessons in the fall (September) as though it were a school year. We do one topic a day. You can also try to combine activities (an educational show for TV time–but don't make every lesson come through the TV 🙂 ). Here is a list of topics and ideas for learning within those topics. You will see that once you get going, it is easy to come up with activities.
Reading
I am a huge reading advocate. I truly believe teaching your child to have a love for reading will provide him with endless power throughout his life. If you know how to find answers, you have no limit to the education you can give yourself. Mark Twain said "The man who does not read good books has no advantage over the man who cannot read them."
We read books every night before bed (for both children). I just wanted to reiterate that. Our reading lessons are in addition to the reading that already happens at night.
For a younger child, you can do something as simple as sing the

ABCs

.
Magnetic alphabet letters on your

refrigerator

.
Foam

alphabet

letters for the tub.
Writing out your letters.

Brayden

has had a

fascination

with seeing how letters are written and loves to see his name written out. You can do this in chalk outside, in crayon inside, on a magnetic writing board, etc. Once your child has uppercase down, be sure to work on lower case.

Brayden

still insists certain lowercase letters are actually uppercase letters upside down.
Books. It is good to have books about the alphabet. There are countless options out there.
Library trips. There you can check out books as well as attend story time.
Quiz. You can get a poster, book, flashcards, or write out letters and ask your child what letter that is, what sound it makes, what it stands for, etc.
Movie. One of

Brayden's

favorite shows is by Leap Frog: Letter Factory (link to Amazon: http://www.amazon.com/Leap-Frog-Letter-Factory/dp/B0000INU6S/ref=sr_1_2?ie=UTF8&s=

dvd

&

qid

=1209229774&

sr

=8-2).
TV.

Brayden

also likes Super Why on PBS.
Type. For an older child, you can let him type on the computer (though I still would supervise). The other day

Brayden

was typing. He hit "B" several times and said "That's a B!" I said, "That's right." He said, "The B says

Buh

!" I asked, "What is B for?" He looked at me and said "It's for…Me!" (

Brayden

). I thought that was cute.
Puzzles.
Toys. Many toys have alphabet teaching with them. I don't have this, but the Fisher Price Little People Alphabet Zoo is one example.
Religious/MoralHopefully moral training is a constant part of your lives daily. Your religious training will depend on your religious beliefs. If you are a religious person, don't leave your child's training up to his church leaders. They have them for such a short time each week. You have them every day. If you are not religious, don't leave the moral lessons up to the world. You are responsible for teaching your child morals, not society.
Church. This is pretty obvious. I personally wouldn't count this as the religious training for the week, but it definitely adds. I am always pleasantly surprised at what

Brayden

takes from nursery each week.
Family Night. We also have one night a week where we have a lesson followed by a family activity.
Prayer. Teach your children to pray and to be reverent for prayer.
Scriptures. There are many ways to study scriptures with your children. Actually reading them, telling stories, reenactments, etc. Pick what works for your child. We have a goal (though unfortunately right now an unmet goal) for reading scriptures as a family daily.
Board books. There are countless board books available for children that tell the stories from the scriptures.
Stories. You tell the stories from the scriptures to your children.
Reenactment. You can all get dressed up and act out scripture stories.
Movies. There are movies available that tell the scripture stories.
If you are not religious, you will most likely still want to instill moral values in your children. You can pick books and shows that teach those values you hold, in addition to your daily moral training (there is a lot more on moral training in Childwise).
Art
This is perhaps one of the easiest activities to do with young children. Kids love art. It is also a huge category. So many activities fall under "art."
Color (use different mediums–crayons, markers, etc.)
Paint
Coloring books

Magnedoodle

Play

doh

,
Side walk chalk
If old enough, those silly little crafts (they sell kits in craft stores if you aren't so inclined)
Make cards for people (

paper crafting

)
Scrapbook (but use materials that are inexpensive and don't matter to you)
Home Depot and

Lowes

both do a kid craft each month–free. Home Depot is the first Saturday, Lowe's is the second.
Attend museums if your child is mature enough.
Drama
Act out stories.
Imaginative play.
Attend plays if your child is mature enough.
Puppet shows. Attend them or make your own.
Numbers/Colors/Shapes
This could basically be a math section.
Counting. Count everything you do. This is especially great for younger kids. I would count how many clips it took to clip

Brayden's

finger nails.
Flash cards.
Chutes and Ladders and other such board games (

Candyland

, Hi-Ho

Cherri-o

, etc.)
Books about colors, shapes, and numbers.
Cook. Making cookies is one of

Brayden's

favorite activities. He helps me measure and count ingredients.
Sing songs that count (10 little monkeys,

etc

.)
Coloring
Stuff with shapes (geometry)
Have theme days. For example, an orange day. You wear orange, you drink orange milk, eat cheese and oranges, etc. Or a shape day where you cut foods into the shape of the day and you search your house for the shape.
Music
Music is a huge part of my life. I love it, so it is a category all by itself 🙂
Listen to

CDs

and music–both toddler tunes, religious music, and mainstream music.
Play piano (we have one).
Music toys (baby grands, music tables, musical instruments for kids, etc.)
Make musical instruments.
Sing songs A'

Capella

.

Karaoke

.
Go to concerts if your child is mature enough.
Science
This can be a really fun one. Science is in everything, so merely explaining how things work and grow is a fascinating thing to your child. If you don't know, don't make it up. They are learning.
Walks.
Search for bugs (get a bug net at a craft store or dollar store–I got a HUGE one at the grocery store for 1.50).
Bubbles–we use the big net to catch bubbles.
Sandbox.

Pull

weeds (

Brayden

really enjoys doing this)
Water plants
Garden if you have one–let them help in ways that are age appropriate.
Fly kites.
Go to the zoo.
Museums.
Go camping.
Go to the mountains or beach or whatever you have near you.
History
Many people dread the subject of history, but knowing the heritage of your family, culture, and country can give you a sense of purpose and pride. History also provides many valuable lessons.
Visit historic sites.
Vacations are a great way to find history. If you drive, you will likely pass many historic sites. You can also learn about the place you are visiting.
Tell stories about family members and historic figures. We have no shortage of amazing people who have lived.
I have seen children's stories that tell historic events.
SocialMany of these activities are part of our lives naturally. When you think of it in the frame of a learning opportunity, though, you will likely be better at displaying proper social graces. For example, perhaps if you are typically an impatient driver, you will be more patient and courteous on your way to grandma's house. You can also do your child a favor by explaining correct behavior before you leave the house, "Now Brayden, when we are at the park, we don't throw the bark." Yes, that is a real experience 🙂
Have play dates.
Visit friends and family.
Have friends and family over. Be sure to emphasize qualities of a good host.
Go to the park.
Sibling playtime.
Time with Daddy/Mommy. You can do it at home and/or have special "dates."
Go out to dinner, run errands, etc.
Play games. This can include board games as well as those classics like Duck Duck Goose and Hide and Go Seek. Keep in mind that you are teaching social skills here. You don't want to always let your child win. When I play a game with Brayden and he tells me I have to let him win, I tell him I am not going to play with him if he won't let me play. Yes, I take it easy on him, but I don't always let him win. You want him to learn to lose gracefully and that you don't always get to win.
Physical
Getting physical activity in is rarely a challenge for your toddler. The inverse is usually more true. Be sure to encourage physical activity. Being physically fit is of great benefit to your child, and starting good habits now will help him beat the odds in our increasingly out-of-shape society. You can also use this category to help your child improve his fine and gross motor skills.
Play tag.
Play sports like soccer, baseball, basketball, etc.
Go to the park.
String beads or cheerios. This will help with fine motor skills.
Play hopscotch.
Get a big

bouncy

ball and throw it around.
Play fetch with the dog.
Go swimming.
Take the dog for a walk–

Brayden

will walk our dogs around the backyard.
Watch sporting events. Go to a football game, basketball game, or rodeo.
You can see that learning activities come quite readily. If you have any activities to add, please do so in the form of a comment. I will add them to the body of the post. It is so fun to watch your child learning new things. They just love to learn.
We are sorry that this post was not useful for you!
Let us improve this post!
Tell us how we can improve this post?