Experience gifts are great for those who don't need more items. Get over 65 ideas for experience gifts for your whole family, from toddler to grandma!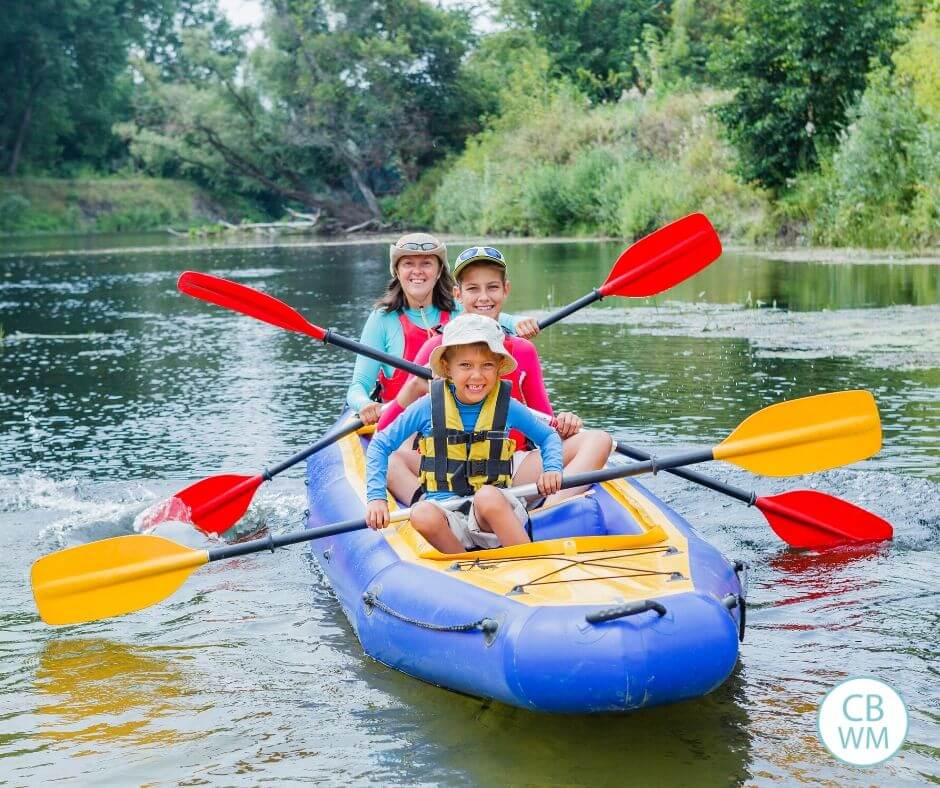 As you work on gift lists for those you love, you might find yourself struggling to either find a gift for the person who seems to have everything or to want to add another thing in your home to clutter things up.
Experience gifts have been gaining popularity and traction over the last few years. Experience gifts are gifts you can give people so the do something rather than have a tangible item they keep around forever. These gifts help create memories and do not leave clutter behind!
Here is a big list of experience gift ideas for everyone in your family. You will be able to find things for everyone from your toddler on up to your grandmother.
Indoor Fun Experience Gifts
As I think about experience gifts to give my family members, my mind goes to indoor activities since so much of our year is winter outside. You can give a one-time ticket or a full on punch pass to these locations. Here is a list of indoor activities to get your mind turning:
Rock climbing. This is something we gave McKenna a couple of years ago. She loves to rock climb, so we bought her a punch pass to the local climbing gym
Trampoline park
Indoor bounce house park
Indoor fun park (we have a place with soft play, rollerblading, bowling, laser tag, arcade games, etc.)
Roller skating
Ice skating
Bowling
Mini golf
Indoor surfing
Escape room
Indoor sky diving
Outdoor Activity Experience Gifts
Indoor activities are great because they are not weather dependent, but there are so many outdoor activities that are so fun to do. Some of these might be something you buy a single ticket for and others might warrant a punch pass or lesson sign-up. Here are some outdoor activity ideas:
Equipment for outdoors. You might simply get something so your child can do the activity and add to that the commitment that you will participate or make it happen. One year, we got rollerblades for McKenna and my husband so she would have someone to go rollerblading with outside. That can be done more easily than headed into town to a skate park. You could do this with any outdoor activity your child is interested in.
Ice skating
Skiing or snowboarding
Kayaking
Paintballing
Go-Kart driving
Ziplining
Horseback riding
Dogsled ride
Hot air balloon ride
Helicopter ride
Parasailing
Whale watching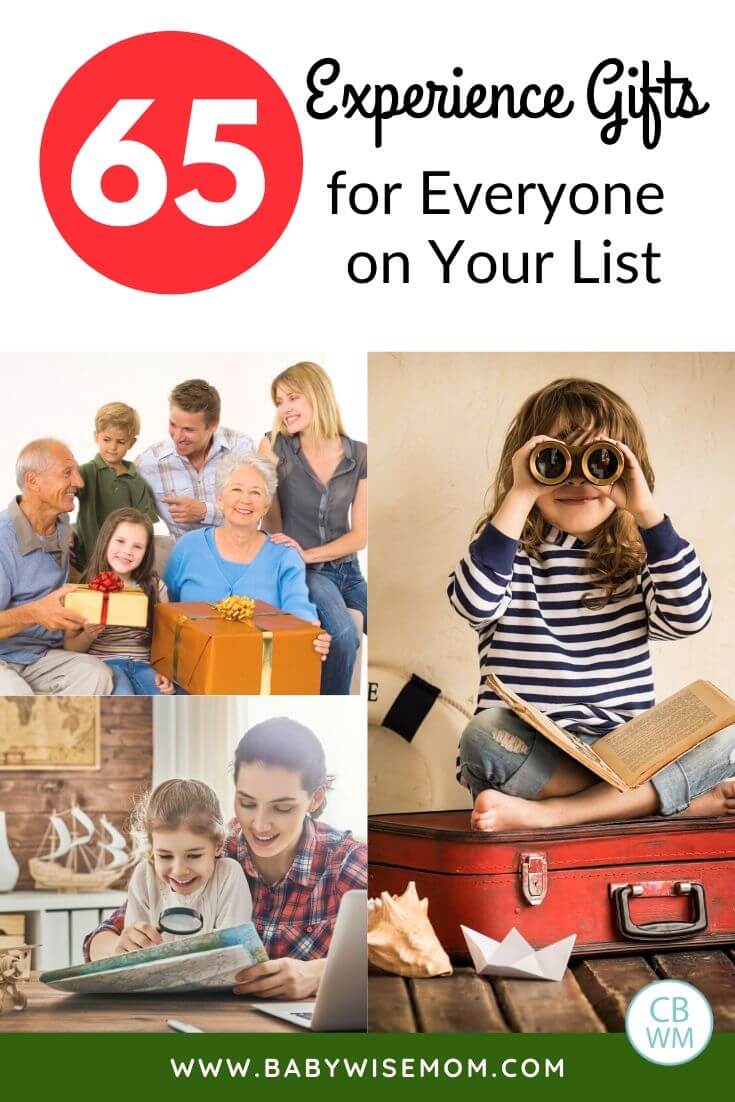 Shows
There are so many different types of shows you can take your child, spouse, or parent to. These are great opportunities to expose your child to various forms of art or to take your child to enjoy something she loves that maybe the rest of the family doesn't enjoy. Here are some ideas for different kinds of shows:
Favorite character show. When Brayden was little, he was obsessed with Thomas the tank engine. A live Thomas show was a favorite activity of his childhood. There are things like Disney on Ice that can be fun, too.
Musical. You can find local community theater or school shows or you can go for bigger shows put on by Broadway.
Movies. You can go to one movie or get a movie pass.
Ballet
Symphony
Comedy show
Music concert
Classes/Lessons
There are so many fun classes your child or loved one can take, but classes are expensive and time adds up. Some classes might be a one night thing, one month thing, or span across several months. A class can be a great gift!
Art class
Karate class
Dance class
Cooking class
Sewing class
Creative writing class
Pottery class
Summer camps
Music lessons
Membership Pass
You can buy an annual membership to a place your child or family loves to go so the fun can last all year. A big bonus of getting a membership is that you can go to a place without feeling like you have to stay all day or shut the place down.
Swimming pool
Zoo
Museum
Aquarium
Sports team
Water park
Amusement park. We had several years that we did the amusement park passes as a gift for the family.
Tours
If your child or loved one has a fascination with something in particular, you might be able to find a tour. A car factory or chocolate factory. A studio where something is recorded. A tour around a favorite city…
Factory tours
City tours
Studio tours
Self-Care Experience Gifts
For the person who loves, or needs, pampering, a self-care gift might be just the thing.
Spa day
Facial
Pedicure
Manicure
Massage
Salon day
Sporting Events
It can be fun to get tickets to sports teams. You might make a trip out of visiting a favorite team, get season passes to a local team, or get a ticket to one (or more!) local teams.
Season tickets to a local team
College sports games
High school sports games
Professional sporting events. For my birthday this year, Nate took me to see a Kansas City Chiefs game. It was a GREAT gift!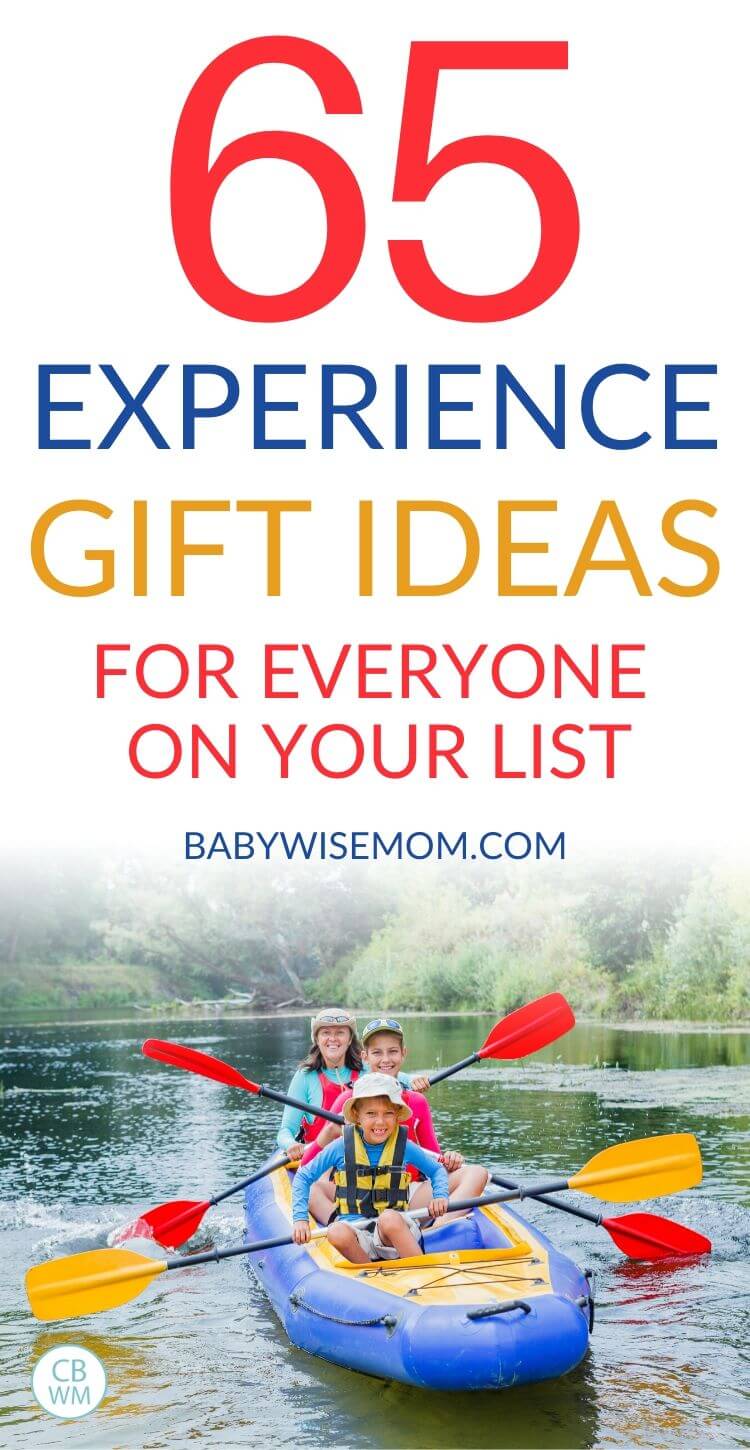 Travel Experience Gifts
Travel destinations make a great experience gift. A nice thing about travel as a gift is you can give other gifts you would buy for that trip anyway. Headed somewhere tropical? Get snorkel gear as a gift along with the trip itself. You can make the trip itself a gift or you can add on fun side-events like excursions or activities that appeal to that person that make it a special gift for him or her. Does your husband love air force museums but you find them quite dull? Then tickets to the Intrepid when you visit New York City will show your spouse just how much you care.
Travel destination. A national or state park makes a great destination because they are so inexpensive. One of our favorite national parks is the Grand Canyon.
Excursion
City pass
Local activities at the destination
---
Read all of our tips for various destinations here
---
Home Experience Gifts
Experience gifts do not have to be away from home to make it an "experience" gift. You can get items that are "experiences" that can still be done at home.
Movie night gift. This can include the movie and treats for watching the movie.
Game night. Get games for fun game nights in.
Netflix subscription
Disney + subscription
Video game subscription. Many games and even systems offer monthly subscriptions. You could pay for a month or up to a year of a subscription to that. We did that for Brayden and the Playstation last year and he loved that.
Subscription box. Your child or loved one might have an interest that would warrant a subscription box. Maybe a STEM box for a child or a clothes box for a teenager.
Hobby items. If your loved one has an interest in a hobby, you might be able to get something to help him or her get started. For example, Kaitlyn would like to start up digital scrapbooking. Digital scrapbooking software is a great experience gift for her this year!
Conclusion
Experience gifts are great for people who don't need more things in life. Your loved one can have great experiences and make great memories. Be sure to document them in some way to help your child have something tangible to look back on and remember the moment for years to come.
Related Posts