It is hard to stay on track each day if the first wake up time of the day is off. When baby is waking too early, it leaves you wondering what to do. Here are some causes and solutions to when baby is waking too early.
Chapter three in Healthy Sleep Habits, Happy Child is all about common sleep problems and how to fix then. Today we will be talking about your child's morning wake up time and what to do if it is too early (this starts on page 119).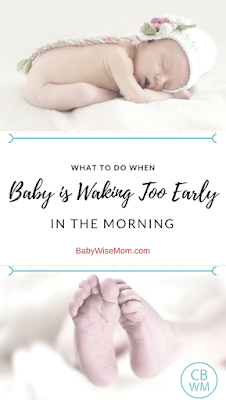 Causes of Early Waking (and the solutions)
The Sun: Two of my three children are easily woken by the sun in the AM, so I know this is a reality. Get some window-darkening shades. At our house, we have dark wood blinds that help keep out the morning sun. Our blinds are special blinds that do not have holes in them to let the sun in. We got these at Home Depot.Some people have used everything from aluminium foil to blankets. I have heard that Home Depot has blackout curtains, and I think Joannes? If you have some room-darkening item, please comment and share what it is, where you got it, and if you like it or not. See also Early Morning Waking and the Sun.
Noise: Noise is another common reason for you child to wake earlier than he is ready to in the morning. This can be noise from cars on the road, your husband getting ready for work, or your dog barking at the sun rise. Weissbluth suggests you get a noise machine or a humidifier to counteract the problem of morning noise.We have humidifiers in each child's room. We got them for 20-something dollars at Walmart. They aren't the best quality, but they have a nice gentle hum to them. Of course some of you will live in a climate that is humid and you don't want more humidity in your home. You can either use a noise machine or a humidifier without water in it.
Fussiness/Colic: "The most common cause for waking up too early before four months of age is extreme fussiness/colic" (page 119).
Bedtime Too Late: "The most common cause, after four months, is too-late bedtime" (page 119). The answer to this one is simple–move bedtime up earlier. I often get questions about a baby waking early who is going to bed at 9 PM or later. 9 PM is a bedtime none of my children have yet to see–it is too late for a child. If bedtime is too late, slowly move it up earlier. I like 10-15 minute increments. Your child should easily and quickly fall asleep. It might take some time to figure out the exact right bedtime–make a change and wait four days (unless it is totally obvious to you this was wrong). A hint is that most babies have bedtime in the 7 PM hour–some maybe about 6:30. Shooting for anytime in the 7 PM hour should get you close.
Hopefully these ideas help you figure out why your child is waking early in the morning.
We are sorry that this post was not useful for you!
Let us improve this post!
Tell us how we can improve this post?