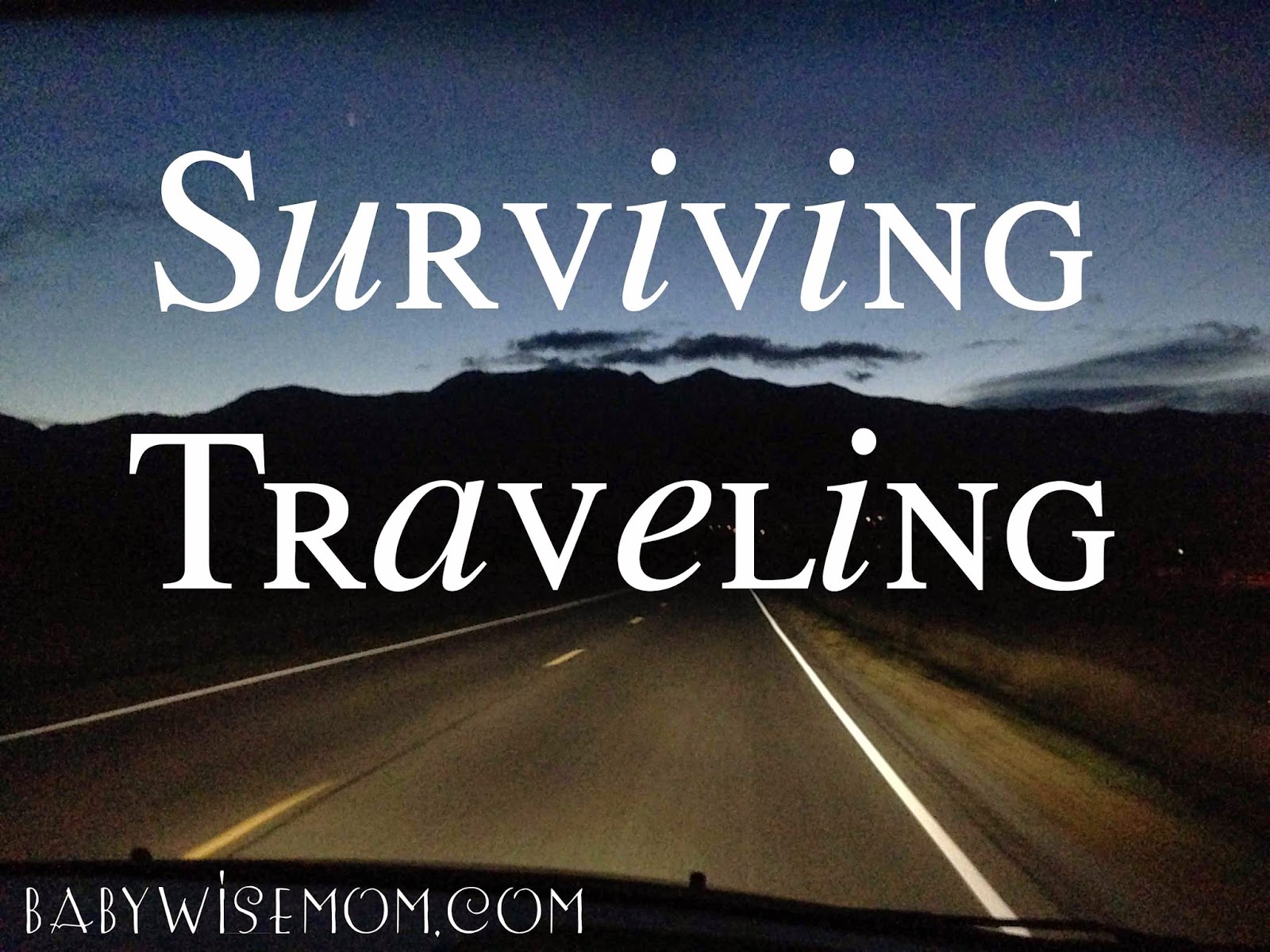 The holidays are coming up and with that often comes lots of travel. I recently asked on Facebook for ideas on how people survive traveling with children. Here are the ideas!
PACKING
Visualize: A method I have used for a lot of years is to visualize as I make my packing list. What will I do there? Day one, what will I do? What types of clothes and shoes will I need? Where will I sleep? Where will I go? Thinking through it like that really helps me to be less likely to forget something.
Try to Not Stress About Forgetting: My husband often reminds me that in most cases, we can buy most things we forget. If you are going somewhere near stores, you can usually buy something you have forgotten.
Pack Medicine: I don't know why, but I have often had my kids get sick while we are on vacation. We rarely are sick enough to need any sort of medicine, and it seems most times we do, it is when we are not home. Last summer, McKenna got an ear infection. I have lots of things at home to help ear infections, and some of them can only be found at certain stores. It wasn't fun to drive around a strange place I didn't know hoping to find some herbal remedies while McKenna was in pain. I never did find them. My policy is now to bring those things with me! Even something like IB Profen is handy. If your baby spikes a fever at midnight, you might be able to drive to walmart, but do you want to have to?
Fitting it All In: Laura has a great method for fitting everything she needs into her carry on:"On bringing enough diapers for a day and supplies on board in case something happens, I vacuum seal them in food saver bags and put them in the bottom of the diaper bag (back pack is best for traveling imo)"
Keep a List: Jennifer says she keeps a master packing list on her phone. If she ever is on vacation and thinks, "I wish we had this!" she adds it to her phone right away. I think this is a great idea. I keep wanting to have just one list to pull from instead of "Reinventing the wheel" each time I pack.
Spread Out the Packing: Jennifer says she likes to spread out the packing time over a week instead of cramming it into one day. She even shared her list. Here it is:"

"The week before (one per day):




1. Borrow Mom's travel bed(s). Plan the sleeping situation: who is sleeping where and in what.





2. Decide on what time to leave, and think through what stops you want to make. (Meals, bathroom, gas, also factor in traffic, construction, etc.) Make sure you both know the plan beforehand.





3. Wrap presents. There's plenty to do the night before without doing that too.





4. Think through the food plan and purchase groceries you need. (NO BANANAS, they make everything smell & taste like bananas.) Going grocery shopping the night before a trip is unnecessary stress. Make sure G has plenty of dairy free snacks and food. (Also check your diaper and wipes stock.) Bringing drinks and sandwich stuff on the road is a big time money and time saver. Bake some cookies or muffins and freeze them to bring on the road. Saves even more money and is yummy!




(It is less stressful to have breakfast on the road. It sounds nice to have breakfast at home before we go, but it works out more stressful because of the mess. Plus the less time the kids are up before we go, the better. It's best to pack the car night before and just get up and go.)





5.) Pack the kids' toys. Maybe get a couple of fun dollar items, but no need to go overboard. Also, fill the Nalgenes with water.





6.) Check car:




-inspection




-current insurance card in glovebox




-Toll Tag




-wash & vacuum




-oil change?




-fill 'er up





7.) Pack meds & vitamins





8.) Bake & freeze bread loaf so you'll have bread when you get home.





The day before:




1. Pack up except for morning-of items. At the same time, lay out clothes for the next day.




2. Collect all the trash and take it to the dumpster.




3. Fill up the water as late as possible. Don't want to return to an empty tank!




4. Try to make sure you get dishes and laundry completely caught up on and put away. Shine the sink!


5. Help kids pack a few things they'd like on the road. Let them know the plan for the morning, and make sure they know what they'll be doing while parents load the car (movie, room time).
Related Posts
DRIVING
Don't Try to Entertain Your Kids: Katie said they regularly drive 12 hours straight to see family–and she doesn't turn on movies until the last two hours! I am seriously impressed with this. She pointed out that older kids don't really need TV to entertain them and babies don't pay attention to TV long anyway.I think she has a great point here. I grew up doing frequent long road trips, and we really had nothing to entertain ourselves other than the view out the window and the music coming out the speakers. We didn't get to dictate the music, either. Dad got to choose since he was driving. Some of my favorite memories in life are from our road trips. Other readers commented on how they limit the TV time, also. Here is Katie's comment:

"We regularly drive 12 hours straight to see family. I think IP at home has actually been key. We do very, very little to entertain the kids in the car, although they do get to watch movies for the last 2 hours of the drive. There are a few snacks, a few toys, some conversation, and just general looking out the window."

Don't Sweat the Crying: Sometimes kids will cry while you are traveling. It is a hard thing for them to be short on sleep when they aren't used to the sensation of feeling tired. Katie also said:"I think my biggest travel tip is not to get too worked up about some crying if you have kids under 3. Especially in the car. Our 3rd kid is a noisy kid all around. We have listened to hours of crying in the night in hotels when she was OT. We have listened to crying in the car. Etc etc. We all just learn to live alongside it while either she works it out, or if someone is able to distract her, that's great too. "
Have a Routine on the Road: Children thrive on routine and you can have a routine on the road, also. Katie also said:"

In the car, we rotate: breakfast, drink, toys, snack, drink, toys, snack, drink toys. When nothing works, it's "naptime" "

Be Prepared for Messes: Dana suggested you have a kit for cleaning up the car in case someone gets sick. Such great advice! No one wants to be in the middle of nowhere with puke in the car and nothing to clean it with. Nope. You can extend this advice to other types of messes, too. Plastic bags and wet wipes can often come in handy.
Limit Toys: Dana says they limit each child to two toys in the car, even for long trips. Otherwise things get dropped and people get upset.
Pack Meals for Car: Dana packs lunch and dinner and people can eat as they get hungry. This saves time since you don't need to stop for food. It also saves money and you aren't living off of fast food the whole time.
Snacks: Snacks can keep people occupied. It can also be a novel thing if you don't typically have snacks in the car. Dana says they like crunchy snacks to keep the driver awake; their favorite is baby carrots.
Car Seat Trays: Jessica suggested using car seat trays so the kids can color. I also have these and find them handy. However, don't feel like the official tray is necessary. You could use a cookie sheet or a "tv tray" as well.
Contain Things for Kids: Jessica also had a great idea for making sure the kids can reach their things:"

I also put a laundry basket in between the seats so they can reach stuff themselves."

Stop for Breaks: We all want to make it there fast, but a lot of people found it helpful to stop somewhere and let kids play for 30-60 minutes mid-way. It gets hard to sit still for so long! You might get there an hour later, but you probably will get there happier.
Related Posts:
FLYING
Divide and Conquer: I love this advice from Caitlin:"If there's 2 adults, have a plan when it comes to boarding. I would leave the toddler with hubbie while I boarded first, set up everything how I want it, bags in the right spot, amusements accessible, etc. so by the time they had boarded, the toddler has burnt off more energy, less time spent confined, waiting for take off, and I was cool, calm and collected so hubbie could take a minute to get comfy too."
Flying Alone: Jessica says when she flys alone, she gets new, cheap, novel toys for the kids.I remember my mom doing this for flights and I found it really excited!"Flying with 2 kids alone, use a stroller, buy a bunch of dollar toys, magnet play things, and snacks. If the youngest can be in a mobi wrap or whatever, do that."
Bring a Change of Clothes for Kids: Jessica also suggests you bring a change of clothes for each child (which is really a good policy for a lot of places you go!).
Skip "Rules:" This is specifically talked about in the Babywise books. We all have technology rules and limits, snacking rules and limits, etc. But when you are crammed in an airplane with a load of strangers, it is a moment it is perfectly acceptable to allow more screen time than you might or allow more snacking than you might.
Bring Lysol Wipes: Laura shared the idea to bring Lysol wipes to clean the seats and everything around it since children touch everything.
Related Posts:
HOTELS
Embassy Suites: Alena says she survives the hotel by always staying at an embassy suite because there is always a closing door between the spaces. I am definitely willing to spend a bit more money in order to have better sleeping accommodations. I know we will all be happier if we sleep better. We want to enjoy our vacation.
Get Creative for Sleep: Steffi points out that you can get creative with sleeping arrangements. She says:"If you can't find an embassy suite at a hotel, put the p'n'p in the bathroom ..We've done it before and our LO hasn't shown any damage so far"
Related Posts:
Related Posts/Blog Labels: