21 of the best toys for pretoddlers. Great educational and fun toys and gift ideas for your 12-18-month-old little toddler.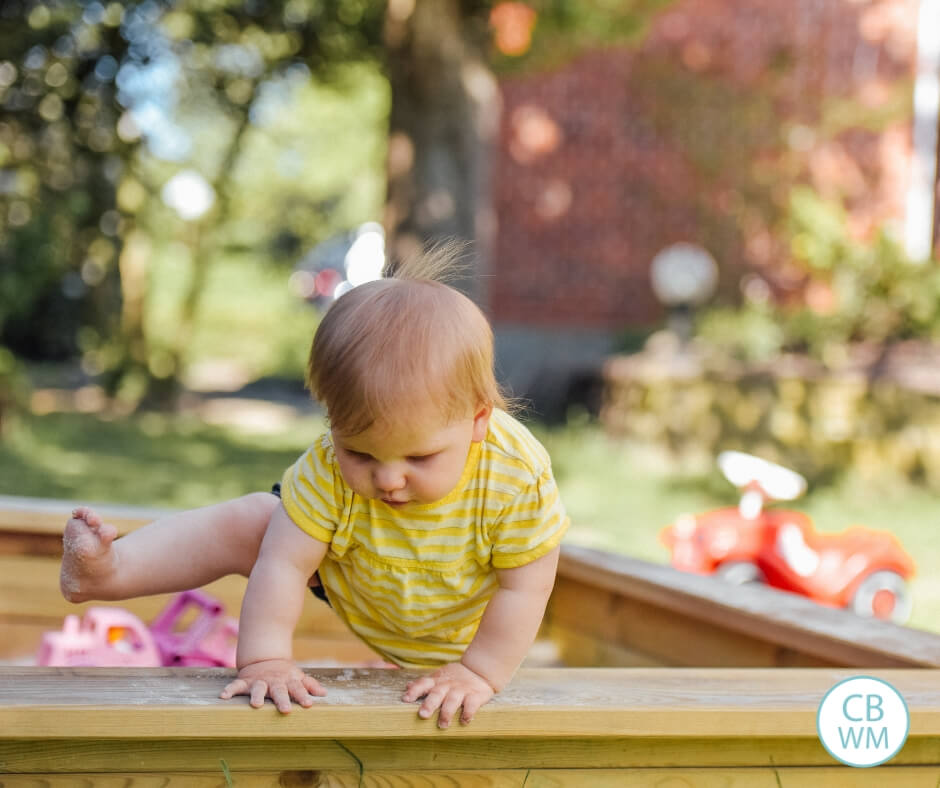 As baby becomes a toddler, I think the "best" toys really vary. Your little toddler starts to get his own interests with a variety of toys to interest him. Gender differences can start to creep into toys the kids like, also. I will stick to general categories but also list some absolute favorites of my during this age range.
Old Favorites: Those toys that have been favorites throughout life up to this point will still continue to be favorites during this stage. You will see your child able to play with many of them more accurately, and he will also come up with new ways to play with the old toys. There will be toys that used to just be fun to hold and look at (and put in the mouth) that he now is starting to play within a more conventional way, such as the Little People . See Best Toys for Baby for all of my lists.
Nesting and Stacking Toys
: This can include old favorites like Nesting Cups and Fisher-Price Rock-A-Stack, but there are some new toys you can introduce. Alphabet Blocks
are great for simple stacking. By 14 months old, some toddlers are able to stack a couple of blocks on top of each other. Equally as fun is crashing them over. These stacking and nesting toys help develop small motor skills.
Wooden Puzzles
: Another toy that helps build small motor skills is the puzzle. By far my favorite puzzles are the Melissa & Doug Puzzles
. One reason for this is that Melissa & Doug replace any missing or broken piece for free. It can be hard to pay some companies for a new piece, and they do it for free. Puzzles are something that can easily come up with missing pieces. They are also made very well and are quite cute, with a large variety of subjects. Some even make noises when it is all put together. Brayden has a fire truck one that makes the sounds of a fire truck once the last piece is put in. Some have fuzzy animals…they are just fun. The puzzles made specifically for 12-24 month age are very friendly to that age group, with large knobs on each piece (Melissa & Doug: 12-24 Months
). When getting a puzzle, I recommend you start simple and small. Get one or two. The reason for this is that some children are really interested in puzzles at this age, while others need to be quite a bit older before being able to play with puzzles. Find some that have a theme that interests your child. Animals are something most kids just love, and they can be great for future children no matter the gender. The alphabet is another subject most kids love and can be a fun puzzle. You might have a child very interested in trucks, cars, etc.
Shape Sorters: The Shape Sorter is another classic that helps with fine motor skills. Your toddler will be able to more purposefully manipulate these toys during this age range than in previous ones.
Dumping Toys: Anything your child can fill up or dump is still of great interest. This can range from a cup in the tub to a little tote in the toy room. This again focuses on fine motor skills.
Pop-up Toys: A final toy for fine motor skills is the old favorite, the Pop Up Toy
. Just like with puzzles, there are many different types to line up with your child's interest.
Balls: Balls
of all sizes are great for gross motor development.
Pull Toys: Pull Toys
are another category good for gross motor development.
Push Toys: Push Toys
are yet another category good for gross motor development. There are a lot of different types of push toys available. Some are toys designed specifically as a toy to push that might have something like little balls inside that bounce up and down as your toddler pushes. Others are toys to mimic, like lawn mowers. More on mimic toys below.
Manhattan Toy Baby Stella: This is one of those things I want to rave about but like it so much I can't find the words. A reader recommended this doll. I decided it was worth a shot and ordered it for McKenna's birthday. This doll is perfect for the little ones. There is nothing dangerous on the doll. McKenna gets to keep this with her in her bed, and I daily see her hugging, kissing, holding, and talking with this doll. She loves it. Absolutely the perfect doll for the younger crowd. The pacifier is magnetic, so it doesn't require fine motor control to get it in the mouth. They also make accessories for Baby Stella and make older versions of Baby Stella (a doll that looks more like a pretoddler). This is a doll you can stick with.
Ride-on Toys: Another category for gross motor skills, Ride-on Toys
have so many varieties it is almost impossible to choose one. Thomas, tractors, fire trucks, pink cars, princess cars…there is bound to be one your child will enjoy. This is a toy that we use outside and also inside in the winter.
Climbing Toys: Most children in this age range are absolutely obsessed with climbing things. A climbing toy can be a safe option to get the climbing out of the system. Most of these are meant for outdoors, but if you have the space, you can keep it indoors also. Climbing Toys
are another gross motor skill category.
Trucks/Toys/Tractors, etc. As your child gets older, you can add to the trucks and other cars as age appropriate. Chances are this is a category he will love for years to come. Kaitlyn also loves to play with cars, so if you only have a girl, she might be interested in some cars too. These are great toys for stimulating the imagination. Trucks up to 24 Months
Crayons: Many children start to enjoy coloring (aka scribbling) in this age range. This is great for sparking creativity. Crayons up to 24 Months
Toys to Mimic: Your child will continue to show interest in toys to mimic. These toys stimulate the imagination as well as help your child learn about the grown-up world. Along with toys listed in the 10-12 month post (Best Toys for Baby: Ages 10-12 Months), the toy kitchen became a favorite for both of my children in this age range. They both still love it at the ages of 3.5 and 21 months. There are so many different Kitchens
out there. I remember spending a lot of time looking through them when picking one when Brayden was about 18 months old. We settled on the Little Tikes Cookin Fun Interactive Kitchen
. While deciding, look through and decide what interests you. Then read reviews about it online to see what others think of it who have bought it. Consider pricing and space available to you. It doesn't need to be expensive. My children enjoy playing with those kitchens just as much. Kitchen Accessories
seem to contribute to the fun of the kitchen more so than the actual kitchen.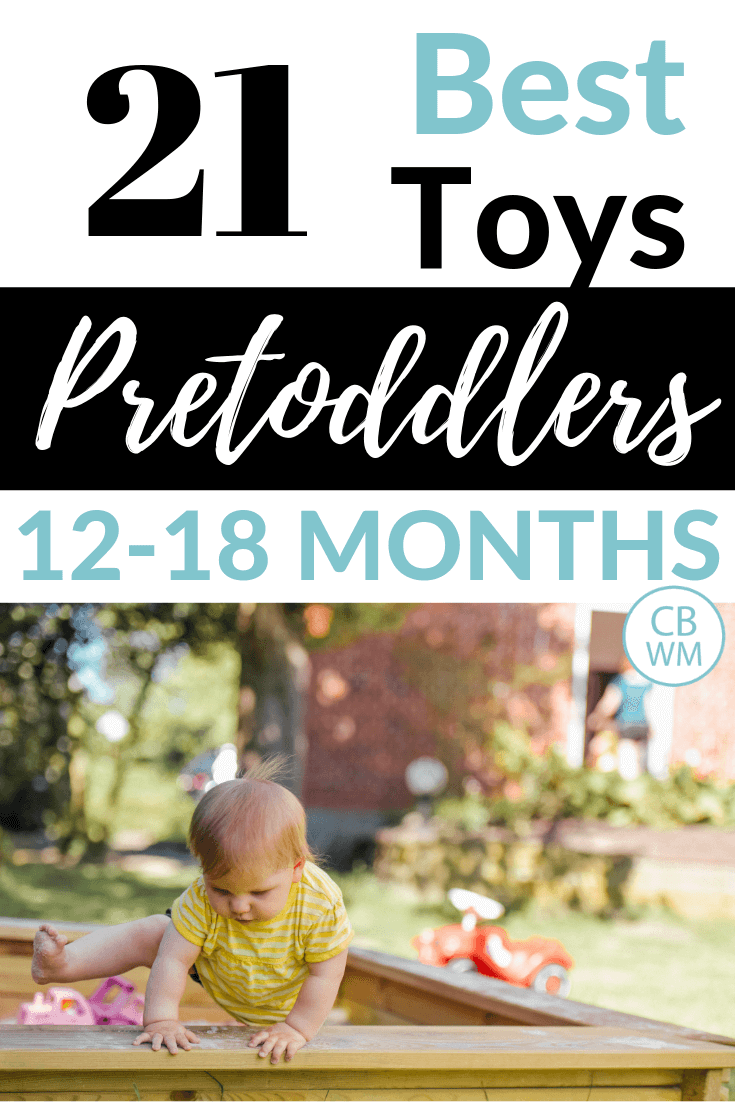 Sandbox Toys: Dump trucks, sand wheels, buckets, shovels, Sandbox Toys
are another category that is going to be interesting now and for years to come.
Bath Toys: Bath toys are great. See this post for my favorite bath toys: Best Toys for Baby: Bath Toys
Jack-in-the-Box
: The Jack in the Box
was an absolute favorite for Kaitlyn in this age range. We got many laughs out of her. Brayden also enjoyed it, though the peak of his enjoyment was at an older age range.
Walks: Walks are still of great interest for your little one (and will be for a long time…I haven't yet found the age that gets uninteresting). Since both of my kids were in this age range during our nicer-weather months, we did a lot of walks.
Bike Rides: You can get a bike trailer or bike seat to put on your bike and take your little one for rides with you. This is something Brayden still enjoyed last summer. Bike Trailers
and Infant Bike Seats
Infant Backpack: Your toddler is very curious. We enjoyed hiking and things like that as a family. We found the Infant Backpack
very convenient, especially having two to keep track of. We used it at places like the zoo, too, because it is easier to move through crowds when you aren't pushing a stroller.
Little Tikes Cozy Coupe Car
: This is one of those toys I always wished I had when I was a kid but never got. By my third child, my wish came true :). This coupe
was McKenna's gift from my parents for her birthday. The great thing about this coupe is that there is a floor you can put in so a younger pretoddler can have her feet up. Then she can be pushed around (best done by siblings if she has them 🙂 ) and not get feet hurt. For the bigger kids, the floor is easily removed and they can drive around all by themselves. This is a classic and fun toy.
Playskool Busy Ball Popper: This is a toy that many of you raved about in comments in previous posts. When my in-laws asked what they could get for McKenna for her birthday, I thought this would be a great option! And it has been. It has been lots of fun for all three kids. I, like many of you, would highly recommend this toy. Lots of laughs and squeals of delight have come about because of this toy.
Books: Last but not least, books. Continue to read books to your child in this age range of course. You might find him sitting and "reading" a pile of books one day. A fun book category to introduce if your toddler can handle it is the Books with Flaps
. These are peek-a-boo flaps with things hidden under the flaps. Some toddlers might bend or rip flaps, but most should be okay while reading with mom or dad.
As always, please be sure to add toys your toddler loves/loved to play with at this age!
Find the best toys for your child's age or for a specific occasion or location.
We are sorry that this post was not useful for you!
Let us improve this post!
Tell us how we can improve this post?