Newborn list of items to buy. Layette and newborn registry list. Easily see all of the items you need to get for your new baby.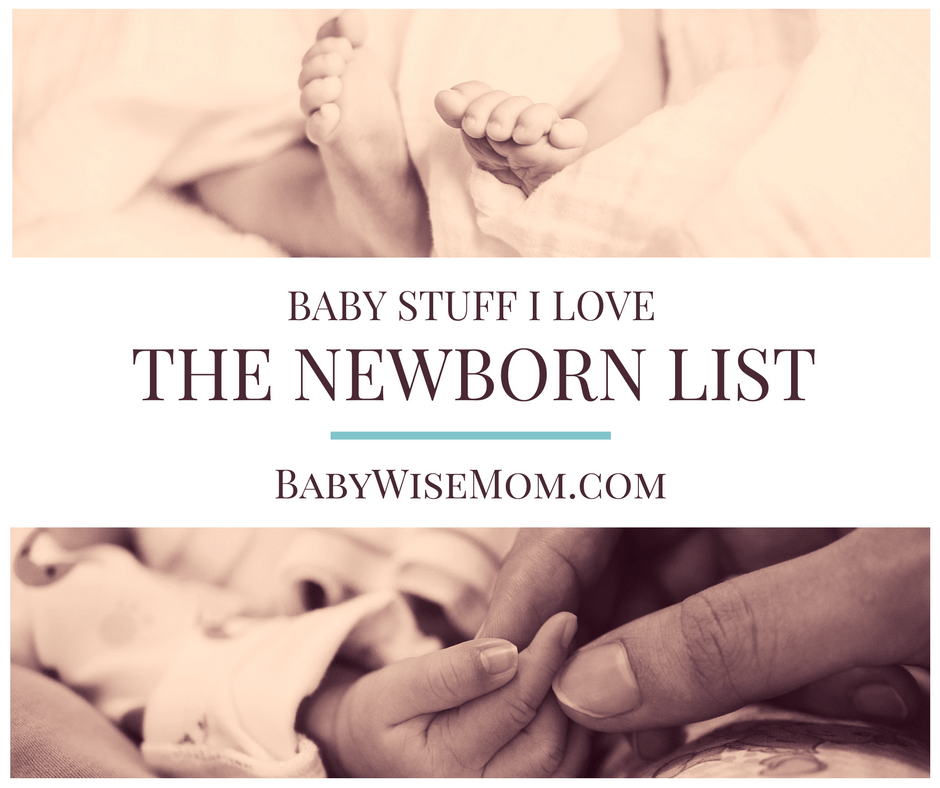 I have a list I compiled while I was pregnant with Brayden of things you "need" for your new baby. I made it from several different lists that I had found in books and online. I was just going over it for my next baby, and thought I would post the list here. Then you all can add anything you want to. This post contains affiliate links. That does not increase your price at all.
NEWBORN CAR ITEMS
Car Seat: I use this early on–obviously. I recommend that before you buy a car seat at any age, you consult Consumer Reports. It is nice to get opinions from other moms and read reviews online, but moms and reviews don't know the safety level unless they have been in an accident with it. Infant Car Seats
Hanging Toys: I hook a hanging toy on the

carseat

handle from birth, though the baby doesn't enjoy it immediately. Hanging Toys
Mirror: I love the car mirror. It is a must from day one for me. It is a mirror that is in front of baby, then the driver can look in the review mirror and see baby. The front passenger can look back and see the baby in the mirror, also.
Blanket: I like to have a designated blanket for the

car seat

. I am planning on making a blanket this go around that is attached to the

car seat

. That way, it won't fall on the ground!
Cover: I also like to cover baby with a blanket if she is sleeping. I have always used an

afghan

that my grandmother would make for my children. She has passed away since Kaitlyn was born, so I am going to make something a friend of mine has that attaches to the car seat. Once again, it won't fall off. This is a great car seat cover.
NEWBORN GEAR
(see also Big Toys for Baby (not BW))

NEWBORN NURSERY ITEMS
Crib: I love the crib, naturally. I think most

Babywise

Moms like the crib. That is where baby sleeps 🙂
Crib Sheets: I would get at least two so one can be washed while the other is in use. Crib Sheets
Crib Mattress Pad: I would get at least two of these also: Crib Mattress Pad
Changing Table: I love a changing table, though I know people who get along just fine without one. Changing Tables
Monitor: We got an inexpensive monitor when

Brayden

was a baby. We then bought a really nice and expensive one when Kaitlyn was born. The inexpensive one was totally fine for short range. We got a more expensive one for Kaitlyn because we had moved into a house with a lot of land. We wanted to be able to be out in the garden and still hear her. Baby Monitors
Video Monitor: Many readers have sung the praises of the video monitor. I am getting one of these for baby #3!
Blankets: You might want some receiving blankets as well as some blankets to swaddle. Receiving Blankets and Swaddle Blankets
NEWBORN BATH ITEMS
(see Baby Stuff I Love: Bathtime)
Bath Tub: I like to put baby in the bathtub once real baths can happen. I know people who do the sponge in the tub or just put baby in the sink. I like the baby bathtub. You don't need anything right away, though, since you don't give baths until the umbilical cord falls off. I think something like this is nice: The First Years Sure Comfort Newborn to Toddler Tub
Towel: I use hooded towels. I like to have two so one can be washed while the other one is in use. Super-soft Hooded Bath Wrap

Washcloths

: I used

washcloths

also. I like to have about 5-6 so we can have fresh washcloths for each bath. Also, I buy new washcloths for each baby and use them only on baby. Baby Washcloths
Shampoo
Soap: Some soaps and shampoos are combined. That is nice and convenient for the newborn.
Baby Lotion
Cotton Balls: These are good for cleaning the face–especially the eyes. Kaitlyn had a plugged duct for her first few weeks, so we went through quite a few.
Baby Oil: I have never used baby oil for any of my children thus far in life.
Brush and Comb: I use the brush on my babies, but the comb comes much, much later. I have actually never used a comb for

Brayden

–except when I cut his hair. Baby Brush and Comb
Nail Clippers: If you are like me, you will definitely want baby nail clippers (not the ones you use). Some people prefer a nail file. You do need these rather soon after birth. Nail Clippers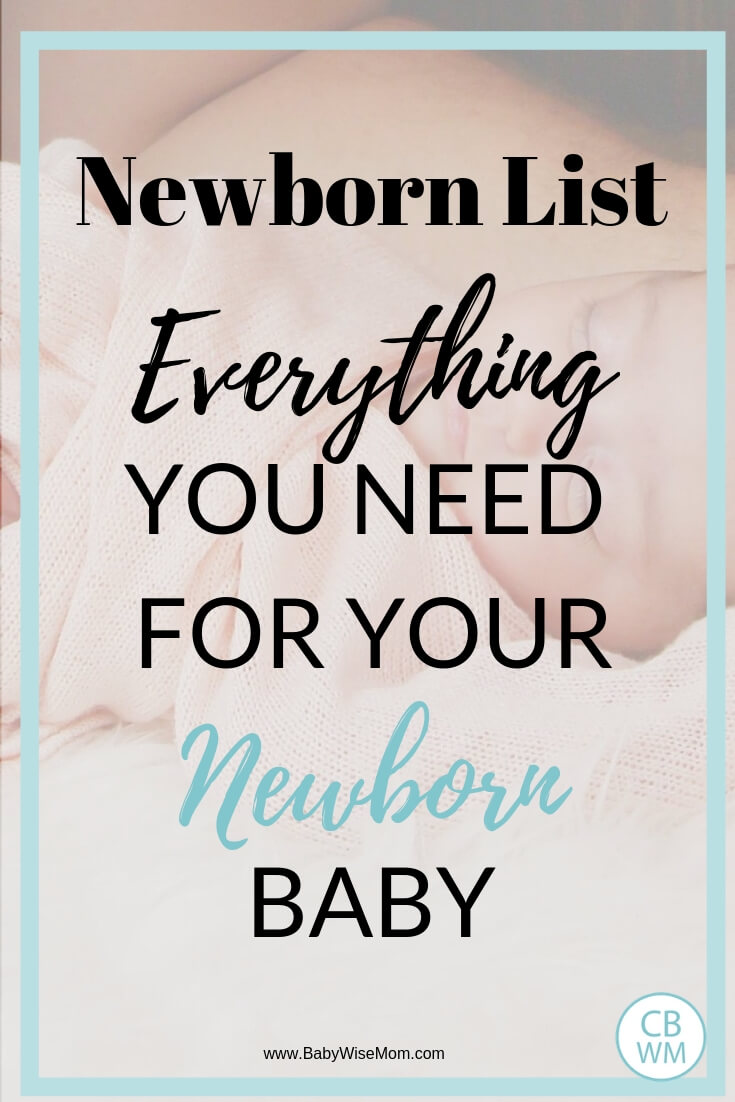 NEWBORN DIAPERING ITEMS
Diaper Genie: This is what I have always used and I have no complaints with it. I know there are a lot of diaper systems out there, so if you have one you love, share! I always just throw wet diapers in the garbage and use the diaper genie for soiled diapers. I am frugal like that. Diaper Genie
Diaper Genie Refills: If you use a system like this that requires refills, I suggest you have at least one for the system and one extra. Refills are also found here: Diaper Genie
Wet Wipes: I really like Huggies Natural Care unscented. The thing I like about the Huggies over a store brand (because I have tried them; I am frugal) is that you need fewer Huggies wipes to clean a poopy bum. I figure this makes up for the extra money spent on them in the first place.
Rash Cream: I use Boudreaux's Butt Paste. I love it! It is expensive, but it will really last you a long time. We put it on each night to protect skin through the night. We have only purchased a few tubes in the last four years. Boudreaux's Butt Paste
Diapers: You might use disposable, you might use cloth, but you must use something :). With a newborn, I do buy the more expensive diaper brands and get the diapers made for a newborn size. As baby gets a little bigger, though, I move to just the store brand.
NEWBORN MEDICAL ITEMS
(see Baby Stuff I Love: Sickness)
Rectal Thermometer: I don't use this. I use a temporal scanner. Exergen Temporal Artery Thermometer MODEL# 2000C
Infant Acetaminophen: You won't be using this right away, but you can use it relatively soon. I would consult with your pediatrician before your first time, though.
Mylicon Drops: These are gas drops. I used these a lot with Brayden. Kaitlyn never needed it.
Bulb Syringe: AKA Nasal aspirator. Bulb Syringe . A NoseFrida is also popular, too, for clearing stuffy noses.
NEWBORN FEEDING ITEMS
Nursing Items
(see Baby Stuff I Love: Nursing/Bottle Feeding Stuff )
Lansinoh: I sing its praises all the time. I love Lansinoh. I put it on once a day a month before I have the baby. Then at first, I put it on after every feeding. It really makes a HUGE difference for me. I have only had to buy a few tubes over the years. Lansinoh Lanolin Nipple Lotion 2 oz
Nursing Bras: Get a good one. Also, you might want to wait until after you have had the baby to get one so you can be fitted. I bought a few before Brayden was born based on what the clerk told me should happen. They were really uncomfortable. When he was two weeks old, I bought another one, and I love it! I now purchase these a couple of weeks after baby is born, though I have some to use until then.
Nursing Nightgown: My mother-in-law gave me one of these when I had Brayden. I really like it. I don't use it the entire time I am nursing. I only use it for the first few weeks, but it is really convenient. You don't have to hold a shirt up or anything, which is great when you are so tired. Nursing Nightgowns
Nursing Pillow: I love the Boppy. Boppy Bare Naked with Miracle Middle Pillow. If you get this, you will also want at least one pillowcase. Two are nice so one can be washed while the other is in use.
Nursing Pads: When I was nursing Brayden, I used the absolute cheapest nursing pads out there. I figured there was no reason to use more expensive pads. I had been given lots of samples of other brands while in the hospital and wasn't impressed. Well, one time while nursing Kaitlyn the store didn't have the cheapest ones and only had Lansinoh. I had never tried it, but was forced to buy them. What a difference they made! They never got soaked all the way through, so my shirts never did either. They also were less conspicuous and more comfortable. I only ever had to change them because that seemed like the right thing to do. With the next baby, my plan is to use the cheap ones for my heavy engorgement time at first (except for when I am out in public). Once that is over, continue on with Lansinoh brand Lansinoh 20265 Disposable Nursing Pads, 60-Count Boxes (Pack of 3)
Breast Pump: The breast pump you get will depend on how often you pump. I don't need to pump often, so I just have a couple of hand pumps. One is Medela and one is Avent. I like them both. Breast Pumps
Spit Up Protection
Bibs: I don't use bibs until my baby is eating solid foods, but if I fed with a bottle, I would use it sooner. Just as an FYI, when I did the Baby Stuff I Love: Mealtime post, I had several readers rave about a silicone bib. I have since bought one. It is awesome. But it isn't for a newborn. This was just a heads up :). Bibs
Cloth Diapers: These are great as burp cloths. Cloth Diapers. Or you ccan,of course,b uy actual Burp Cloths
Bottle Stuff
Bottles: I like to give my baby a bottle once a week to ensure baby can and will eat from the bottle. I have previously used Avent, which I have have loved. Avent bottles always worked well with my babies who breastfed.
LAYETTE
Onesies/Bodysuits: These are great for a newborn. You can have them as undershirts or as the shirt. I find them great for the 0-3 month old especially. I then just put some pants or skirt with the onsie and I have an outfit. Onesies
Nightgowns: These are nice for an easy diaper change at night. The thing I don't like about them is that they creep up. Nightgowns So then I use something like this: Sleep Bag
Footed Pajamas: This is what I have my babies sleep in unless it is too hot once they are past the nightgown stage. Footed Pajamas
Outfits: You will want a few outfits for your baby. Newborns are handled easiest in clothes that are all snapped up like the onesies I mentioned above. But there are still times you want baby to be all cute and dressed up. I just don't use a lot of outfits for the 0-3 month stage.
Hats: You will need winter or summer hats depending on the time of year. Baby Hats
Jacket/Sweatshirt: If you have a baby in cooler weather, you will want one of these for newborn stage.
Socks/Booties
NEWBORN TOYS
(see also Big Toys for Baby (not BW) and Best Toys for Baby: Ages 0-3 Months)
Bouncy Seat: Your baby will be able to sit in a bouncy seat relatively soon after birth. I like to be stocked up for several months, but if you aren't that type, you would wait a month or so before looking into getting one. Bouncy Seat
Gym: The gym is a place that can be used from birth. Baby Gym
Soft Book: I start reading to my baby each day from birth. I got Brayden a little soft cloth book that I read to him each day for quite a while before I started varying which book we read. I used the same for Kaitlyn and plan to do the same for baby #3. Baby Cloth Books
---
---
OTHER NEWBORN ITEMS
Pacifiers: I don't use them, but I always have a few in case. I don't know why I have them since I don't use them, but I do.
Anti-scratch Mittens: I bought these before Brayden was born, but I never found a real use for them with him or Kaitlyn. I do know people who love them, though. Mittens
Nightlight: I use this at first at night while there are several feedings, but I don't like to keep it a constant in life. Not that there is anything wrong with it. I just avoid things that would have to be transported when we travel.
Diaper Bag
Scrapbook: Okay, this is definitely not a need. I love to scrapbook and prefer to do pages as we go rather than falling behind and playing catch up (not to say this is the way it always goes, but it is what I prefer). So I like to have it from the beginning.
Baby Book: If you don't get a baby book right away (or ever), be sure you have somwhere you record things. You think you will remember it forever, but you won't. I really like the Carter's Baby Books or other brands owned by Carters (Just One Year & Child of Mine).
We are sorry that this post was not useful for you!
Let us improve this post!
Tell us how we can improve this post?