12 month old pretoddler schedule and routine. 12 month old schedule. Baby schedule for baby's 53rd week. Baby schedule and routine for the fifty-third week of life. 52-week-old baby routine and daily life. Learn about weaning from breastfeeding, dropping the bottle, birthday gifts for a 1 year old, and camping with a pretoddler.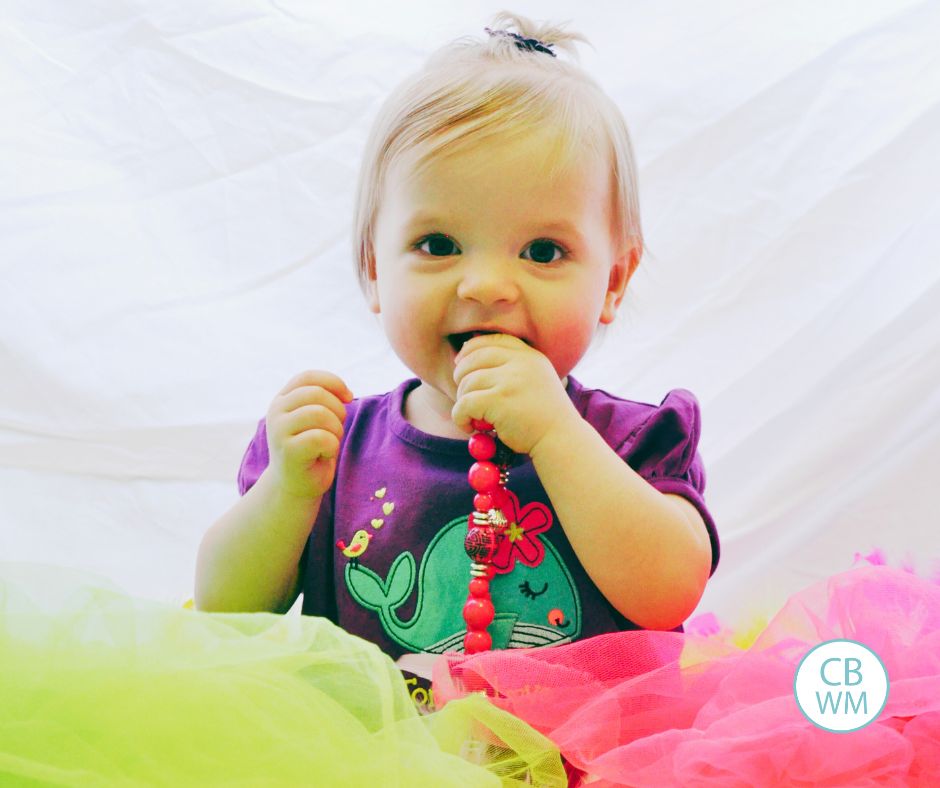 Here it is folks. One year old. This is a summary for Brinley's 53rd week. She was 52 weeks old. I noticed that for McKenna's summaries, I moved to every two weeks at this age. I think I will do that, also. They seem to not have as many dramatic changes week to week as they get older.
NURSING
Done! Done! Done! I don't really know how to describe how I feel about nursing. I obviously find it important and value it. I have nursed all of my babies for one year. I find it nice and easy–it is always ready.
I also find it slightly confining. I have to be there every time the baby wants to eat. And I honestly get a little weirded out when the baby gets old enough to start playing with my nipples. Just not my idea of a good time. So by the time the baby is one, I am very ready to be done.
>>>Read: How to Wean Your Baby From Breastfeeding
Many people wonder when their pretoddler needs to be done with a bottle. Ideally, you are done at 12 months, but if your little one is not done, do not stress about it. Just work toward dropping a bottle.
>>>Read: How to Wean Baby From a Bottle
EATING
Her appetite was still lower this week from her sickness. It was slowly increasing, but not up to normal. She pretty much didn't want any purees except for her morning oatmeal and prunes. I started giving her more of what we were eating at family meals.
>>>Read: How to Align Baby's Meal Times with Family's Meal Times
SLEEPING
Sleep was normal–perhaps even a bit sleepier as she wanted some more sleep as she was recovering from being sick.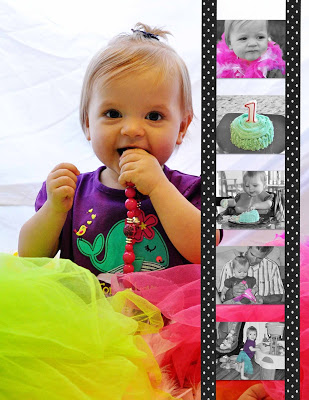 BIRTHDAY!
Brinley had her birthday this week! Here is what she got for her birthday from us and grandparents:
I don't do big birthdays at all. I make a cake, we have family over for dinner, presents, and cake.
PRAYING
She started putting her hands together for prayer this week. It is so cute. She also loves family prayer. We kneel down in a circle each night and pray as a family. When we say "Family prayer!" she zips on over to the spot, gets on her tummy, and puts her hands together for the prayer. 
CAMPING
We went camping during this week. The first night was the roughest night we have ever had with a baby camping. I had to go in and hold her/rock her several times until about 10 PM before she finally went to sleep (not in my arms, but after I rocked her).
She had fallen asleep initially, then we put McKenna to bed and it woke her up when we did. Brinley is a SUPER light sleeper. McKenna is a SUPER deep sleeper, so we have never had a problem with her waking up when we put another child to bed when she is already asleep. 
Brinley did sleep fine after that and slept until 7:30 the next morning. This is earlier than her usual wake up time, but much later than I am used to kids getting up when camping.
The second night, we put McKenna to bed before Brinley since McKenna is the deep sleeper. That worked perfectly.
DOCTOR & VACCINATIONS
Brinley had her well-check visit this week. Everything looked great. She also got her one-year vaccinations. She was not happy with them, but calmed right down with a sucker. Ha! Sticky mess. She didn't have any sort of reaction to the vaccinations at all.
SCHEDULE
8:45–nurse with solids (fruit, cereal, yogurt, finger foods). Independent Playtime happens in this block.
10:30-11:00–nap starts
12:45-1:00–wake up, bottle with solids (veggie, fruit, other foods we are eating)
2:30-3:00–nap starts
5:00–wake up, bottle with solids (veggie, fruit, dinner) 
7:30–bottle, then bedtime. In bed by 8:00-8:30.
HELPFUL BOOKS
RELATED POSTS