This is a summary for Brinley's 41st week; she was 40 weeks old.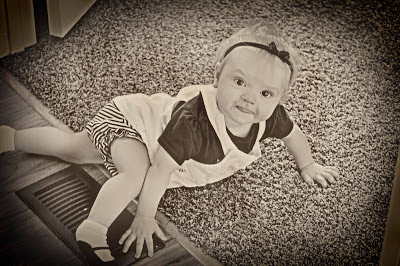 NURSING
Same old same old.
BOTTLE
She took a bottle from Kaitlyn this week! Hurrah for more progress!
SOLIDS
This week, she tried watermelon. MAJOR love. She super-loves watermelon.
SLEEPING
Brinley started a new thing at nap and bed time. I put her down for her nap, then walk to her door, and she rolls over and peeks out the side of her crib. I then wave to her and tell her how I love her and she waves back. Then she rolls back over and I leave.
NAPS
Her morning nap moved back to 10:30 instead of 15 minutes this week.
NIGHT PJs
I changed up her PJs. It got warmer, so instead of long sleeved, footed PJs inside of a fleece footed PJs, I am doing a onsie, socks, and light cotton pajama pants inside of fleece footed PJs.
SCHEDULE
8:45–nurse with solids (fruit, cereal, yogurt). Indepenedent Playtime happens in this block.
10:30–nap
12:45–nurse with solids (veggie, fruit, cereal)
2:30–nap
5:00–nurse with solids (veggie, fruit, cereal, finger foods)
7:30–feed, then bedtime. In bed by 8:00.
HELPFUL BOOKS
RELATED POSTS/BLOG LABELS: