Are you wondering what you should do for Christmas 2020? Get ideas to have a great Christmas even when you are apart from loved ones.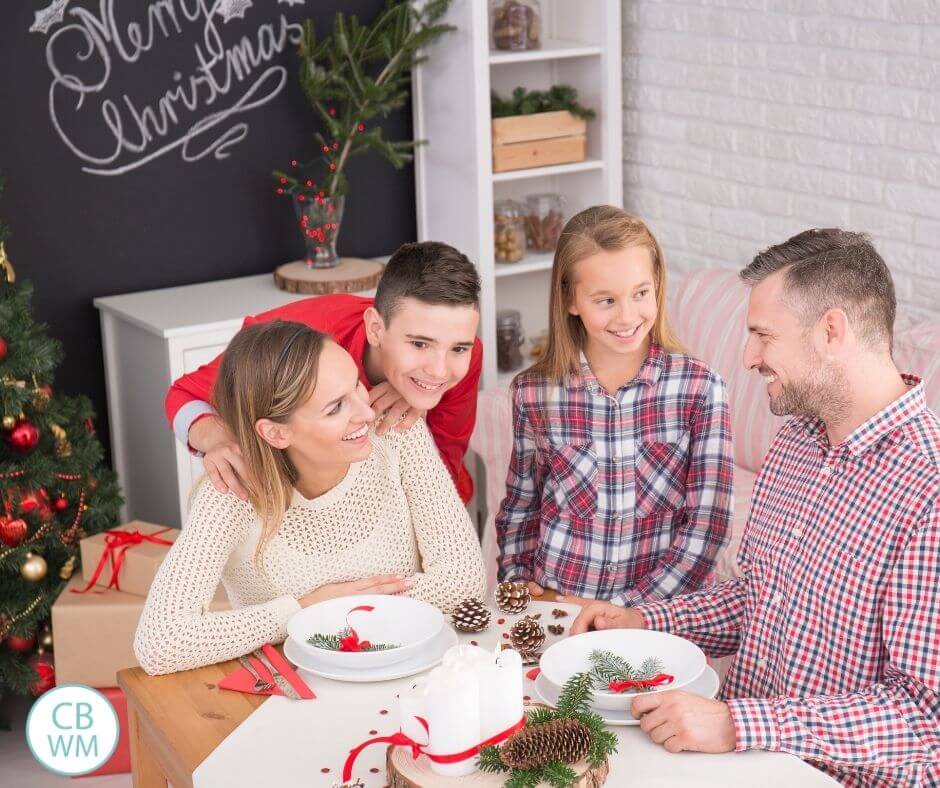 I don't know if this year could get any crazier, but it probably will just because that is how 2020 rolls.
While there have been many difficulties this year, there has also been a lot of personal growth for each of us.
With Thanksgiving, Christmas, and New Year's approaching, many of us are facing the idea of celebrating much differently than we ever have in years past.
While in the grand scheme of things, you can take a step back logically and realize it isn't a huge deal, the emotional side of you really mourns the loss of traditions and misses the connections with friends and family.
I am all about tradition and feel sad when traditions get disrupted. As I think about it, I realize my holiday traditions have had to change and adapt many times in the last 20 years.
Getting married changed traditions because we had to merge two different sets of traditions into one.
Having children changes life significantly. Losing grandparents changes dynamics.
We have also had surgeries that have come at the holiday season that have disrupted what we could do.
So while I love tradition, adapting has become a way of life.
Here are some ideas for you to make your Christmas special even if you are celebrating it as a small family unit.
Focus on Traditions You Can Keep
While many traditions will look different this year, there are many you can keep.
Make a list of all of your typical traditions and see which ones you can keep. I know when I look at my list, I realize so many of them can still be kept.
Focus on the positive and what you get to keep. It will keep your spirits high (or at least higher).
>>>Read: Family Christmas Traditions: 17 Fun Traditions Children Will Love
I discuss our favorite traditions in the post listed above, but some that we can still do this year are:
Read about the birth of Christ in the New Testament
Get new ornaments (check out this perfect ornament for 2020 I got for our family for the year)
Do service for others. If you can't really serve anyone in your community, you can still serve each other. Draw names and do some secret service right in your home.
Watch Christmas movies (I have a list of our favorites here)
Decorate gingerbread houses
Read Christmas books and stories together
Get new pajamas for Christmas and/or new dress wear
Do some fun learning activities at home
Have a big Christmas Eve breakfast and a big Christmas meal
Each get our own cereal for Christmas morning
Go see lights
Make Fun, New Traditions
As you look over your list, you will be happy to see the many traditions you can still keep, but no doubt you will also take note of the traditions you cannot do this year.
Rather than dwelling on that, think about some new traditions you could add–or at least activities you could do for this year.
Here are some ideas I have thought of:
Learn to bake some new Christmas treats
Do a big puzzle. I have often heard of famlies working on a puzzle together over the holidays. This is a great year to do something like that since we will be home so much more.
Christmas karaoke party. Or any karaoke party. I am always down!
Mail gifts or cards to loved ones
Drive around to see lights. We rarely have just perused our town to see how people have decorated for Christmas. This year, we will have the time to do so.
Do some outdoor winter sports. We have done this at times, but it isn't solid tradition for us. Go sledding, skiing, ice skating, snowmobiling…these can really vary depending on what is open around you.
Do service for others through the mail. You may have done secret santa or Christmas service in the past; doing it through the mail is a great option.
We always do fun white elephant gifts with friends and extended family. It could be fun to do that with our little family this year.
Decorate the table all fancy for Christmas dinner. Break out the china or do a nice Christmas tablescape.
Find Ways to Connect with Loved Ones
There are many ways to get together with loved ones virtually. Here are some ideas:
Christmas talent shows are common in my family and Nate's family. This can be done virtually through Zoom or other online schedulers.
Have an ugly sweater party together virtually.
Do an ornament exchange through the mail. You could even ask that it be homemade.
Send cards to each other.
Have a gingerbread house competition to be shown and judged virtually.
Go All Out With Decorating
Christmas can be so full of hustle and bustle that you find it hard and tedious to decorate for Christmas.
This is the year to go all out, be festive, and decorate like crazy.
This can really bring a lot of joy to you and your family as you are spending more time at home this year. You can even add a bunch of homemade decorations to your motif.
Focus on the Meaning of Christmas
While many are planning to go big this year with the holiday decorating, this is also a great opportunity to slow down, refocus, and talk about the true meaning of Christmas.
There will be less to distract us this year, making it a perfect year to realign and create some new traditions that really allow you to focus on the birth of the Savior of the world at this time of year.
Serve Others
I have mentioned serving several times in this post.
One of the most increadible things about service is that as we serve others, we tend to forget our own troubles and sorrows.
That is why I have talked about several times and yet still give it a specific section.
As you serve others, you give the best gift to our Lord. As you serve others, you forget yourself and your disappointment. You focus on others instead of yourself.
Going Out With Baby
I recently came across a product that helps protect baby from germs when you go out. I remember being pretty paranoid with my babies during cold and flu season, and that was when a pandemic wasn't happening.
This product is called Baby Bubble. It is made from the same material used by face masks and PPE.
This is a new start-up company. I have been talking with the founder and she has provided a discount code for you!
Use the code BABYWISE to get a 20% off discount! (affiliate code)
Conclusion
While this Christmas might look really different for you, there are many things you can do to still make it meaningful, special, and memorable.
Since we are all looking for ideas this year, I would love to hear your favorite traditions and also how you like to serve others at Christmas time. Please share in the comments.
Related Posts