The perfect soup to make in the fall to use your fresh garden ingredients. It tastes like fall and will hit the spot!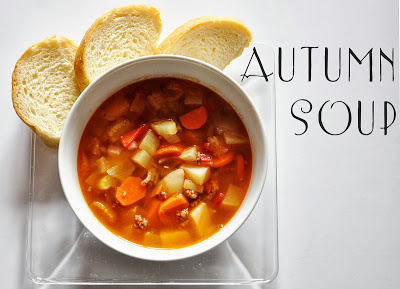 Starting in the Fall and going into Spring, we have soup each week. As I meal plan, I always look for a soup to have that week. So we try lots of soup recipes (because I have this thing against eating the same recipe in twice in a 30 day period). This soup is seriously amazing.
Why? Because you take a bunch of ingredients from your garden and make a delicious soup. It is my favorite soup to use up a bunch of the stuff in my garden that is going out of control. My husband says it "tastes like Fall." But don't worry! You don't need a garden to eat this soup. These ingredients should be cheap at the store, too.
INGREDIENTS
1 pound ground beef
1/2 cup chopped onion
crushed bay leaf
1 tsp salt
1/4 tsp pepper
Pinch of oregano
Pinch of basil
6 cups water
3 beef bouillon cubes
1 cup chopped celery
1 cup diced potatoes
1 cup zucchini
1 cup carrots
1 small can of tomatoes
Dash Worcestershire sauce
Brow together meat and onion. Drain fat. Add water. Add remaining ingredients. Bring to a boil and simmer for 20 minutes or until veggies are soft.
MY CHANGES
Above is the recipe as written. Here is how I change it.
I do not use a bay leaf.
I double all vegetables. And note that you don't need every one of those vegetables for this soup–if you don't have one, make it anyway!
I also double the water, salt, and the bouillon. I keep pepper the same.
I use fresh tomatoes instead of canned. The upside is better flavor. The down side is the skin comes off in the soup, which might be displeasing to some of you. If so, you could blanch the tomatoes first to get the skin off. Or you can just use canned tomatoes.
For the herbs, I use fresh herbs and do quite a lot of them. Oregano and basil are my two favorite herbs so I load them in there. Plus my basil plant's days are numbered, so I want to use up those leaves!
My "dash" of Worcestershire sauce is probably closer to a Tablespoon, but I don't measure it out.
SERVE WITH
Serve with bread. You can do rolls, breadsticks, french bread, baguettes, or even just a loaf of bread you bought at the store.
FEEDING TO KIDS
Some of my kids are not big soup fans. When I feed them soup, I take the ingredients and put them on a plate. So potatoes, carrots, celery, meat, etc. all on the plate without any broth. I usually use the divider plates. Then they eat it just fine. They like the ingredients, it is just having them all together in a liquid that is disconcerting to them.
I love feeding soups like this to older babies, pre-toddlers, and toddlers. I do the same as I listed above; I take out the individual ingredients. I then make sure each piece is a good size for that individual child.
Related Posts