Toys for little girls. Get ideas for toys for your daughter that she will absolutely love. These will make great gifts and be fun for years to come.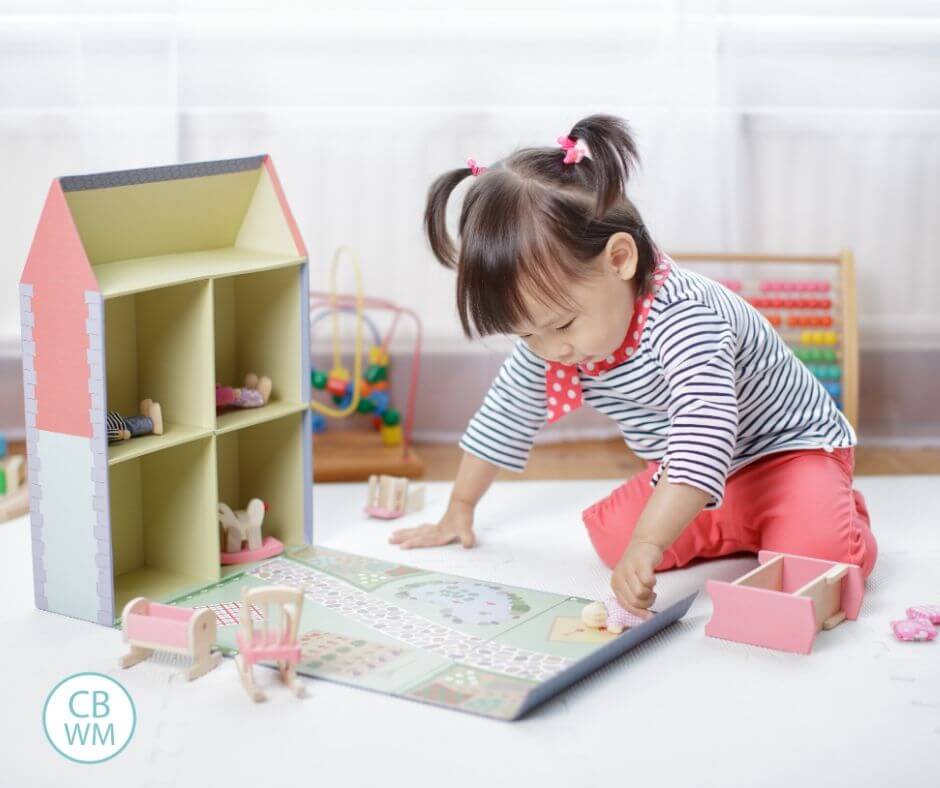 This posts reviews 9 different toys your little girl will love. These are toys that are traditionally girl toys. Brayden does play with these with Kaitlyn, but they weren't toys he was interested in until she came along.
Updated November 2019
Toys for Your Little Girl
Age Range: 2 and up (maybe 18 months)
Review: You know how you want to buy stuff for your kids that you always wanted as a kid but never got? The high chair is one of those things for me. But I wanted it for good reason! Kaitlyn loves to put her dolls in it and feed them food.
Buy Again?: Definitely. There are a lot of high chairs available, now, though. When we got Kaitlyn's, there weren't a lot of options on Amazon, but now if you search "baby doll high chair," you will find a lot. We really like ours, but you might find something you like better if you search. The one we have can be converted to a little table with a chair, which can be nice when your daughter decides her baby is growing up.
Age Range: 2 and up (or 18 months)
Review: The doll bed is another thing I always wanted. Kaitlyn puts her babies in the bed to sleep and tells me they are sleeping and time to be quiet. The doll bed is probably something you can use a little imagination and create something without buying it. I also think you can just use your child's old bassinet instead (though it will be much bigger than a doll one). Here is a link to bassinets on Amazon. They also sell cradles and play yards for dolls. See Bassinets
for more options.
Diaper Bag
Age Range: 18 months and up
Review: Kaitlyn loves stuffing her bag full of her baby's stuff. I have mentioned this in the past, but when we bought this for Kaitlyn, I figured out that I could buy a small, real diaper bag for less money than you can buy a diaper bag made for your little girl to play with.
Buy Again?: Yes. It can be hard to judge size online. If you want/need to buy online, you can search under diaper bags (or small diaper bags), then choose "under $25". Here is a link to that: Diaper bags under 25
Age Range: 2 and up, but we got Kaitlyn's at 18 months
Review: This is such a fun toy for your child. Kids love pushing things, so the stroller is a fun way to group pushing with imagination.
Buy Again?: Definitely. Of all the doll furniture, I think this is the best one.
Age Range: 2 and up (depending on what brand you get)
Review: Dollhouse stuff is really fun. It is a fun way to play house. Kaitlyn has my old dollhouse from when I was a little girl. My parents were the first to buy her dollhouse furniture, and they went with the Calico Critters
. This was perfect because she loves animals so much. There are pieces too small for her. I just take those out and have them stored for when she gets older. Dollhouses
Buy Again?: Yes. This is something we add to slowly over time.
---
Read: 11 Perfect Toys to Keep Boys Occupied
---
Age Range: depends on what doll you get
Review: Dolls are obviously an important part of the doll furniture playing process :). There are a lot of dolls available out there. A lot of Kaitlyn's are dolls I had when I was a little girl (um, yes, I have always been very meticulous with my stuff. That is why my dolls are all in good enough shape to give to my children). When I was growing up, my favorite dolls were Cabbage Patch Kids
. Kaitlyn has also received a couple of dolls as gifts. She has loved these dolls…it seems more than the cabbage patch dolls! Everyone has their own preferences, I guess 🙂
Buy Again?: Definitely! Girls love dolls. Though I must add, Kaitlyn does prefer stuffed animals to dolls, but stuffed animals will be in a gender neutral post.
Age Range: 12 months and up
Review: These are fun dolls for learning to do zippers, tie laces, do up buttons, etc.
Buy Again?: Yes, I would either buy a doll like this or buy the Melissa & Doug board that teaches these things, also.
Age Range: It looks like ages are 3 and up for most items, but Kaitlyn has been playing with them since about 2ish and up.
Review: This is Kaitlyn's favorite toy category to play with right now. She loves animals, and horses are in her top two. You child will enjoy these most when she starts to do imaginative play, which for most children is supposed to happen around age 3, but Kaitlyn started before age two. Brayden started about 3.5…so everyone is different 🙂
Buy Again?: Definitely. She will be getting a new pony for Christmas. So far, she is just playing with my old ponies.
Age Range: 2 and up
Review: This is another fun doll item. I thought Kaitlyn would enjoy this when we had a new baby so her baby could be in a car seat, too.
Buy Again?: Yes.
Related Blog Posts