The best toys for toddlers to play with. Get great toddler Christmas gift ideas and birthday gift ideas. These toys are great developmentally for toddlers.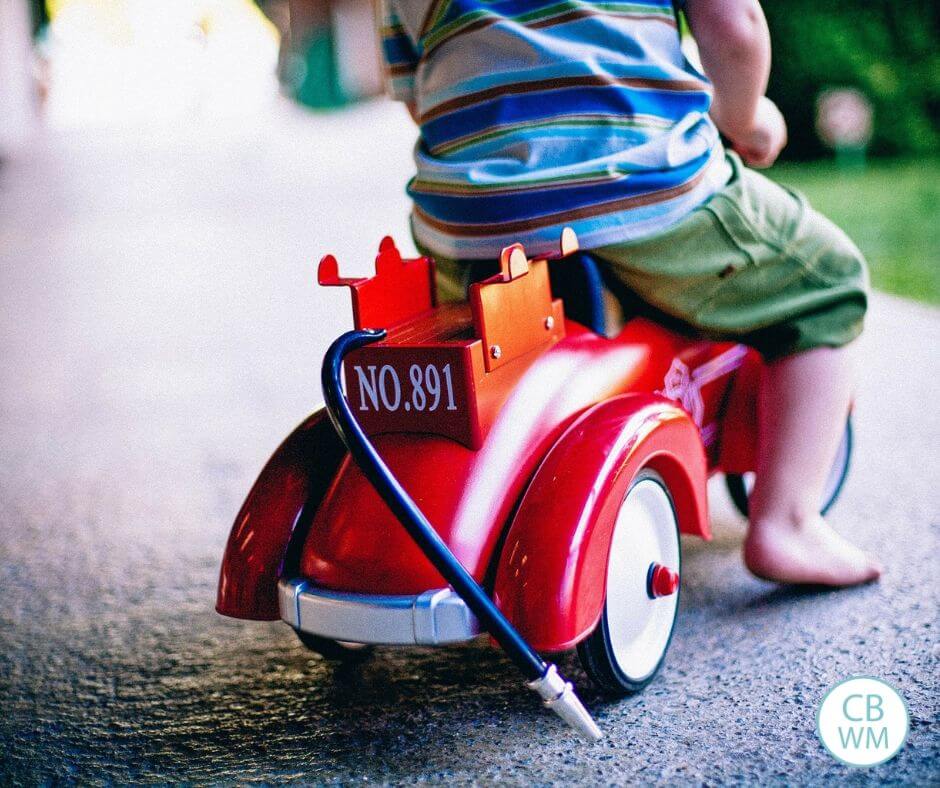 These posts will now be for the age listed and older. They enjoy playing with toys for a long time, so the toys I list will be toys my kids enjoyed starting at that age (or soon after), but that doesn't mean they won't be enjoyed at a later age. For example, this post is for 2 and up. So the toys might be great for your two year old, also, and can also be great for your three year old.
By age two, your child will be outgrowing that "in-between" stage of 18-24 months and will take great interest in toys. This is the age I find kids start to play with toys in the manner we envision our kids will play with toys. Here are some toys my kids loved at age two.
Great Toys for Toddlers
Old Favorites: I start every post with this category for a reason. As your child grows up, the old favorites aren't necessarily going to be toys they now find "blah." As I have said before, your child changes the way she plays with these old favorites. At age two, Kaitlyn still loves the Fisher-Price Rock-A-Stack. She often uses the rings as her bracelets. Brayden also loved that toy at this age, but he used it to intently focus on colors and size relationships. Both kids also love/loved the LeapFrog Learn & Groove Musical Table. This has got to be one of the best toys ever made. It has such great longevity. With just one kid, you would get your money's worth. It has gone through two children and still in fabulous shape, so I am sure McKenna will enjoy it, also. See Best Toys for Baby for all previous lists.
Old Categories…Updated: As your child gets older, many of the old categories are still great for her, but you might want to get some updates. An example is puzzles. As your child gets older she will need more advanced puzzles. The exact age that she will need this varies; just be aware of it. Some categories will never be too young, including Balls. Balls are always great; you just change the size and softness as they get older. You also have Stuffed Animals, Trucks age 2-4, and Dolls age 2-4 .
Tractors: Brayden absolutely loves tractors. John Deere Tractors
Tonka Trucks: One of Brayden's favorite toys he got as as two year old is is Metal Tonka Truck. He got a dump truck and a loader, and he still plays with those on a daily basis now as a four year old.
T-ball Set: Another fun toy Brayden got as a two year old was Little Tikes TotSports T-Ball Set. He still plays with this as a four year old. Kaitlyn loves to play with the t-ball now (she is currently two).
Basketball Hoop: Another favorite of Brayden's was Little Tikes EasyScore Basketball Set. Again, he still plays with it. Kaitlyn started playing with this at age one, so a younger child can definitely have fun with it.
Pic-nic Table: Around the age of two, we got a Little Tikes Pic Nic Table for Brayden. We have a deck and like to eat outside in the summer. He loved it so much. We ate lunch outside almost every day. Both Bradyen and Kaitlyn still enjoy eating outside to this day. Kids love to be outside when they can. It folds up compactly if you need to store it in the winter.
Lawnmower: The Lawnmower is an all-time favorite. Brayden loved it and still loves it. He always likes to push it around behind my husband as he mows the lawn. At the beginning of this past Spring, Brayden found his lawnmower was too short for him. He was quite sad. After some time, however, he figured out how to push it without it falling over (we just have a really inexpensive one that folds over on itself if you don't push it at just the right angle). He can again use it. This is currently one of Kaitlyn's favorite toys. She will literally push that thing around for an hour straight if you let her.
Little People: I list this all the time. I love the little people toys. At age two, Brayden got the Fisher-Price Little People Animal Sounds Farm. If you love Little People, the barn is one of the best, I think. Brayden also got and loved his fire truck Fisher-Price Michael and His Rescue Rig
. Another best is the one Kaitlyn got for her two year birthday (we have a tradition where they get one Little People item for each birthday and Christmas): Fisher Price Little People – Sarah Lynn And Her Camping Adventure. It is seriously great.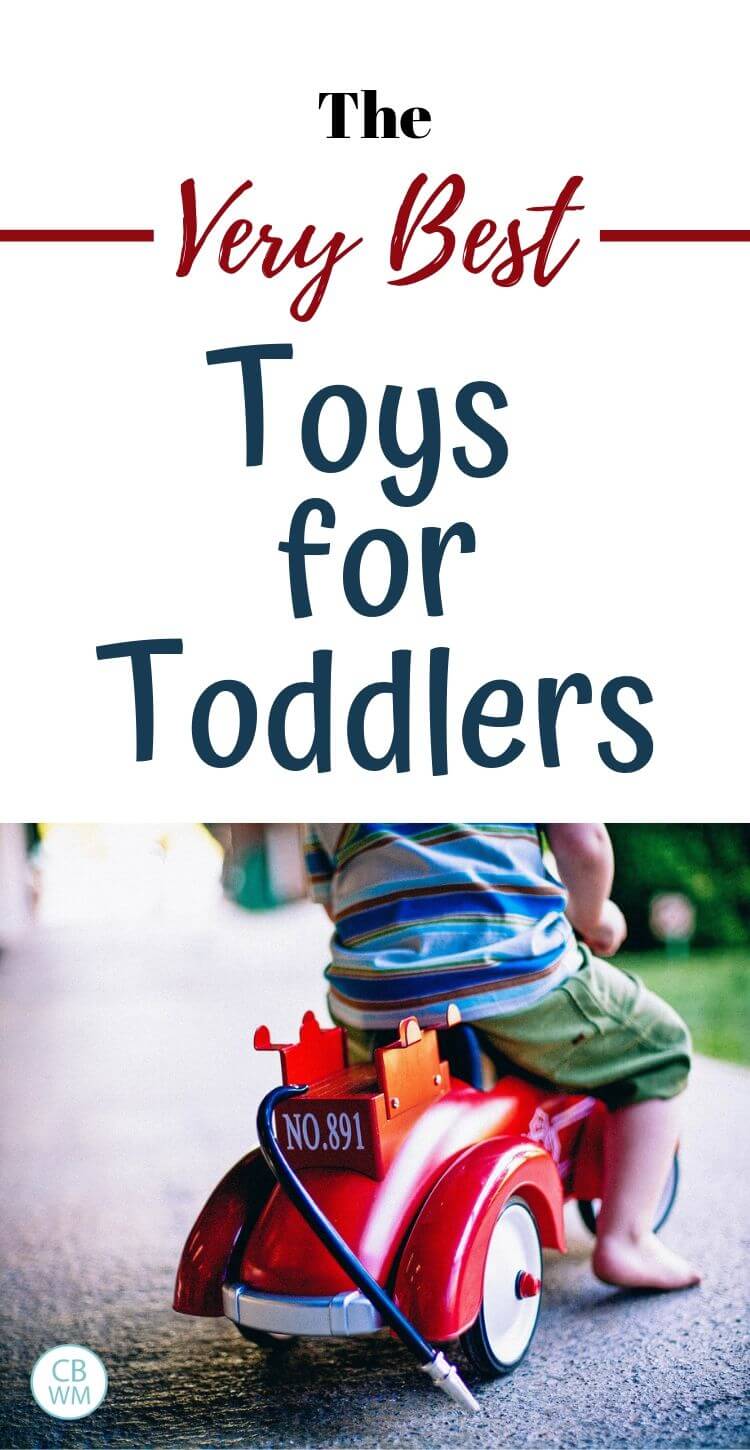 Plasmacar: At our local toy store (not a box store, a real toy store), they sell the Plasmacar. They have one out for kids to ride. When we go there, Brayden always rode it around. Brayden is at the age where he rides his bicycle quite well. As a two year old, the tricycle can be hard to ride, so I thought Kaitlyn might enjoy a Plasmacar. Every time I went into the toy store, they were sold out, but a mom would stop me and tell me how awesome they are and how their 5, 7, or 10 year old still loves it. "It is the favorite toy of the neighborhood!" So I found them online for cheaper than the toy store. Kaitlyn was absolutely thrilled with it. Brayden was absolutely wanting one, and Grandma ended up getting him one for his birthday. Now the two have fun riding their plasma cars together.
Duplos: I know I mentioned this in the previous age group, but they are so great, I wanted to reiterate. Brayden and Kaitlyn play with these every day. Kaitlyn has even started to build things with them (I can't really tell what it is, but she tells me and then I can see it). This just amazes me. We have both the My First LEGO DUPLO Set
and love it.
Scooter: My grandpa got Kaitlyn the Radio Flyer My First Scooter
for her second birthday. She really likes it. My friend gave her son one for his second birthday, and it was a hit. She also let him ride it inside during the winter (he has a winter birthday) and it was something he could do indoors that gave him exercise.
Tricycle: When Kaitlyn was first two, she couldn't ride the tricycle at all on her own. However, she is now three months past two and learning to pedal by herself. I think that our tricycle can be hard for younger children to ride. We have a radio flyer one. I think some of the other tricycles can be easier for younger children–but they don't last as long. Brayden can still ride and enjoys the little radio flyer tricycle we have. So those are some aspects to consider.
Here are Tricylcles
on Amazon
. Ours doesn't have a handle on the back for the parent to push, but I have to say that would be an awesome feature. As Kaitlyn is learning, she needs a push. To push with the handle would be a lot easier than stooping over! But of course that is just a nicety not a necessity (unless you have back problems or something–of course the handle could help prevent back problems! 🙂 ). Your two year old might like something like the Radio Flyer Scoot-About
, which doesn't require peddling. But if you are interested in the plasmacar at all, it also doesn't require peddling. I know when I was this age I had a Big Wheel
. I could see that being easier for a younger child to peddle.
Calico Critters: I don't know if I have mentioned this before, but Kaitlyn has a lot of my old toys from when I was growing up. This might come as no surprise, but I took really good care of my toys. One thing she has is a dollhouse. But I never had dollhouse furniture or anything. For Kaitlyn's birthday, my parents got her some Calico Critters
. She really likes them. She really likes the Calico Critters and the Calico Critters Fisher Cat Family
. My parents said there were so many different animals to choose from, but she loves cats so they went with cats.
Baby Doll Furniture: You know how you always want to get the toys for your kids you wished you had as a kid but never got? At least I hope other parents are that way! For me, it is doll furniture. I always wanted doll furniture and never got it (it's okay, Mom, I don't feel deprived 🙂 ). So, Kaitlyn has it. If you decide to get it, I advise you look around for a while and find the best deal. You can buy them in sets, but in the end I found it to be less expensive to buy them individually. Sometimes, though, you can find good deals on playsets.
Search for Baby Doll Playset
. I would make a list of things you would want in the playset and things that might be nice. Possible items are stroller, high chair, carseat, bed, diaper bag, playyard, swing, and bouncer. Then look at playsets that have what you want. Then compare prices to buying your desired items individually. There are some things to keep in mind. One is that you can buy a real diaper bag for an inexpensive price for your girl. Don't get hung up on the diaper bag as part of the playset. They sell small diaper bags that will work for less than ten dollars. Also, be cautious about the sets that have a whole lot for a whole little. I know that sounds great, but often times you will sacrifice quality. Be sure to read the reviews of any you are considering.I will share the ones we have because I have been happy with them. I have found the Fisher Price Little Mommy
items to be of high quality.
We have the Fisher-Price Little Mommy Newborn Stroller
.We have a Baby bassinet
. I love bassinets. I have since thought, however, that you could use your real bassinet if you are done with it. The doll bassinets are smaller, but it would of course work. If you want a doll one, just be very sure you are buying a doll one and not a real one because some doll ones look very real!
We have a car seat and love it. We also love having a high chair for baby.
You can get Toy diaper bags
, but as I said, you can often get small real diaper bags that are less expensive. Diaper Bags under $25
There really isn't a limit on what you can get with this baby stuff. You could get a Baby Doll Swing
. My choice was to just let Kaitlyn use our actual swing since her room is not very big. They have so many Baby Doll Accessories
out there. I like the tip up bottle (you know, the ones that look like they are emptying as it is tipped upside down). I also gave Kaitlyn some of her old bottles for her babies. A fun thing is diapers. I remember loving diapers. I gave Kaitlyn some of McKenna's newborn size diapers for her dolls. You can buy doll diapers, too, but a set of six can easily run about 14-15 dollars. You can buy an inexpensive brand at the store for about 6 dollars or less for 50.
Kitchen Dishes: Don't forget about the Play Dishes
. My kids love their dishes not only at the play kitchen, but also in the bathtub!
Bubble Blower: This is a toy more for you than for your child. My sister got a battery-operated bubble blower for Kaitlyn for her birthday. It was like it was my birthday! I had previously thought I wouldn't ever get such a thing. I have lungs. I can use them. But when I am blowing bubbles for two children for 20-30 minutes, I start to get light-headed. The bubble blowing machine is awesome! Bubble Blowers
Purse: My sister also got a purse for Kaitlyn. She loves stuffing it full of stuff. Purses
Hats: Brayden's friend gave him a fireman's hat for his second birthday. He loved it. Around age two, Kaitlyn developed a great love for that same hat. Hats
Dress up Clothes: Dressing up is fun for kids. A friend gave me the great idea of buying Halloween costumes on clearance after Halloween for your dress-up clothes. If you sew, you can also make them. They would be higher quality, but of course would take more time. I always wait for the $1 pattern sales at Joannes, Hobby Lobby, and Hancocks and buy as many as I can. Of course they also sell Dress-Up Clothes
.
Hopefully that has given you some ideas for fun toys for your two year old. Please share your child's favorite toys from this age range! See also the related posts links for further ideas.
Find the best toys for your child's age or for a specific occasion or location.