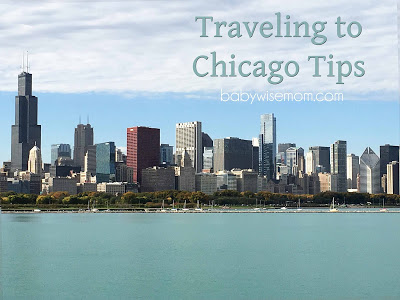 We recently took a trip to Chicago as a family. The number one question I got when I told people we were going to Chicago was, "Why?!?" Chicago is not your typical family destination vacation spot. Why did we go? We have some very good friends who live near Chicago who invited us, so we went.
I was very pleasantly surprised at how family friendly Chicago was. Honestly, when we were in California last year, I fielded many dirty looks over having children. People often commented on how many children we have. Now, as a Utah resident, you can imagine that four children is just not a high number of kids. No one thinks twice about four here.
I fully expected to get the same reaction, if not stronger, in Chicago. After all, in California we were hanging around a bunch of parks aimed at children and families–they are used to seeing children around, right?
Despite the fact that my children and the children of my friend were often the only children we would see in the city that day (school is in session after all), we did not get one single weird look or comment for having kids. My friend explained to me that Chicago is the Midwest and that that large families are not uncommon and are valued.
In short, we loved our time in Chicago and I would highly recommend it to any family! Chicago has a rich history and a unique culture. October was a lovely time to go. The weather was nice–it wasn't too hot and it wasn't too cold. The crowds were very small. Here is what we did: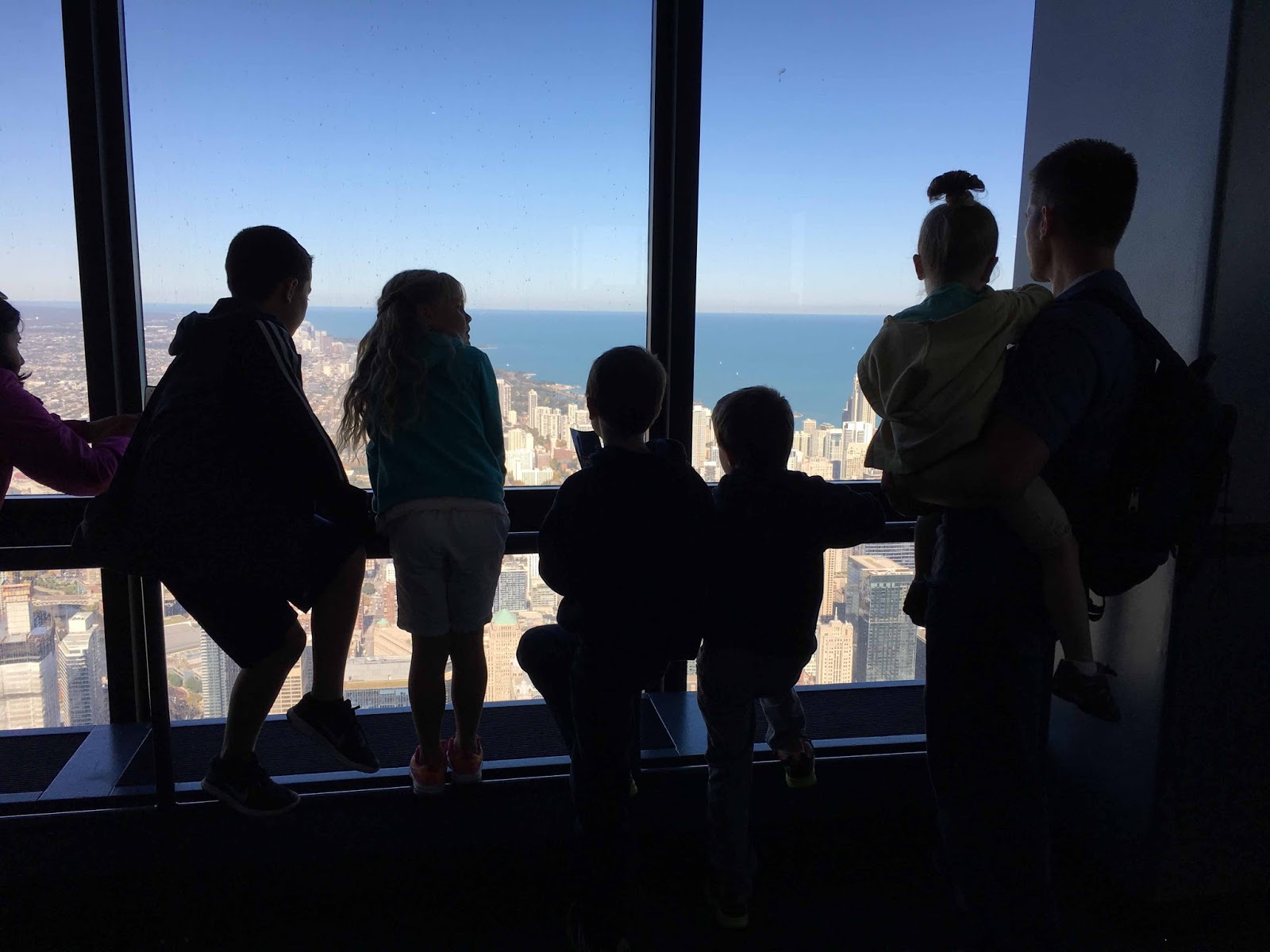 Willis Tower
This was my favorite thing we did. We did this on the first day and I think it was the perfect way to start our visit. We walked through the city to get to the tower (since parking is the kind of situation where once you have a spot, you don't give it up). In the tower, we had amazing views. We were able to orient ourselves and see the city as a whole. http://theskydeck.com/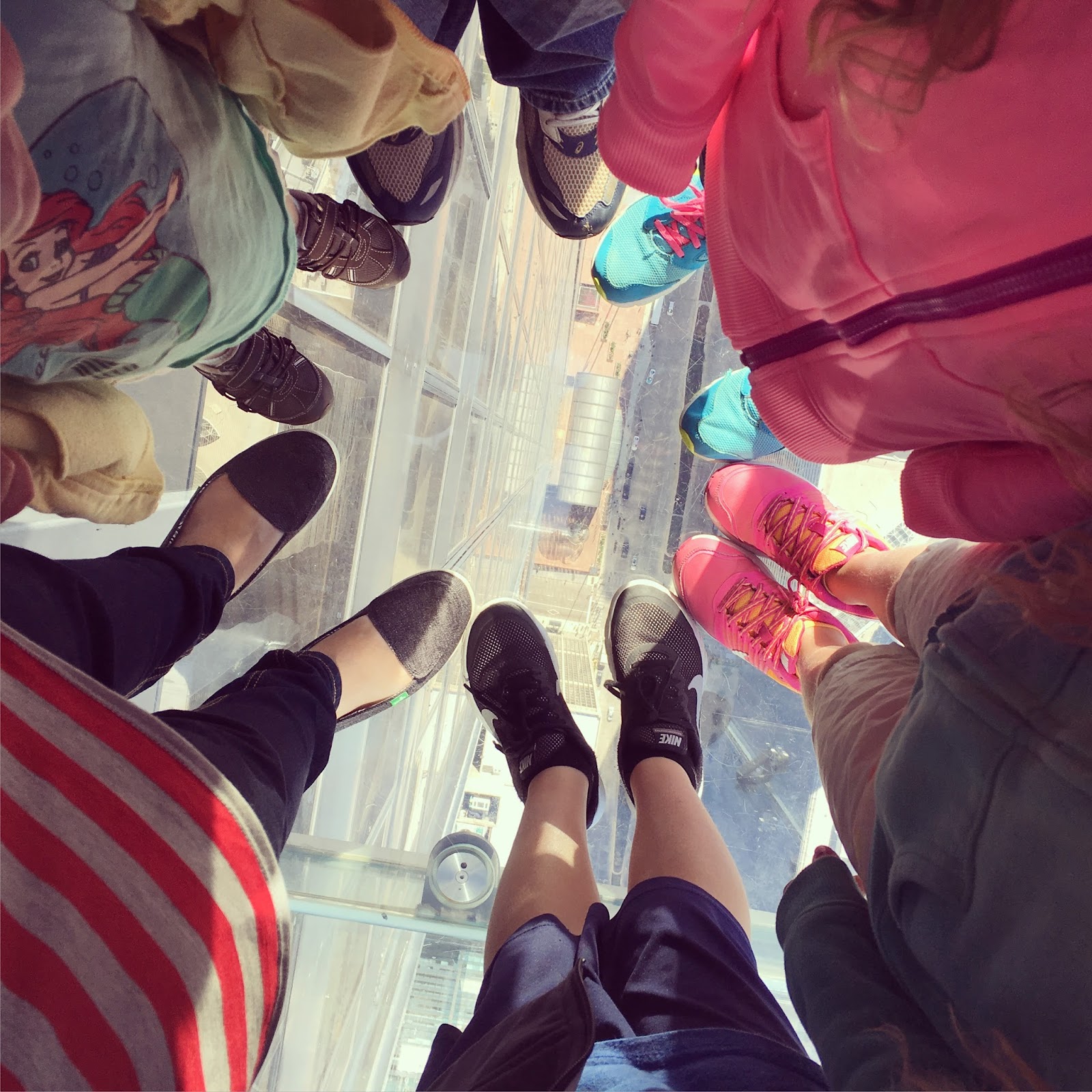 Millennium Park
After the tower, we walked to Millennium Park. This has got to be one of the smartest things Chicago ever did. Honestly, the biggest shock to me being in the city was the lack of sunlight. It was a beautfiul, bright sunny fall day and the sun did not reach the ground. That would really get to me, so this park would be a must-visit daily for me if I lived in Chicago. This park is full of art and sunshine! You also have a great view of the city, which made it another great day one activity. http://www.cityofchicago.org/city/en/depts/dca/supp_info/millennium_park.html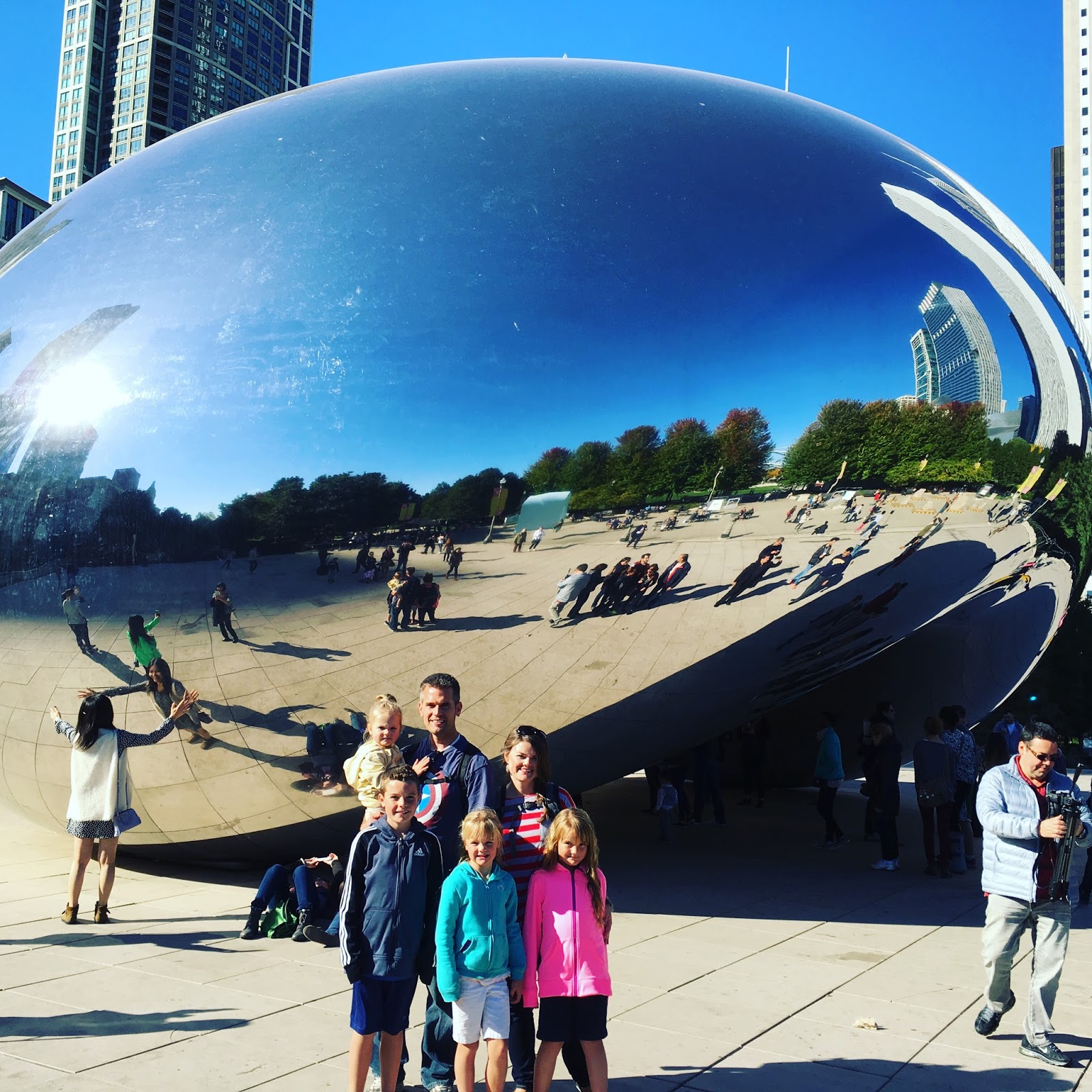 Maggie Daley Park
After Millennium Park, we wanted to visit the Lake Front Trail. We headed across the bridge toward Lake Michigan. As we crossed it, we saw something amazing ahead of us. It was of great interest to our children. As we approached it, we were shocked to see it was free. It is just a park. But not just a park. It is the most amazing park I have ever seen. If you go to Chicago with children, you must come to this park. Our children loved every minute. http://www.chicagoparkdistrict.com/parks/maggie-daley-park/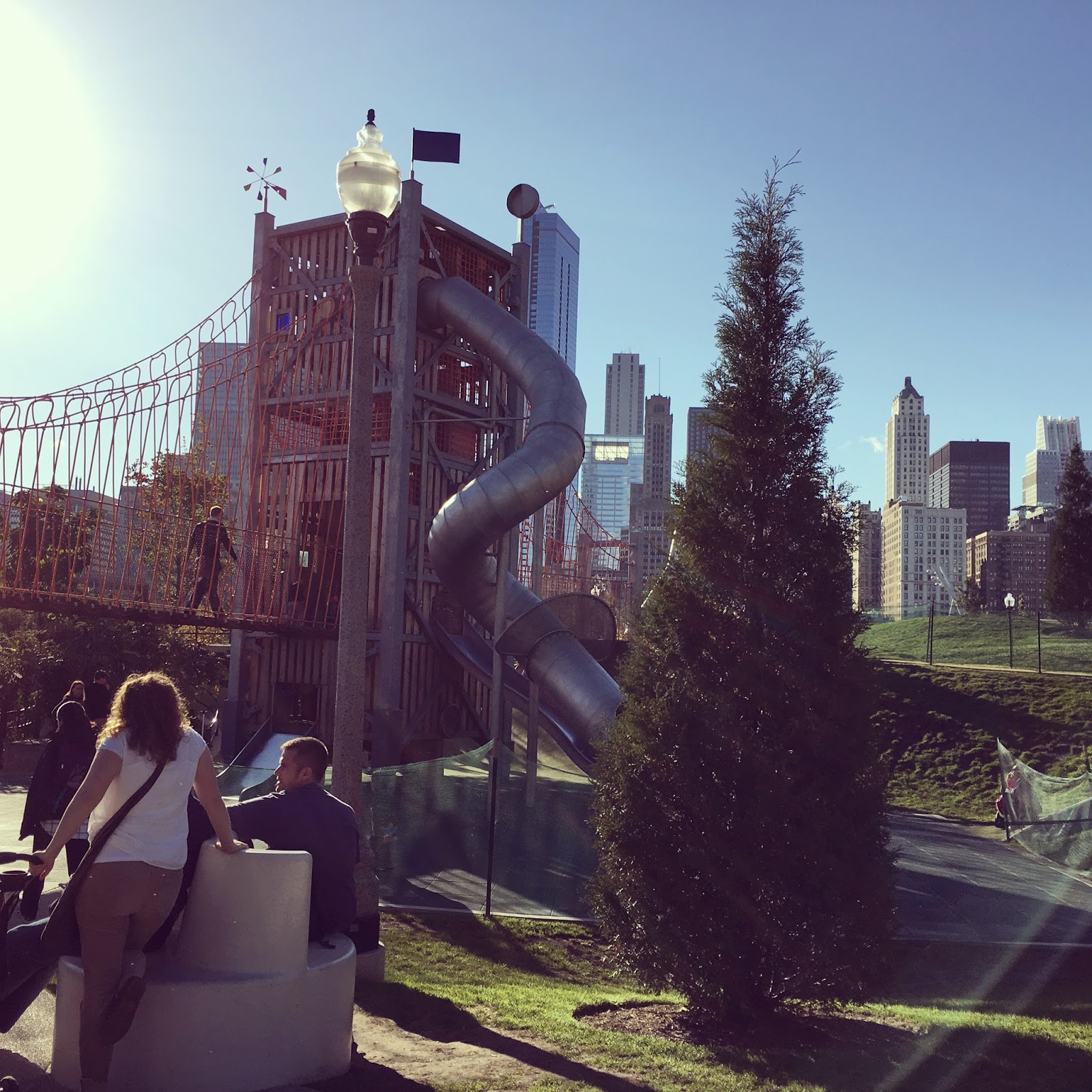 Lakefront Trail
As I did research for this trip, I thought it was so nice that Chicago has all of these nice outside spaces. Like I said, being there, I realized how essential it would be to have these for citizens. It really is nice and smart of them to have space for people to access sunshine and open space.
The Lakefront Trail is 18 miles of paved path that can be used to run, walk, bike, rollerblade…and we saw it all happening each day. There are amazing views of Lake Michigan and the city from the trail. By the way, if you have not yet seen a great lake, it is definitely a destination by itself. Lake Michigan is so wide that it really looks like you are looking at the ocean. We have a lot of lakes in Utah, all of which you can see the other side (helped by the mountains here). We have also been to the ocean. Our children were very impressed by how wide Lake Michigan is.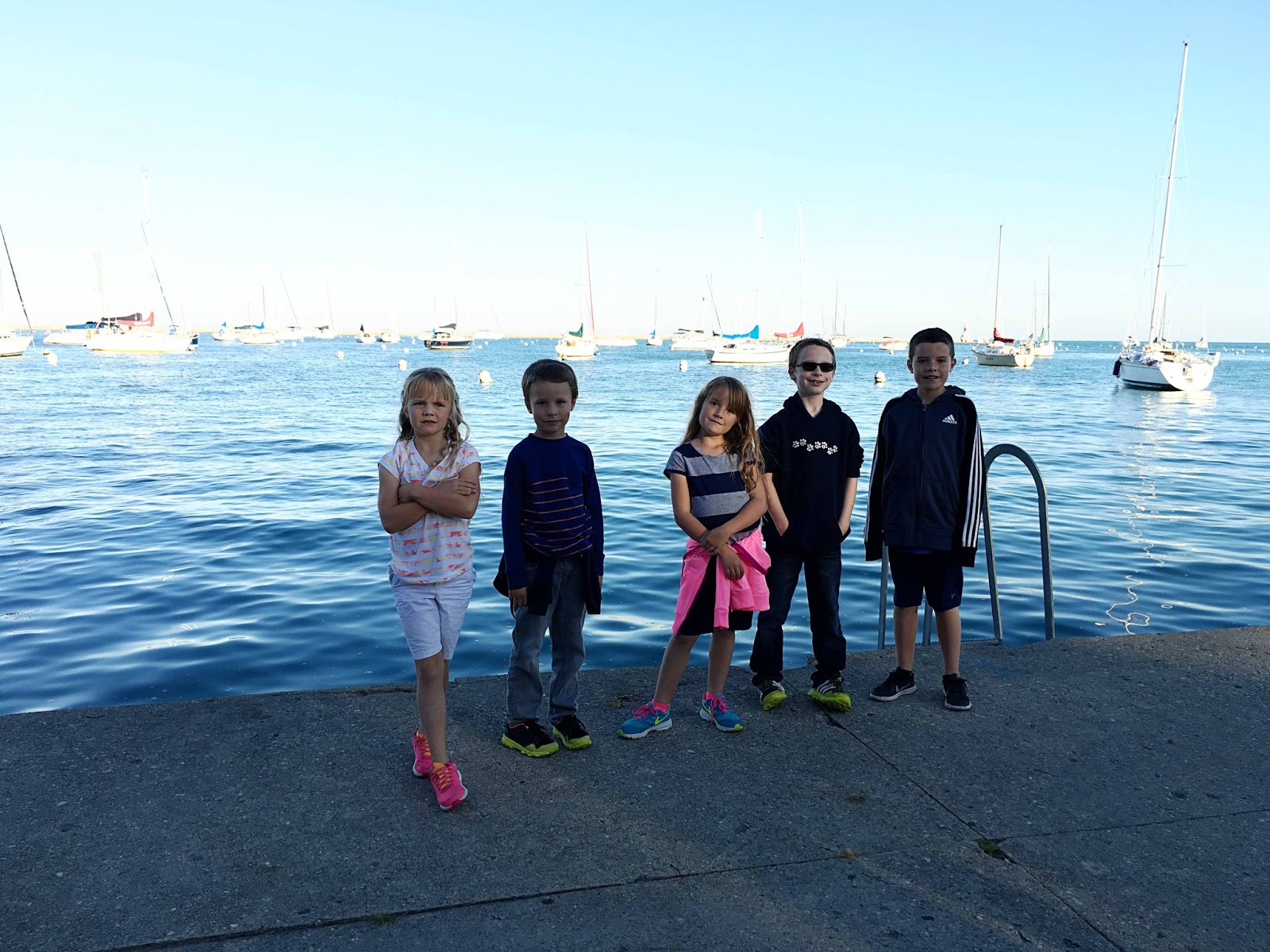 There is a lot that is accessible from the trail. parks, the zoo, Soldier field, several museums (Field Museum, Museum of Science and Industry, Planetarium, the aquarium…), and Navy Pier are all just a few examples.
If you have any boat lovers, you can see a lot in the harbor. There are a lot of yachts and other boats. http://www.choosechicago.com/articles/view/THE-LAKEFRONT-TRAIL/454/
Alder Planetarium
The next day, we started at Alder Planetarium. We parked at Soldier Field and walked over. Now, honestly, the planetarium is something I would skip. It was okay. We have a much smaller planetarium in Utah that I think is quite good and I expected this one to be exponentially better. It was not even comparable. It was okay, and we had one price for several of the museums so it was essentially free, but if you are paying, I wouldn't do it.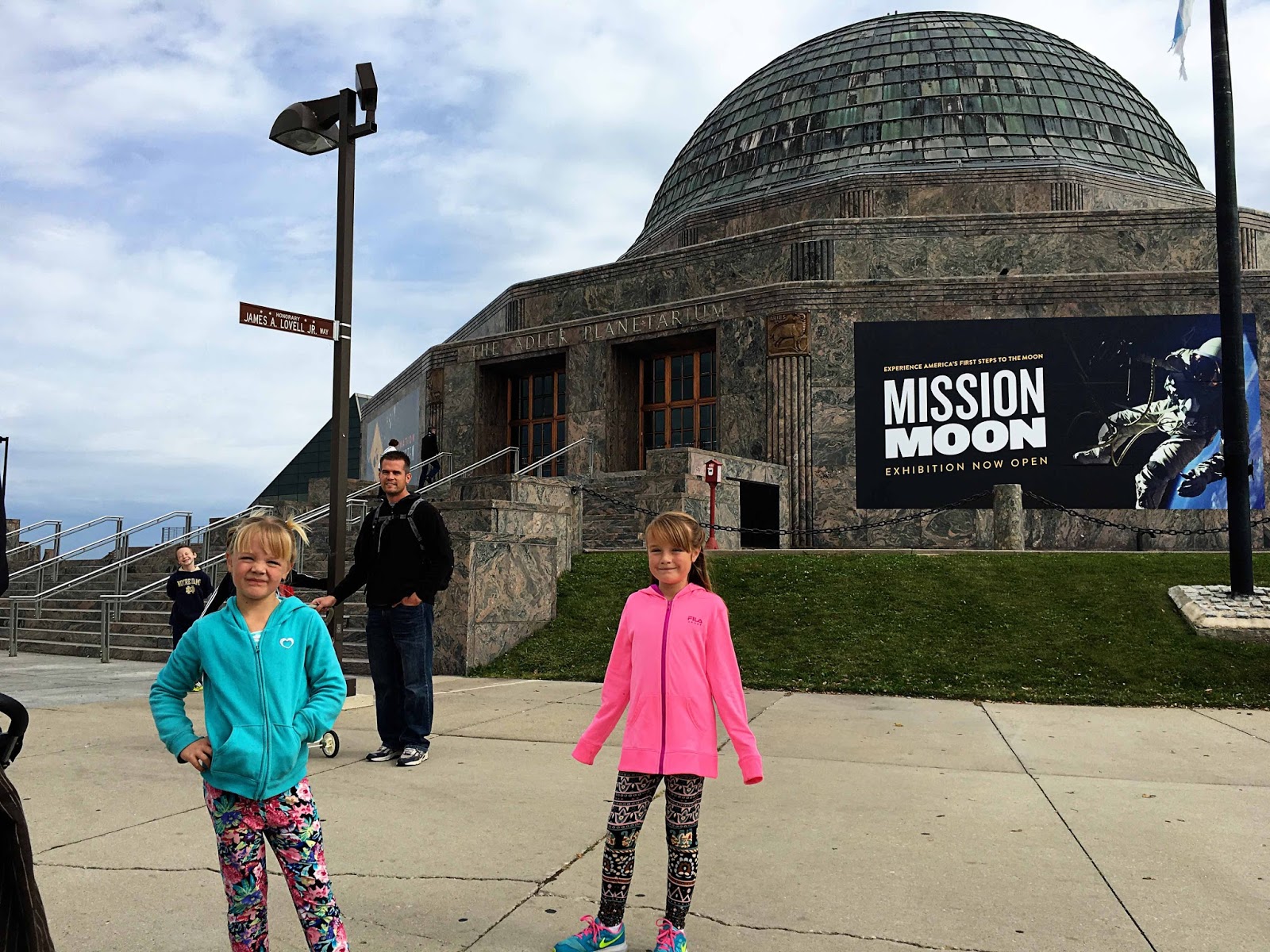 If you do decide to do it, you would be wise to call ahead and find out if there are any field trips happening that day and the times. There were a few field trips the day we were there and the children on these field trips were running around seriously out of control. I am sure that impacted my impression of the place. http://www.adlerplanetarium.org/
I will say, my favorite part of the planetarium was the incredible view of the city from the planetarium. It was definitely worth the view. We had packed a lunch and we sat on the grass outside and ate with that amazing view before us.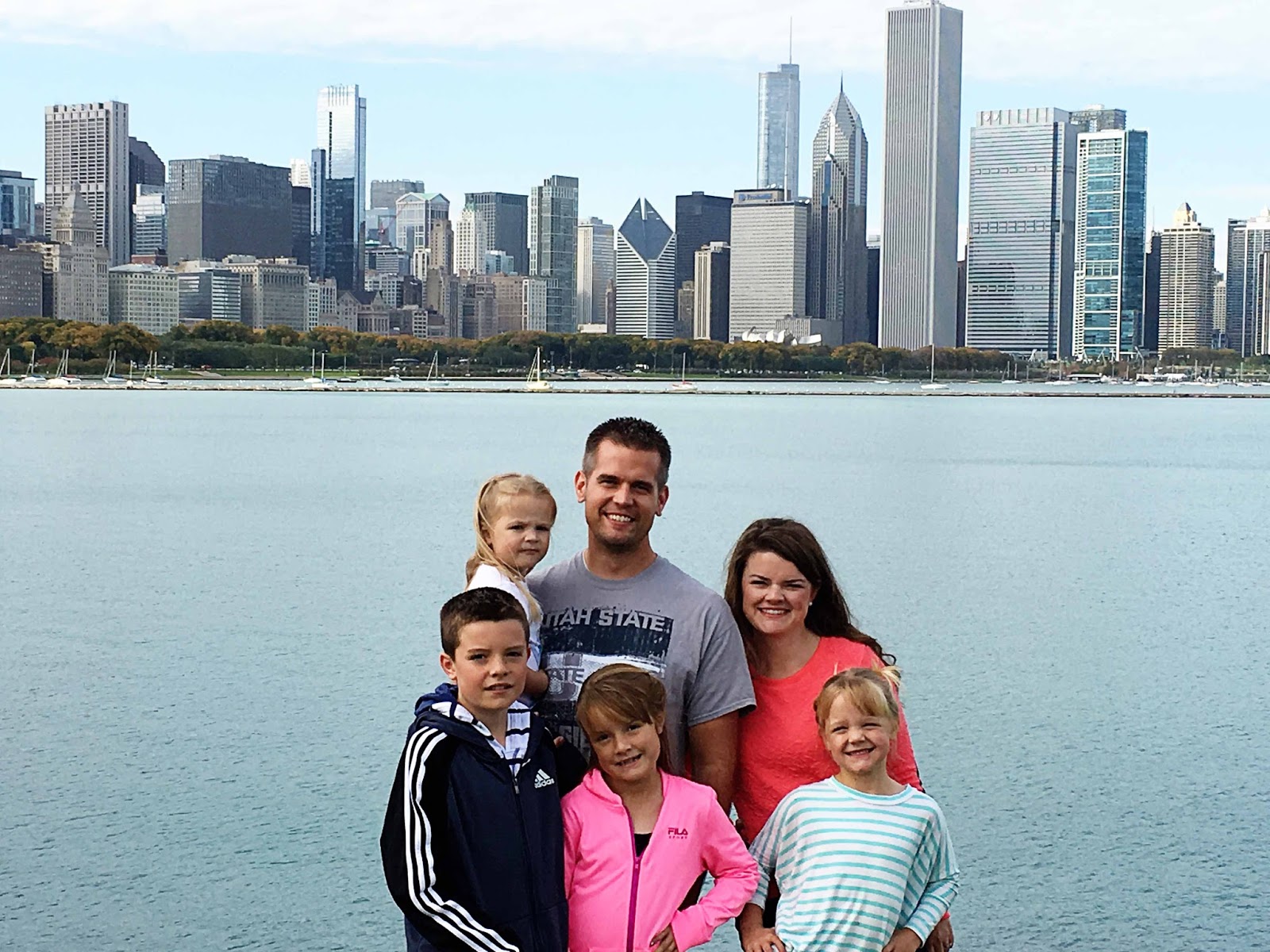 Architecture Boat Tour
We had heard of doing a boat tour in the city. We had heard only good things, but the price was a little steep for all six of us to go. I can be very frugal and it just seemed like a lot of money to spend for just over an hour. However, it also seemed like one of those must-dos in the city. An added bonus is that Brayden right now wants to be an architect when he grows up, so it would be something really interesting to him. So we did it.
We loved it! It was definitely worth the money. It was a great way to view the city and to learn a whole lot about the history of the city.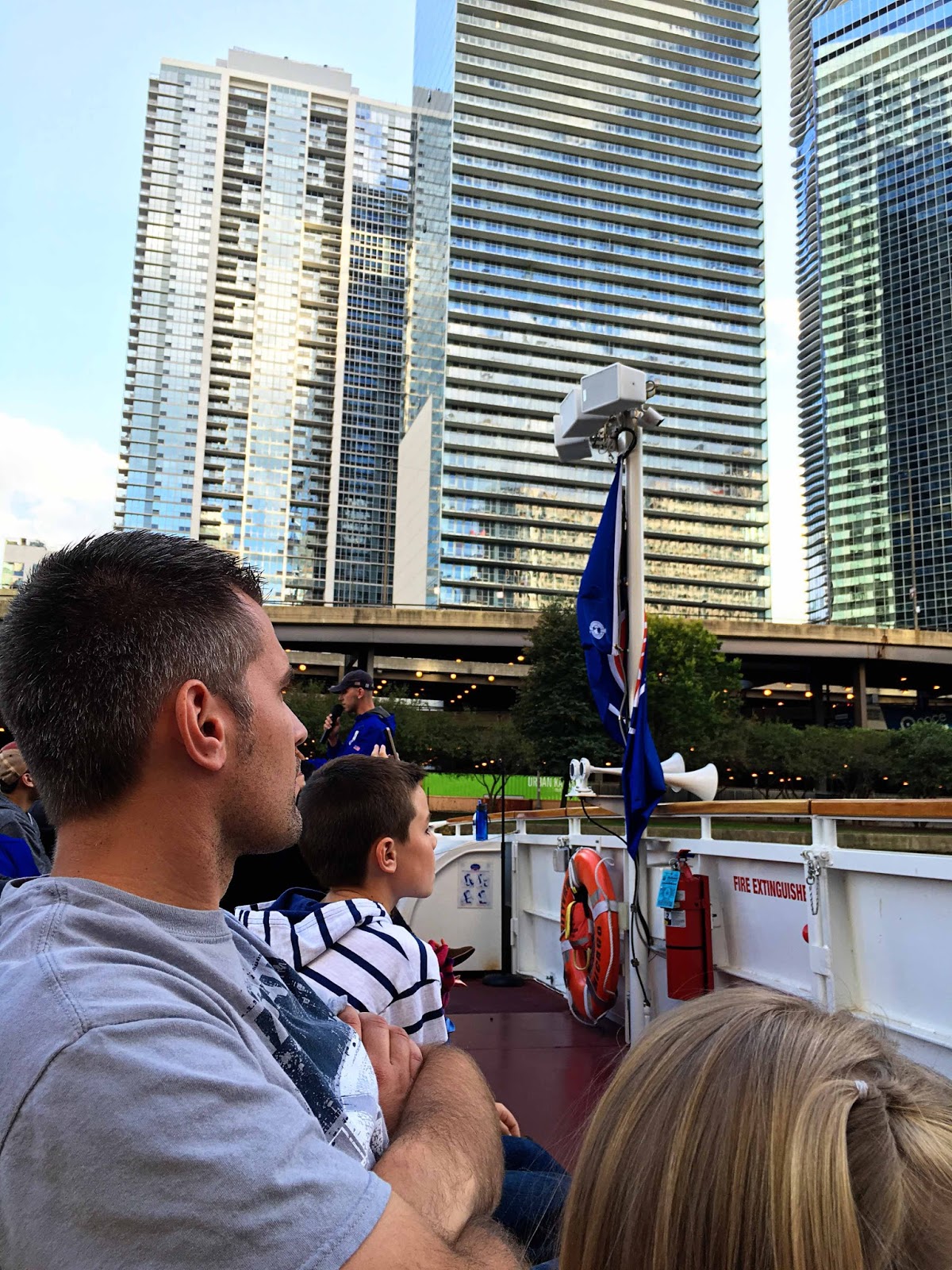 We went with Shoreline Sightseeing and departed from Navy Pier. It was a great tour. A bonus was that we were at Navy Pier and could look around there. If you book with Shoreline, be sure you do it online because you will get $5 off per ticket. Make sure you enter the code they tell you to at checkout to get the discount.
Now, little word of advice. We did the boat tour and the planetarium on the same day. We walked along the Lakefront Trail to get there. It didn't look too long.
Wrong! It was pretty long. It took us about 2 hours to walk there with kids. We didn't rush and we stopped for breaks, but the kids were tired by the end. Afterward, the dads ran back to Solider Field to get our vehicles while we stayed at Navy Pier, and it took them about 45 minutes. It was a great walk, just don't leave yourself with too little time if you do something like that.
Museum of Science and Industry
Hands down, this is the best museum I have ever been to. It was very hands on, very kid friendly, very educational, and very fun. We spent the whole day there Friday and didn't see it all. It was Brayden's favorite thing we did on this trip, but it was also frustrating for him because he couldn't do everything. You could easily spend two days here and not get bored.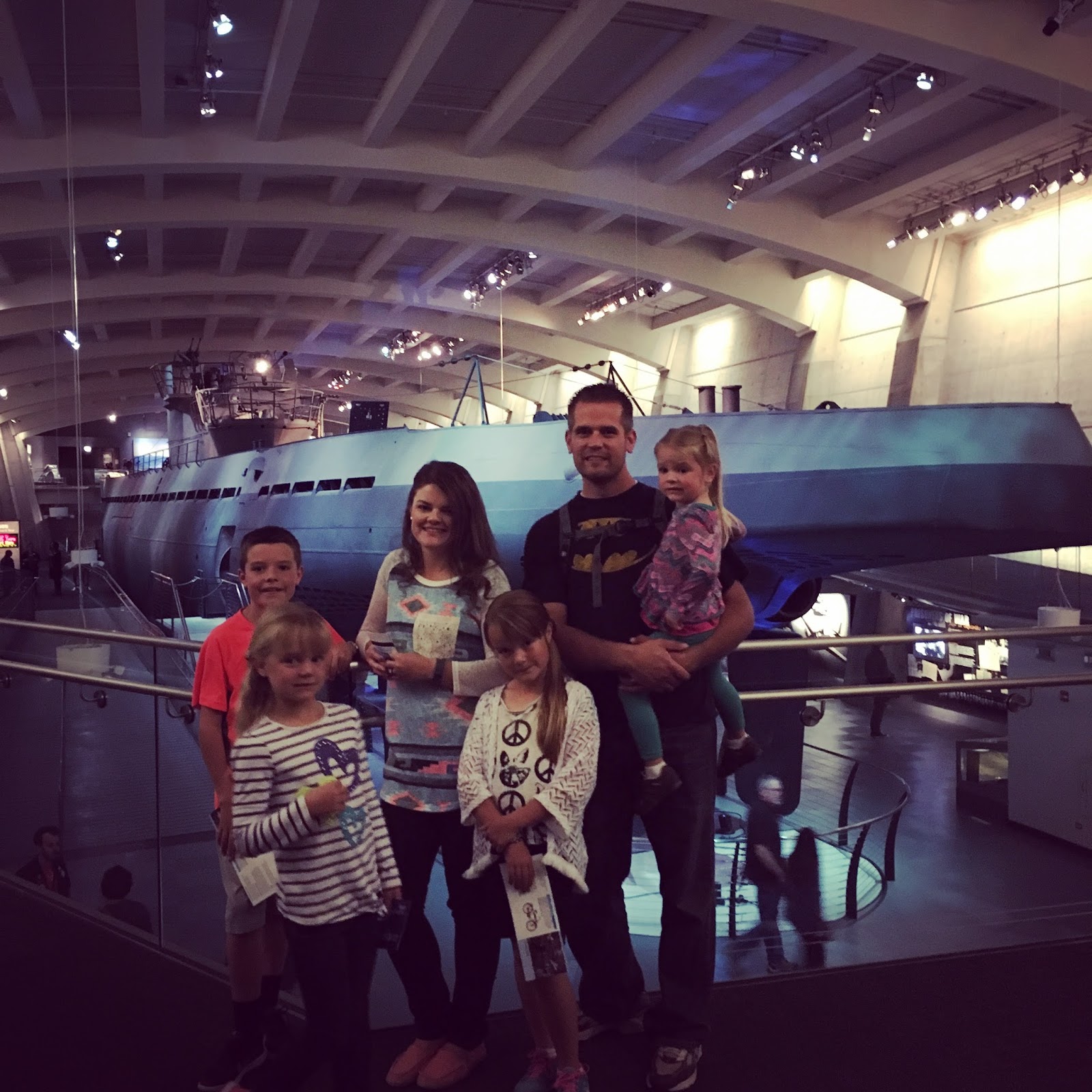 The U-505 Submarine is a must see in this museum. This is the only German sub in the United States and includes a national memorial to sailors who gave their lives in WWI and WWII.
Our favorite room and where we spent the most time was in the Science Storms room. Be sure you visit that one.
They also have a Mirror Maze that is absolutely fascinating. You need tickets for this, which are free, but they like to control the flow through the maze so there aren't too many people. Go to this first thing and get your tickets for later in the day.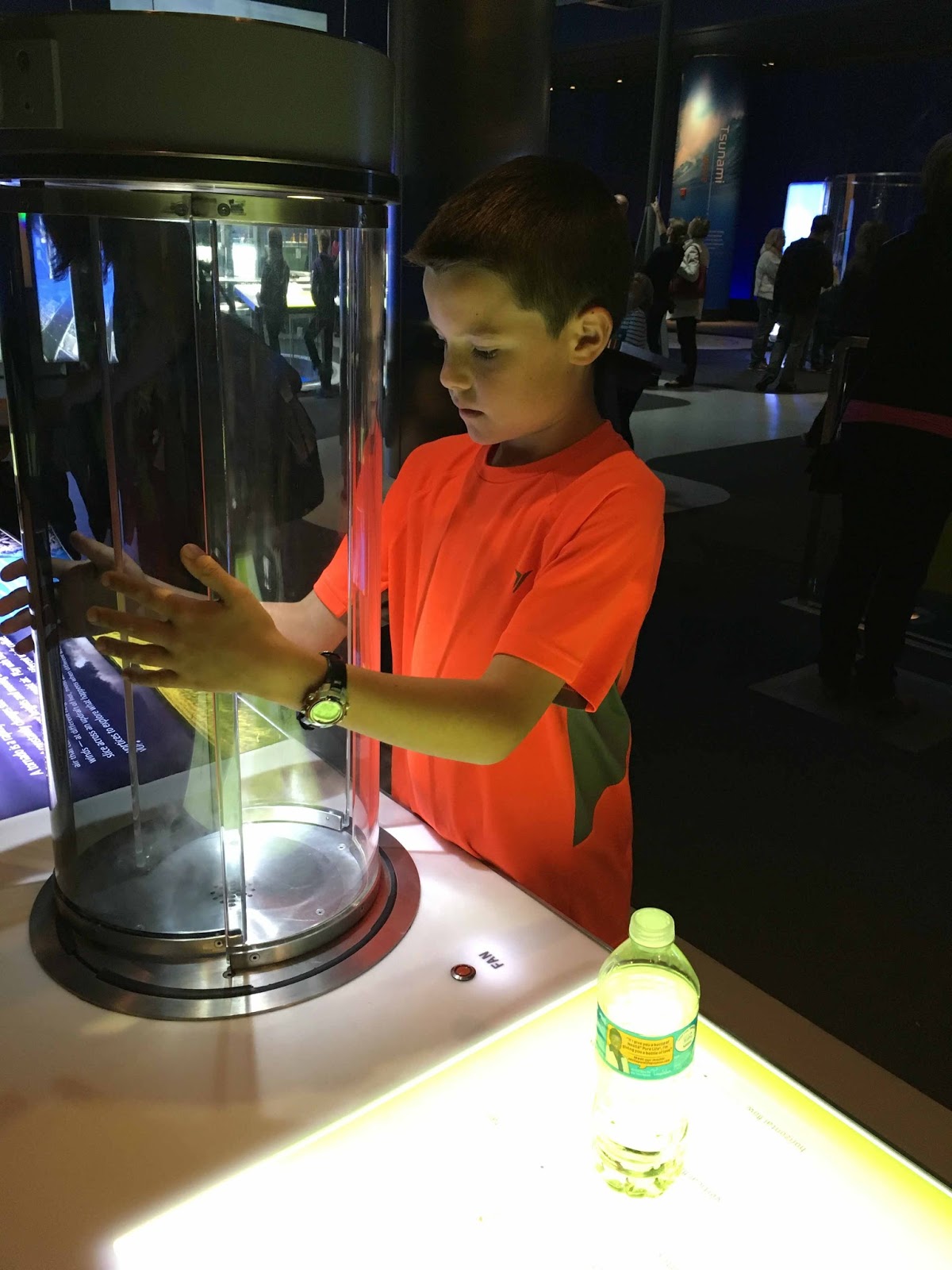 If you only go to one museum in Chicago, go to this one. Also, parking is right under the building, so that is a huge perk.
The Art Institute of Chicago
Saturday morning, Kaitlyn and I went with my friend Kelli and her baby to the Art Institute while the men took the rest of the kids to the Field Museum. They dropped us off and we then walked to the Field after we were done (a short 1.5 mile walk).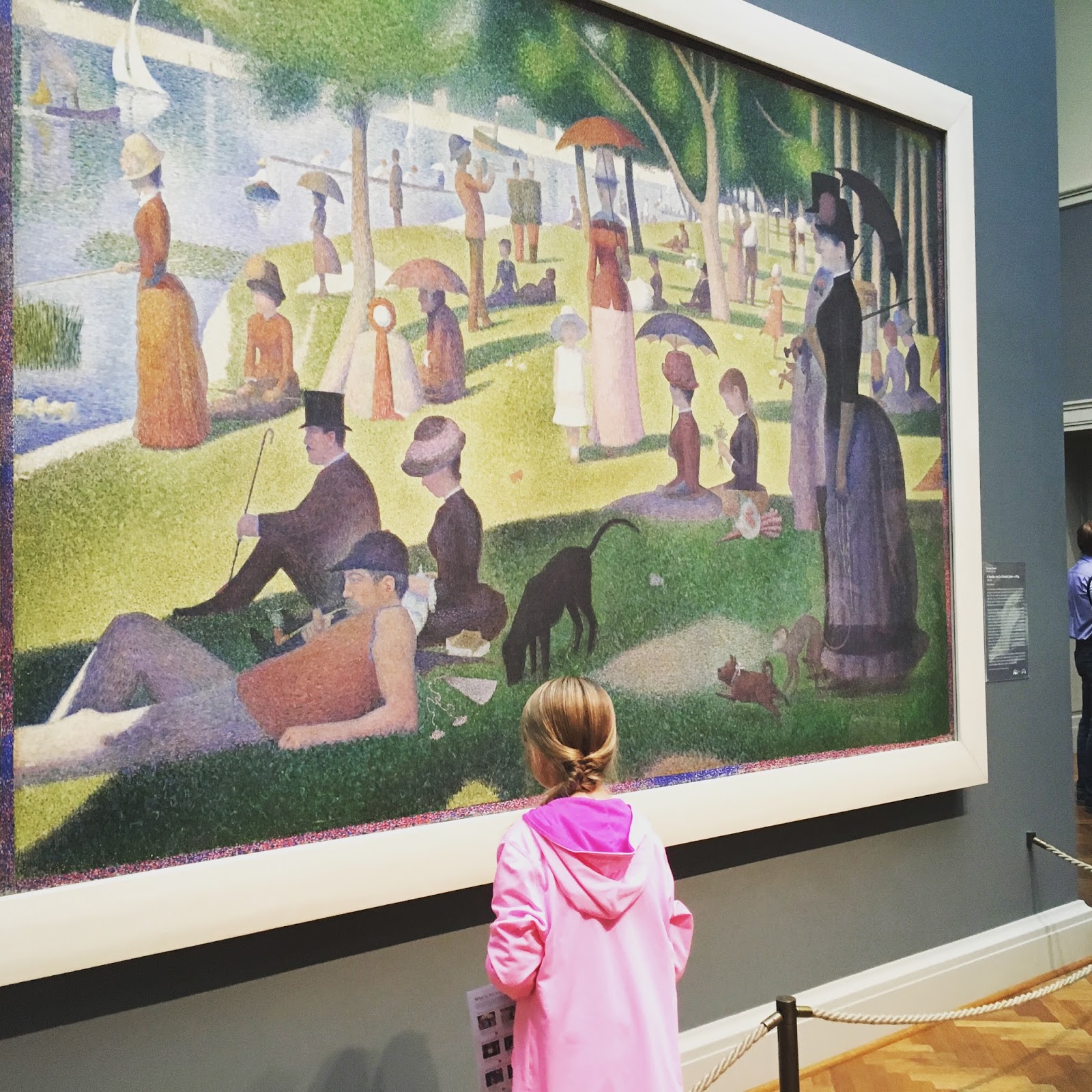 I am not a huge art lover. I don't dislike art, I just know I can't appreciate it for what it is. Kaitlyn, however, is an artist and I knew this was a must-see for her.
She loved it. Children under 14 are free, which is fantastic. We went through pretty quickly–even though she loves art, she is 8 and can't appreciate it fully yet. She isn't to the point of standing and staring at one painting for an hour. And despite my lack of understanding, I enjoyed the museum and the paintings and sculptures on display. I loved the collection of Monet paintings. http://www.artic.edu/
They also have a children's area in the museum, which you can enter without paying to go to the museum, where children can do art. Kaitlyn loved doing art in the museum.
The Field Museum of Natural History
We joined the men after a few hours. By then, many of the children were done at the museum and could have happily left, but Kaitlyn was just getting there so we continued on. They have a nice dinosaur collection. I personally really liked the history of the Americas section–that is something I have not seen as a whole before in a museum. My favorite part of this was the Native peoples of North America.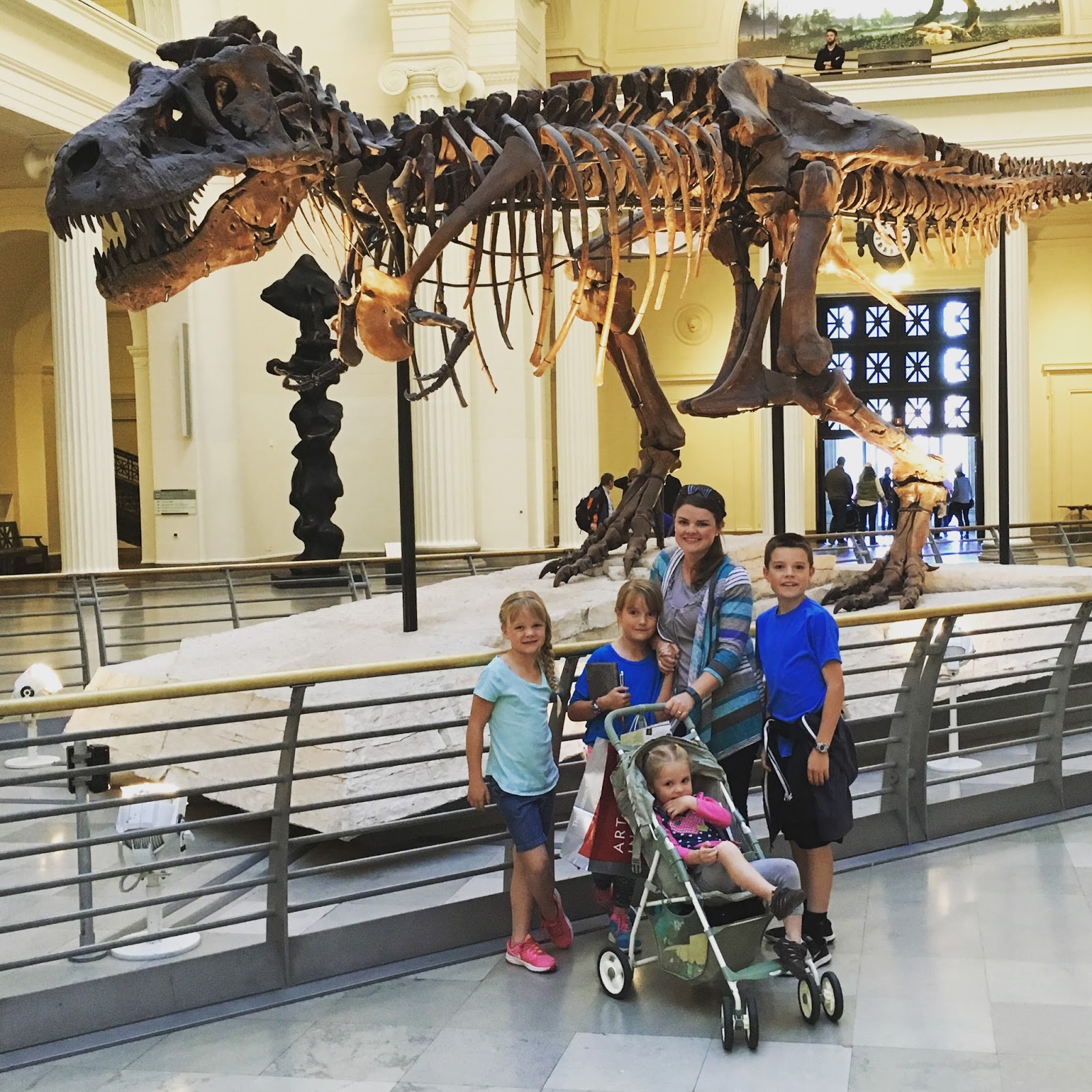 The children were all also fascinated with the gem room. In that room, I pointed out each person's birth stone and that definitely made them more interested in the room in general.
Membership Tip
A great money saving tip for you is to get a family membership to the American Museum of Science and Energy. A family membership is only $40 and it can be used to attend the Field Museum, the Museum of Science and Industry, and the Alder Planetarium. $40 gets your entire family into all three of those museums. Fabulous right?!? So if you go, look into this pass. You just order online and then they mail you the pass. Do it a few weeks before you need it–it does take time.
This also works at many museums around the nation. The rule is you can't live within 90 miles of the museum. There are several here in Utah it can be used at, so you can look at their list and see if it will work for at other places, also.
Food
I think any place you go, you will look up information and they will include a list of "must-eats" in that city. I always try these suggestions, but I am rarely as impressed as the author was with the location.
Let me tell you, Chicago is a place for food lovers. Even if you just appreciate food that tastes good but aren't a foodie, you will love the food here. I am really a picky eat out person. I like fresh ingredients and I like food that was 100% prepared on sight. The food in Chicago was good. While I had that "I am full from eating out every day for a week" feeling by the end of the week, I did not have that "I am sick of eating out. I just want real food" feeling by the end of the week.
Now, in most instances, you can pack a lunch and eat it somewhere during your activities. We did this most days.
At dinner time, it is time for some good food. And here is the thing–traffic is so bad leaving the city at night that it makes sense to eat in the city and then leave in lighter traffic when you are done.
Giordano's
Day one, we ate dinner at Giordano's. This is a pizza place. Amazing. They have deep dish pizza and also thin crust (which is what the kids ate). I am not a huge pizza fan, but I find myself craving more Giordano's.
Portillo's
Portillo's is a great place to go for a Chicago dog. They also have a very varied menu, so people who aren't into the Chicago dog can get something else. Everything we ordered was delicious, and our friends said they haven't ever had anything they don't like there. They are also famous for chocolate cake, which I did not eat sadly.
Garrett Popcorn
Chicago is also famous for its popcorn. Walking down the street past a popcorn shop is a fantastic experience for the olfactories. We went to Garrett popcorn. Now, I have to say, it was good, but it was not amazing like I expected it to be based on the raving. It kind of reminded me of the popcorn you get in those Christmas tins…I know! Boo and hiss me if you like. That is just my little opinion and the place rates extremely well, so I would say you should try it for yourself. It was good and it made for a good snack. It was inexpensive to get a couple of smalls for the whole family and that was more than enough for us.
Corner Bakery Cafe
This is a restaurant you can find around the US. This was a good little soup and sandwich shop. It wasn't special to Chicago, but it was good and we ate there :). This isn't a must-visit, but it was a delicious lunch so if you are in need of a place to eat, you won't be sad you went here. http://www.cornerbakerycafe.com/
Culver's
Again, this isn't specific just to Chicago area. We got shakes here one night. It was a great shake place! The food looked good, but we didn't eat there so I can't say. http://www.culvers.com/
J. Alexander's
This is a place we went for a girl's night. I would not take children here. It was good! I got a turkey burger and I am pretty picky about my turkey burgers. Again, not Chicago specific. http://jalexandersholdings.com/ I wouldn't say this is a must-visit in Chicago.
Things to Be Aware of
Traffic!
Chicago is the third most populated city in the US, and the traffic reflects that. Traffic is bad all day every day. It is much worse at typical rush hour times. The worst is a Friday night leaving the city. The best is the weekend (and this is all assuming there aren't games going on).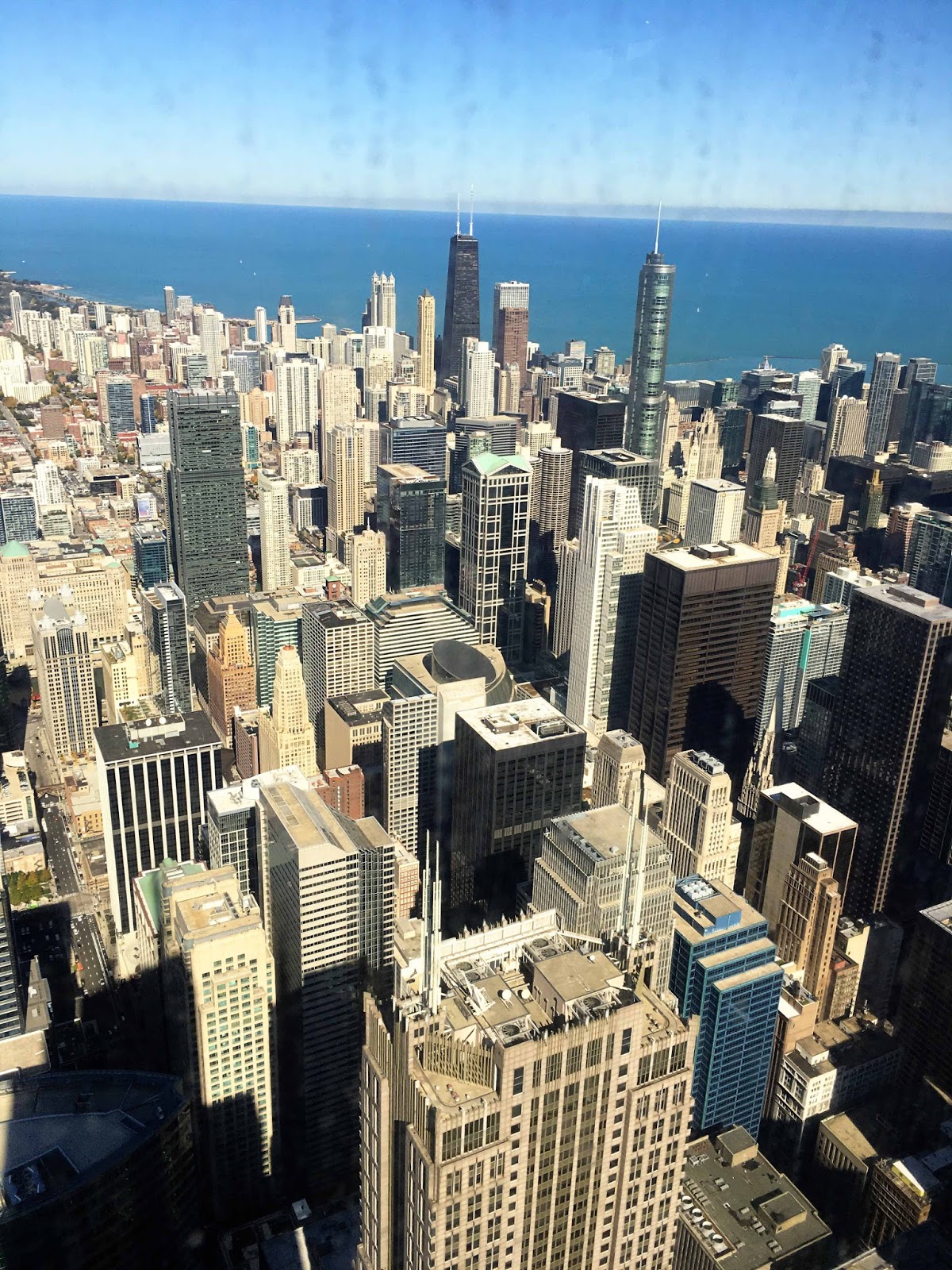 Drivers!
The drivers in Chicago really are crazy. There was not one day I didn't witness several near-accidents. People are aggressive and they don't typically look well. A different friend I have who lives in the area said she has only been in a few accidents in her life. That shocks me because I have been in zero, so "only a few" sounds like a lot. She said it is good for the area. So be on your best defensive driving.
Lane Lines!
In the actual city, lane lines apparently mean nothing. It is every man for himself, so if you want to move about the city, you have got to pick up on that and drive like a native.
Parking!
Everywhere you go, you will pay to park. Parking will be $20-40 a day. Be sure as you are planning your activities that you keep things close to each other so you can just stay in your parking spot all day long.
Walking!
There is a lot of walking going on, so be sure to have a stroller if you have a little one who can't do all of that walking. We didn't the first day and it was very exhausting for Nate, who carried Brinley around a lot.
Take Note
About 45-60 minutes north of Chicago downtown, there is a Six Flags. We did not go there, but I think it would be a fun day trip if your family likes amusement parks. We just did Southern California last year and we have season passes to Lagoon, our local amusement park, so we felt like we would rather spend our time on more Chicago-specific activities, but that is a fun idea for you.