How to get your baby on a predictable and consistent schedule. Baby's days can be predictable and do not have to be random from day to day.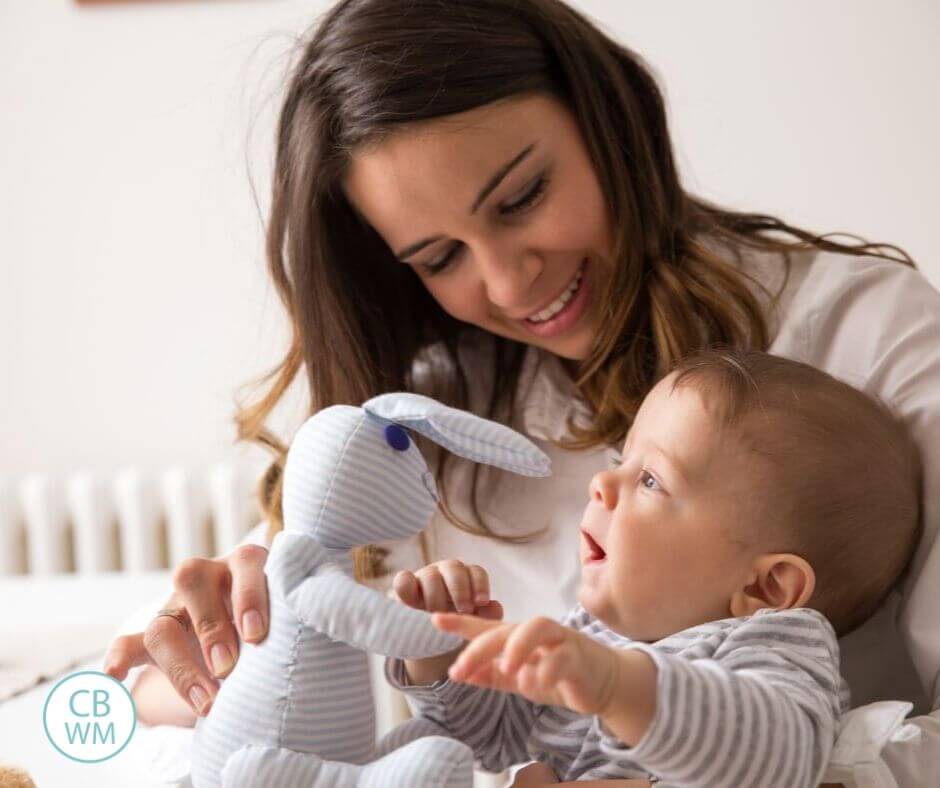 Many Babywise moms find themselves in a schedule where the baby gets up about the same time every day, and they follow the eat/play/sleep pattern, but the times of each nap and each feeding every day vary considerably. If asked, "What time does baby take a nap in the afternoon?", many moms will respond with, "well, it depends on what time he eats in the morning and how long his morning nap was…"
I was there. I understand it. I remember when Brayden was 4 months old and my parents were coming through town. because we lived in a studio-type apartment with no bedrooms (yes, I have great, understanding, and cooperative parents). My response was, "I don't know!"
Naptime varied from day to day. It depended on how long his earlier naps lasted and how long he stayed awake. In retrospect, I was on a "pattern" rather than a "schedule."
As Brayden got older and I got more experience under my belt, we did get a predictable routine to where he ate, slept, and played in the same hours every day (minus your typical disruptions). So how do you get there? How do you set a schedule? Here are some hints and tricks.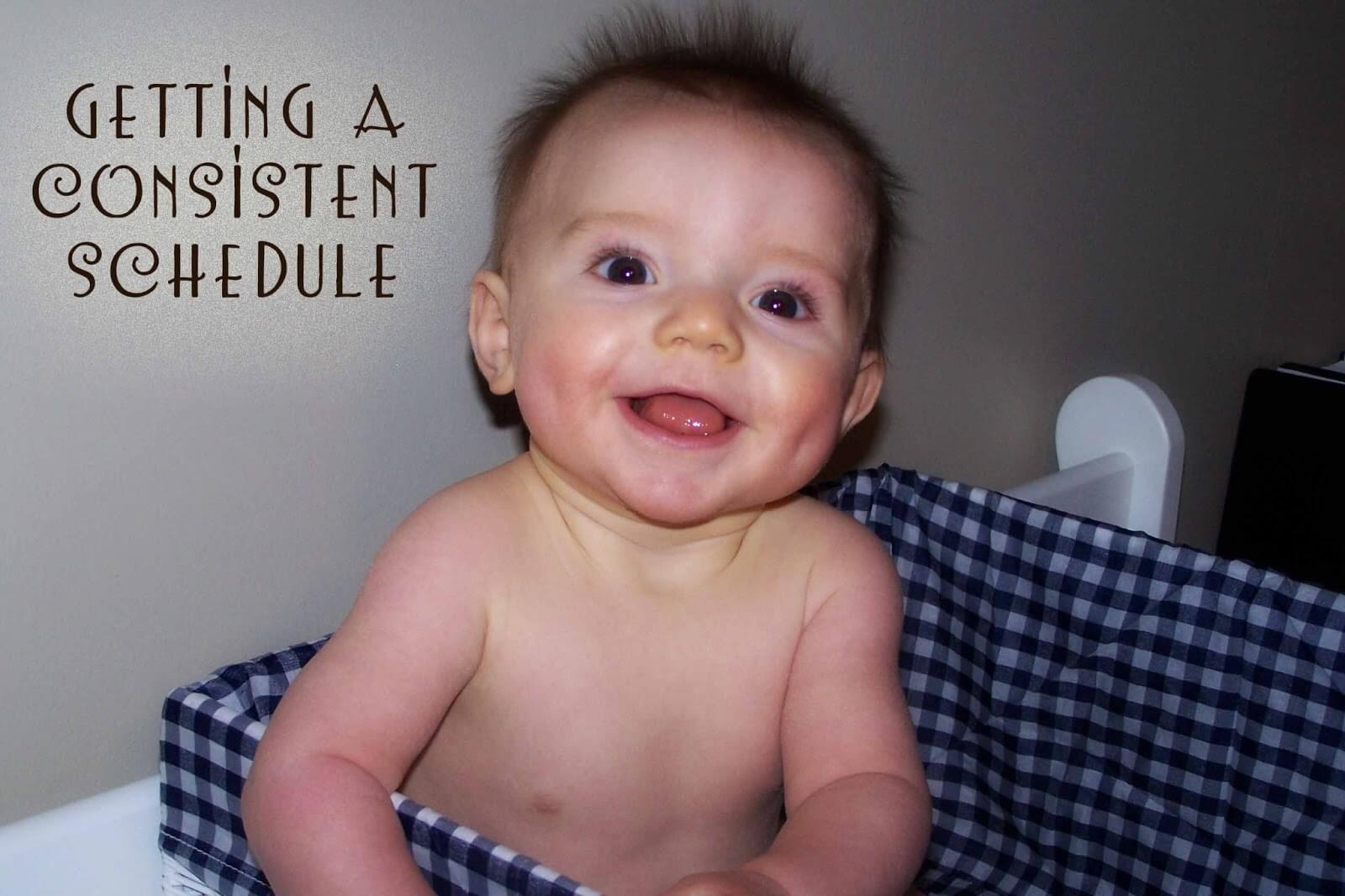 How To Get a Consistent Daily Schedule
Here are eight tricks to be sure you are following to be able to confidently know when your baby will eat or nap each day.
Pick Your Morning W

aketime
Have a consistent time you start each day.
Depending on your baby, there may need to be some compromise between you two. Some babies are early risers, so mom is going to have to go with that. Others will sleep in a bit and you can choose the waketime better.
I have had each.
Brayden has always been a 7 AM kid. In the winter I could get him to sleep until 7:15 because he rises with the sun. Brinley has also been an early riser, also, though I was able to get her to sleep in later to around 8 AM, which was very helpful for me with getting kids ready for school before getting her up.
Kaitlyn will sleep later. As a baby, I had her waketime as 7:30 so I could get Brayden fed before I get her up to nurse. McKenna has always been a later sleeper, also, and would wake around 8:30 in the morning.
Your waketime is up to you (and baby). There is no right or wrong time. Keep in mind the number of feedings you want to get in and the bedtime you want so you can get the necessary feedings in before bedtime.
If you have an early riser, there are great things about it! Even as a teenager, Brayden can get up at 5:30 AM each day without a problem. McKenna gets up for family scriptures at 6:30 and then heads back to bed for another 45 minutes before needing to get up to get ready for school. So it isn't easy to have a baby who won't sleep in, but there are benefits some day.
Pick Your Bedtime
Bedtime should fall naturally based on your schedule. Bedtime should be 10-12 hours before waketime. Kaitlyn's bedtime was 7:30 PM when she was waking at 7:30 AM. Brayden's bedtime was 8:00 AM when he was waking at 7:00 AM, though we started the bedtime routine at 7:30.
10-12 hours of night sleep is the rule for sleep from your young baby on up to your toddler, preschooler, and older.
---
Read: Tips for Finding Your Child's Ideal Bedtime
---
Stay Consistent With Morning Wake Up and Bedtime
Once you have those two things picked out, stay consistent. Set your alarm if you have to so you can get baby up on time. Make the effort to be home in time in the evening to get baby down for bedtime.
Remember, your schedule serves you, but it won't serve you if you completely ignore it–it will have nothing to serve!
Being consistent doesn't mean you can't ever change things. Sure, you can have days when you sleep in. You can have nights you all go to a friend's house and get home a little late.
Just keep these as the exceptions rather than the rule. In comparison to your lifetime, your children are not young for very long.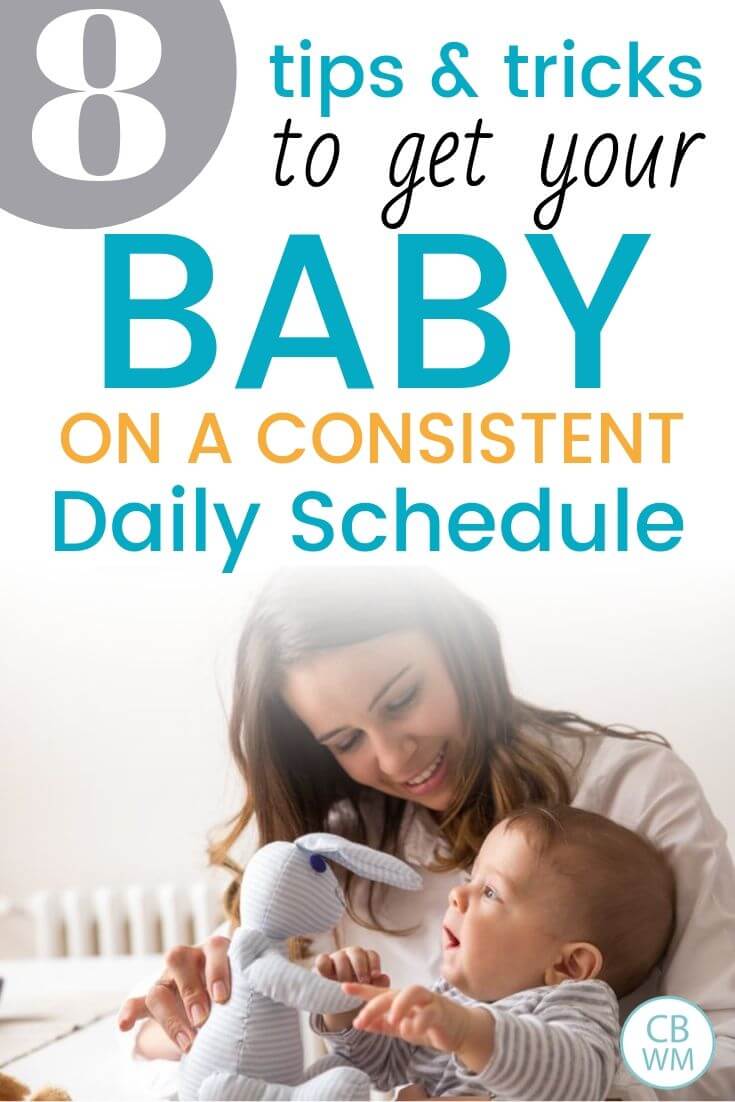 Pick Your Feeding Times
Next, pick your feeding times. Write down what time you would like feedings to be each day.
What you originally decide might vary from your original goal after some evaluation. When Kaitlyn was first born, I did a 2.5-3 hour schedule. I started her at 7:30 AM. I knew I wanted her to eat at 1:00 PM because that is the start of Brayden's nap. He was not yet two and I wanted to be able to focus on Kaitlyn during each nursing as much as possible because she was so sleepy and hard to keep awake for feedings.
My original goal was a 7:30 feeding, a 10:30 feeding, and a 1:00 feeding. At first, it worked great. After a few weeks, however, she started to need to eat at 10:00 instead of 10:30. After eating at 10:00, she could still make it to 1:00. I had to adjust to her needs.
I recommend that you write down the times you want baby to eat and shoot for that. You will, however, likely notice patterns in when baby can go longer between feedings and when baby needs the feedings closer together. Adjust as necessary.
Write down the new times. Don't just think them in your head, write them down. This is advice given in every book in the On Becoming series that I have read thus far. In setting your feeding schedule, remember that combo schedules work. You don't have to be on straight 3's or 4's–you can do a combo.
Figure Out Optimal W

aketime
Optimal waketime length will depend on your child. At 6 months, Brayden could stay up for 2 hours with no problem. Kaitlyn, however, couldn't go longer than 1 hour 15 minutes.
Each child is different.
Different times of day will have different waketimes, and that is okay. Both of my children had shorter waketimes before their morning naps than they had for the remainder of the day.
---
Read: Optimal Waketime Lengths
---
Find the Best Time for Naps
Next, figure out naptimes. By this I mean the time baby will go down for a nap.
This will be dependent on a couple of things. One is how long baby can successfully stay awake. This means happily. It also means baby goes down for a nap and the crying (or lack thereof) is consistent from nap to nap and naptime length is appropriate. By that, I mean if baby typically cries for about 5 minutes before going to sleep, that stays consistent. If baby suddenly cries for 15 minutes instead, something is probably off. Also, if baby's nap is shorter than usual, something is probably off.
Another thing the best time for naps is dependent on is the amount of time before the next feeding. Depending on your schedule, baby will sleep anywhere from 1-2.5 hours.
Write It All Down
Write down all of your times. I can't tell you how useful it is to keep track of the schedule to get the schedule perfect for your baby. You can use my Book of Logs eBook for help tracking everything you need to for baby. It helped me so much with my own babies!
Stay Consistent
Finally, and again, stay consistent. Remember that it is dynamic and will change as your baby gets older. Whatever schedule you are on, stay consistent.
If you eat at the same time every day, you get hungry at the same time every day. If you go to bed at the same time every night, you get tired then. If you wake up at the same time every morning, your body does so without an alarm clock.
Consistency pays off.
You want to go by the time on clock as well as the hours that have past. If baby slept in that morning and ate a little later, work to get on the normal schedule by afternoon. Of course, we always are flexible and adjust the schedule as necessary when baby is in a growth spurt or is otherwise hungry.
Conclusion
Can you be a mom who says, "My baby naps at 1:00" with confidence and honesty? Yes!
It will take time and consistency. I would commit to staying home for a week or two and really nailing the schedule down. You don't have to completely shut yourself in, but try to stay in and keep in mind you are helping baby get stabilized. I think Winter is a great time to do it because there is often not a lot going on, at least in my life.
Take note that these same steps can be followed for a consistent schedule with a toddler, also. I find it much easier to have a consistent schedule with a toddler than a baby, but perhaps that is because my toddler has been on a consistent schedule for over two years. The same importance is applied to waketime, bedtime, and naptime. I find mealtimes to be a bit more flexible, but try to keep them about the same time, also.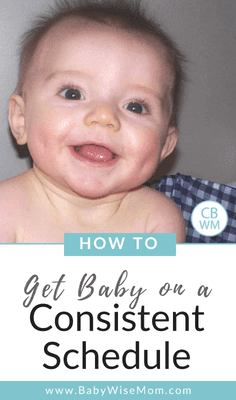 Reader Schedule Questions
Get some sample schedules here: