When following a baby feeding schedule, you will have a goal to feed baby at least every 2.5 hours. But what do you do when baby needs to eat sooner? Continue reading to find out.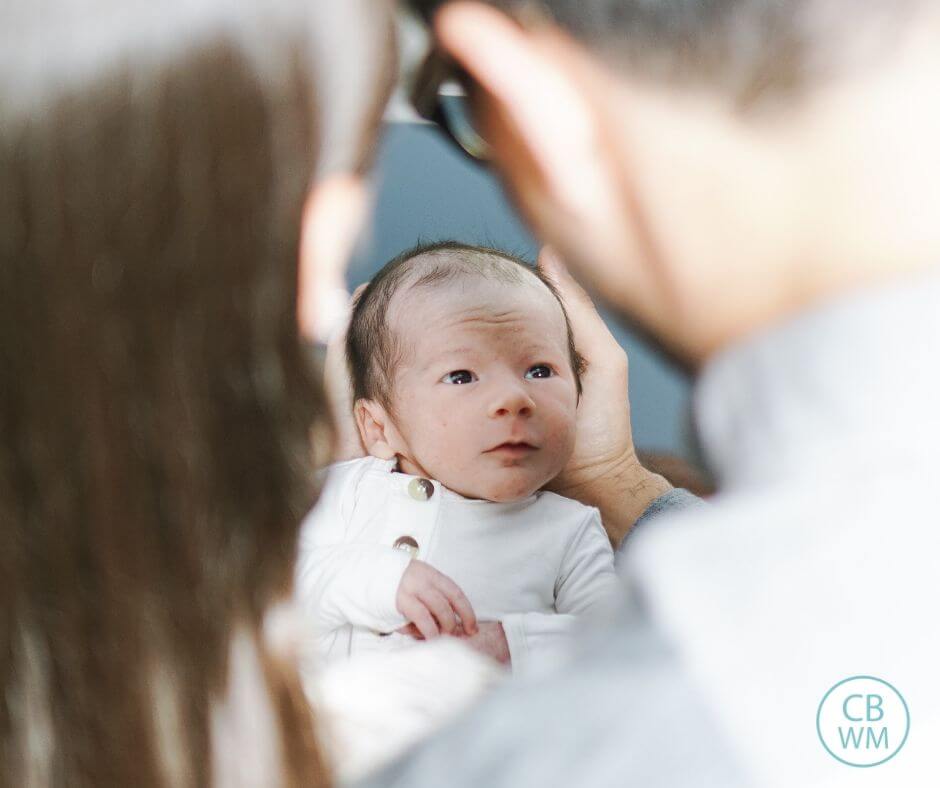 A quick search on Babywise will show you there is really some controversy out there. A falsehood that seems to be spread around often is that if you are following On Becoming Babywise, you cannot feed your baby if your baby gets hungry.
Nope.
On page 115, On Becoming Babywise
talks about several reasons you would feed sooner than the 2.5 hour mark. These reasons include hungry baby, low milk supply, growth spurts, medical reasons, desire to go to bed earlier, and early morning feedings. Let's discuss each of these.
---
Read: How To Successfully Do On Becoming Babywise
---

Hungry Baby
There are lots of reasons a baby might be hungry, and those will be discussed below. "…just know that hunger is always a legitimate reason to feed less than two hours" (page 115).
Did you catch that quote?
Hunger is always a legitimate reason to feed baby less than two hours later.
Hunger is always a legitimate reason to feed baby less than two hours later.
Hunger is always a legitimate reason to feed baby less than two hours later.
Okay, whew, I think I got that simple point across. It seems to be a hard one for some people to understand when they decide to bash Babywise, claiming you starve a baby.
Hunger is always a legitimate reason to feed baby less than two hours later.
I am not making this up. Page 115. Last sentence of the second paragraph.
This is not the only time the Babywise book says to feed a hungry baby. I have compiled the quotes for anyone interested. Read Babywise Instructs Parents to Feed Baby When Hungry for all of the quotes.
So, if your baby is hungry, it is correct to feed your Babywise baby sooner than 2.5 hours.
---
Read: Hunger Cues: How To Know if Baby is Hungry
---
Low Milk Supply
You can have a low milk supply for various reasons.
The first and most common is simply that by the end of the day, you have been running around taking care of at least one child and whatever else you have going on. The energy and stress of the day can possibly affect your milk supply. If so, your baby will need to eat more often.
I definitely needed to feed Brayden and Kaitlyn at two hour intervals in the evening hours–so around 5/5:30 and then around 7/7:30.
With McKenna, she didn't need the food that often for whatever reason. However, for a short period, we did cluster feeding, which is feeding every two hours. See this post for more on cluster feeding Baby Whisperer Tips to Get Baby Sleeping Through the Night.
You can also have milk supply issues for other reasons. Some moms just seem to have a Milk Supply Limit.
If you have low supply and need to boost it, you can feed more often. There are also other things you can do to improve milk supply. Read this mom's tips for increasing supply while breastfeeding here.
For some babies, they won't necessarily need to nurse as often as you want to in order to boost supply. In those cases, I would recommend you get a good pump to get the extra stimulation in. Many hospitals will rent them out for a good price.
Some moms find they just cannot breastfeed and need to feed baby through a bottle. There is no shame in that! As you are deciding if you want to take this path, read about tips on what to do before you give up breastfeeding from a mom who made that consideration and in the end did stop breastfeeding. You can also read the truths about bottlefeeding on this blog here.
Read this mom's experience with her breastfed baby not gaining weight and what she did about it here.
Full Babywise Book Series
Growth Spurts
Growth spurts are a reality. Your baby will have growth spurts and will need to eat more often because of it. That is absolutely normal and nothing to stress about.
Growth spurts happen usually every 3-4 weeks. When that happens, feed your baby early if she needs it. When the growth spurt is over, she will go back to eating at her longer intervals.
I have written extensively on growth spurts, so see my post on Growth Spurts here.
Medical Reasons
There are a variety of medical reasons for feeding often. Some premature babies might need to be fed more often (premie babies also need more sleep. Read about preemie sleep from Caitlin at Twin Mom and More here).
Even some small full-term babies might need to feed more often. Babies with jaundice need to feed more often. Babies with reflux might need to eat more often.
---
Read: Babywise and Reflux
---
Always consult with and listen to your baby's doctor on these medical issues. Also, don't be afraid to feed more often if your baby has a medical issue that might require it and you feel like it would be beneficial. This will not hurt your Babywise progress long-term.
What will hurt your progress long-term is if you ignore these medical reasons for feeding your baby more often and end up with even more significant medical issues that require you feeding your baby more often for a longer period of time. Get it taken care of and your baby will soon be able to extend the length of time between feedings.
Are you planning to breastfeed twins? See this helpful breastfeeding twins guide from a Babywise twin mom.
Dreamfeed
If you do a dreamfeed, you might feed at two hours just so you can go to bed earlier. This will be especially true in the earlier months of feeding your baby. You may have been cluster feeding your baby and find the dreamfeed is landing just two hours after your last cluster feed.
This is okay.
Your dreamfeed is a top-off feeding to help get baby through the night longer before needing to wake up and eat. Read all about The Basics of a Dreamfeed here.
Early Morning Feedings
There are often times when a baby wakes up around 5-6 AM and is legitimately hungry and needs to eat. Then you typically start your day around 7-8 AM, depending on your typical schedule.
This is a situation when you will feed sooner than three hours just to keep your daily schedule on track. This is the situation when baby wakes at 5 AM hungry and your normal start time to the day is 7 AM. For extensive information on this scenario, see 5-6 AM Feedings Before Waketime. This is a time it is a good idea to feed sooner than 2.5 hours.
For help stopping these early wakings, read Early Morning Wakings: What To Do When Baby Wakes Early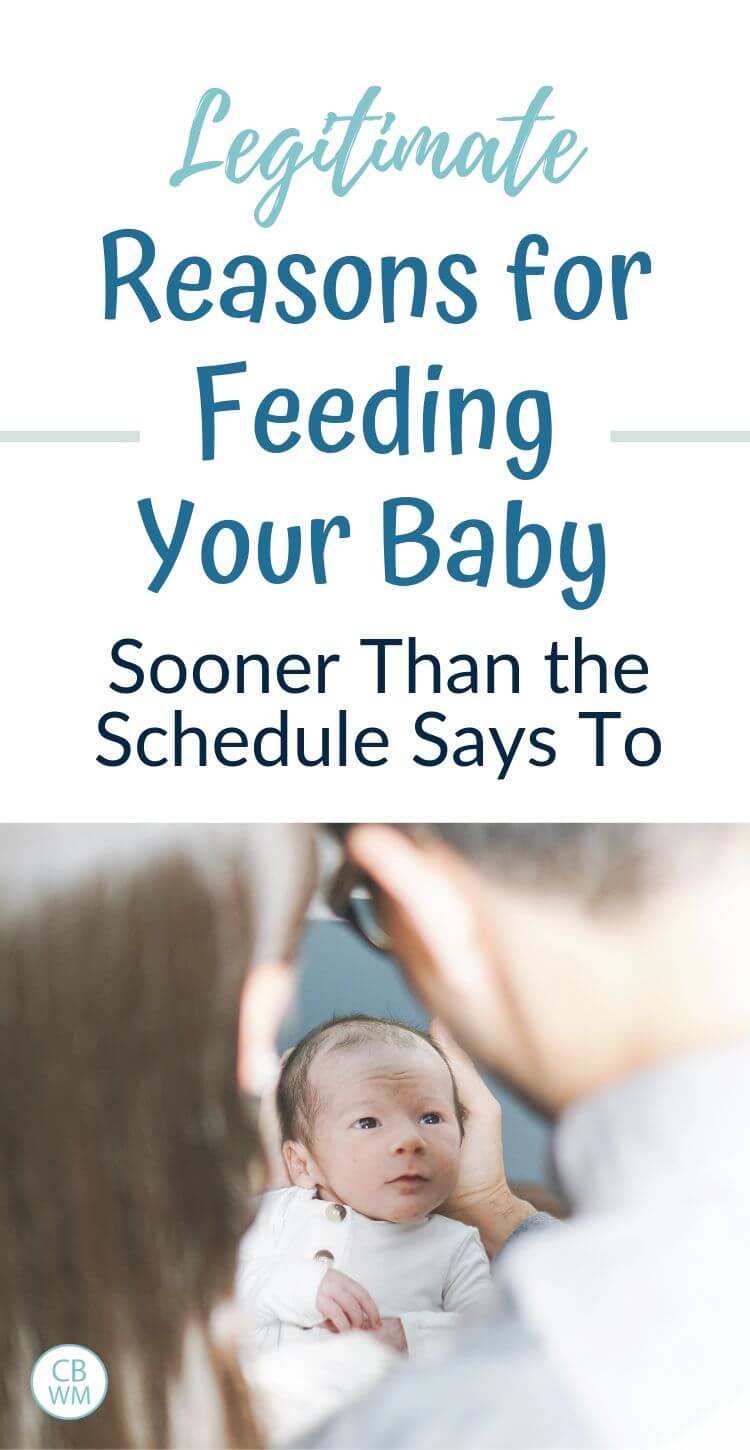 Conclusion
There are lots of reasons to feed baby sooner than the 2.5 hour mark–and they are all legitimate. If you find your self feeding more often than 2.5-4 hours (depending on the age of your little one) for these reasons, that's okay! That is part of normal life with a real baby. Do not stress it out. You schedule and baby sleep goals will fare just fine in the long run.
Related Posts
We are sorry that this post was not useful for you!
Let us improve this post!
Tell us how we can improve this post?