Brinley recently had her first birthday party with friends. She wanted to play in the backyard with water. She also loves Moana, so a Moana birthday party was the perfect fit! Here are the details from the party we did, along with additional ideas that we didn't do. This post contains affiliate links.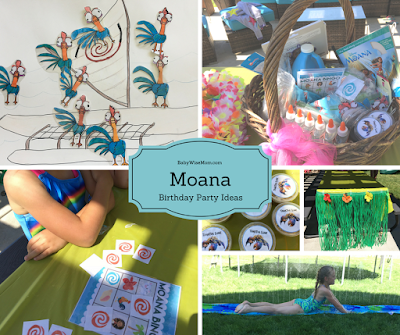 Invitation
One of the first steps for a birthday party is the invitations. I like to create mine in Canva these days. It is a free program. You can search the Internet for Moana clipart to use in your invitation.
Games
Games are probably the most important part to a birthday party. You want the children to be focused with things to do, not running around like crazy.
For our party, we played:
Pin the Heihei on the Canoe: I wanted a "pin" game, but I wanted it friendly for four and five year olds. This was perfect! The kids could totally put Heihei in the wrong spot and it was just funny because Heihei was all over the place in the movie. Kaitlyn drew a bunch of Heiheis from the tutorial from Art Hub for Kids. McKenna and Brinley cut them out. I laminated them. Then Nate drew a canoe on a piece of poster board.
Moana BINGO: I was so glad this had already been created by someone. I got a Moana Bingo printout set from GirlLovesGlam.
Tamatoa Shiny Slime. I found this fun idea from AstheBunnyHops for Tamatoa Shiny Slime. I used a different recipe for slime, but added the shiny glitter. I bought these snack cups from Amazon to store the slime in when the kids were done. Before the party started, I printed out the labels from As the Bunny Hops and glued them to the lids.My recipe for slime was 1/4 cup liquid starch, 1/4 cup glue, glitter (I used a tablespoon, but I would half that next time). Mix in a baggie, then transfer to the snack cup when done. SEE THIS POST FOR MY NEW FAVORITE SLIME RECIPE.
Water Play (free play in the sprinklers, kiddie pools, slip and slide, etc.)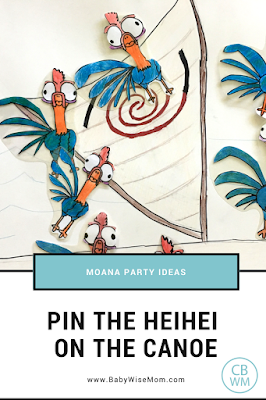 Other ideas I thought of:
Play "hot potato" with the Heart of Tefiti
Musical Chairs
Freeze dance
Limbo
Color pictures
Make edible sand art
Sponge water fight
Volcano eruption
Reading of Moana (I always like to have some books on hand in case we need to fill some time at the end of a party)
Face Painting (we had this planned, but Kaitlyn was my face painter and got sick so I didn't want her touching the kids. It worked out because there wasn't much time! It isn't the best idea for a water party, either).
Food
I don't typically do a lot of food at a birthday party. We usually just do cake and ice cream unless we are having a movie night. I plan parties between meals, and our parties are 1.5-2 hours long.
We had planned to also have homemade snow cones at the party, but we ran out of time.
Party Favors
Party favors are a great way to say a little thank you for coming to the party.
We sent each child home with Tamatoa Shiny Slime and a Lei. I had also considered bubbles and Moana drinking cups.
Decorations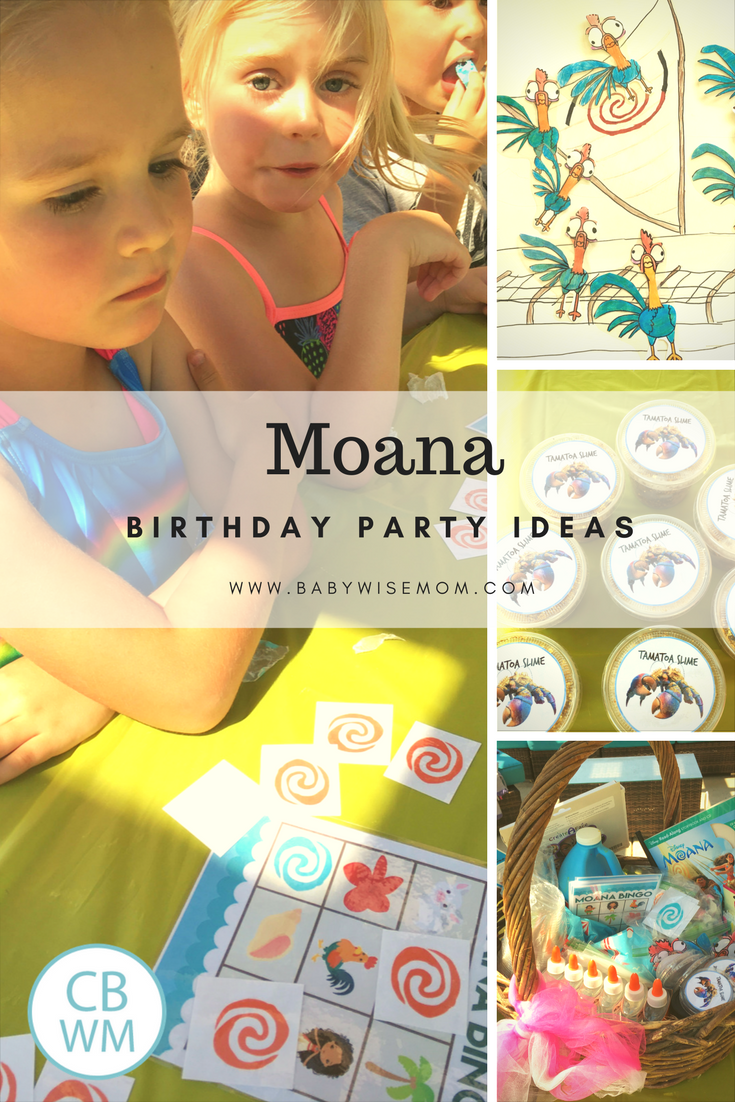 We don't go crazy with decorations. We got some grass to decorate the table, some table clothes, and hung some balloons. Brinley thought it look fabulous! Some people love decorating for parties. I do not, and so far my children have been fully satisfied with the level of decorating I do.
Party Flow
For this party, I wanted the kids to be able to play in the water at the end of the party so we weren't eating ice cream dripping wet. This was our order:
Pin the Heihei on the Canoe
Moana BINGO
Tomatoa Slime
Presents
Cake and Ice Cream
Water Play
That easily filled our time! We went for 1.5 hours and could have done two hours easily. This was the easiest party we have done at home for our kids.
You can find Moana party supplies on Amazon here, including pre-made invitations and thank you cards.
You can find Moana party ideas (along with other themes!) on my Birthdays and Parties Pinterest board here.
Related Posts: