Find books that are worth your money and book space. Get board books for baby, picture books for littles, and chapter books for older kids.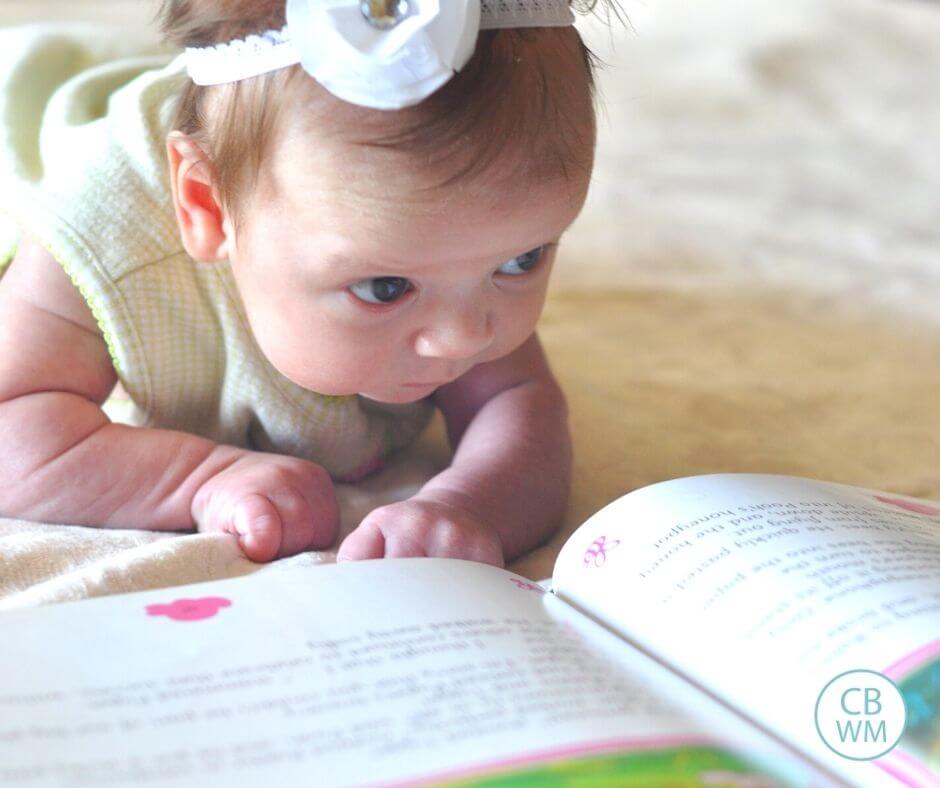 I love to read. I have always loved to read. I remember fondly going to the library and checking out 50 books at a time, then laying on the floor with my stack of books next to me (just imagine the late fee on that many books! Yikes! Yes, that happened).
I ended up majoring in English, and now that I have children, we read a whole lot. I mean, a really ridiculous amount if you can call reading ridiculous. To give you an idea, every month students turn in how many minutes they read that month, and while some children are in the hundreds, mine are in the thousands. So yes, we read a lot.
We also own a lot of books. I am a sucker for books. My favorite thing is when the teachers send home book orders. I sit and slowly look through each book order. We also have a used book store here in town where you can fill a grocery bag full of books for 7 dollars…so we have a lot of books in our home. We also are at any given time maxed out at how many books we can have checked out from the library. One day when Brayden was seven, he asked, "Why do they limit how many books you can take home?" and I replied, "Because people like us would just take the whole library home with us."
If you are buying books, it can be expensive. There is also a space limit on how many books you can have in your home. Sadly (though the Kindle makes it possible to own a lot of books without taking up much space!). Even with limitless space, we do not have limitless budgets. So what are real treasures? What are the books worth owning–books you can be pretty sure will be loved for a long time and by multiple children?
To ask me to pick a favorite book is pretty much like asking me to pick a favorite child. And I only have four children–so sifting through the thousands of books is pretty much impossible. However, as I sit and think about it, there are books that come to mind that are just fabulous. Books that when I am at the library with my friend I pull them from the shelf and tell her she must check them out and read them to her children because they are too good to miss. There are most definitely more books than you see here that are worth the read and worth adding to your personal library. Here is a narrowed down list–I limited myself because otherwise, I might list the entire library 🙂
Great Books for Baby
Great Picture Books
I have noticed that the really great picture books end up having sequels. Some sequels are just as good as the original; some are just good.
The Pout-Pout Fish be Deborah Diesen. This is an all-time favorite. There is also a sequel.
Ladybug Girl by Jacky Davis. There are many books following the original. A favorite for boys is Ladybug Girl and Bumblebee Boy
David Goes To School by David Shannon. David Shannon has many great books that kids just love. He has a great talent for making children laugh. A great picture book for older children is Too Many Toys, and if you can get the book on CD, you will not be sorry.
My Truck is Stuck! by Kevin Lewis. This was my sons favorite for a very long time. It has great rhymes.
Pinkalicious by Victoria Kann. There are many that follow this, and they are all great. This book is such a classic favorite of my girls. My son even ejoys it when he is around when it is read 🙂
Fancy Nancy by Robin Preiss Glasser. There are a lot of Fancy Nancy books. These book are great at expanding vocabulary for children.
Knuffle Bunny: A Cautionary Tale by Mo Willems. Mo Willems has many great children's books, including sequels to this very popular book.
Sheep in a Jeep by Nancy E. Shaw. This book has great rhymes and repitition. It also has sequels.
Chicka Chicka Boom Boom by Bill Martin Jr.
The Velveteen Rabbit by Margery Williams. This is such a classic it almost seems wrong to have a list without it.
Favorite characters–there are many favorite characters out there. Winnie the Pooh, Clifford…they are favorites because they are great.
Great Chapter Books
I find chapter books to be tricky. We have read books from lists that are favorites of many that I find I don't appreciate so much (like Junie B. Jones and the Stupid Smelly Bus–which we read right before kindergarten started. Bad idea).
Magic Tree House series by Mary Pope Osborne. These are great read-alouds and are also great for those beginning readers (though the reading level is set at 3-4 grade). My aunt, a recently retired Elementary School teacher, told me these books have been great for getting children to

be excited about reading books.

The Boxcar Children series by Gertrude Chandler Warner. I love this series. It is so clean. It has suspense and yet has good morals. The children in the story are kind to each other.
Chronicles of Narnia by C.S. Lewis. This is such a classic. It has elements that appeal to all types–adventure, princesses, talking animals…and the stories are fabulous.
How to Train Your Dragon by Cressida Cowell is a great series. My son loves this. It is quite different from the movie.
Little House on the Prairie by Laura Ingles Wilder
Harry Potter and the Sorcerer's Stone (Book 1) by J.K. Rowling. The Harry Potter Series is a great one that is responsible for the love of reading among thousands today.
The Indian in the Cupboard by Lynne Reid Banks. I loved this as a child, and my son loved the series. He was fascinated with these books. I will say that there was some editing I did as I read it aloud to my son.
Matilda by Ronald Dahl. Series are great and children can become attached, but you don't only want to read series books. Children become used to the the writing patterns of authors, so reading book after book by the same author doesn't expand comprehension and vocabulary like reading from various authors. Matilda is a classic stand alone.
The Secret Garden by Frances Hodgson Burnett. This was one of my personal favorites as a child.
My Side of the Mountain by Jean Craighead George. This book was just fascinating to my son.
Related Posts
Because I am a sucker for books, I have many, many book list posts. If you want to delve deeper into lists, check out these posts below.