How to time naps for toddlers. What time is the best time for toddlers to start nap time. Toddlers can have set naps, but they still have a wake window. Learn all about that and get frequently asked toddler nap questions answered.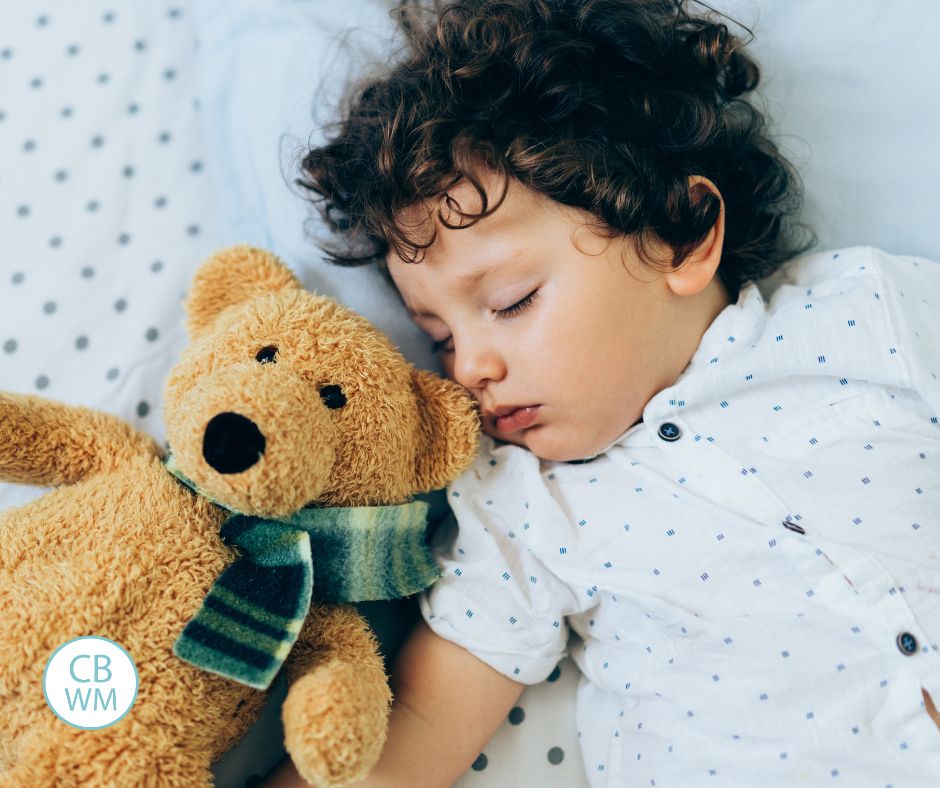 Did you know that the timing of a toddler nap is still important, just like it was for a baby?
A toddler can be more flexible than a baby. But your toddler might have a 10 minute nap window when you can really put your toddler down and get a solid nap in.
Toddlers Have Set Naps
As your baby moves into toddlerhood, she will most likely move away from "X hours of waketime" before naps and more toward "this time is naptime every day." I am sure that sounds confusing, so I will elaborate.
While she is an infant, your baby really needs X number of minutes of waketime (see The Cornerstone for Good Naps for more). For some babies, one minute can make the difference between a good and bad nap. If she needs 55 minutes of waketime, you need to get her back down for her next nap within 55 minutes of waking. 56 might be too much time.
That sounds stressful and is! Anyone who has been through that time period of figuring out perfect wake windows knows the reality of that challenge.
As she gets older, the exact number of minutes softens a bit. There is more of a window of time rather than an exact number of minutes.
As she moves into toddlerhood, it gets even easier for mom. Most toddlers will then just have their naptimes that are set with little variation.
You might already have had set nap times for your baby, but a toddler is even more flexible with set naps than a baby is.
Toddler Nap Flexibility Examples
Let's say your toddler's morning waketime is usually 7:30 AM, followed by a morning nap at 9:45.
One day she wakes up at 7 AM instead for whatever reason.
Most toddlers can still go to bed at 9:45 and take a normal nap.
Some will need to go down 5-15 minutes early to still take a normal nap.
Very few would need to go down at 9:15 to make up for those 30 minutes (though if your child is that way, go with it. Don't try to force her to stay up too long just because most other kids aren't that way).
You need to get to know your individual toddler. We would all love to have the super flexible toddler who can wake up 30 minutes early, still start the next nap at the usual time, and take the full nap with no big deal.
You might have a child like that.
But you might not. Respect the needs of your individual toddler.
Timing Naps is Important for Toddlers
While your toddler is at least somewhat flexible in this way, be sure to note that timing still plays an important role. This is true even if your toddler is down to one nap a day and only takes an afternoon nap.
For example, at 3 years old, Brayden's naptime was 1 PM. If I got him down anywhere from 12:50-1:05, then he would go right to sleep.
If, however, I got him down 1:10 or later, he would usually play for a while before finally going to sleep because he would have caught his second wind by then. And in case you are wondering, the time between 1:05-1:10 was a guessing game. Sometimes it was okay, sometimes it was not.
Clearly he was a preschooler at that time. He was still particular about the timing of his nap. Preschoolers can be that way.
He was my most sensitive child to the timing of naps; not all of them were that particular.
>>>Read: Optimal Waketime Lengths for Toddlers 12-24 Months Old
Be aware of this ability as your child gets older and find the right move for her. It is nice to have more flexibility as they get older. That is what Babywise is all about. You put in a lot of work in the beginning, but it makes it so there is less work in the future and just more overall enjoyment.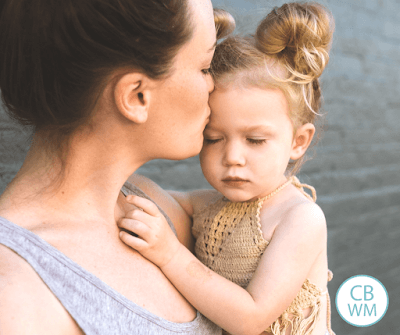 Physical and Mental Stimulation
Whenever we talk about timing naps with older babies and toddlers, it is important to also discuss stimulation levels and physical movement levels.
Your toddler needs enough mental and physical stimulation to sleep well. This is true for longer naps and is true for nighttime sleep.
Sleep time is when the body will recharge mentally and physically. Your brain works through the things you have learned while you sleep. If you are not burning enough energy nor challenging yourself enough mentally, sleep will be harder for you.
But you can also have too much stimulation.
There is a balance.
Make sure you have time scheduled each day that includes physical movement. Go for a walk. Play at the playground. Do indoor activities that get your toddler moving. 2-year-olds have a lot of energy.
>>>Read: How Easily Work Learning Activities into Your Daily Life
Make sure you have time each day that has some basic learning time. Do puzzles together. Read books. Sing the ABCs. Go through the house searching for every circle.
Be sure to read Overstimulation in Toddlers: What To Do and Importance of Exercise and Stimulation for Sleep for more information and guidance on this topic.
Frequently Asked Questions
Here are some frequently asked questions about toddler naps.
How Many Hours of Daytime Sleep Should My Toddler Be Getting?
There is variety in how many hours of sleep a toddler should have each day. Every toddler has different sleep needs. Here are some generalities.
A toddler should sleep for 10-12 hours at night.
A toddler should have 1.5-3 hours of naps in a day.
That means your range is 11.5-15 hours per 24-hour period. You need to find out how much sleep your individual needs.
While all toddlers have tantrums, your toddler's mood is a good indication if he is getting enough sleep or not. If you have a lot of crankiness and seem to have more tantrums that is typical among toddlers, consider that more sleep might be needed.
How Do You Transition from Two Daytime Naps to One Nap?
The shift from 2 naps to 1 nap each day can be stressful. Having one nap a day is actually amazing! Do not fear it.
I have several posts that will help you with this big milestone:
What is a Good Nap Schedule for a Toddler?
If your toddler takes one nap a day, you will want to check this post for a lot of helpful information and sample schedules: One Nap Schedules Perfect for Your Toddler. Your toddler's single nap of the day will be in the early afternoon sometime after lunch.
If you still have two naps a day, then you will wake up, have a nap 2-3 hours later. That will last 1-2 hours. Then your toddler will get up and have lunch. 2-3 hours after waking from the first nap, you will have the afternoon nap. That nap will be about 2 hours long. Then you will have dinner at some point and bedtime 10-12 hours before the morning wake time.
Does My Toddler Still Need a Nap Routine?
Yes! A nap routine is a good idea.
You will also still want a bedtime routine.
Your nap routine and bedtime routine do not have the be the exact same. The nap routine can be shorter.
Toddlers often start to really do what they can to delay nap time from starting, so you might start to find a nap routine super stressful and frustrating. The more steps you have in a nap routine, the more opportunity your toddler has to delay nap.
Make sure you take the delay tactics into account in your timing of starting the nap routine. Remember, the timing of that nap is important.
We can lose our patience as parents if we start to push up against the time the nap is supposed to start. Set yourself up for success.
If nap is needs to start by 1:10 PM and your nap routine takes 15 minutes, don't start the nap routine at 1:00 PM. That is setting things up for everyone to be frustrated. The toddler will be upset if you rush it and you will be upset if the nap starts late.
Can My Toddler Have Toys in Bed for the Nap?
This depends on the toddler. For some, an available toy can mean that no sleep will happen. For others, a small quiet toy (like a lovey) can be something that helps your toddler unwind and prep for sleep.
Some might not be able to handle a toy at all but might be great with books.
While we are on the topic of toys, do not allow your toddler to get out of bed and play with toys during the nap. You want this nap to be a quiet time your toddler gets rest.
Independent playtime should be a different time of day–not part of the nap.
My Toddler Isn't Napping Well, Any Ideas Why?
There are so many possible reasons, and I have so many posts that address those reasons.
It can be the wake window and nap timing was off. It can be too little stimulation or too much. It can be that light is disrupting the sleep (blackout curtains will help with that). It might be that there are too many distractions in the house (white noise can help with that).
It can be sickness. It can be that teeth are causing pain. It can be that it is time to drop to one nap a day. It can be a sleep regression.
Here are some helps: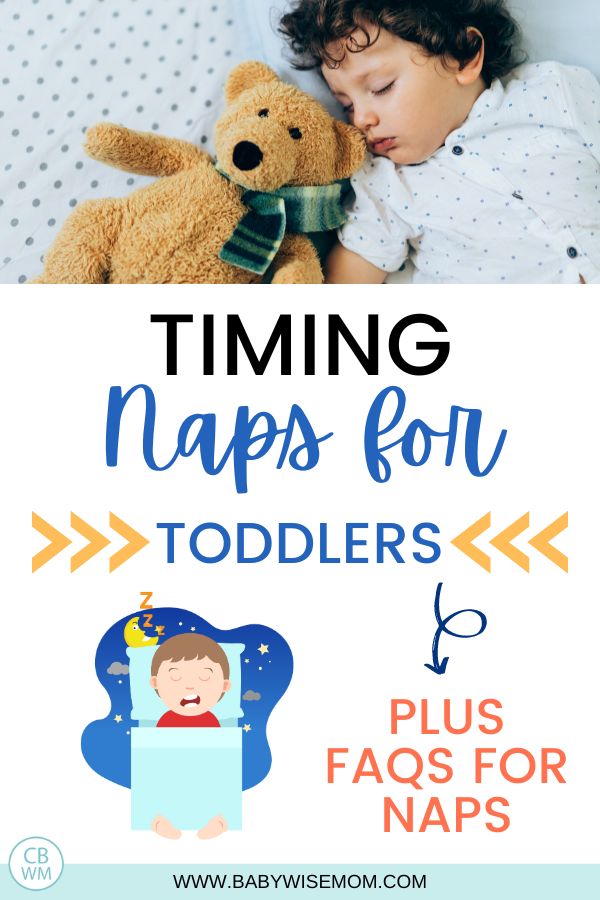 Reader Question
Related Posts on Toddler Sleep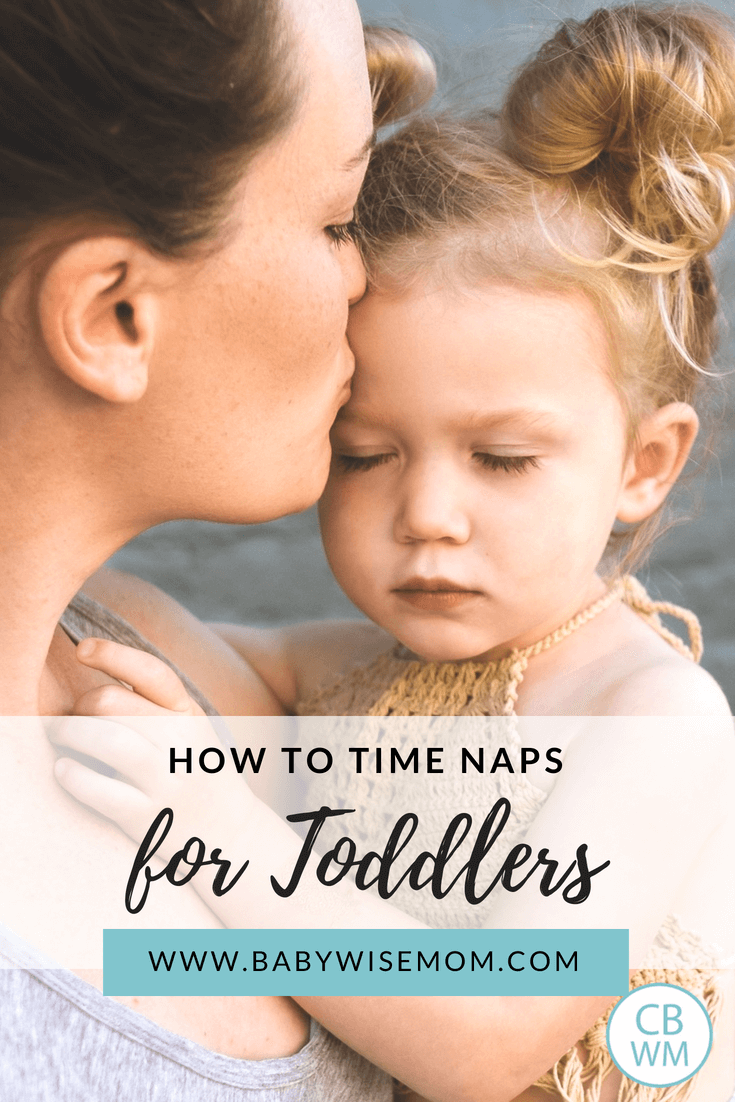 This post first appeared on this blog in June of 2008