Preteen gift ideas for girls. Over fourteen different gift ideas for the tween-age girl in your life. Find a great gift the preteen will love!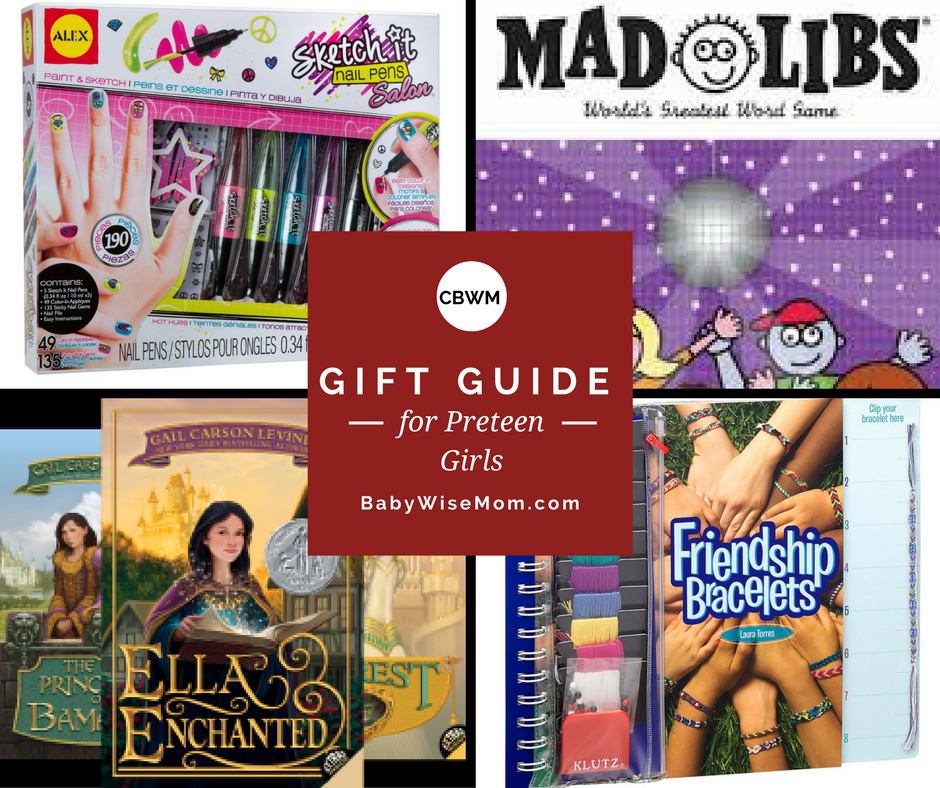 Preteen girls start to leave the world of toys and get a little more mature tastes. That can leave gift-givers feeling baffled and not sure what to get. I have you covered! This post contains affiliate links. This does not increase your cost at all.
Clothes or Shoes
I am not one who likes to give clothes as a present. I view clothing my children as my job. However, I have a budget, and my job isn't fulfilling every wish in the store. Once Kaitlyn became a preteen, she started having more interest in clothes. She started to want certain clothes that are cute indeed, but out of the list of "needed." That's when gifts come in. For her last birthday, she really wanted a jean jacket. If your girl has a clothing item or pair of shoes she really wants, Christmas or Birthday might be the perfect time. If you don't know the girl well (like a friend birthday present), fun accessories like a scarf are always enjoyed.
Room Decorations
Along the same line of thinking, room decorations or furnishings that are beyond what you feel is a given can be a great gift. A new comforter for the preteen tastes, a fun lamp, a comfortable reading chair…there are a lot of directions to go here.
Sketch it Nail Pens
My girls like getting their nails painted at any age. As a preteen, Kaitlyn loves to do her own nails. These Sketch it Nail Pens are really fun and easy for her to do artistic designs on her fingernails. You paint with one side and do art with the other side. This nail polish actually lasts a really long time on Kaitlyn, also.
Binoculars
My kids all like binoculars. A preteen is able to have such a thing and not destroy them. They sell cute pink ones on Amazon, but a lot of preteen girls are over pink (didn't you read Purplicious? Pink is passe.). Not all preteens feel that way, and if not, these pink ones are super cute. Amazon does have red, orange, green purple, blue, and of course black.
Books
Book are a consistent gift at our house. Most preteens are into chapter books, so a great chapter book or even a series makes for a great gift. Ella Enchanted is a fun series. Another great one is the Little House books. See my Pinterest Board on chapter books for girls for more ideas.
Perler Beads
Even kids who aren't terribly into art projects enjoy Perler Beads. They satisfy the creativity in all of us. You can be very creative or follow the instructions given. There are a lot of buckets out there for the tastes of all types. Sports, animals, princesses…you can find one that will suit the likes of your girl.
Origami
Origami is a fascination for preteens. They have the dexterity and intelligence to easily follow Origami instructions. A kit is a great gift for any preteen girl. This is the kit I got for Kaitlyn. There are a lot of kits on Amazon, so it is hard to choose. We have been happy with this.
Mad Libs
When I was a preteen, Mad Libs was a favorite of mine. The resulting stories are hilarious. As an adult, I love that it teaches parts of speech. For the girl who loves a joke, this is a fantastic gift. Kaitlyn thanked me for this profusely after she first started using it. Mad Libs has a lot of books with different focuses of interest. Science, fairy tales, animals, dance…so peruse to see what your girl might like.
Rip the Page!
Rip the Page! is a great gift for the child interested in writing. It has invaluable information on storytelling and exercises to do to practice the skills learned. I love this book for my little storyteller, and she has loved it. I am a writer, but let's just say I was not my creative writing professors favorite student (that was my friend Kelli, who has gone on to be published). I am a technical writer. So this book is a fantastic tool in our house for my creative girl.
Balls
Last Saturday, Kaitlyn guest-played on a competitive soccer team. A boy team. Against boys. And she totally rocked it and was just as good as any boy out there. Girls can be very into sports. If the preteen girl in your life is into sports, consider getting her something for her sport of choice. Right now, Kaitlyn mostly wants a really nice soccer ball for Christmas (which, by the way, I don't know what that is. Isn't a soccer ball a soccer ball? I have some research to do). Get a bag, practice equipment, nicer ankle guards (these really are really good ones!), swim fins…whatever your child's sport of choice, something to enhance that sport is a fantastic gift.
Kendama

A kendama is a unique but fun toy for a girl who likes a physical challenge. It is very portable for the girl being able to entertain herself in various places. My older three kids each have one of these and they all enjoy playing with them.
Klutz Books

Klutz books have things that appeal to all types. Face Painting, Friendship Bracelets, Nail Art, Cat's Cradle, Stencil Art…It just goes on. Kaitlyn loves her friendship bracelet one. Preteen girls love their friends and love showing their friends love. The friendship bracelet is a timeless way girls show love.
Specifics for the Girl
Even though preteen girls are outgrowing toys, they are very much growing into themselves. What does the preteen in your life love? Horses? Art? Sports? Crafts? Fashion? Reading? Writing? Skateboards? What is it she loves? Chances are high she loves a variety of things. Get something for her to help her out with her passion. If you know the passion but not what she needs from it, get creative. Maybe she loves horses and you can't afford a pony. Maybe a hot chocolate mug with a horse on it is just the ticket.
Great Generic Gifts for Preteen Girls
Sometimes you need a gift for a girl you just don't know well. Many of the above can work for most girls. Other great go-tos are nice lotion/bath sets, hair brush sets, jewelry, and chap stick. There are also things like board games.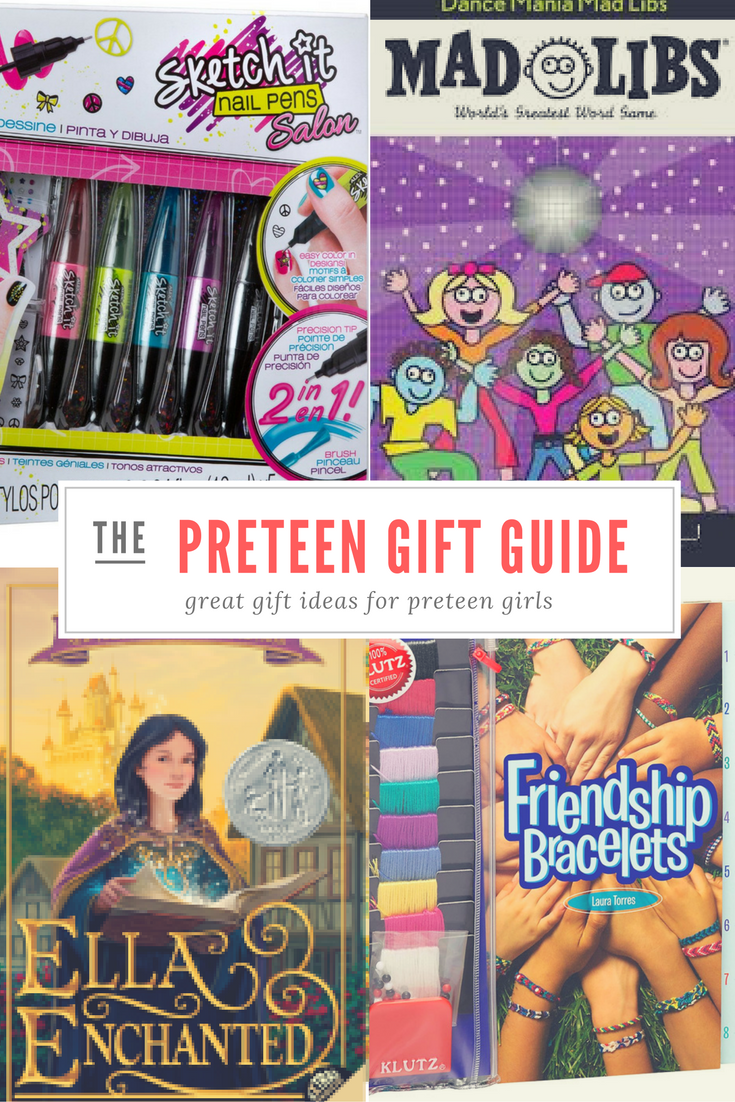 For more gift ideas, see: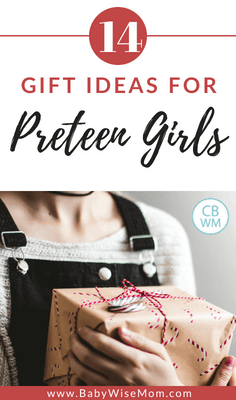 We are sorry that this post was not useful for you!
Let us improve this post!
Tell us how we can improve this post?