When to Align Baby's Meals with the Family's meals. Get the whole family eating meals at the same time each day.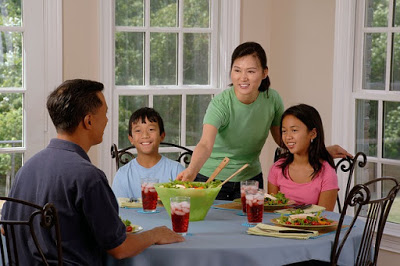 Mealtimes kind of naturally fall into place as far as lining up with the family. Both of my kids ate breakfast at the same time as the family from the beginning of solids. Lunch came when they moved to a four hour schedule. I didn't move Brayden to eat with us at dinner until he started eating what we ate at dinner, which was after he was a year old. If you are having a meal and the baby is up but doesn't need to eat, I have them eat finger foods so they are with you at the table. I have Kaitlyn eat finger foods at lunch because she eats her solids and then Brayden and I eat our food.
I think the reference to solids aligning with the family's mealtime is more of what the natural progression is over time. Babywise says that will happen, but they also say to do solids at 7-11-3, so I don't think they mean to eat dinner at 3 or to move the baby's dinner to 6. We eat dinner around 5-5:30, but Kaitlyn eats dinner at 7:00. She will move up once she is older and feeds herself for the most part. This would also coincide with the time that she starts eating what we eat instead of baby food. At lunch I feed her then she eats finger foods while Brayden and I eat.
A good thing about having the baby be there for meals is that they can see early on what proper table manners are and also so they are part of the social environment of meals.
If your baby/toddler is old enough to eat what you eat, have them eat breakfast, lunch, and dinner with you. I have a friend whose family eats dinner around 6:00-6:30. That was (and often is) too late for her son to wait, so she gives him a small snack after the afternoon nap to get him to wait for dinner. Family mealtime is a great way to spend time together and visit about the day. Make an effort to have it be the norm from a young age.
Here is what your schedule might look like with your toddler eating with the family. In this, I assume you have two naps a day and that you are on a 4 hour schedule:
7:00–wake up and eat breakfast with the family
9:30–morning nap
11:30–wake up and have lunch with family
2:00–afternoon nap
4:00–wake up and have some milk and/or small snack to tide over until dinner
5:30/6:00–dinner with family, remainder of milk from snack time
7:30/8:00–last of milk needed for day, ready for bed, go to bed
Adjust the schedule according to when you actually wake up, nap, eat meals, and go to bed. You might have to adjust exactly when you eat meals (maybe you don't eat lunch or dinner that early) to create a schedule the whole family can be together for. Hopefully this can give you an idea of how to make it work for you.
Reader Questions:
Salina

said…


Ok

, Val, I know I have 2 more months before I want to start weaning, and that the 3rd

bfeeding

time (now at 3 pm) will be the first to go, and I want James to start eating at our dinner time (around 6). So for now, what should I do? How/when is Kaitlyn eating dinner now? I remember you said you're giving her solids at her last feeding instead. But could I just

bfeed

at 3 then offer a snack of finger foods instead of a full meal, then feed him solids at our dinner time (6), then breast feed him again at 7? Would he even eat that close together?
February 17, 2008 8:02 AM


Plowmanators

said…
This is how our evening goes right now: 3:30–breastfeed then some finger foods5:30

ish

–the family eats dinner. She will sometimes eat finger foods, but is usually not that hungry then. She will play with toys and just sit with us.7:00–nurse and

dinner

I

would just offer him some finger foods at 6. I would try to make the finger foods something that isn't filling and maybe even takes him a long time to eat. A couple of things I am thinking of are those Gerber rice puffs (it takes somewhere between 75-85 of them to equal 25 calories) or the biter biscuits (those take Kaitlyn a long time to eat the whole thing). Once he is weaned from nursing, you will be able to do milk and a snack around the 3

ish

feeding, then do full dinner at 6 with the family.
February 17, 2008 2:26 PM
We are sorry that this post was not useful for you!
Let us improve this post!
Tell us how we can improve this post?