Best Toys for Baby: Ages 10-12 Months. 12 great toy ideas for older babies. Gift ideas for babies.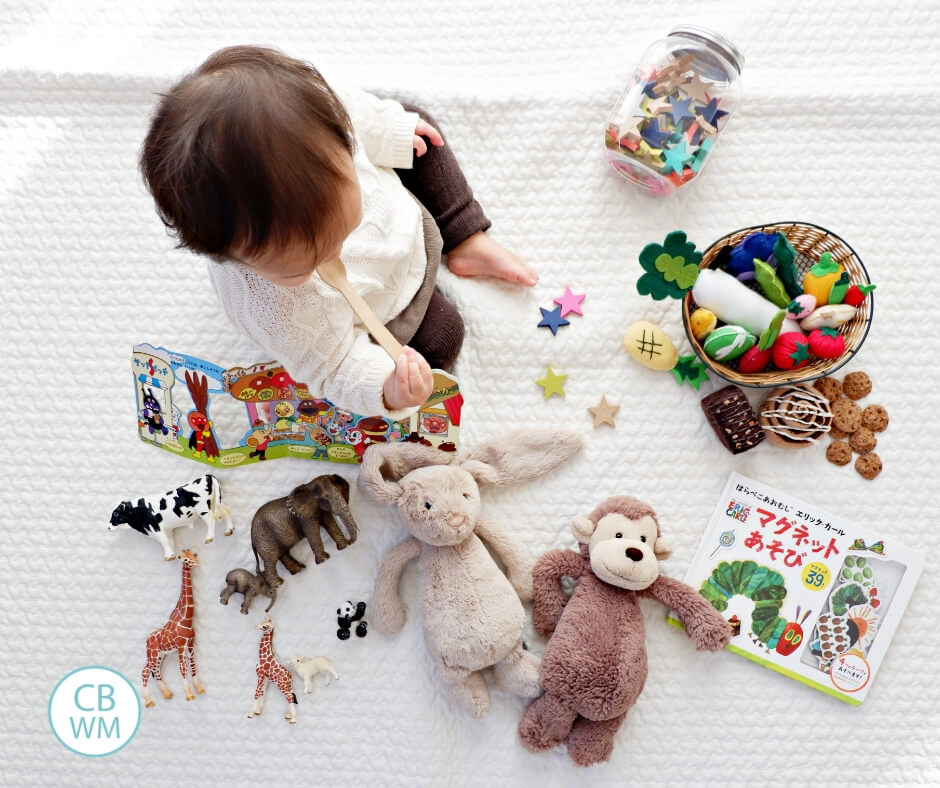 As we look at fun toys for baby in these months, we continue to build on the other ages. The toys start to get more fun for the parents as baby approaches one year.
Easter Eggs: Both of my kids were in this age range at Easter, so Easter eggs became a favorite. I would put little Gerber Rice puffs in the egg or something else fun for them to find once they opened the egg.
Balls: Your baby could easily be interested in balls before this age range, but it is during this age range that your baby will likely start to try to roll the ball to you. When choosing what ball to get your baby, consider your baby's habits. I had thought of a nerf ball for Brayden, but then had visions of him biting chunks out of it since he was a baby and put things in his mouth (though he didn't do it a lot). There are other soft balls out there such as Baby GUND – Playsets – MVB My First Sports Bag
or these Plush Balls from Melissa and Doug. We ended up getting mini balls that were made from the same material as the larger versions. He still plays with them to this day. Spalding NBA Game Ball Mini
Ball Pit: I have a friend with a daughter a few months younger than Kaitlyn. I remember her daughter liked to play in a ball pit. I thought it looked fun: We have this Ball Pit Tent.
Trucks/Cars/Tractors/etc.: This is another toy category that your child may have shown interest in the past, but is just now starting to play with them appropriately. Here are some good trucks for babies in this age range.
VTech Drop and Go Dump Truck: Filling, dumping, and trucks. There is a reason this is a best seller!
Wheels On the Bus: One of Brayden's favorite songs was Wheels on the Bus. My great-aunt got him a Wheels on the Bus toy. It has different things the child can do to make it sing the song. For example, they can open the door and the songs starts, "The doors on the bus go open and shut…" I know other brands also make Wheels On the Bus.
Little People: Your child won't be playing using her imagination yet, but there are Little People toys that will be safe for her to play with and she can have interest in. Some examples are the garage, the farm, and the home: Little People
Pop-up Toys: This is another toy baby could be interested in before this age range, but now starting to be able to really play with it. There are many different kinds out there, from Sesame Street to Thomas. We have a Leap Frog brand. I think the one we have is more difficult for younger babies, but more interesting to them as they get older. Here is a link to a classic one: Playskool Busy Poppin' Pals (Colors May Vary)
Toys to Mimic: As each day passes, your child will want to be more and more like you. This is a fun time to get some toys for your child to mimic you. What you get will depend on interest and ability. Some ideas for this age are phones (some cell phones will be too old for this age range) Cell Phones
. Another idea is brooms Brooms
and this is a vacuum Brayden received for his birthday and loved: Toy Vacuum
. We got a toy stroller for Kaitlyn for her first birthday
. You can also get a doll gear set. Depending on the weather where you are at the time of year, there will also be outside toys to mimic. There is the lawnmower
for example. See this post for more ideas: Baby Stuff I Love: Outdoor Toys.
Puzzles: This is a great age for introducing puzzles to your little one. Peg puzzles are great for this age group. I love puzzles from Melissa & Doug. The jumbo knob puzzles are great for little hands. We also like the puzzles that have sounds with them.
Music: Your baby will love to listen to music now (if she didn't already). We have a lot of different music CDs for kids, and our favorite by far are the Fisher Price ones. Fisher Price CDs
Activity Walker: In this age range, your child is most likely interested in walking. Some will start on their own in this age, some won't. This has been a favorite of my children and every child who enters our home: Musical Activity Walker
VTech Sit-to-Stand: I am not surprised to see this listed among your favorites. We had something similar to this for all of my kids, and I see great demand for these in local classifieds. It is a great toy for little ones.
Bath Toys: By this age, your baby most likely enjoys playing in the tub. This can be a good time to get some toys for the tub: Bath Toys
. See also this post for more details on bath time stuff and toys: Baby Stuff I Love: Bathtime
Books: Along with books previously recommended (Best Toys for Baby ), Vtech has great books for your little one. This is our favorite: Vtech – Rhyme & Discover Book
There are several ideas. Please be sure to share your child's favorite toys for this age range.
Related Posts: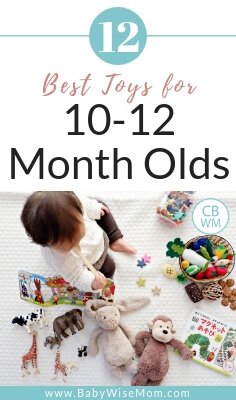 Reader Advice:
Find the best toys for your child's age or for a specific occasion or location.