What Are the Benefits of Sleep Training? How sleep training can help your baby sleep and prevent sleep problems from building up.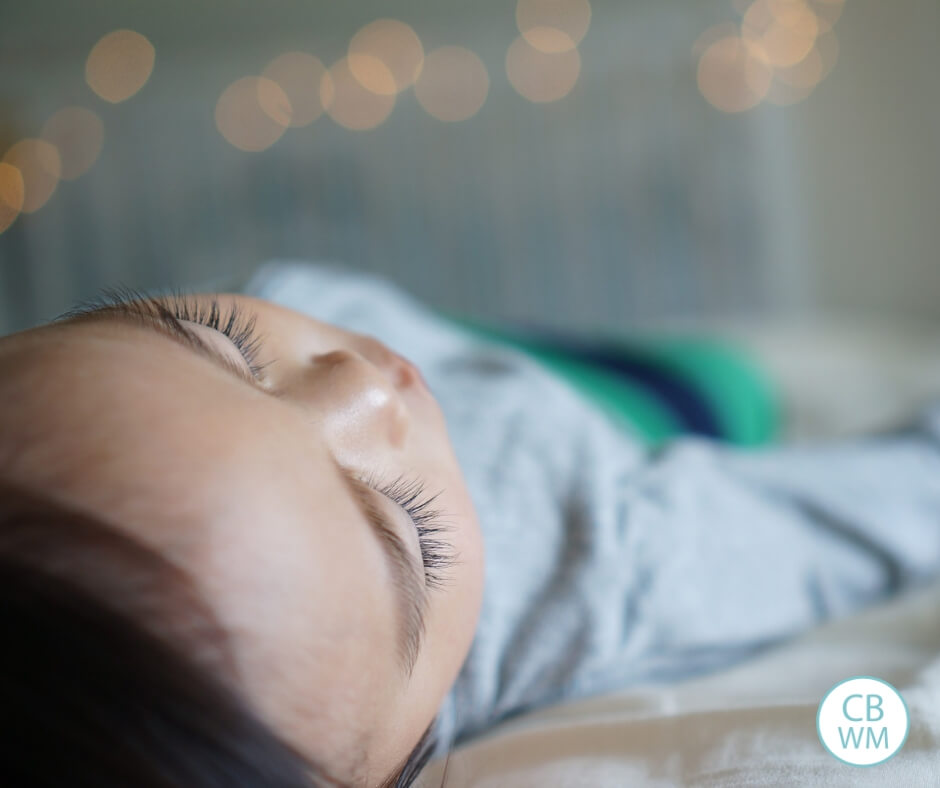 Sleep training is teaching your baby to be able to fall asleep independently. Most people who do Babywise intend to do some form of sleep training, but many wonder what age to start. With my oldest, we started around 9 weeks old. With my second, Kailtyn, we started at 5 days. With my third and fourth, I started right as soon as we came home from the hospital.
Many parents also wonder what sleep training methods to use. With my youngest two, we did the Four S's for sleep training, which involved little to no crying. With my first two, I didn't know about the Four S's, so we did Cry It Out (CIO).

Because we started so much sooner, CIO was faster for Kaitlyn than it was Brayden (started at 9 weeks). I really think babies are born knowing how to soothe themselves, then we teach them to be dependent upon us soothing them in some way. Here are my thoughts on CIO.
Sleep Training Benefits
There are so many benefits. Imagine going out of town or to visit a friend or family and you can just easily put your baby in bed for naps and nighttime. CIO is also a good step toward developing self-control, which I think is kind of the bigger picture of the BW method down the road. There is so much you are going to want to teach your child, and a person who has control over their appetites and temper and impulses is going to have an easier time getting through life. Your child will get more sleep. You will get more sleep. You will have more time to do anything from the dishes to hobbies you enjoy. Mentally and physically, it benefits the whole family.
Great Sleep Training Books
Best Age to Sleep Train Baby
The answer to this depends on you.
Start when you think your baby is ready for it. Not when you think they won't cry at all (that day won't come), but when you think they were ready. You will know. I sensed

Brayden

was ready at 3 weeks, but I wasn't ready. This brings me to my second point.
Start when you are ready. You need to be committed and ready to endure crying. It isn't easy. But you need to let your baby

CIO

. If you can't, don't do it.
Don't start if your baby is sick, don't start if your baby is teething, don't start if you are moving, don't start if you are about to travel….etc.
Be aware that it won't get easier as your baby gets older. Your baby will start to be able to wiggle around the crib, potentially getting him/herself stuck in a corner. Your baby will eventually be able to sit up and stand up. Your baby will get more stubborn. Your baby will learn to talk and yell "Mama!" Keep these things in mind when deciding what age to start. Also, the older they get the louder their cry is. That is something to consider if you have older children or close neighbors. I like starting young because there are fewer factors to consider. Older babies getting into

toddlerhood

start to have nightmares and have fears. And while a lot of children never

CIO

and can sleep just fine, I know several people who never did

CIO

with their children and now have 5 year

olds

who still have never slept through the night and end up in bed with them every night. One friend changed things with her second and did

CIO

and her 1 year old sleeps better than her 5 year old. My sister-in-law changed nothing and they bought a king size bed to fit their 5 year old and 2 year old in bed with them. So keep that in mind when you are deciding if

CIO

is for you or not. I think those cases are rare, but they do happen.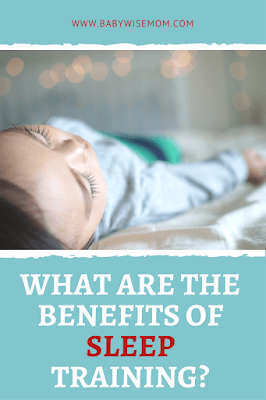 Poll Results: What age did you start CIO (approximate)?
Results:
1 Week: 4 votes (13%)
1 Month: 6 votes (20%)
2 Months: 7 votes (24%)
3 Months: 5 votes (17%)
4 Months: 1 vote (3%)
5 Months: 2 votes (6%)
6-12 Months: 4 votes (13%)
1 year or older: NO votes
Total of 29 votes
Other Cry It Out Sleep Training Posts on This Blog
Cry It Out Sleep Training Experiences:
kindra

said…
In response to your post: I started with my baby girl at 5 weeks. I had been reading the book when I was pregnant, and loved how the parenting philosophy and strategies fit in with my own. When my daughter was born, my husband asked our lactation consultant nurse about schedules and she had terrible things to say about schedules and in particular

BW

. This scared my husband and myself off, since we were first time parents and wanted to make sure we did everything right. By 5 weeks I was EXHAUSTED and sick of the unpredictability. I would rock her to sleep and lay her in her crib thinking "okay I can FINALLY sleep now, and she will PROBABLY sleep for 2 hours"…20 min later as I was just nicely dozing she was waking up! A friend at church that week suggested

BW

, and they are the parents of 5 amazing kids and then I remembered all the other amazing parents and kids we knew who had used

BW

and I picked it up again, and from that day on, my baby started crying it out. By 5 weeks, she was very used to me rocking her to sleep and being held as she fell asleep, so she would cry for up to 45 minutes sometimes, but by week 2 that had shortened to 30 minutes, and each successive week it was shorter still. She now no longer cries, or if she does it is only a bit of a whine for 5 minutes. Even though the nurse had "scared" us off of it at first, it was almost kind of a blessing in disguise. My baby had problems nursing (which we didn't know about) and she was feeding for up to an hour and a half and still screaming. I assumed she was colicky, but by 2 weeks I had had enough and saw a lactation consultant. We figured out our nursing problem and started supplementing her with formula. Suddenly we had a happy baby on our hands! I think if I had tried to do

BW

at this time, not knowing what was going on I would have been very frustrated (I already was)…so definitely if you have feeding problems it is NOT the time to start crying it out. You want to make sure you have all that other stuff under control first. Anyways, I love

BW

and have no regrets about using it! Thanks again for your awesome blog!
February 7, 2008 1:03 AM


Plowmanators

said…
Thanks

Kindra

! Thanks for sharing your experience. I am glad you found us.
February 7, 2008 9:54 AM
Reader Questions:
Sleep Training Tips and Info
These posts will help you sleep train your baby with confidence. Learn how to sleep train in the method that best suits you and your baby.
We are sorry that this post was not useful for you!
Let us improve this post!
Tell us how we can improve this post?