What Are the Benefits of Sleep Training? How sleep training can help your baby sleep and prevent sleep problems from building up.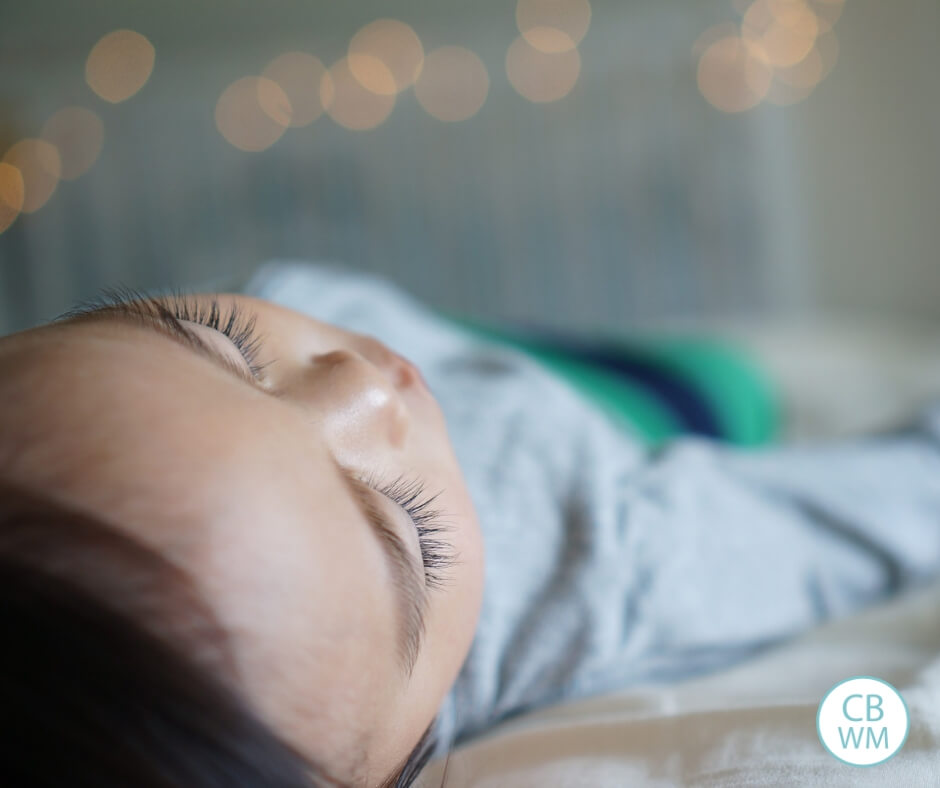 Some infants are born great sleepers. They fall asleep easily on their own and sleep well. They just seem to love sleeping
Most, however, are not like this. They need some help learning to sleep and need their parents to help them in this department.
Enter sleep training.
What Is Sleep Training
Sleep training is teaching your baby to be able to fall asleep independently.
This means baby can fall asleep without a certain person, certain prop, or certain item.
You will put baby down for a nap or down for bedtime while your baby is fully awake. Your baby will be in her own bed and will fall asleep alone!
To get to that end-goal, you have to teach baby to be able fall asleep independently.
The term "sleep-training" is used to refer to a wide array of sleep training methods.
Sleep Training Benefits
There are so many benefits to sleep training.
Your baby will get more sleep.
As your baby grows to be a toddler, preschooler, tween, teen, and adult, they will get more sleep.
All people wake as they transition between sleep cycles. A baby does this about every 45 minutes. If your baby cannot put herself to sleep, she is more likely to fully wake at these transitions rather than move into the next sleep cycle.
>>>Read: What is a Sleep Transition (and How Does It Impact Naps)
If your baby can sleep independently, you will get more sleep.
You will have more time to do anything from the dishes to hobbies you enjoy.
Mentally and physically, it benefits the entire family.
Studies show that mothers who get enough sleep have lower incidences of maternal depression. Maternal depression has as a negative affect on baby and on the attachment between mother and baby.
Imagine going out of town or to visit a friend or family and you can just easily put your baby in bed for naps and nighttime as you do at home.
Being an independent sleeper is also a good step toward developing self-control. This is a HUGE life skill.
There is so much you are going to want to teach your child, and a person who has control over their appetites and temper and impulses is going to have an easier time getting through life.
The Importance of Sleep
We all know we feel better when we get enough sleep. Do we know that it is incredibly vital?
Sleep benefits baby's brain development and physical development. Sleep helps the brain grow and mature. Sleep helps memory.
Sleep helps with learning. The brain processes what it learned while the body sleeps.
Sleep also helps with babies' development and growing a healthy body. Children who get enough sleep are less likely to be obese. Getting enough sleep protects against illness. Sleep improves immune systems.
Sleep also improves overall mood, the ability to function and complete tasks, and the likelihood of obedience to rules. Daytime behavior will be more pleasant if your kiddo is well-rested. Baby's temperament will be improved by healthy sleep.
>>>Read: 5 Vital Reasons to Establish Good Sleep Habits
If you need more convincing, a great book on the topic is Healthy Sleep Habits, Happy Child.
When to Start Sleep Training
There is no right one age for sleep training. Most people who do Babywise intend to do some form of sleep training, but many wonder what age to start.
With my oldest, we started around 9 weeks old (so just over two months of age). With my second, Kailtyn, we started at 5 days. With my third and fourth, I started right as soon as we came home from the hospital.
The short answer is you want to start when your baby is ready and when you are ready.
There are many different sleep training methods (discussed below). The method you choose might affect what age you want to start (but it doesn't have to).
What you want to avoid is starting sleep training, then quitting because you can't handle it, then starting again, then quitting, etc. That isn't fair to baby.
So as you decide if it is time to sleep train or not, consider this list:
Be aware that it won't get easier to sleep train as your baby gets older.
Your baby will start to be able to wiggle around the crib, potentially getting him/herself stuck in a corner. Your baby will eventually be able to sit up and stand up.
Your baby will get more stubborn. Your baby will learn to talk and yell "Mama!" Also, the older they get the louder their cry is. Keep these things in mind when deciding what age to start. You also will be breaking habits while starting new habits.
I like starting young because there are fewer factors to consider. Older babies getting into toddlerhood start to have nightmares and have fears.
How to Sleep Train Your Baby
Many parents also wonder what sleep training methods to use.
There are many options. This is a parenting situation when the HOW does not matter. Your WHY (end-goal) is to get baby sleeping independently. It doesn't matter what path you take to get there. So figure out what sounds best for your baby and your family.
People find success with all of the different approaches.
You will need to choose the method you think suits your baby the best.
Make sure it is about your baby.
Some methods might seem easier to you (they hurt your heart less), but they are harder on baby.
Some babies are okay with a parent being in the room while they fall asleep while it is upsetting for other babies. What was best for your sister's baby might not be what is best for your baby.
And what was best for your oldest might not be the best method for your youngest.
The bottom line is this is for baby, make it about baby.
Cry It Out
One of the best known sleep training methods is cry it out.
Under the term cry it out are several different methods.
Essentially, cry it out means you put baby to sleep awake. Baby might cry. Baby stays in bed until baby falls asleep.
Cry it out is not easy, but it is effective and typically very fast.
>>>Read: Everything You Need to Know About Cry It Out
Because we started so much sooner, CIO was faster for Kaitlyn (started at 5 days) than it was Brayden (started at 9 weeks). I really think most babies are born knowing how to soothe themselves, then we teach them to be dependent upon us soothing them in some way.
For help with the cry it out method, see:
Extinction Method
The Extinction Method is another form of cry-it-out. I would describe this one as more intense. This basically involves ignoring all crying. You can read How to Use the Extinction Method for Sleep Training for more.
Controlled Crying or Ferber Method
The controlled crying, or Ferber method, uses a graduated cry it out. With this method, you gradually increase the length of time you wait before checking on your baby.
You increase the intervals between check-ins.
So you might start by waiting 5 minutes before going in and comforting baby. Then you wait 10 minutes. Then you wait 15, etc. Interventions become more infrequent as time goes on.
This method can be easier on parents and cause less stress for them. It can be easier on some babies, but it can be confusing for others. Be mindful if it seems to benefit your baby or not.
4 S's
This is my favorite sleep training method and the one I most recommend. This was created by the Baby Whisperer.
With my youngest two, we did the Four S's for sleep training, which involved little to no crying. With my first two, I didn't know about the Four S's, so we did Cry It Out (CIO).
The 4 S's is best when used from birth or at a very young age. It will work best if your baby is a newborn. This method really trains you to time baby's naps correctly and helps set up baby for success.
Pick/Up Put Down
This is another no-cry sleep training method created by Tracy Hogg, the Baby Whisperer. This is intended for older babies who need to learn to fall asleep independently. Read more about it here.
Camping Out Method
With this method, you essentially stay in your baby's room (camp out). You try to not talk and you do not pick baby up. Your presence should calm baby. You sleep in the room.
Over time, you will move further away from your baby until baby doesn't need you there to fall asleep anymore.
Chair Method
This is very similar to the gaming out method. This is a gradual sleep training method.
You put your baby down awake, but drowsy. Then you sit in a chair next to the crib until baby is asleep.
You just sit. You do not talk to baby, touch baby, or make eye contact with baby.
Every few days, you move the chair close to the door until you are out of the room.
Great Sleep Training Books
Poll Results: What age did you start CIO (approximate)?
Results:
1 Week: 4 votes (13%)
1 Month: 6 votes (20%)
2 Months: 7 votes (24%)
3 Months: 5 votes (17%)
4 Months: 1 vote (3%)
5 Months: 2 votes (6%)
6-12 Months: 4 votes (13%)
1 year or older: NO votes
Total of 29 votes
Other Cry It Out Sleep Training Posts on This Blog
Cry It Out Sleep Training Experiences:
Reader Sleep Training Questions:
Sleep Training Tips and Info
These posts will help you sleep train your baby with confidence. Learn how to sleep train in the method that best suits you and your baby.
This post originally appeared on this blog in November 2007