Babywise sleep training. Babywise sleep method and how to sleep train according to On Becoming Babywise.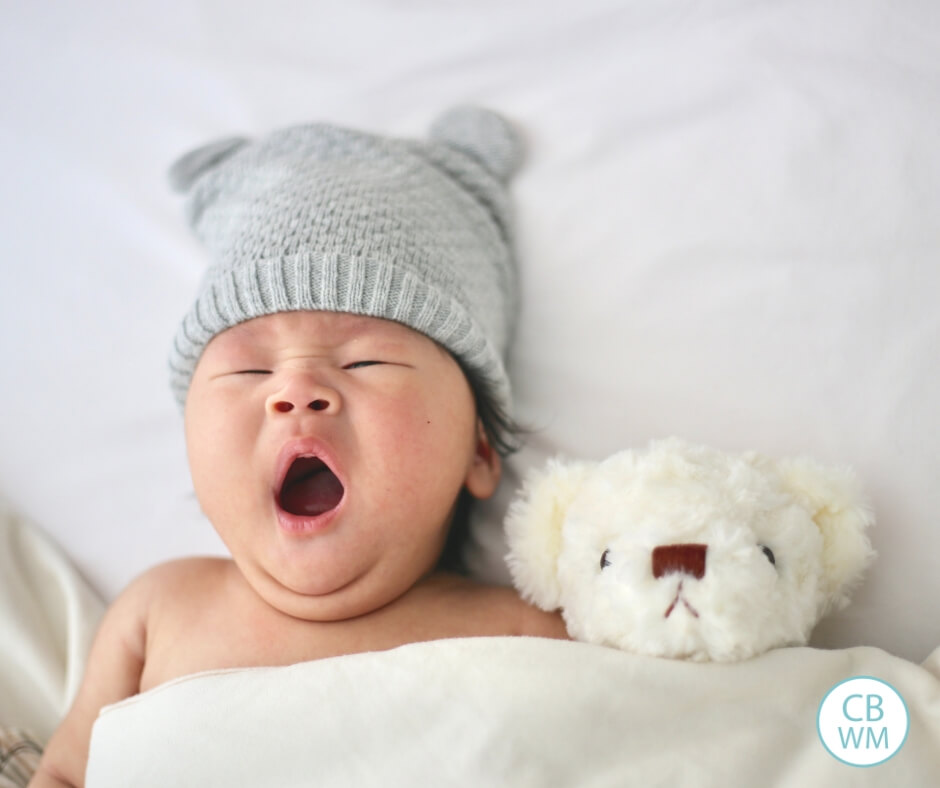 On Becoming Babywise is an amazing way to set up a sleep schedule for your baby. The Babywise method follows a simple eat wake sleep cycle that can be used for babies of all ages, from newborn to your 6 month old. Infant sleep can be hard to come by, but the Baby Wise method helps you establish great sleep habits.
An important part of the Babywise method is consistency and establishing a sleep routine. Part of this routine is allowing your baby to self-soothe. Learning to sleep without props is a valuable life skill for your little one, and imperative to having success with your sleep schedule.
There are a lot of misconceptions about what is sleep training according to Babywise. Many people have come to assume that in order to be successful with the Baby Wise program, you need to put your baby in bed awake and leave him there until the next feeding time, no matter what. This is never actually stated in the book On Becoming Babywise, however.
So what is Babywise sleep training exactly? What does Babywise say about sleep training? What doesn't it say? Do you really need to sleep train a baby? How do you sleep train a Babywise baby? What are some good sample sleep schedules? Let's discuss.
---
Learn all about Babywise in: How To Do On Becoming Babywise
---
What Babywise Says About Sleep Training
Many people really have a negative view of sleep schedules. No method seems to take as much heat as the Babywise methods when it comes to sleep training.
My personal view on what sleep training according to Babywise has basically been that you need to figure it out for yourself. Find a sleep training method that works for you and go with it. As far as baby sleep guides go, Baby Wise does not walk you through exactly how to sleep train your baby.
This is a beauty of Babywise. The Babywise sleep training book is a book that tells you what to do when the exact how matters and let's you make the decision on the "how" when the exact method does not matter. Babywise is Parent Directed (PDF).
You know from reading On Becoming Baby Wise that you want your baby to be able to fall asleep on his own. Yes, you really need your baby to be able to fall asleep independently to establish solid sleep habits. You understand the reasoning of why it is good for a baby to learn to self-soothe once you read the book. This skill is necessary to move toward your baby being able to sleep through the night.
You also know that Gary Ezzo and Robert Bucknam say it might take some crying to achieve this self-soothing capability. But there is no step-by-step program outlined in the Babywise method about how to teach to self-soothe.
Contrary to popular Babywise controversy floating around the internet, Babywise does not say to leave your baby in the crib to cry and scream indefinitely.
How I Sleep Trained My Babywise Babies
With Brayden, my oldest, I read no books to help me know how to teach him to self-soothe. I only read the book On Becoming Babywise and used nothing else as a guide. I created a cry it out sleep training program myself based on what I knew about him. We started some cry it out around 9 weeks old.
With Kaitlyn, my second, I used a similar method but modified it for her personality.
I wrote all about how I used cry it out to sleep train my first two babies in my Cry It Out Bootcamp post.
My biggest tip to anyone trying to sleep train a baby, using any method, is to find your baby awake time. How long can your baby handle being awake before needing to take a nap again? If you time that correctly, you will get great naps. Once I figured this piece of the puzzle out, baby sleep became a breeze. Read all about how I find Optimal Wake Time here.
With McKenna, my third child, I had read The Baby Whisperer Solves All Your Problems and decided to try out her four S's idea to help McKenna self-soothe. I loved it. Read all about how we used this gentle sleep training method here: Gentle Sleep Training: The Four S's .
McKenna slept for over two months, from birth, without ever crying at all. At three months old, we started to cry it out for sleep training but it was very short-lived, I believe because she already had the self-soothing skills.
With Brinley, my fourth child, I went with The Four S's again. She never had a cry it out sleep training time.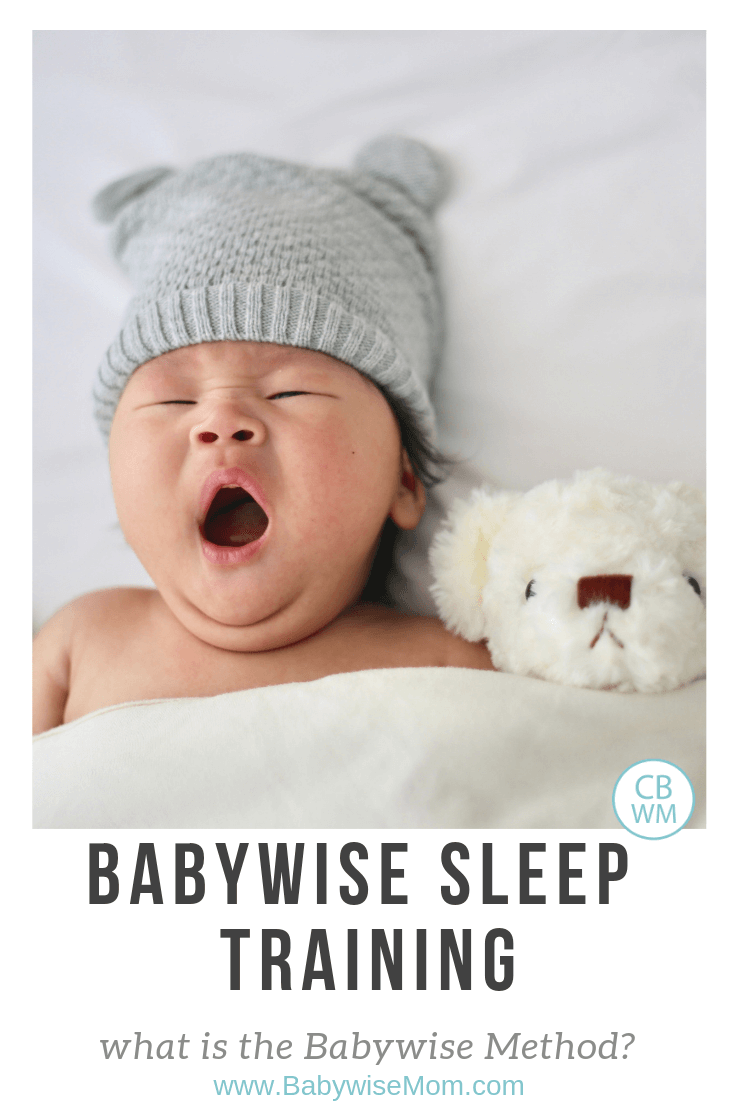 Sleep Train You Baby Wise Baby
You do not have to use "cry it out" or extinction method for sleep training in order to use Babywise. You absolutely can, but you do not have to in order to be successful with the Babywise method.
All you need to do is help your baby to learn to self soothe independently and without sleep props.
That is it. Your goal is baby falling asleep independently. You can use any specific sleep training method to get there.
There is nothing wrong with reading other books to help guide you through the cry it out process or to help you teach your child to self-soothe without using cry it out. There are a lot of sleep training methods out there. There is the method by Ferber in Solve Your Child's Sleep Problems, the method by Weissbluth in Healthy Sleep Habits, Happy Child, and the method by Hogg in The Baby Whisperer Solves All Your Problems.
---
Read: The Best Baby Sleep Training Books to Get Baby Sleeping
---
I know there are many more books out there. I, myself, have written guides on how to do sleep training successfully on this blog (see related posts below). I hope that as you read these books and blog posts, you will take them as good information and not solid doctrine. You really do need to apply what is best for your individual child.
All four of my children have taken three different paths toward self-soothing. The end result is the same. How you get there is not what is important. Figure out what works for your little one.
Is it hard? Yes! It is hard to get to know this new little person. There are many important variables to cover. For example, McKenna liked to wear socks for naps. She sleeps better if she has them on. Kaitlyn slept better without socks.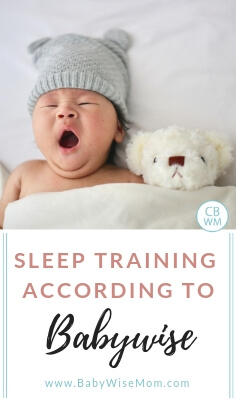 Figuring details like this out will not happen in two different naps sessions. There are too many other factors to consider to be able to just do one nap with socks ad one without to see which your baby prefers. This is something you figure out over time. It will take a lot of thought and effort on your part.
Finally, my friend Rachel did a summary of what Babywise says about sleep training called Sleep Training- BabyWise. I encourage you to read it so you can see at a glance what sleep training is according to Babywise. The method is very ambiguous.
This is a common theme among the Babywise books. The books focus more on "why" than "how." I know that is frustrating for some, but understand that it really is best in the long run. There are plenty of books out there that can offer you good ideas on how to accomplish your goals, such as The Baby Whisperer. I offer ideas here, also.
But if you don't understand why, you won't ever be able to be consistent on your own. Remember that as you are sleep training, you need to design the best course of action for your individual child.
---
Are you wondering when to start Babywise? The time is now, whenever that is. Read my guide on starting Babywise late here.
---
Sample Sleep Schedules
It always helps to see sample sleep schedules and a good Babywise schedule. I have a whole lot of Baby wise schedule posts with lots of Babywise sleep schedule help.
If you are looking for a good Babywise newborn schedule, start with my Babywise Sample Schedules the First Month post. From there, you will see links to all of my subsequent schedules for each month.
Another very helpful post on this blog is my Babywise Sample Schedules post for the entire first year of baby's life. You get multiple sample schedules for all ages.
If you are seeking some good ideas for an effective nap routine, see my Sample Nap Routines post.
Great Sleep Training Books
Related Posts
Buy my book The Babywise Mom Nap Guide to get more in-depth help with sleep!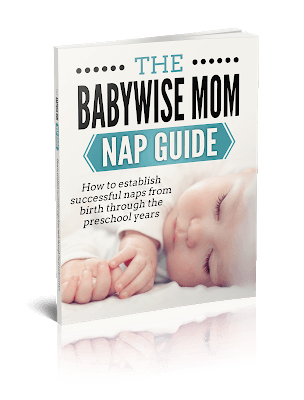 Get the whole Babywise Book Series here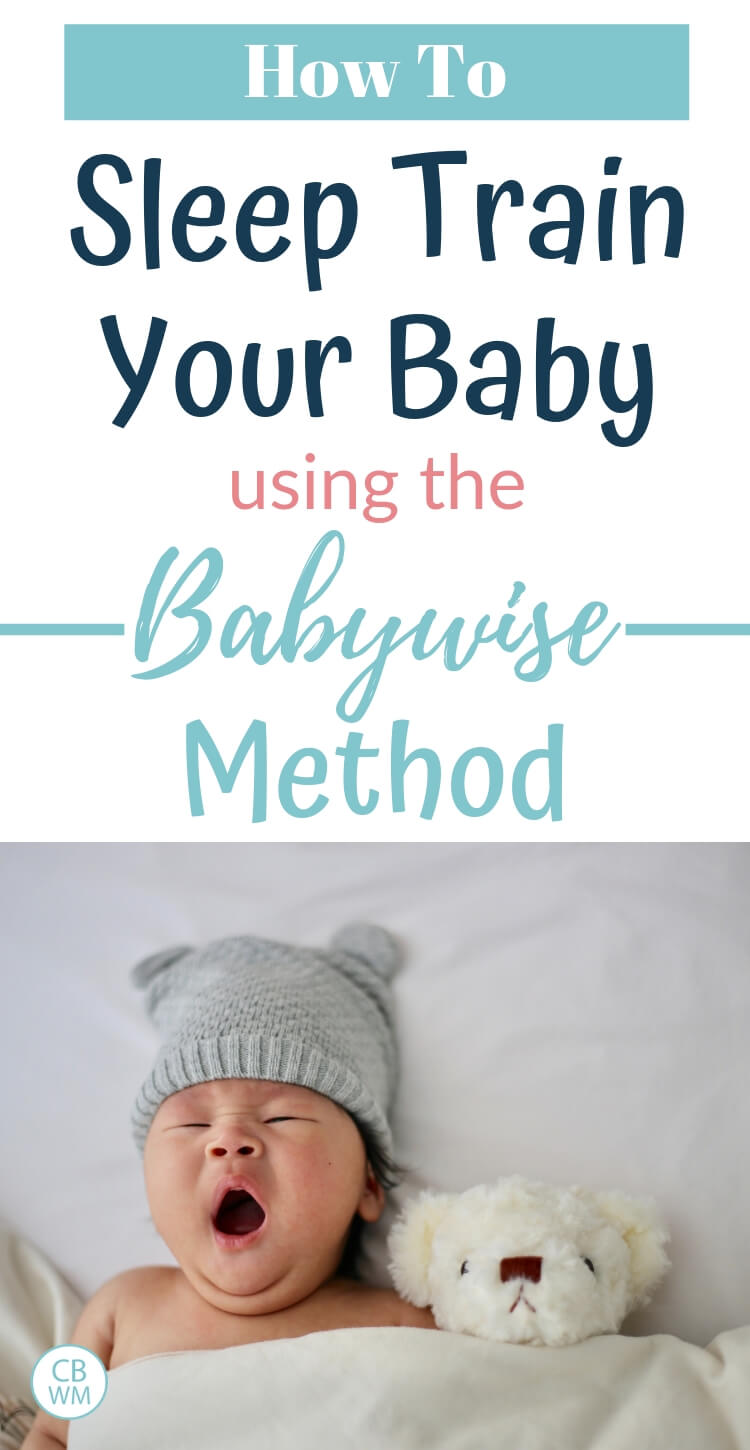 Sleep Training Tips and Info
These posts will help you sleep train your baby with confidence. Learn how to sleep train in the method that best suits you and your baby.