This post lists my most recommended toys for children. This will be ideally the age range of 5-8 years old. There may be four year olds who like things listed here and there may be nine year olds who like the things listed here. I have a post for four years old toys. I also have preteen ideas in Preteen Boy Gifts and Preteen Girl Gifts.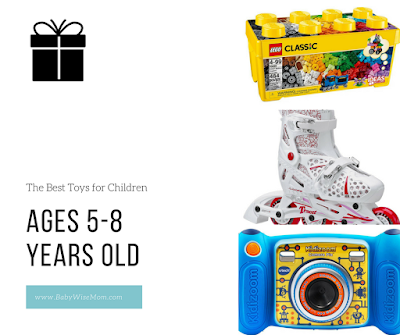 As you are adding toys to your collection, add only toys you think your child will love and don't add too many. If you are like me, you want to get SO MANY of the toys out there. The day will come, however, that you will wish you had fewer toys. So choose wisely and don't overdo it. This post contains affiliate links.
OLD FAVORITES
I always start off these posts with talking about you looking at old favorites. Are there collections your child loves that you can build on? Does your child have a train collection you can add to?
LEGOs
We love LEGOs at our house! These are toys I haven't minded getting over the years because all four of my childre have loved them and the possibilities are endless with these toys. This is a good starter set. LEGOs require a lot of creativity and build up fine motor skills. You can build on them over time, also.
ART and CRAFT ITEMS
Kids in this age range seem to move less from playing with toys and more toward using toys to create things. They might be creating an imaginary world or they might be literally creating crafty things. Perler beads are fantastic for kids in this range, and they stay popular into the preteen years, also. My girls have also loved this Klutz book for making friendship bracelets. A rainbow loom is another great craft toy. Playdough is a huge hit and was a favorite of both of my younger children. Kaitlyn has loved and still loves today as a preteen how to draw books. Stamps are fun.. We love Melissa and Doug stamps. Beyer paint animals are cute animals that are white that you can paint to look like how you want. Cat's cradle is a fun game that is pretty craft-oriented.
BIKES AND SKATES
My children love to rollerblade. We started off with these very inexpensive rollerblades when they were younger. They are great. A bicycle is another great gift. This is one we have gotten in boy and girl style and really like. Outside toys are great gifts. I have written on my favorite outside toys and the ones that I think are worth the money to get.
DRESS UP
Dress up is super popular in this age range. Something simple like a cape or cloak can go a long way. Shoes and dresses are fun. We always let our children keep their Halloween costumes each year and just add them to the tote of play clothes. It isn't only girls who like to dress up, so dress up items are great for boys and girls.
STUFFED ANIMALS
My girls all LOVE stuffed animals. I have shared several times that their favorite is Beanie Boos. They are super cute.
NERF

My son and his friends all enjoyed (and honestly enjoy still at 12) NERF guns. They love to shoot each other and have NERF gun wars.
CAMERA

All of my children have loved having a camera. They love taking pictures and looking at the pictures they have taken.

SAXOFLUTE

This is a toy I got for Brinley and she LOVES it. The saxoflute is a musical instrument your child can build, which changes the way things sound. While this is fun, it might drive you crazy if you have a napping baby at home, so proceed with caution.


GAMES
Board games are fantastic for this age range and so fun. I have written several posts on our favorite games because we just love games here! Here they are:
DOLLS/FIGURINES/TRUCKS 
Little figurines and dolls are toys this age group will still play with. I would add to this trains, trucks, cars, etc. My Little Pony, babies, barbies, plastic animals, comic toys, princesses
Did I leave off your child's favorite? Comment and let me know!
Great Toys
If you are looking for the perfect toy for your child, look through my "best toys" lists:
You will also find good info in my various toy reviews:
We are sorry that this post was not useful for you!
Let us improve this post!
Tell us how we can improve this post?