Over 55 Gift ideas for your 5 year old, 6 year old, 7 year old, and 8 year old! Find the perfect toy for your kid. These are the best child toys for this age range.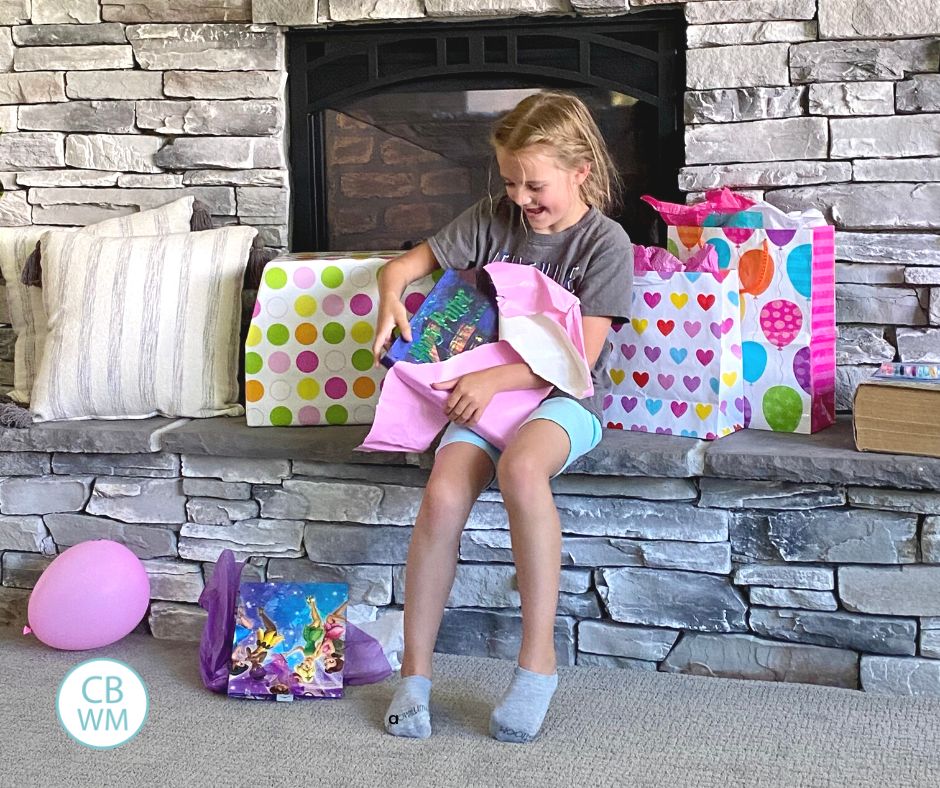 This post lists my most recommended toys for children who are 5-8 years old. There may be four year olds who like things listed here and there may be 9 year olds who like the things listed here.
I have a post for four years old toys. I also have preteen ideas in Best Tween Gift Ideas They ACTUALLY Want!.
As you are adding toys to your collection, add only toys you think your child will love. You also don't want to add too many.
If you are like me, you want to get SO MANY of the toys out there. The day will come, however, that you will wish you had fewer toys. Having too many toys is overwhelming to the child. It also makes it hard for kids to keep their toy area clean. So choose wisely and don't overdo it.
So let's talk about the best children toys so you focus in on great toys for kids.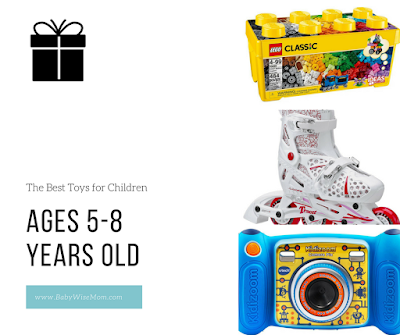 This post contains affiliate links.
OLD FAVORITES
I always start off these posts by talking about you looking at old favorites. Are there collections your child loves that you can build on? Does your child have a train collection you can add to? Do you have a kiddo collecting My Little Ponies?
Build on those favorites. You already know your child enjoys playing with those things and you already have space to store those toys.
LEGOs
We love LEGOs at our house! These are toys I haven't minded getting over the years because all four of my children have loved them and the possibilities are endless with these toys. This is a good starter set.
LEGOs require a lot of creativity and build up fine motor skills. You can build on them over time, also. You can also get LEGO sets in favorite characters, like Marvel or Harry Potter.
If your child loves LEGOs, they might enjoy other building sets. Magnetic tiles, k'nex, and moon toys to name a few.
>>>Read: 7 Building Toys Your Children Will Love
ART and CRAFT ITEMS
Kids in this age range seem to move less from playing with toys and more toward using toys to create things.
They might be creating an imaginary world or they might be literally creating crafty things. Perler beads are fantastic for kids in this range, and they stay popular into the preteen years, also.
My girls have also loved this Klutz book for making friendship bracelets.
If you have a child who is interested in art, look up Klutz Books. They have books for clay charms, lettering, folding airplanes, window art, drawing Star Wars, pipe cleaner, finger nails…so many creative things!
A rainbow loom is another great craft toy.
Playdoh is a huge hit and was a favorite of both of my younger children. If your child already has Playdoh, add in some tools for playing a fun kit.
Kaitlyn loved how to draw books. She enjoyed those through her tween years, also.
Kaitlyn loves art. This How to Draw Animals book was quite popular with her in this age range. She improved at drawing animals quite a bit also!
Stamps are fun. We love Melissa and Doug stamps.
Paint animals are cute animals that are white that you can paint to look like how you want. These are great for animal lovers. We have often given these out as gifts.
Cat's cradle is a fun game that is pretty craft-oriented. I loved this as a kid and Kaitlyn and he friends really got into it, also.
Another good art toy idea is a Spirograph.
Your child might enjoy nice markers, oil pastels, or paints. My kids loved just getting a ream of paper!
An LCD writing tablet is GREAT for coloring in places you don't want to risk mess. It is also great for somewhere like the car so the pen doesn't get dropped into the abyss on a road trip.
If you aren't sure what to get, take a walk in your favorite craft store and you will be sure to find a craft kit your kiddo would enjoy.
BOOKS
Books are a must-have category for me at any Christmas, birthday, or Easter. If I am giving gifts, books will be included. Books make the best gifts.
Kids in this age range will still enjoy picture books but can also start chapter books. You can get simple chapter books they can read independently. You can also get chapter books that you can read aloud together. This is a great age to start to read Harry Potter.
Graphic novels can also make great gifts. Some of us (myself included) can really cringe at the idea of a graphic novel, but reading experts stress that reading comics and other simple writings are completely okay. We want kids to love to read.
I don't want my kids only reading graphic novels, but reading some certainly won't hurt anything. A fun set for this age range is Baby-sitters Little Sister Graphic Novels.
Get more book ideas in these posts:
STEM TOYS
There are so many fun STEM or STEAM toys out there! STEM is great for developing problem-solving skills.
My kids loved having a toy robot in this age range. My kids have also enjoyed a science kit. These are really fun for learning time at home.
Brayden loved a Snap Circuits toy that focused on electrical projects.
You might also look into 3D Pens and see if you think this would be something your child could use.
BIKES, SKATES, and SCOOTERS
My children love to rollerblade. We started off with very inexpensive rollerblades when they were younger. For kids in the 5-8 year old age range, you will definitely want to get adjustable inline skates. Their feet grow so quickly that you need to be able to adjust the size.
A bicycle is another great gift. This is one we have gotten in boy and girl style and really like.
A scooter is a lot of fun for any kid. This can be used for any child in this age range! We like the Razor scooters.
OUTSIDE TOYS
Outside toys are great gifts. I have written on my favorite outside toys and the ones that I think are worth the money to get. Outside toys get your kids outside playing in the backyard and expending energy! Think about sand toys, water toys, snow toys, sports equipment, and chalk.
At age 7, McKenna also loved playing with a skipper and a hula hoop. She loved to be active and play outside, so these toys were always a big hit.
DRESS UP
Dress up is super popular in this age range. Kids can be firefighters, police officers, princess, and Star Wars characters all in the same day!
All of my 8-year-olds primarily played with dress up clothes and accessories. It allows for endless hours of imaginative play.
Something simple like a cape or cloak can go a long way. Shoes and dresses are fun. We always let our children keep their Halloween costumes each year and just add them to the tote of play clothes. It isn't only girls who like to dress up, so dress-up items are great for boys and girls.
Thing of little details. What accessories can you add? Think of jewelry, hats, gloves, belts, bags. etc. When McKenna was 7, we got her some fancy gloves for dress up. A little tip on getting things like gloves, don't just look at toy dress-up options. Look at women's options, also. They often have inexpensive versions that are still nicer than a toy dress up version.
Right around age 7-8, both Kaitlyn and McKenna had had an affinity for hand fans. You can get nicer ones for really inexpensive on Amazon.
You can also get a pretend play makeup set for the little girl who wants to be just like her mommy.
PLASTIC ANIMALS
These were a huge hit for me when I was a child, and my children love playing with them, also. If you have animal lovers at your house, plastic animals are a great option. I would say this is great for the 4-9 year old crowd. There are so many fun sets to choose from on Amazon.
You can also get a plastic dino set if your child is more into dinosaurs!
STUFFED ANIMALS
My girls all LOVE stuffed animals. I have shared several times that their favorite is Beanie Boos. They are super cute.
Another fun one right now is the Squishmallow. It is super soft and cuddly. This is a great toy for kids who love to hug and cuddle.
Another unique stuffed animal is a Cutetito. These are stuffed animals wrapped in a plush soft taco shell. They each have a unique smell, too, so it adds in a lot of sensory elements.
This is the favorite gift category of Kaitlyn's in this age range. She loved stuffed animals. For Christmas, it was a Boa Constrictor. For her birthday, a peacock. Can I just say I am so glad the Internet exists so I can order such obscure things from Amazon? Otherwise, she would be quite disappointed!
NERF
My son and his friends all enjoyed NERF guns. They loved to shoot each other and have NERF gun wars. My kids all enjoyed it, too.
HOT WHEELS
Hot Wheels are a classic toy that can make a great gift AND great stocking stuffers. These are great for the kid who loves to play with cars. Their mini size is handy for taking these with you in your purse when you go out to help your child stay occupied.
CAMERA
All of my children have loved having a camera. They love taking pictures and looking at the pictures they have taken. Don't forget to get batteries if you get a camera.
SAXOFLUTE
This is a toy I got for Brinley and she LOVED it. She often still uses it at age 10.
The saxoflute is a musical instrument your child can build, which changes the way things sound. While this is fun, it might drive you crazy if you have a napping baby at home, so proceed with caution.
Having four kids can make it hard to figure out what to get your fourth child for gifts. One year, a reader told me about the Playmobil sets and the zoo set specifically. We got this for Brinley and she loved it! There are a lot of fun Playmobil sets, so you can find one in a category your child will love.
>>>Read: 8 Different Styles of Puzzles You Should Get for Kids
GAMES
Board games are fantastic for this age range and so fun. McKenna's favorite game at age 7 was Math Dice. Another game this age group gets a kick out of is Pie Face Showdown.
Card games make great stocking stuffers or easter basket stuffers. A favorite card game here was Sleeping Queens.
I have written several posts on our favorite games because we just love games here! Here they are:
DOLLS/FIGURINES/TRUCKS
Little figurines and dolls are toys this age group will still play with. I would add to this trains, trucks, cars, construction toys, etc. My Little Pony, babies, Barbies, comic toys, princesses, and action figures.
DEVICES
Something like a Kindle or an iPad can be a good gift.
VIDEO GAMES/APP SUBSCRIPTIONS
Think of a video game or game console your child might like. We always like Super Mario games and also LEGO video games.
If your child has a favorite app she plays, a subscription is a fun idea. Brinley has gotten an Animal Jam membership for a few years now.
MORE GREAT TOYS
If you are looking for the perfect toy for your children in other ages, look through my "best toys" lists: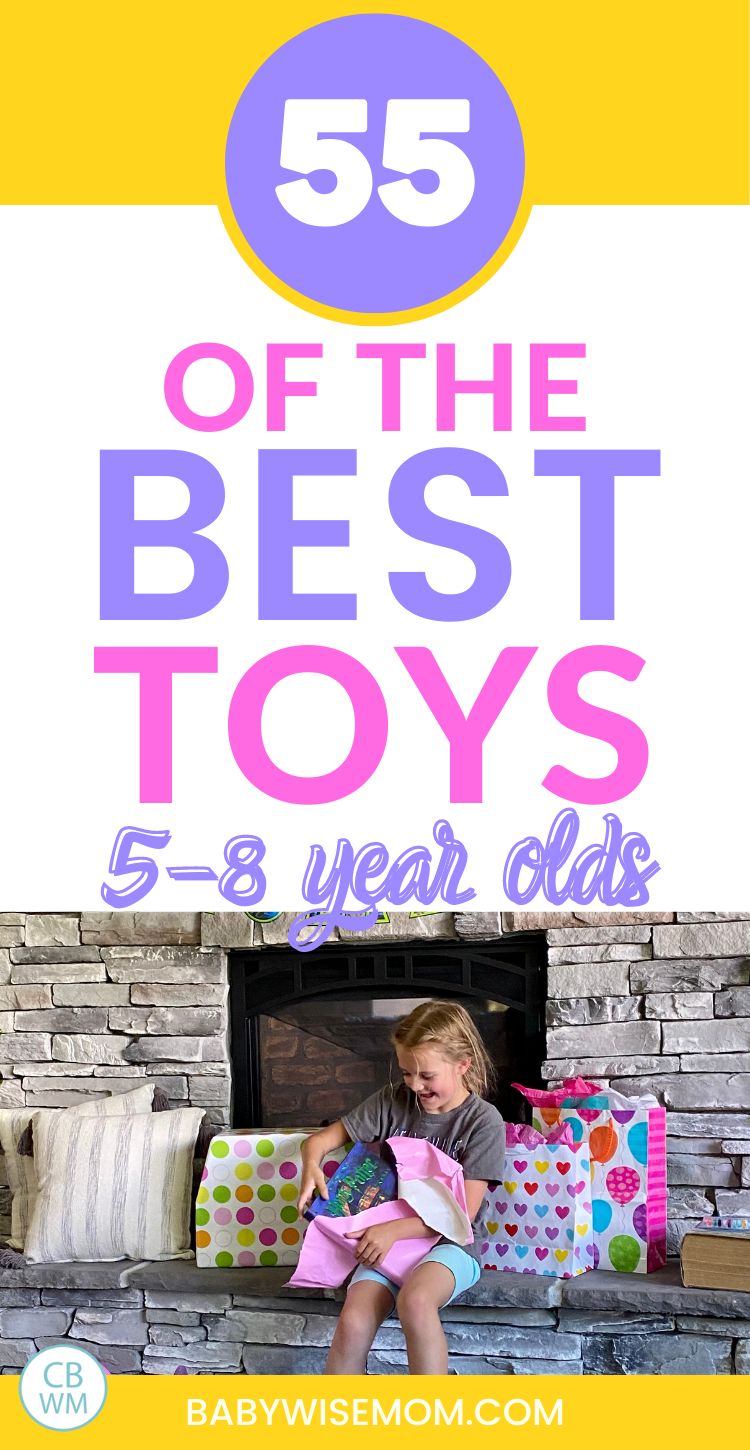 This post originally appeared on this blog in October 2017